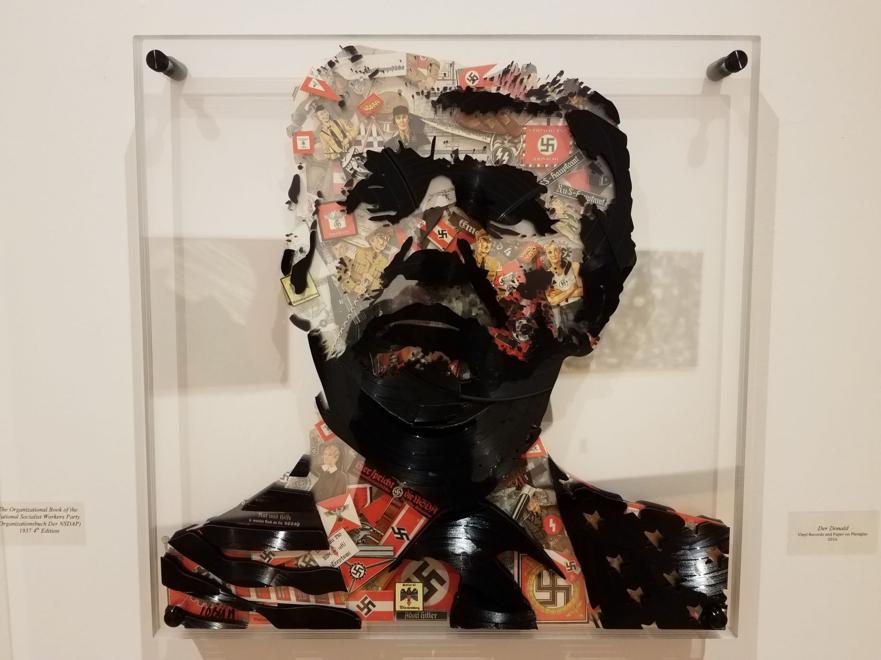 Yes, 2017 has been an exciting year for the visual arts in Indianapolis. But, in order to appreciate the art scene, a lot of us have had to compartmentalize (I certainly have). That is because of anxiety Donald Trump has generated in the arts community — and beyond.
 But enough of politics, at least for now.
This year end list goes beyond just visual arts to incorporate the businesses and nonprofits that house exhibitions and employ artists. It mentions some of the people behind the scenes making it possible for Indy to have such a rich and diverse arts culture. That is, I wanted to talk about Daniel Del Real — who is an accomplished visual artist — but whose work as a curator, and event planner has done so much to move the city forward, and I wanted to talk about what Big Car Collaborative is doing, outside its exhibition spaces, in the Garfield Park neighborhood restoring houses in order to improve the quality of life for all. Is that not also the realm of visual art?
1 // Latinx Art Explosion
This year there was something of an explosion of Latinx art in Indianapolis. You certainly didn't have to wait until the various Day of the Dead celebrations around town to see work by Hispanic artists.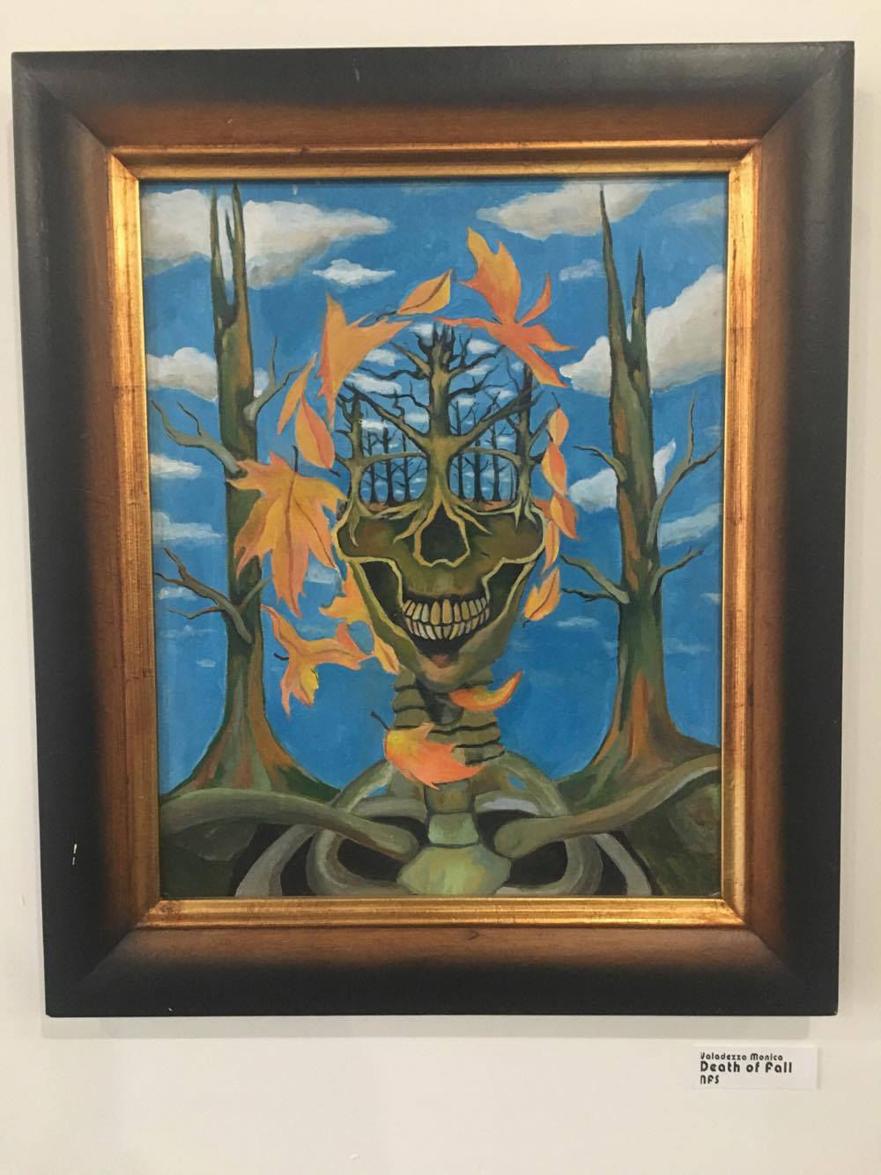 Two people who can certainly take some of the credit for this are Daniel Del Real — based on the Westside of town — and Big Car staff artist Eduardo Luna, based on the Southeastside. Luna is one of the founders of the Nopal Cultural organization, which runs the annual Day of the Dead celebration in the Eiteljorg, among many other activities. He also runs La Sardina Gallery (which is not based in any particular venue, but partners with other galleries).
Del Real curated An International Art Show at the International Marketplace Headquarters, a day-long exhibition that opened on January 27, 2017. It just so happened to be the day Trump unveiled the executive order prohibiting immigration from seven predominantly Muslim countries from entering the U.S. featuring work by recent immigrants.
On that day, in that space, you could have checked out landscapes in traditional Chinese style and traditional Senegalese batiks while patrons sampled food supplied by local Indian and Middle Eastern restaurants opened by recent immigrants that have helped turn the Lafayette Square area into a Mecca of Fine Dining.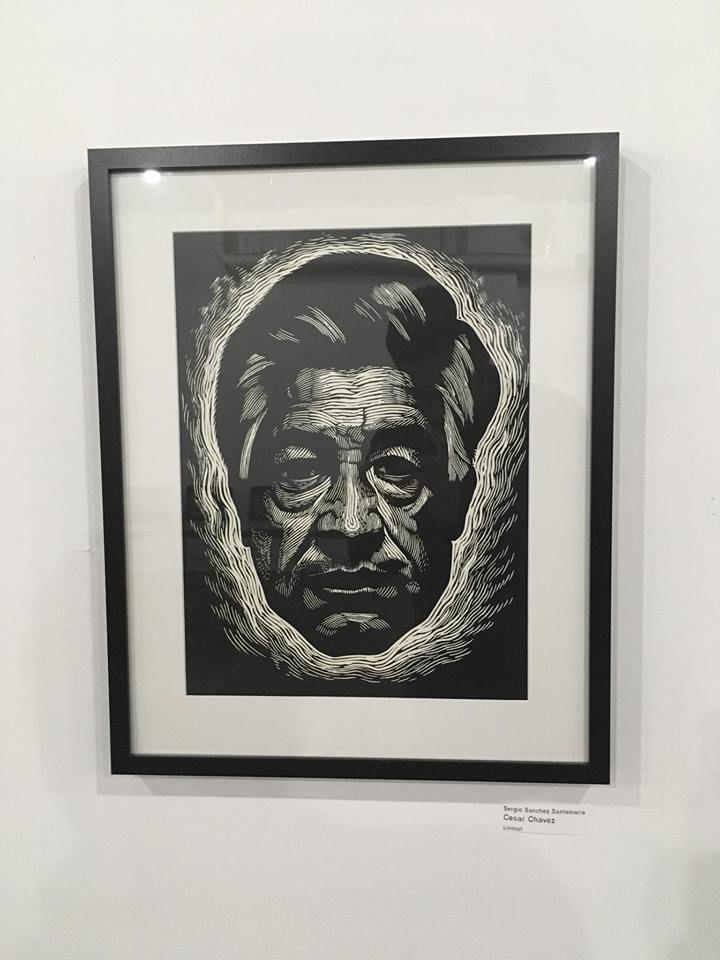 Among the shows Del Real curated this year was Herencia: Latin American Influence in Art at the University of Indianapolis. The group exhibition features painting, photography, and installations from 13 Latinx artists from across Indianapolis — and from farther afield.
The pièce de résistance was "Really Safe in America," the work of Chicago-based artist Yvette Mayorga. It was an installation in the shape of a giant cake, decorated with cake frosting that spells out "Go Back Home, Illegals!!"
Near Fountain Square (specifically, at 1315 Shelby St), at the Circle South Gallery, La Sardina hosted a show in September entitled Lienzos Americanos, which highlighted the work of local Latinx artists in celebration of Hispanic Heritage Month. Some of the artwork, including work by Valadezza, dealt with the perils of immigration. La Sardina held another show in the space highlighting the work of Mexican artist Sergio Sanchez Santamaria in December.
2 // Toward a gentrification-less creative placemaking?
The nonprofits Big Car Collaborative — based at Tube Factory artspace in Garfield Park — and Harrison Center for the Arts were heavily involved this year in what can loosely defined as creative placemaking. (That is, improving neighborhoods through various artistic and cultural initiatives.)
Big Car's Artist and Public Life Residency Program started taking applications April 14, using 10 homes purchased by the arts organization to house artists. The artists co-own a home with Big Car and if they leave, Big Car buys back the artist's stake and returns the house to the residency program. The idea is to keep housing in affordable the area.
Affordable housing was also a concern of the Harrison Center for the Arts' biggest venture yet into creative placemaking, PreEnact Indy, which turned the entire three blocks of Andrew J. Brown to the Monon Trail into a stage along 16th Street on Sat. Oct, 7.
The day's programming involved 13 professional theater groups and a dozen or so stages and venues.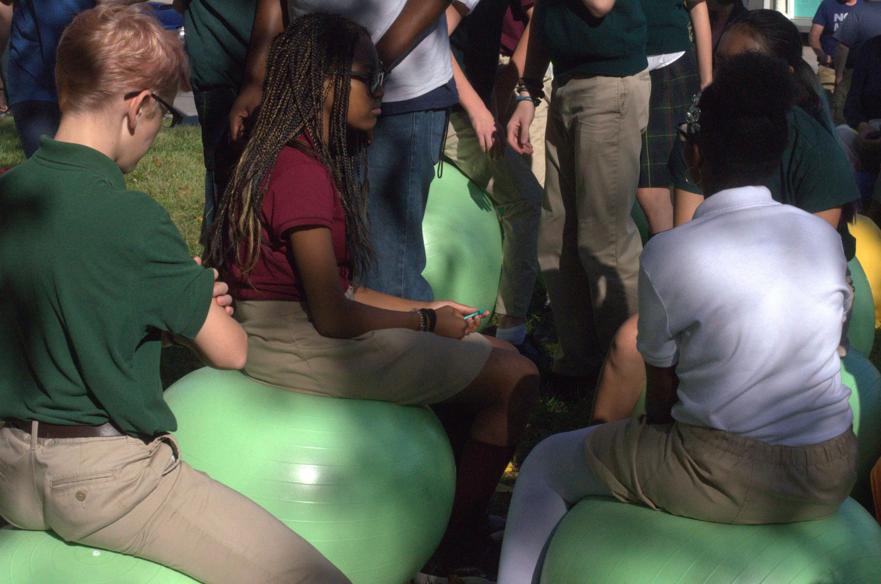 The idea was to "pre-enact" what an ideal day could be in an area underserved by cultural organizations, and with more than its share of vacant lots, any number of which might be developed in the next couple of years into high-priced condos. The festival there seemed to be people of all races and backgrounds participating, and there seemed to be buy-in at the local level, and a possible first step in making the community a better place to live.
But festivals like this probably won't keep longtime residents from being priced out of their homes when and if property taxes go up. One of the participants at PreEnact Indy addressed this question was Democratic City Councilor Vop Osili is a proponent of Indiana State House Bill 1056 that would provide tax relief for longtime residents in areas under threat of gentrification. He addressed this issue in a Q&A session at Preenact.
3 // Openings and closings
The Raymond James Stutz Arts Gallery, in the Stutz Business & Arts Center, closed in March. The gallery had a number of stellar group shows and some that weren't so stellar. Although there were and are many great artists at the Stutz, I thought this gallery was at its best when it opened itself up to non-Stutz artists as well.
Later on in the year the space was spruced up, some walls knocked down, and a totally new gallery entitled 10th West opened to the public in that space on Thurs. Nov. 30. The artists known as the collective, who've shown before in various pop-up venues in that space — now inhabit 10th West as permanent exhibitors (Fortunately, they will also have rotating exhibits featuring guest artists so things don't get stale.) They plan to have monthly openings on Thursdays, deviating from the First Friday schedule of gallery receptions and openings highlighted every month by the Indianapolis Downtown Artists and Dealers Association (IDADA). 
Speaking of IDADA, the group voted to dissolve in August. Board members cited troubles in attracting volunteers to carry out essential duties, and their set up as a trade association, rather than as a tax-exempt 501(c)(3) nonprofit.
But the Indy arts landscape has also changed; it's more spread out than it was 15 years ago. Also, social media wasn't a thing yet when they formed in 2003.
"There seems to be a whole new guard out there," said longtime IDADA board member and Indiana State Museum curator Mark Ruschman. "And they are interested in learning from what IDADA has done, certainly learning from our mistakes, and hopefully benefiting from our successes... In some respects we see this as shutting down something that's fulfilled its purpose. But in another way it's turning the guard over to the next generation of artists."
Another closing that occurred this year was General Public Collective, a storefront gallery facing the Murphy Art Center that had shows covering the whole range of contemporary art from WTF to inspired/museum-worthy, sometimes in the same show.
In the wake of said closing and even before, a narrative began to emerge that much of the Fountain Square art scene was relocating elsewhere. It's certainly true that some Murphy Art Center artists have relocated in the Circle City Industrial Complex (CCIC). And it's true that there was a lot of great art to see this year in CCIC's plethora of galleries and artists' studios, partly because the CCIC partly because of this absorbtion of Fountain Square artists.
But, contrary to this narrative. There are still artists, and art galleries in Fountain Square. Take the "Still Here" Bridge Collective retrospective show at the Murphy on Dec. 1, hosted by Mike Graves, as just one example.
And it's not only in the Murphy Art Center but in other venues in Fountain Square to find art, including the aforementioned Circle South Gallery. There's also rotating art exhibitions at Pioneer Gallery, Fountain Square Brewery, and New Day Meadery. And there is Fountain Square Clay Center that operates out of an industrial building that once made packing peanuts, but now is a fully-equipped clay studio that offers classes and exhibitors.
4 // Rebrandings
The Harrison Center for the Arts shortened its name to the Harrison Center last month. The move hardly seemed to warrant a press release. The Indianapolis Museum of Art's rebranding of itself as Newfields in August, on the other hand, probably warrants several dozen museum management case studies. 
Concurrent with that announcement was the unveiling of Winterlights at Newfields. This is a type of Christmas full-immersion, outdoor experience that has caught on in other cities in the U.S. and in Europe like Colt 45 malt liquor in 7-11 stores. Based in the Lilly Garden, at the IMA/Newfields campus, it opened Nov. 17 and runs through Jan. 7.
It's fun enough to walk around at night and see the 1.2 million twinkling lights on the trees. It's fun watching the strips of landscaped lights blink on and off, choreographed to the Nutcracker.
But the $20 online for adult nonmember adult/$15 for members pricing might prove to be a tough sell. Especially when similar winter outdoor activities are free or lower cost in Indy like Indiana Chinese Lantern Festival and Christkindlmarkt.
(As of Dec. 30, word is that Winterlights is doing bonkers box office, and  actually sold out their December dates. They will be open this weekend but will close down from Jan. 1 - Jan. 5 due to forecasted cold weather.)
But Newfields/IMA still is a draw for anyone who loves art.
City as Canvas, on display at Newfields until Jan. 28, 2018, is a lot of fun and contains some great graffiti-inspired art and style writing.
 (After checking out this exhibit, head up to the Asian Art Collection to see stellar examples of Chinese and Japanese calligraphy — a different kind of style writing — along with the exhibition of large Hiroshige woodblock prints Famous Views of the 60-Odd Provinces, up through April, 2018.)
City as Canvas contains video presentations about the work of a number of Indiana artists including sculptor Malcolm Mobutu Smith and painter Sam Vázquez, attempting to draw connections to the local community. This gesture is somewhat heartening (especially considering that the museum basically took Indianapolis out of their branding.) But it would have been an even better exhibit if it contained some actual examples of their work.
5 // Trump Encore
I suppose not talking about Trump while talking about the arts these days is like trying to enjoy a sunny day while ignoring a dozen tornadoes on the horizon. So it's not at all surprising that politics has reared its head in a number of Indy exhibitions this year.
Two of the exhibitions were by artists using their dead-on portraiture skills to address the world of politics.
In April, vinyl record artist Walter Lobyn Hamilton had a solo show at Gallery 924. While Hamilton's work, shall we say, embraces political controversy with open arms, a bare chest, and banshee enthusiasm, his is a meticulous art. It consists of creating astoundingly realistic portraiture in mosaics (of sorts) with bits and pieces of shattered vinyl records. African-American icons of the 20th century are his subject matter (but not exclusive subject matter).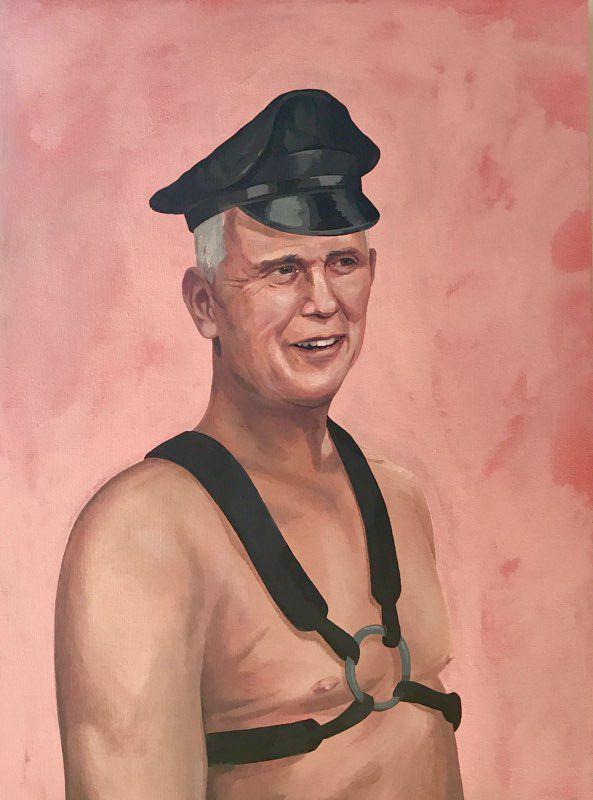 The most visually arresting was his portrait of Donald Trump entitled, "Der Donald" fashioned out of vinyl and various bits of vintage WW-2 era Nazi propaganda pressed into Plexiglas. And side by side with this portraiture is a book entitled Organizationsbuch der NSDAP, aka the official Nazi Party Guidebook. (He obtained the Nazi material in a store in Germany that probably didn't advertise, for obvious reasons, in the local phonebook.)
Martin Kuntz's August show High Times/Low Life, also at Gallery 924 also delved into the realm of politics. Kuntz displayed not only paintings, but also sculptures — using high density foam to create a crucified Mickey Mouse.  It should be noted that this is the same high density foam he used in his work with sculptor Ryan Feeney on the Peyton Manning sculpture that now stands in front of Lucas Oil Stadium.
Kuntz's work reflects an America dominated by a dispirited body politic, Trumpian tweets, and racially-tinged controversies — on and off the football field — from sea to shining sea.
And, perhaps not wanting to be outdone by Lobyn Hamilton, Kuntz has a portrait of Vice President Mike Pence in heavy leather.
"The title of the painting is 'Yes or No, Mike?'" says Kuntz. "This title is in reference to the George Stephanopoulos interview in which Pence was unable to simply answer yes or no, as to whether or not it was okay to discriminate against the LGBTQ community in Indiana."