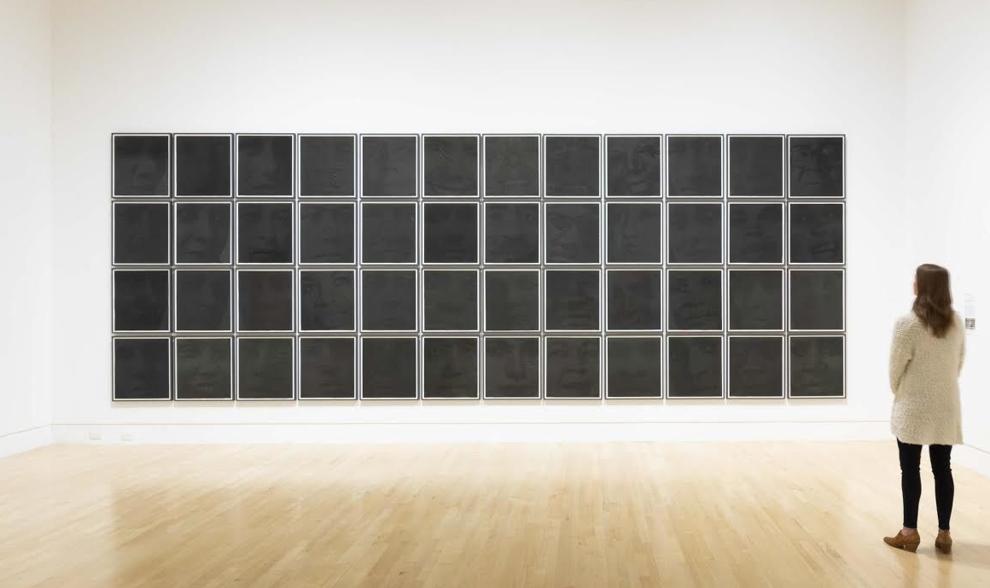 Standing in front of more than a hundred patrons March 15 at Newfields, associate curator of American art Kelli Morgan described that night's opening of Samuel Levi Jones' Left of Center as "a moment of change."
Jones, who was born and raised in Marion, uses old book covers among other mediums to create artwork. In said work, he questions the power structures — and assumptions — that many Americans have taken, and continue to take, for granted.
A striking example of this is his "48 Portraits (Underexposed)," which is the first thing you see when you walk into this first major survey of the artist's work.
The 48 portraits in Jones' series, taking up an nearly entire gallery wall, are all African American icons of the last two centuries. But it will take your eyes a moment or two to discern the  "underexposed" portraiture.
This work references Gerhard Richter's "48 Portraits", displayed at the 1972 Venice Biennale, which depicted 48 icons of 19th and 20th century Western culture who are all white.
The media of the work matters: the images of African Americans were inkjet-printed on paper made from recycled 1972 Encyclopedia Britannicas. The resulting work, like many others in this survey, addresses both race and erasure, and just might make you question why Richter chose all white males for his series.
Also displayed here is the first work in which Jones used law books, on canvas, as a medium. Titled "Talk to Me", this work also takes up nearly a whole gallery wall, addressing the enduring problem of police brutality with its monument-sized scale. A similar work was displayed at the Indianapolis Museum of Contemporary Art (iMOCA) in 2015.
Jones' choice of mediums is often provocative: this is certainly the case with two nearly identical works displayed side by side, titled "Black Artist" and "Black Athlete". These works use as their medium deconstructed footballs spread with asphalt on canvas.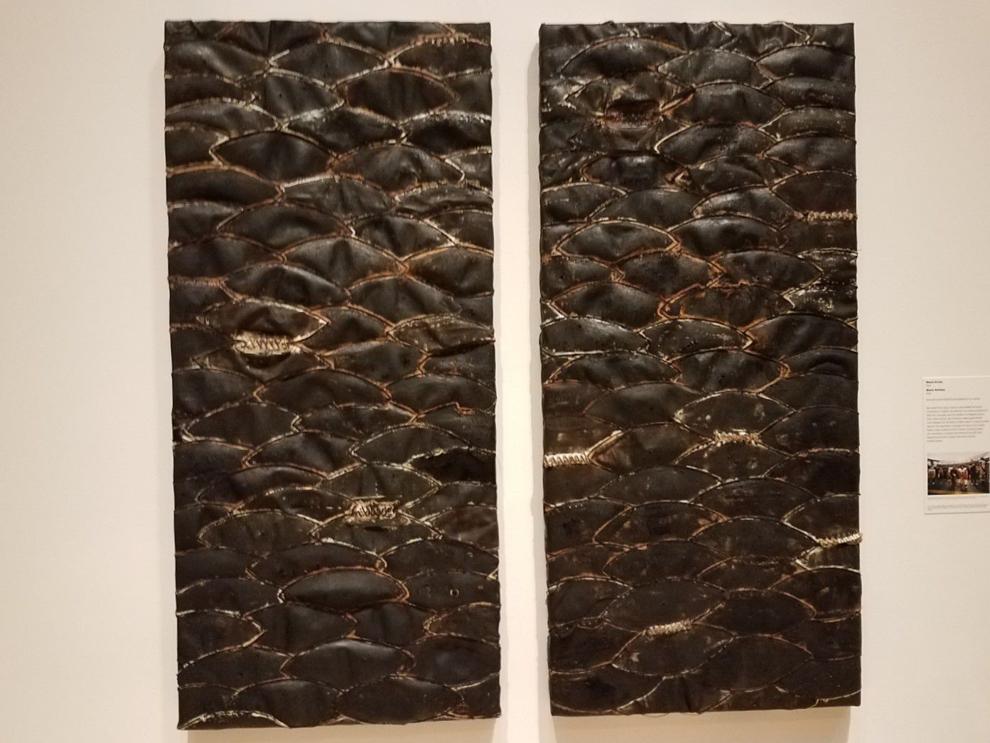 The wall text notes that Jones played football at Taylor University, in Upland, where he received a bachelors in communication studies. The text also references Jones' professed solidarity with Colin Kaepernick, who took "a knee" as a San Francisco 49ers quarterback to protest police brutality and, as a result, no longer plays with the NFL.   
Jones also received a B.A. from Herron School of Art & Design in 2009 and an M.F.A. in studio art from Mills College in 2012.
It is possible to read satire in some of his titles.
"Blue Skies Matter," composed of blue law books, is a commentary aimed at criticism of the Black Lives Matter Movement — and how strategic use of the phrase "All Lives Matter"  works to obscure the problem of police brutality aimed at African Americans.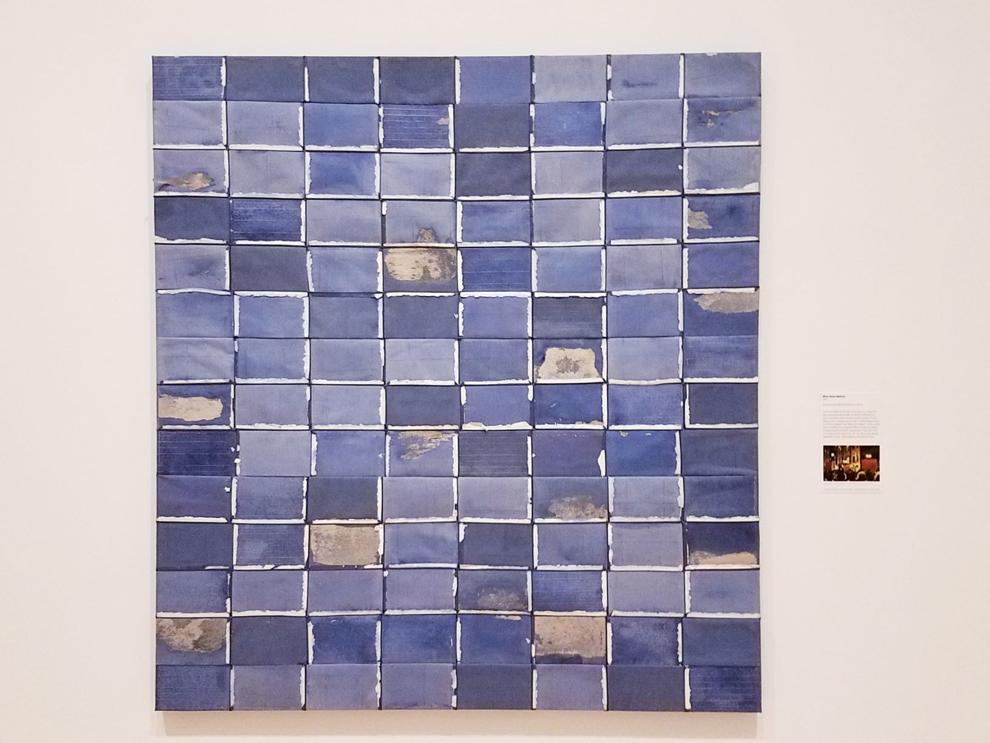 The monumental scale of much of the work, together with the context-giving wall text, will likely spark many conversations.
Kelli Morgan, as she talked at the podium set outside the exhibition entrance on opening night, said that the conversation should expand outward outside the museum walls, involving curators, interpretive staff, and museum patrons.
"This is your show," Morgan said. "So we need you to participate, don't just come to the opening … If you engage Sam's work, you know the context. We are talking about the history of white supremacy, the history of white privilege, the history of gender privilege, the history of police brutality; medical experimentation, the way that those systems still affect sports entertainment, arts entertainment … It's not easy subject matter to discuss, but he has found a way to make it beautiful and to share his vision with us and that's really important."
Morgan made it clear that, with the opening of this exhibition, a new chapter was opening in the history of Newfields.
"I don't have to go through the history of race and class in this city and what that has meant for various communities, the way the museum has participated in those narratives, be it positive or negative, unconsciously or consciously," she said. "But here's a moment where we're celebrating one of our hometown sons, as a moment of change."
Morgan also made a reference to the new name of the museum campus, Newfields, the result of the Indianapolis Museum of Art rebranding itself in 2017.
"In this new field, that is your field, we need you to have these conversations in your homes, in your churches, in your schools, right?" she asked. "In your communities. We are no longer the gatekeeping institution that just kind of rests between the north side and the south side."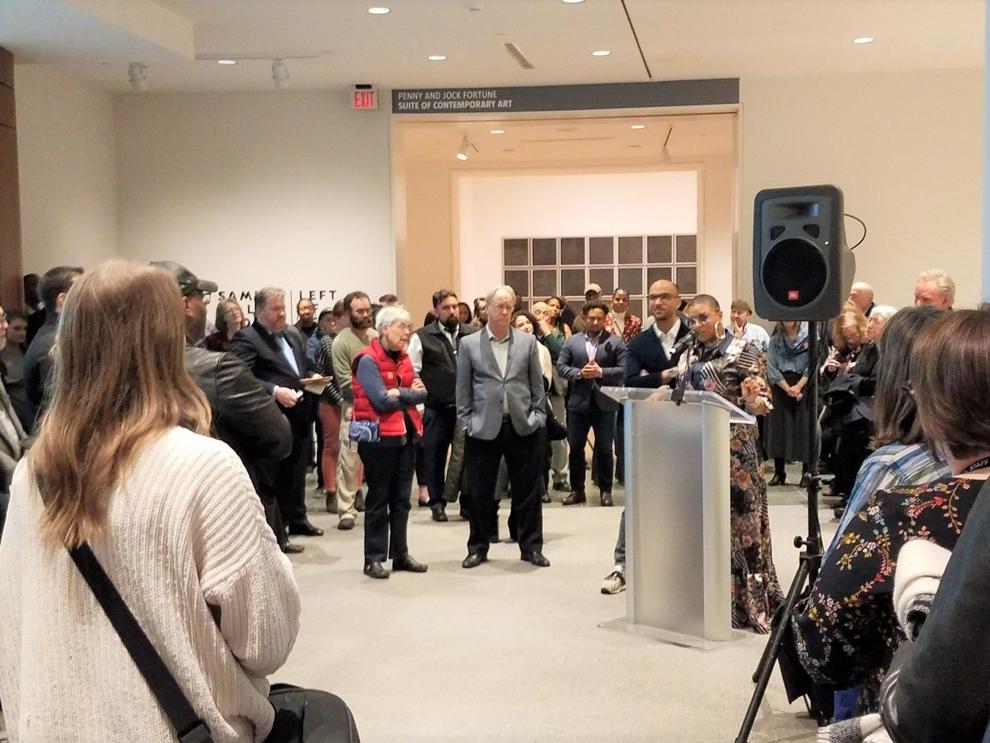 As if to underscore the significance of this "moment of change," the presenting sponsor of the exhibition is the Central Indiana Community Foundation.
When CICF president and CEO Brian Payne came to the podium, he talked about the CIFC's learning curve.
"We certainly acknowledge as we've been on our own learning journey that we for the past 102 years," he said. "We have been a well-meaning but we have been an old power institution; and we have been a white power institution, and we have dedicated ourselves to be an all power institution."    
Jones had a request for viewers of his work when it was his time to speak.   
"Stop and observe and question everything," he said. "And that's one thing I try to ask, to get my children to do is to question everything and so maybe you've been in the situation before … things have gone on in a traditional way; they seem right and they seem okay but stop and ask even if it does seem right."
And that is precisely what he is doing in his own work.  
"I work with encyclopedias," he said. "I work with law books and I work with medical books and there's a new piece in here where I've made for the very first time where I've used art books. So I've questioned the system of the art world and how it works ..."
He then described a recent conversation he had with a friend.
"While we're talking he says aren't you worried about what you say and what might happen? And I don't see it any other way," he said. "I'm happy that the work has come to that, coming to a point where people are responding to it."