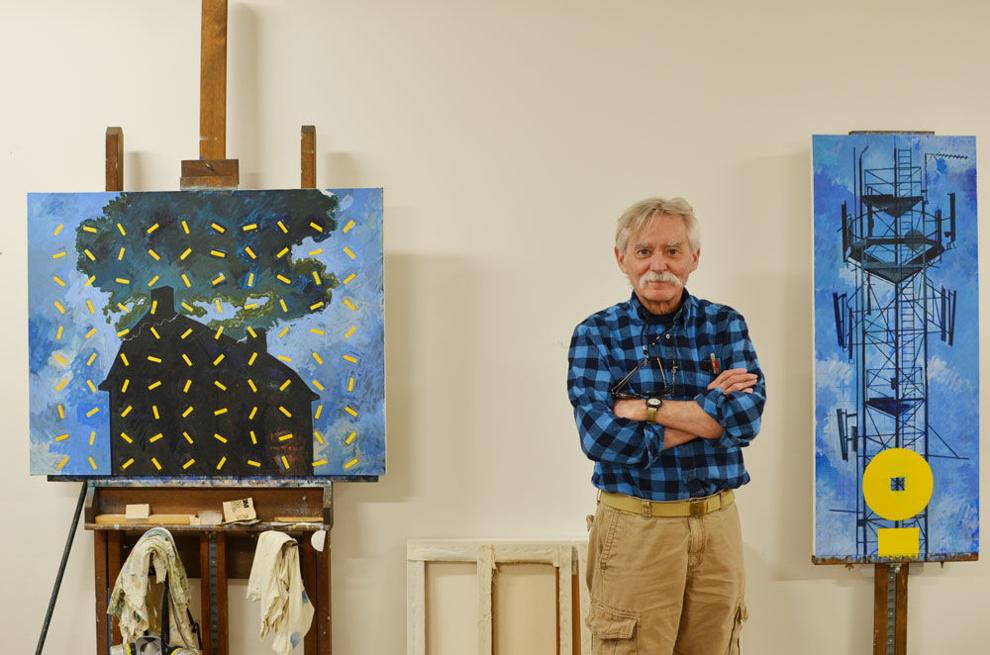 The door for his studio only reads "REN" without any hint to his 38 years teaching hundreds of painters from 1973 to 2010, his travels through Southeast Asia as artist for the U.S. Army during the Vietnam War, his research in symbology and/or the years he spent learning modern dance.
These days, Richard Emery Nickolson is part of the Indy Collective, the collective of 11 artists behind the recently-opened 10th West Gallery at the Stutz Business & Arts Center that will be open the public on Friday, Jan. 5. He's also the writer of the blog "Bridging the Gap: reflections on the plastic and ekphrastic traditions."
His studio is filled with plants and natural light pouring in from large windows. There are many books and many canvases leaning against each other on waist-high shelves. Ceramic pieces are also on display. On the east end are his works in progress and a handmade wooden dollhouse made by his father.
The whole space feels like a temple.
"It's really quiet most of the time and nobody knows I am here," Nickolson says.
Nickolson moved into the Stutz building around the same the old Herron Art School closed and the new Herron School of Art + Design building on New York St. opened. He taught at Herron until 2010.
His longtime studio on 30th and New Jersey lost its luster after a break-in where burglars took his little refrigerator, electric drills, boombox and all his CDs. The perpetrators must have not known the value of art supplies; none of his paint tubes, brushes or even his paintings were missing.
Global change likewise isn't interested in stealing art, as it were. That is, he's not collaging together ideas and/or motifs from long-dead art icons like an ironically winking postmodernist. 
"What I am trying to do now is invent post-postmodern 21st century pictographs like warning signs," he says.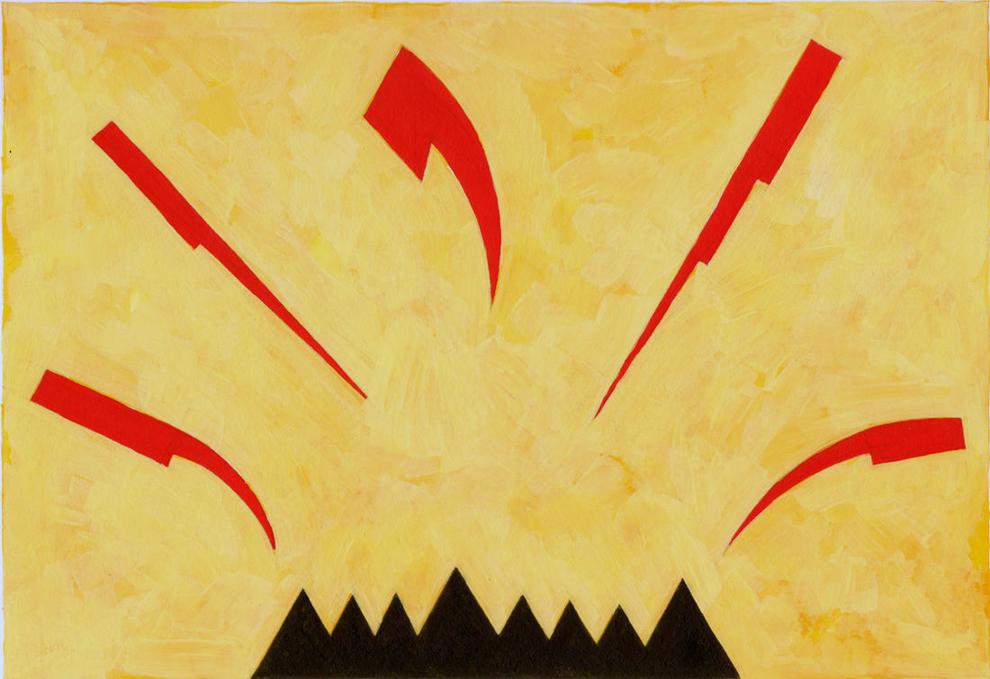 As he speaks, he holds up "An Apotropaic Symphony." It's a small watercolor depicting a volcano-type shape with bolts coming out of it.
In another painting, a red circle appears almost broken — but not quite. It can still be fixed back into a perfect circle. The work is powerful and graphic with bright colors and expressionist brushstrokes driven by his knowledge of prehistoric signs and the influence of artists like Albrecht Dürer and Piet Mondrian.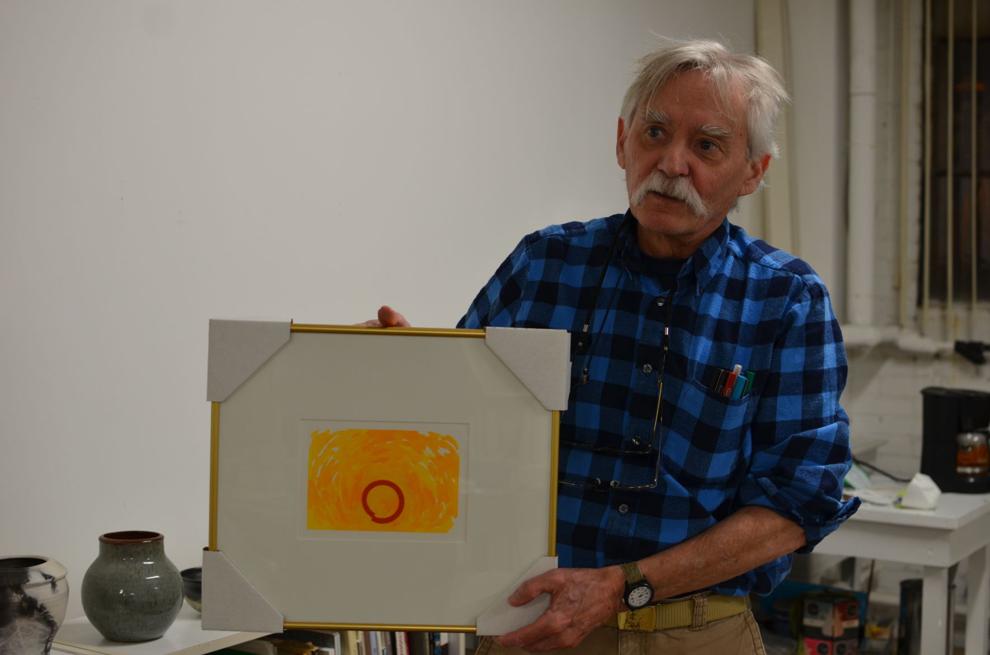 Two different trips changed his approach to painting. The first was during one of his times as visiting professor at Pont-Aven School of Contemporary Art in Brittany, France. While there, he visited the Carnac stones, which are famous for the more than two thousand stones aligned on an East/West axis so as to point to the rising and setting sun on the summer solstice. The second was a family vacation to Newspaper Rock State Historic Monument in Utah where different Native American cultures carved petroglyphs two millennia ago.
"In both cases, the simplicity and abstraction of pre-historic painting and sculpture rang true to me, powerful content combined with pure abstraction," he says. "It allowed me to refocus and refine my work, which has continued to this day."
Inside his sketchbook, Nickolson writes notes connecting imagery by influence or by themes that are addressed. His drawings feel like they can be from any time or place. But they also feel very American when he references contemporary architecture.
Often he dissects buildings and houses with lines and blacks out sections to focus on shapes which would otherwise be seen as part of a whole. In his drawings, these shapes are the words that make up the language of buildings.
In "See that my grave is kept clean", named after the blues standard, Nickolson encounters a different type of architecture: gravestones, the building blocks of cemeteries. In this particular watercolor, a cemetery is an angel pierced by an obelisk and nineteen squares.
He continues combing his ideas in the blog, where he finds and highlights commonalities across time, place and practice. In the November 11, 2017 entry he highlights painter Don Cooper's "Jungle Surrender" and the Yusef Komunyakaa poem written after the painting.
Like Cooper and Komunyakaa, Nickolson was enlisted in the military during the Vietnam War. His duty to country in the Army was not wielding a weapon as a soldier. Rather, he was assigned to the Office, Chief of Military History and the United States Army, Combat Artist Team XI, Bangkok, Thailand.
"I think the artist has the responsibility to see the world around us," he says. "If we are doing our job, we are seeing the world different from everybody else. If you are really making art, you are changing how people see the world around them."