Twilight in Southside Indianapolis. I'm waiting outdoors in the VIP line for the door to open on Nightmare on Edgewood, which markets itself on its website as "Indy's most intense haunted house." I'm here because I'm trying to get a sense of what draws people to attractions like this, I suppose.
It's not my first visit: I had met with the owners a few hours earlier and they had given me a lights-on tour. They encouraged me to come back after dark, so here I am. Let's just say this isn't the type of thing I typically do on a given Friday night.
Waiting with me are Darlene Fox and Jason Hyde, residents of the Little Flower neighborhood in Indianapolis.
"We won our tickets in a raffle," said Hyde. "It was the Shocktoberfest in Irvington a festival of short films."
Like Fox and Hyde, I'm just a little older than what seems to be the typical haunted house ticket holder.
(To give you an idea of how old: we get into a discussion about how none of us can understand the music millennials are listening to these days: sorry Ed Sheeran)
If there's one demographic that seems overrepresented here, waiting in line, it's teenage girls.
A group of five people from the regular line, where it seems about 100 people are waiting, is let in before us. And then it's our turn to be led into the first of the three attractions. And the first of these is called "Midnight Double Feature."
A Nightmare staffer beckons us to a broken-down movie theatre facade with the lettering "EDGEWOOD" up on the marquee. But we're not going through the front door. Instead, we're going through the back.
As soon as I walk through the door, there's smoke and laser light and a mini-Dracula on a tricycle comes riding out. And then a guy dressed like the clown from the film It.
This is all too much for a young girl with long straight blonde hair as wispy as corn silk; she tells me that she wants to go back — she's truly freaked out. I lead her back past Pennywise and past Dracula on a tricycle to the entrance where I explain the situation to a staffer who's probably seen this type of thing a hundred times before.
"We'll take care of her," the woman says.
And then I go back past Pennywise and past Dracula on a bike … and then I catch up with Fox and Hyde.
Another freaked out teenage girl has attached herself to Jason Hyde's back like a mussel to a bayside rock, putting her head down between his shoulderblades.
"Please, mister, I'm sorry, I don't know you," she says, whimpering a little.
What follows, then is a sort of whirlwind tour of imagined horror film sets of the past 30 years. We passed through a bloody kid's bedroom inspired by Annabelle (2014). There's more sets inspired by the Halloween, Friday the 13th, and Nightmare on Elm Street films.
Some of the kids going through the haunted house don't look like they're much older than 10, and that's what accounts for a lot of the screaming I hear. A teenager in whiteface comes out with a fake chainsaw.
Did I mention the gurneys with foam mannequins drenched in fake blood? A Jason-type with fake chainsaw pretends to cut people as we pass. There's another foam cadaver in a chair but this one looks like he came straight out of a Francis Bacon painting.
And then Freddy makes an appearance with his razor hand, and he rubs his faux-razor hand on passersby.
And then we enter into a room inspired by that classic movie Saw; there's a big guy in a bloody lab coat attending to his work hanging bodies (foam bodies) from the ceiling.
And then we're outside once again, with two attractions — each in separate buildings — to go; Insanity and Carnival.
Insanity. This attraction's less about the gore, more about disorientation.
Insanity offers shock walls, ankle ticklers, walls of black fabric that close in on you as you walk that make me feel that I was back in utero, among other features.
At one point in the middle of Insanity I'm distracted by my smartphone. I'm entering my password when an employee/monster chides me sternly, "Turn that phone off, and put it in your pocket. If you want a light, go to the Children's Museum."
It's indeed scary to see how dependent I am on my devices.
A particularly humorous passage in my journey comes as the group I'm with going in circles in the blacked-out maze. After about five minutes of this confusion, the employees-in-monster-drag drop character and lead us toward the maze exit. These monsters would prefer that we not be crushed to death, after all.
The next attraction, Carnival, is totally hip with the times. It's big on clowns and environmental devastation.
But like I said, I know what I'm getting into because I'd seen everything before, because I'd met with the Nightmare owners earlier in the day.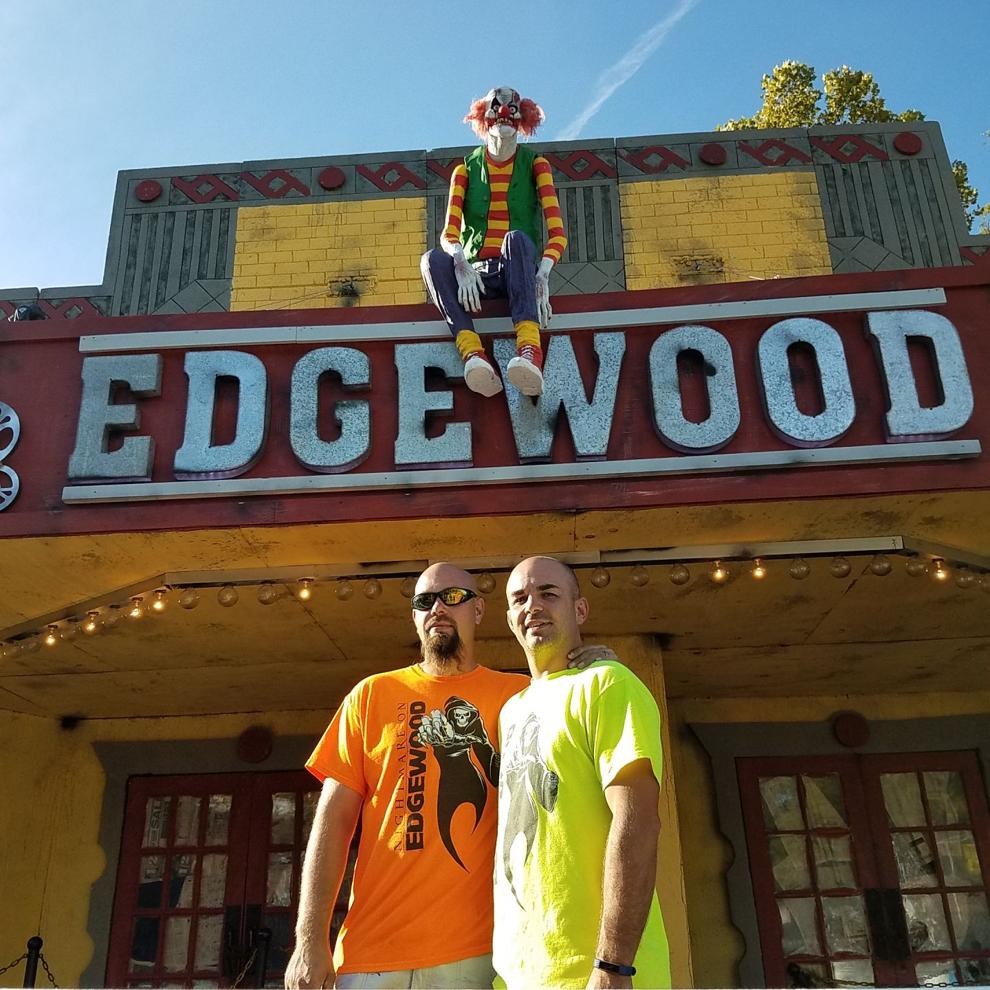 Paul Cook, 38, close-cropped and clean shaven, co-owns Nightmare on Edgewood with his brother Kevin, 31, who has a Fu Manchu-type beard and mustache.
It was Paul who met me at the Nightmare ticket booth. Both he and his brother had grown up with Nightmare on Edgewood.
"My brother and I were down here when we were little with our dad, who worked Little League down here," said Paul. "He would come down and volunteer his time. We would work behind the scenes grabbing ankles, reaching through walls. Things like that. As we got older, we got to work inside the haunt. And actually when my brother was in college, they actually brought him back to help design. And now he is really the brains behind the operation. I do most of the building stuff, most of the gory stuff. All that stuff you saw there all came from inside him."
Nightmare on Edgewood began its existence on Oct. 1, 1978, and was operated by the Edgewood Little League as their fundraiser. After the little league board shut down the program, the Cook brothers bought the operation in 2009 and resumed operations.
Every year the Cook brothers and their team completely rebuild the attractions, starting from the idea to the build: each year they come up with completely new attractions to keep things fresh.
Speaking of escape, the Escape the Room craze has penetrated Nightmare on Edgewood as well, which has two trailers set up for this purpose.
(And the purpose of Escape the Room, for those unfamiliar, is to escape a particular room in a given period of time – you are given six minutes at Nightmare on Edgewood – using hints from the room to get a combination key code to get you out. And you can ask an attendant employee, monitoring the goings on inside the rooms from the outside, to give you clues.)
"We have the doctor's office, we have the morgue," Cook said. "It's an upgrade; five dollars."
I wondered what attractions they might have next year. Nightmare at the Korean DMZ? Trump Steak Dinner at the White House?
Actually, I wouldn't hold my breath for any of the aforementioned imagined attractions. I have a feeling that people are attracted to haunted houses like Nightmare on Edgewood because they are an escape from the infinitely-more scary reality of our times.
Nightmare on Edgewood is neither of the Cook brothers' sole source of income, but neither of them are morticians or doctors. Paul Cook is actually a firefighter; every third day he works a shift, while Kevin owns a pool company.
The Cooks actually have four firefighters on staff who work to build the sets and have EMT training for the minor injuries that might happen. There are at least three firefighters at Nightmare each night.
Which brings me to this caveat for people who view their personal space as sacrosanct: if you don't want to be touched, I would recommend not going. I was touched or grabbed several times by monsters on the Nightmare payroll. And while they were professional about it, and while I wasn't bothered by it, I know not everyone feels this way.
"Be prepared to be touched, be prepared to be scared," Paul Cook told me, when I asked him what advice he had for patrons.
He also had some more general information:
"If you come on a Saturday night be prepared to wait in line," he said. "If you want to beat the line, I suggest you come here early. If you get here between 7:00 p.m. and 8:00 p.m. you're going to be all right. If you come here at 10:00 p.m. you're going to be in a long line. If you're looking for a quick in and out night I suggest you come on a Thursday night. We offer a kids lights on tour once a year. That would be for your little ones. We do not recommend anyone under age of 13."