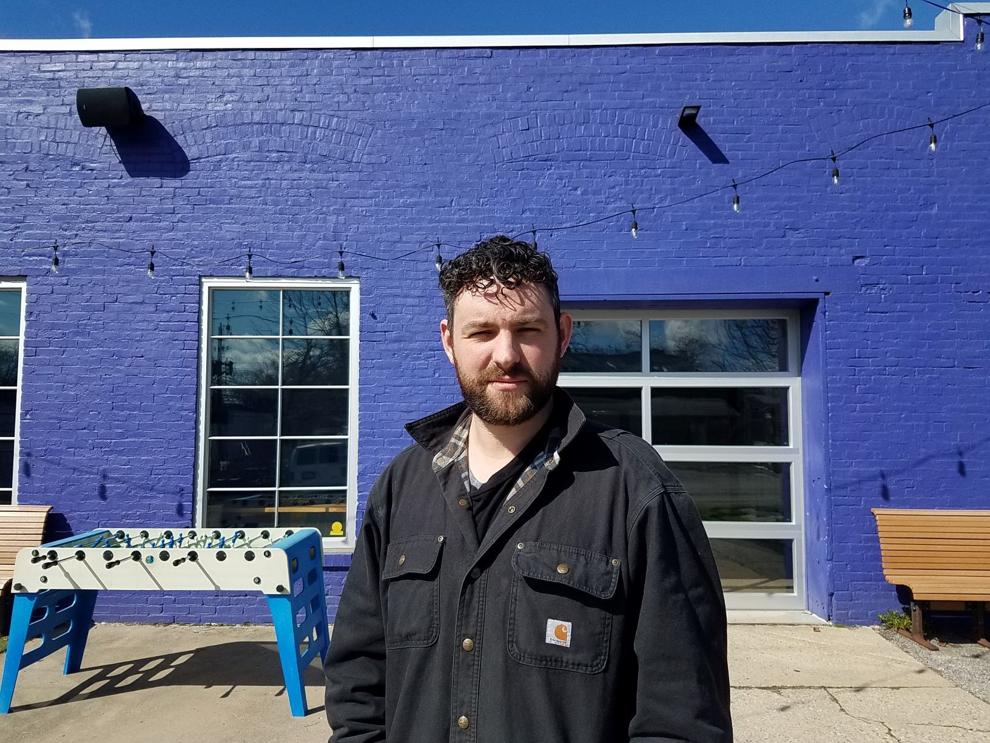 On March First Friday I was struck by the work of Conner Green at Tube Factory artspace — by his large scale digital prints of buildings and places that only exist in his imagination, but make constant references to historical architecture.
That was on opening night of his show Imperia/The Benefactor, which is on view, along with the work of Osamu James Nakagawa, titled Fences, through the end of Saturday May 23.  
But that night I didn't have enough time to stay and absorb the ubiquitously grayscale work that I found so compelling. So on Friday, March 22, I went to Tube Factory to talk to Green. We stood in front of some of his earlier work and I asked him about both his processes and his concepts.
"I think the thing that binds this body of work, if we think about it holistically, I wanted to do a sort of typological study of monumental and iconic forms throughout history," he said.
In his work, particularly his earlier work, you can see different forms that approximate forms that we are familiar with: the corporate tower, the triumphal arch, the coliseum.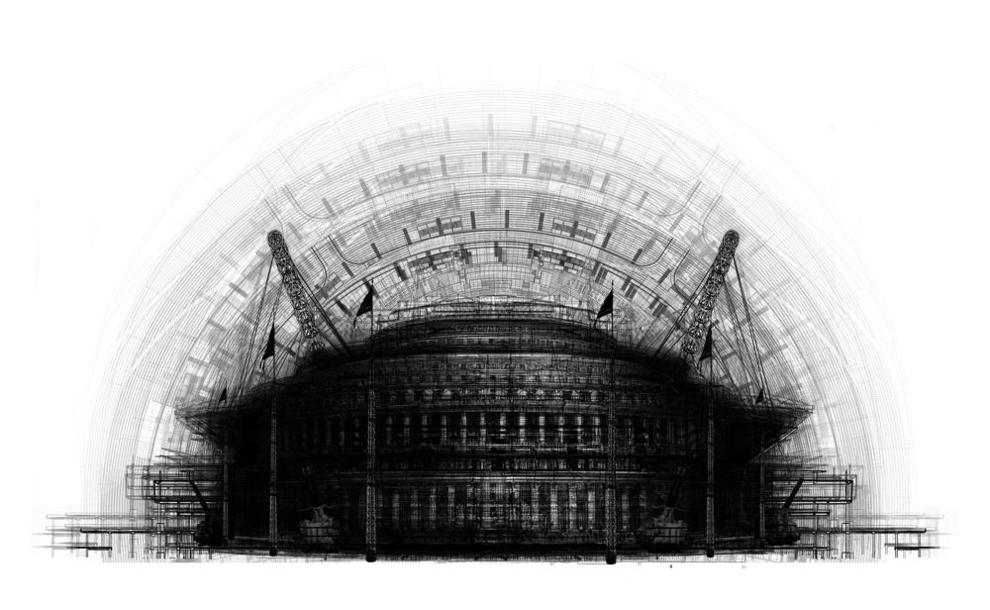 Compositions such as "Circium", reveal the same basic architectural forms as any given neoclassical style coliseum, but are magnified and distorted, and seem to exist in a moment where all historical forms and notions are smashed together, an architectural Black Hole, if you will.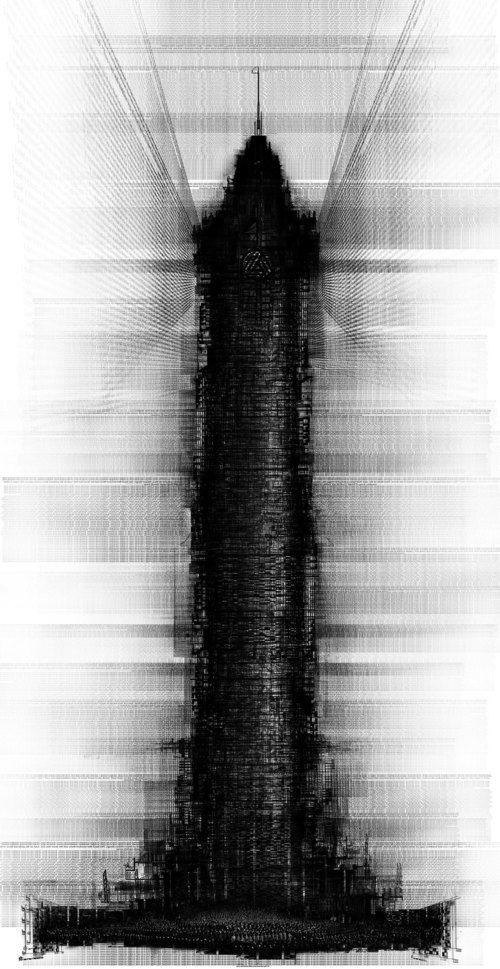 In "Corporium", a work from 2009, you see a tower stretching up towards heaven, a tower that is sinister and Trumpian, printed on a background of text too small to read.
The text, Green tells me, is from the poem "Ozymandias" by English Romantic poet Percy Bysshe Shelley, which speaks to the folly of much human endeavor.  
I like the conceptual substrata, as it were, of his work. But also, having something of a passion for urban architecture, I couldn't help but notice how some of Green's work reminds me of the prints of Latvian-American artist Vija Celmins who received her education at the John Herron School of Art (now the Herron School of Art & Design).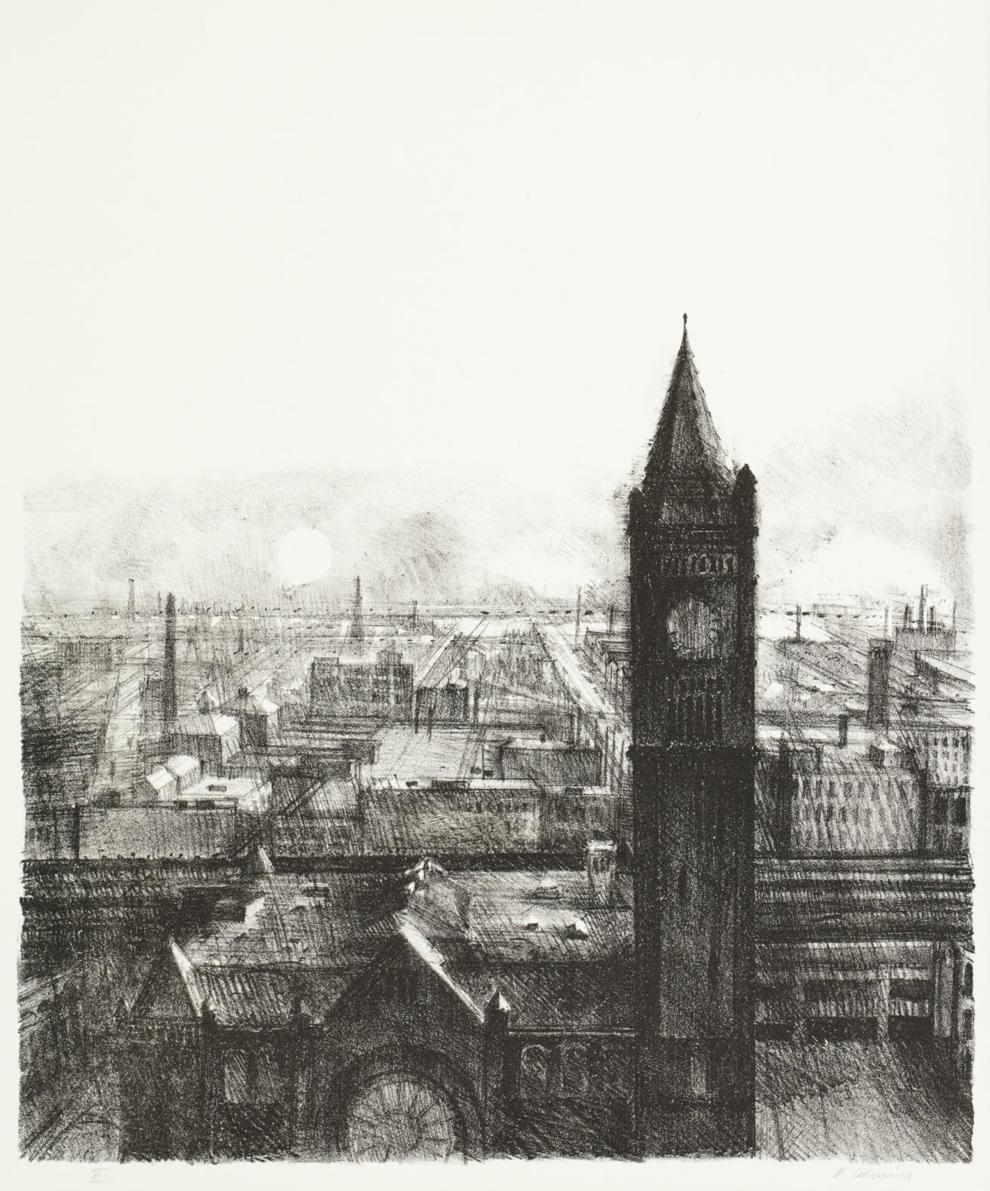 Green, who received his M.F.A from the University of Wisconsin in 2015, is a reader. French philosopher Michel Foucault is just one of the authors in his mental Rolodex. Lately, he has been reading about the life of Hitler's architect, Albert Speer, and his grandiose architectural schemes under the Third Reich.   
"I'm definitely trying to strive for something a little dystopian ... power and institutions kind of gone awry," he said. "There's sort of a monolithic quality to these forms."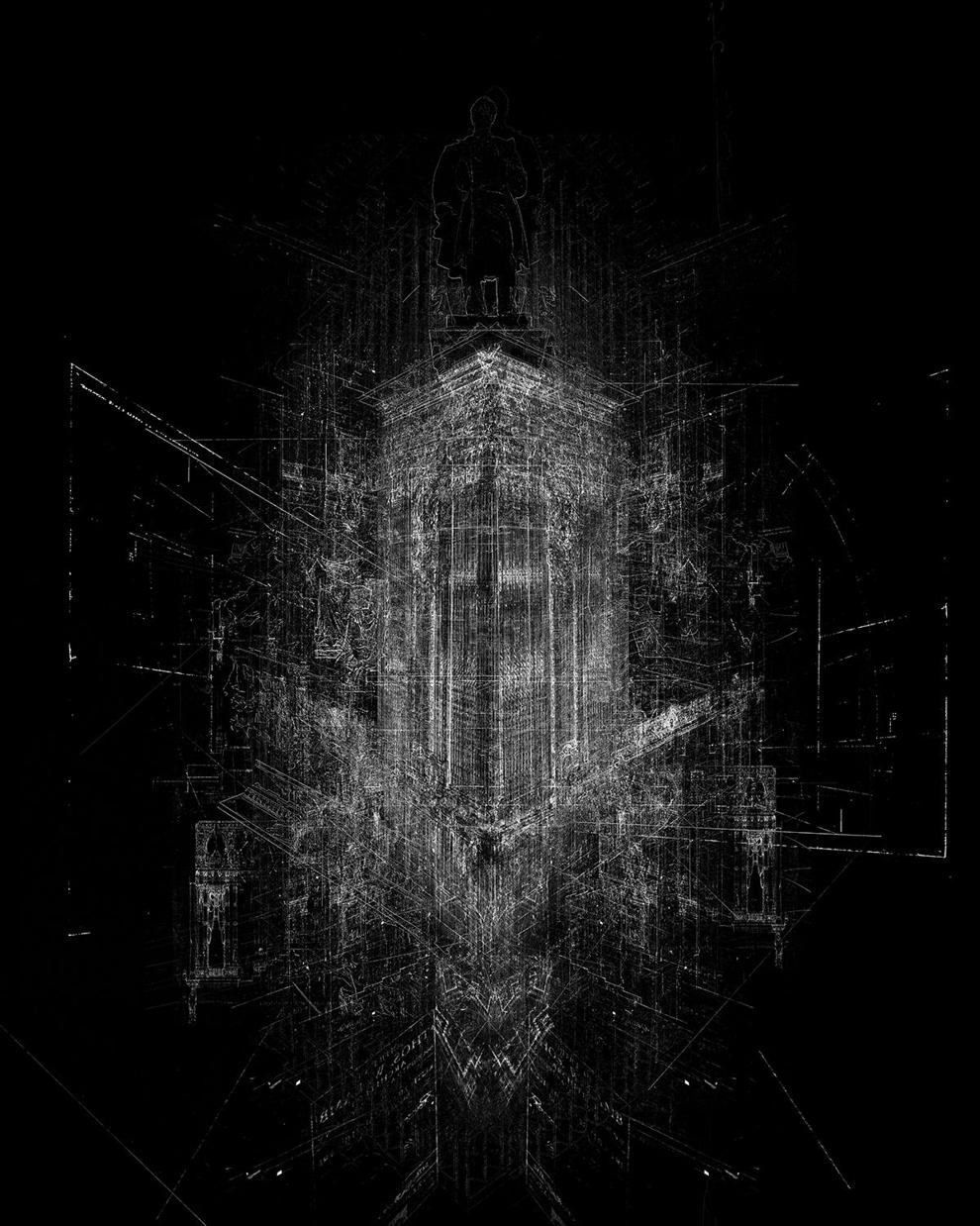 In "The Benefactor," a much more recent work, you see something perhaps a little closer to home, at least for those of us who live in Indianapolis. That is, it began as a photograph Green took of a monument right in front of the Indiana Statehouse; a monument of Oliver Morton, the wartime Indiana governor during the Civil War.
"I like to take the language of architecture which is ordered and systematic and turn it on its head, to create something a little more chaotic, at least compositionally chaotic," he said.
Indeed, in "The Benefactor," you can see that subversion of orderly architectural blueprints and using them, more or less to digitally draw the pedestal on which Oliver Morton stands.
(Green noted that Indianapolis has the second highest number of war memorials outside Washington D.C.)
"The process itself:how these are made: I collect a lot of and I pour through archives of old blueprints and I also go around and I photograph a lot of things," he explained.
In some of his works, he takes sort of a Cubist approach to perspective, where a plane composed of what seems to be an architectural diagram will intersect strangely with the subject of the composition. In Green's of the past year or so—"The Benefactor" is one such example — the normal laws of perspective do not apply.  
But for photographers and print makers, his processes are nevertheless jaw-dropping.
"I should probably mention that this whole body of work was sort of borne out of really came out of thinking about the ways to differently use different photographic processes," he said. "So while they look like drawings and there are a number of my drawings within the compositions, it's essentially a photographic process."
Green prints on a large-scale inkjet blotter much in the same way an architect would print a blueprint.
"But this has a sort of resolution quality, and depth and a kind of tonal range that you can't really get on a blotter," he explained. "It's a German etch printmaking paper that I print on and it achieves the kind of depth that I need. It also picks up everything, all the detail."
I told Green that, in some of his work, it seems that he is printing on a collage of paper glued together — it seems like there's actual relief in the surface of the paper. But it's impossible to touch the paper though to test this assumption, since the work is covered in glass.
"It's probably just the paper that I'm using and I don't do much manipulation of the paper, of the actual print," he said. "It's a really thick printmaker's paper and I don't do much manipulation after but definitely something that I was initially striving for, sort of a rich etch look.  A lot of printmakers come up to me and say how did you do this and then a lot of photographers come up to me and say how do you do this: it straddles both fields I guess you could say."
The Indianapolis-born Green, currently, also straddles two fields. He's a fine artist, and a builder with practical skills that he employs in the service of Big Car Collaborative, where he works as a resident artist. He is cognizant of the fact that Big Car, which runs Tube Factory artspace as a hybrid community center and art museum, is trying to transform the surrounding Garfield Park area—in a non-dystopian kind of way.
When we spoke, Green said he was very happy that he was able to display his work together with that of Osamu James Nakagawa, who was his professor at Indiana University Bloomington, and is currently director for integrative photographic studies at the I.U. School of Art, Architecture, and Design. (Green graduated with a BFA in studio art in 2009.)
"But we sort of kept up a friendship since then," Green said. "And since I got back I've been able to hang out with him a little bit more."
Some of their work, he said, overlaps conceptually.
"So we sort of thought about doing a show together, around the idea of the structures and the forms of conquest of colonialism or imperialism," said Green. "He did this series where he went up to the [American] military base in Okinawa and pressed those cyanotype to create sort of a photogram of the military base in Okinawa. There's a lot of tension there because of the existence of the military base."