Norbert Krapf's emails always bring the promise of an adventure. Southwest by Midwest, newly published by Dos Madres Press, shares Krapf's journey of  connectivity with America's Tribal Cultures. As things often happen in moments of serendipity, a simultaneously received message from The Eiteljorg Museum informed, "Due to the ongoing public health emergency, several June events at the Eiteljorg Museum of American Indians and Western Art will not take place as scheduled. They include the Juneteenth Community Celebration, originally set for June 6, the Eiteljorg Indian Market and Festival, planned for June 27-28, and the free concerts Wednesday evenings in June."
Since it's at Eiteljorg events that I meet up with Norbert and his wife Katherine, that connection of emails became the lead in to the virtual email interview with Norbert. Here it is, followed by a critique of Southwest by Midwest, that arrived via U.S. mail.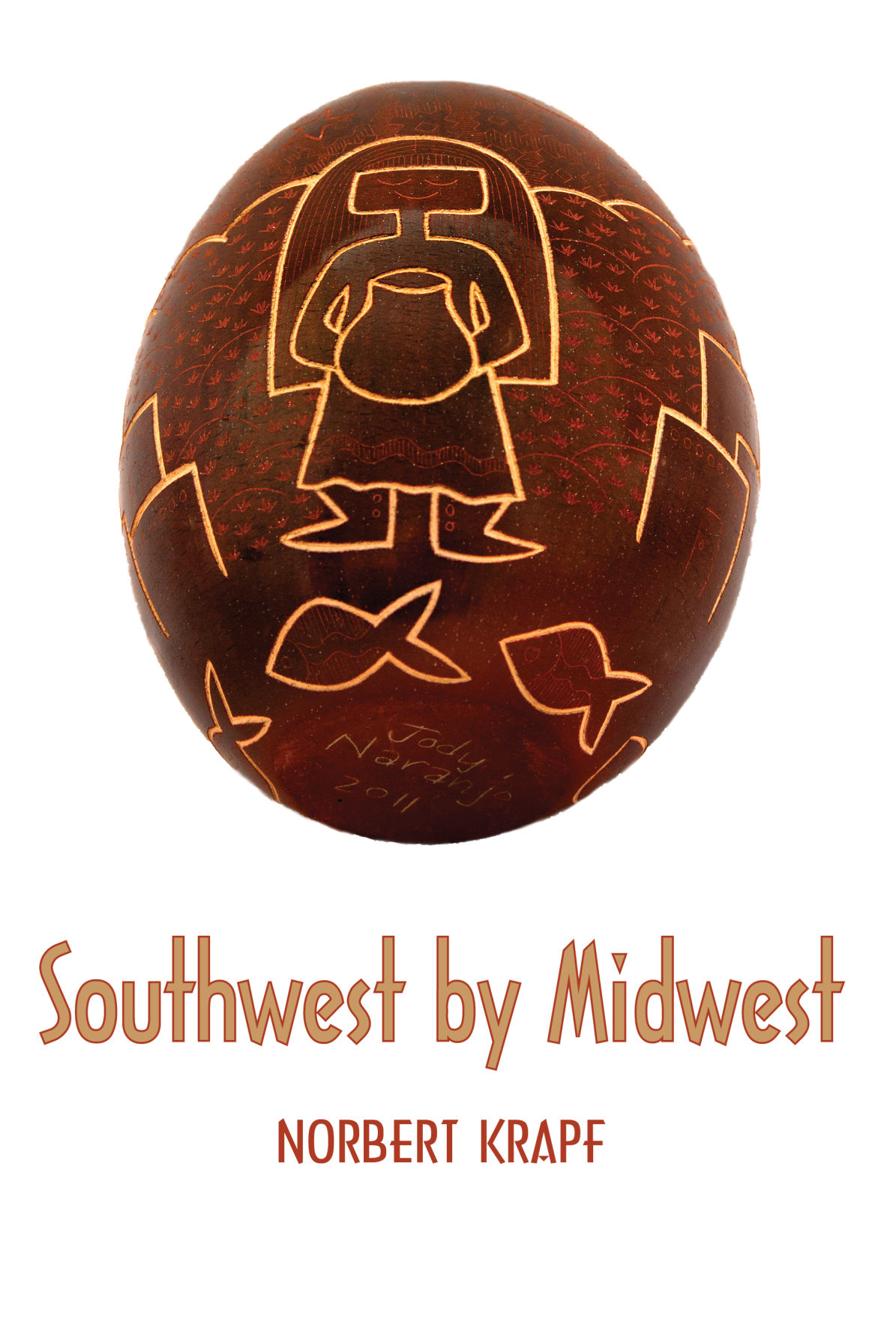 nuvo.net: Your connections with The Eiteljorg shines brightly within this new volume. What is at the fulcrum point balancing your 'looking in from the outside' and 'seeing into the meaning within' that has been informed by your even further back connecting—back to Long Island and the Lenape/Delaware essentiality that is part of your seeing/hearing soul?
Norbert Krapf:
I became interested in Native American poetry in the mid-1960s, after hearing poet Simon Ortiz read at Notre Dame, where I received my MA and Ph.D. in English, with a focus on American poetry. A year I spent teaching in an exchange at West Oxon Technical College, 1973-74, made my wife [Katherine] and me interested in visiting prehistoric sites in the U.K, and in the summer of 1975, we spent several weeks camping in the Southwest exploring ancient Native sites, especially in Arizona and New Mexico, which we have since visited a number of times. When I started to teach at Long Island University in 1970, I read Black Elk Speaks, with its clear and vivid articulation of Native spirituality, which had a lasting effect on me. I taught it in freshman English and World Lit classes and had students write about it. 
Christie Cooke, a Navajo who came from the Navajo Reservation in Arizona to LIU on a volleyball scholarship, took my 'American Poetry to 1900' class, in 2002. In her last semester, at her request, we did an independent study on her writing a memoir about Growing Up Navajo. We invited her to our house for Thanksgiving dinner, she became close to us, and seven members of her family came for her commencement in 2003, four of them staying with us;  in fact all of them the last night before they left. We have visited her family twice on the reservation. Since receiving an MFA in Creative Writing at the University of Arizona, Christie has been teaching at Haskell Indian Nations University in Lawrence, Kas. 
Since the early 1990s, Jeanetta Calhoun Mish, Delaware, has been a friend of ours. She is the current Oklahoma Poet Laureate, but her home base is Albuquerque. We got to know her when her former husband Lance Henson, Cheyenne poet, came to speak to students in an interdisciplinary 8th-grade program that included a unit on the Westward Movement, which Katherine co-taught in the Manhasset (an Indian name) School system on Long Island. I met Jeanetta during one of his visits, liked her poetry very much, saw her develop, and invited her to read at Long Island University. When I directed the CW Post Poetry Center 1985-2003, I brought a number of Native American poets to read in our series.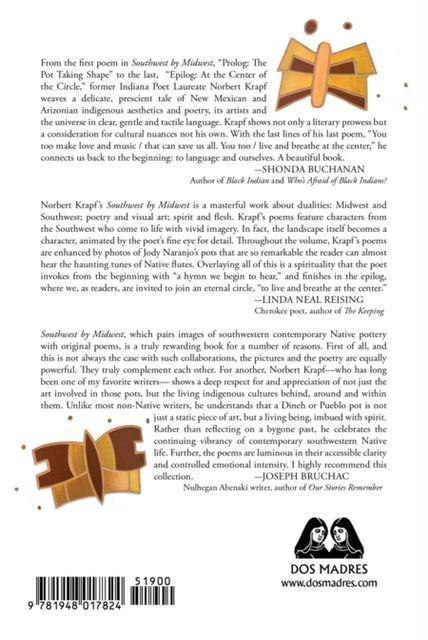 We met Santa Clara Pueblo potter Jody Naranjo at the Eiteljorg Museum, where she comes annually for the Indian Market the third weekend in June, fell in love with her work, which we collect, and became good friends with her. These are the three Native women at the center of this book, which includes colored photos of eighteen of Jody's gorgeous pots that inspired poems in the collection. Jody also lives in Albuquerque, not far from Jeanetta.
nuvo.net: How did Santa Clara Pueblo/Tewa potter Jody Naranjo's work inform your desire to walk the places alongside her footsteps, from the fetching of the clay, the molding, firing, finishing, that carries each pot into birth and life of service? 
Norbert Krapf:
We have been collecting Jody's work for over ten years, have bought pots when she appears at the annual Eiteljorg Indian Market in June, and have also visited her in her home in Albuquerque to see and buy her gorgeous pots. She has become a dear friend. She often invites me and my wife to sit at her table at the Indian Market and talk. She has heard me read my poems at Bookworks in Albuquerque. As soon as I read about her work and saw pictures of it in the Indy Star when she was featured, I could not stop myself from buying her work. We had taken a trip to New Mexico and Arizona in the summer of 1975, after spending 1973-74 in England when I taught at a technical college on an exchange, became fascinated with British prehistory, and gathered Romano-British potsherd remains all over southern England. On that 1975 camping trip, we bought some Navajo pots. 
As explained above, I have been interested in Native American literature, especially poetry, since the mid-1960s. When I started to write about Jody's pots, I was interested in her process. I read some interviews in which she talked about the way in which she creates pots, where she goes for her clay, etc., worked that into poems, showed them to her to see if I got it right, and she said I did. I am honored by what Joseph Bruchac, the Nulhegan Abanaki writer who published some of my poems years ago in his Greenfield Review, says on the back cover of the book about the poems inspired by the pottery in this [new] collection: "Unlike most non-Native writers, he understands that a Dineh or Pueblo pot is not just a static piece of art, but a living being, imbued with spirit." I have been a great admirer of Native spirituality for a long time. Jody's beautiful spirit shines through in her pots. Her pottery shows a reverence for life, including a love of the small creatures she includes on the sides of her gorgeous pots.
nuvo.net: Universality is at the core of your personal experience, presented through your medium of 'the poem.' What is it that gives you joy in the sharing and the will to put yourself within the public lens?
Norbert Krapf:
For thirty-seven years I loved teaching literature on the university level, especially sharing my passion for poetry with my students. It was an honor and a pleasure to serve as Indiana Poet Laureate 2008-10, as a kind of poetry ambassador. I enjoyed promoting the work of Indiana poets, scheduling readings for them, bringing poetry into cafes and jazz clubs and nursing homes, as well as universities and schools on all levels, and to anywhere that people often think poetry can't go or doesn't belong. I love giving service in this way, which is also what I try to do at my poetry readings, to serve the poem and the effect it can have on us, enlarging our lives, making us more sensitive to others, understanding and respecting one another. I emphasized the common origins of song and poetry, stressed collaborations with musicians such as my poetry and jazz CD Imagine and performances with jazz pianist-composer Monika Herzig, a native of Germany, and my poetry and blues performances with Gordon Bonham. I have also collaborated with Indiana photographers Darryl Jones, Richard Fields, and David Pierini in three books from I.U. Press in their Quarry Books regional titles. Poetry is in many ways a solitary art, but showing that you love to collaborate with artists in other fields to deepen its appeal can be contagious for the audience and even make them want to try doing some of the same!  
nuvo.net: With this new volume, how should a reader now enlarge a personal understanding of a hand-wrought object imbued with soul and longevity, sense of place and personhood, versus the run-of-the-mill throw-away stuff spewed out with not much personal caring?
Norbert Krapf:
Before I ever met Jody Naranjo or had ever seen her pottery, I had done many collaborations with artists of the past. My first chapbook was poems inspired by the twelve medieval illuminations, one for each month,  included in The Playfair Book of Hours which I found in the Victoria and Albert Museum in London when we lived in England. My collection of poems set in Germany, Blue-Eyed Grass, included a cycle of fifteen poems inspired by the life and work of Albrecht Dürer, one of my favorite artists, and also poems about the sculptor Tilman Riemenschneider and Lucas Cranach. I did a collaboration with my colleague at Long Island University, Alfred Van Loen, a survivor of Auschwitz, Circus Songs. I had not collaborated with a potter until I fell in love with the work of Jody Naranjo, and responding to her work seemed a natural and inevitable thing to do. 
As an athlete in high school, I loved team sports; I love working with artists of different kinds, from different backgrounds. Any work of art that strikes me as revealing a vital spirit makes me respond. I think a reader should be open to the spirit of a poem, a painting, a song, a symphony. Let your spirit respond to the spirit of the work. Be open. Be willing to experience something new and different. Be happy for the opportunity to grow and develop. Bring a spirit of adventure to any art you are about to experience. That doesn't mean you have to like everything. 
nuvo.net: What else should readers know about your poems as your life-source?
Norbert Krapf:
I have been writing and publishing poems, prose poems, personal essays, reviews, memoirs, plays, journals, for very close to fifty years. When I am writing, I am most aware that I am fully alive, engaging with the world, people, places, creatures, plants. In many ways, I am a lucky man. Poems and other kinds of writing have not stopped coming to me for fifty years. I have told audiences more than once that I never say no to my Muse. Be open to what comes, try it. Be patient with yourself. If it doesn't come out well or all right the first time, revisit it later and see if you can make it better. The first attempt may, in time, lead to a new version that is more fully realized and finished. Some topics or subjects or experiences need to gestate within us before we are ready to write about them well. I have a very patient wife who is generous in giving me time in my study. She reads almost everything I write. She finds it hard to say when she doesn't like something, but I have learned to read every small gesture, change of tone in her voice, or flicker of an eyelash to know when she really likes something or finds it not yet fully realized.  
add more at your will...
I would like to add my poem "Arriving on Paumanok," based on some of the many beautiful Indian place names on Long Island. I wrote it in the fall of 1974 after we returned to Long Island following our 1973-74 year in England (we also had two years in Germany). I remember opening up a map of Long Island on the floor of my study, crawling around and looking at the place names that many people take for granted. I was struck by the beauty of them. Writing this poem was the beginning of my connecting with the spirit of this place we had moved to from Indiana (but my wife is a Louisiana Cajun). Those "voices from the interior" I see as the spirits of the Native people of the past speaking to me… I write in the third person about my own experience in this early poem.
Arriving on Paumanok
Paumanok: "The island with its breast
long drawn out."
—W.W., Brooklyn Standard
A Midwesterner, an inlander,
a lover of the interior,
arrives on Long Island. "Paumanok!"
he whispers, savoring his Whitman,
local aborigine. "Paumanok," he says,
half aloud. He feels salt water swaying
on every side of him. He looks around
for the rows and rows of ripening
corn he'd sighted down since he was
pushed from the womb. None. Expressways.
"Paumanok," he repeats, looking
at a map. "Manhasset . . . Mineola . . . Massapequa,"
he reads. He picks out the red and green lines
looping the long breast. He turns them
on his tongue like strange herbs.
"Cutchogue . . . Patchogue . . . Ponquogue,"
he intones. "Wantagh and Wickapogue."
He feels a mist drifting in from the shore.
"Quogue and Nissequogue, Nesconsett
and Amagansett," he sings. He hears
the surf splashing nearer. "Commack
and Speonk and Setauket," he chants,
"Ronkonkoma, Ronkonkoma." "Shinnecock,
Peconic." In the middle of a fog
sliding inland off the sea like
the souls of the dead, he says, softly,
"Mattituck, Montauk." He whispers,
"Paumanok, Paumanok." He begins
to hear voices from the interior.
I read, and re-read, Norbert's Southwest by Midwest the evening of May 19, sitting on my porch, safe from spurts of rain yet within close proximity of birds and four-leggeds going about their errands, paying me no heed; a fitting setting for the interior intent of this book. What comes through, for me, is Norbert's vivid descriptions informed by an urgency of sharing lest the sacred gift of seeing vanish into forgetting minutest details. This is coupled with a constant searching as a circular path into knowing what is, was, will be. The book's three sections are cycles each depicting in-the-moment events and impressions, along with reflections with time informing understanding.  The first section, "Beyond Dark Eyes,"  revisits the now-out-of-print Sweet Sister Moon. This allows a new generation of readers into the endearing friendship with Christie Cooke and her family. "New Old Tongue" is the core of Norbert's willingness to let go and be within a culture that endures despite ravages upon its right to exist: 
'"When you let yourself/ go down layer by layer/ of generations through/ what some call time/ you shall feel/ the beautiful blackbird/ of the ancient tongue/ flap its wings and rise/ ….
Within "Some Hands" we come to know the meaning of Native pottery. "Poems and Pots" begs for music to turn it into a round. In my head I hear four-part harmony; here's one descriptive snatch: "On the sides of the pot/ animals move in a rhythm/ words make in a poem." 
Section three shares experiences of being within the flow of becoming at one with ancient while modern is never far from being ancient. Norbert's writing is looser, perhaps more prosey: "The rhythmic sounds of our language/ in the mouths of three poets who until recently/ had never met and are reading their poems/ to one another taste delicious in the ways/ that the cheese and crackers we munch/and the chilled wine we sip also do."
The Prolog and the Epilog mirror each other; an invitation to an adventure holds us in its sway and, at its close, fuses us from fragment into the wholeness of our own making, as potters of our own becoming.  
The book is infused with splendid images of pottery and other works of Native art.  A reading at The Eiteljorg is proposed for September 2020. 
Order the book now at:  www.dosmadres.com.
Norbert Krapf, a Jasper, Ind., native, authored thirteen previous full-length collections of poetry. Forthcoming is  Homecomings: A Writer's Memoir, a sequel to The Ripest Moments: A Southern Indiana Childhood.