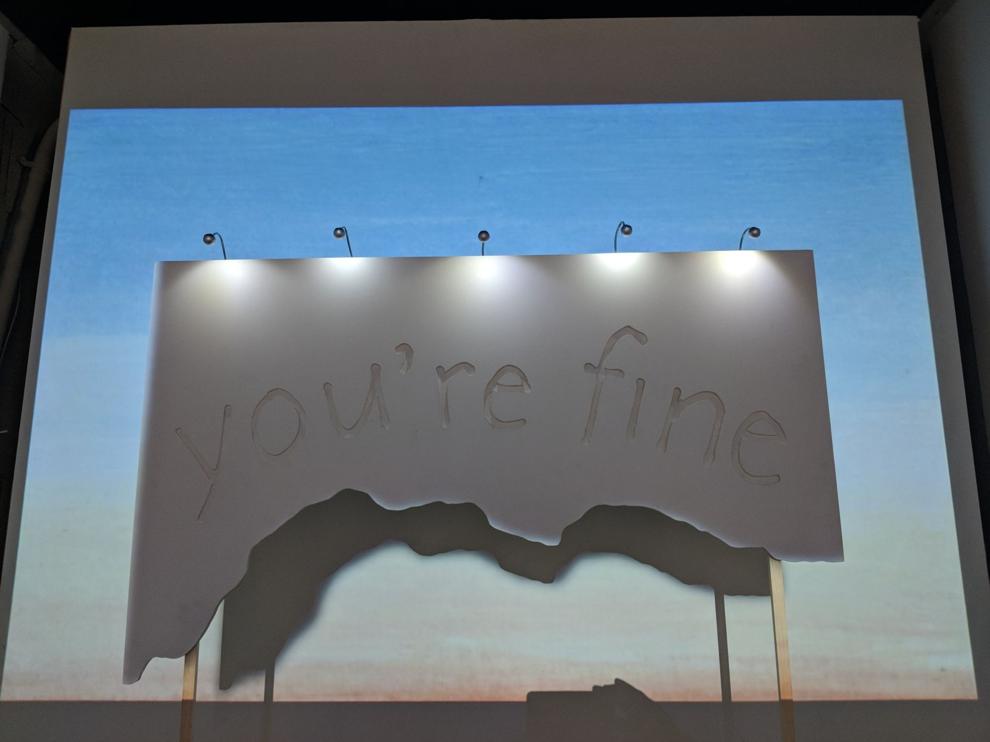 "So I think I've always been interested in the body vs. mind," says artist Liz Wierzbicki. "Especially being a female, I've always felt like I can't escape my own body."
Body issues are just one topic Wierzbicki explores in her exhibition I'm Fine, a group of print and video works that opened Friday, April 20 at Storage Space. Wierzbicki is the program director and co-founder of Cat Head Press: Printshop and Artist Cooperative.
The show's title is a fitting double entendre for a body of work that ambiguously ambles between a Midwestern-polite answer to the existential question of "How are you?" It is also a statement of sexual confidence and a parody of sexual objectification. In the works shaping "de attached," Wierzbicki poetically explores these themes by collocating representational female neck and shoulders onto horizontal gradients where a landscape has been cut out.
The result is a seemingly shallow, pleasant façade that if taken at face value, spectators need not worry or consider the more sinister ideas at play. Such as comparing mind and body to landscape and whatever else serves as a disruption of the physical self. It also serves to disrupt information that generally shapes the way we perceive what is outside, beyond our reach, in space.
"The body has a relationship to the landscape. I am taking the head off of the body—the physical space where our minds exist—taking it away and wrapping something immaterial around it," says Wierzbicki.
The north wall of the gallery contains small graphite drawings of clouds with thought bubbles indicating that the clouds think they are fine, as well as a juxtaposition of two videos: one of a woman adjusting her panties and the other of a woman's mouth. Within both videos, another video of clouds is collaged or imposed respectively on the inside of the mouth and on the undergarment being adjusted.
Another video piece is on the east wall, where a projection resembling the landscape from "de attached" has a billboard that's had a landscape carved out of it propped in front. The billboard reads, "You're fine."
Wierzbicki grew up with four male siblings and became aware from a very young age of the different treatment she and her brothers received. Specifically academically: She was the only female in an AP physics class.
On paper, Wierzbicki has a background in mathematics, but she says this is a misconception about her.
"It's not that I'm not interested," she says. "What drew me to that was its relationship to reason and philosophy," she says. Not feeling supported in her field led Wierzbicki to explore these ideas in other ways.
Storage Space is a very small gallery. It's about the same size as a shipping container. Its four walls are adjacent to a garage-type space where guests can mingle and sit comfortably. So far, the gallery has seen the works of multimedia artist Nick Witten, photographer Twon Schroeder, and installation artist John McCormick.
The advantage of showing work at a place like Storage Space is that artists have to edit themselves significantly and to the point where—so far—the exhibitions have been succinct and very worth the visit.
"There's multiple things going on," says Brent Lehker, who is the co-creator of Storage Space along with his partner Michelle Steele McGuire. "One part of it is conceptual work; I'm really drawn to that. There's not a whole lot of spaces accessible to local artists, and here they can come do an installation and do whatever they want."
Not wanting to compete with other exhibition openings, Storage Space has been scheduling its exhibition openings as an alternative to busy First Fridays, which it calls "Mid-Month in the Mid-City." However, Friday, April 20 did end up being a busy night for art lovers, with additional art openings taking place at Sugar Space, The Oilwick, and even the Indianapolis Art Center—although the Art Center schedules its openings seasonally and not on a month-by-month basis.
Next month, sculpture artist Steve Moore will build an installation inside Storage Space. They will be opening May 18, 6–10 p.m. I'm curious to see how Moore transforms and edits his work, but I'm also curious to see how Storage Space continues transforming the way artists configure their art in the upcoming middle-of-the-month of our middle city.