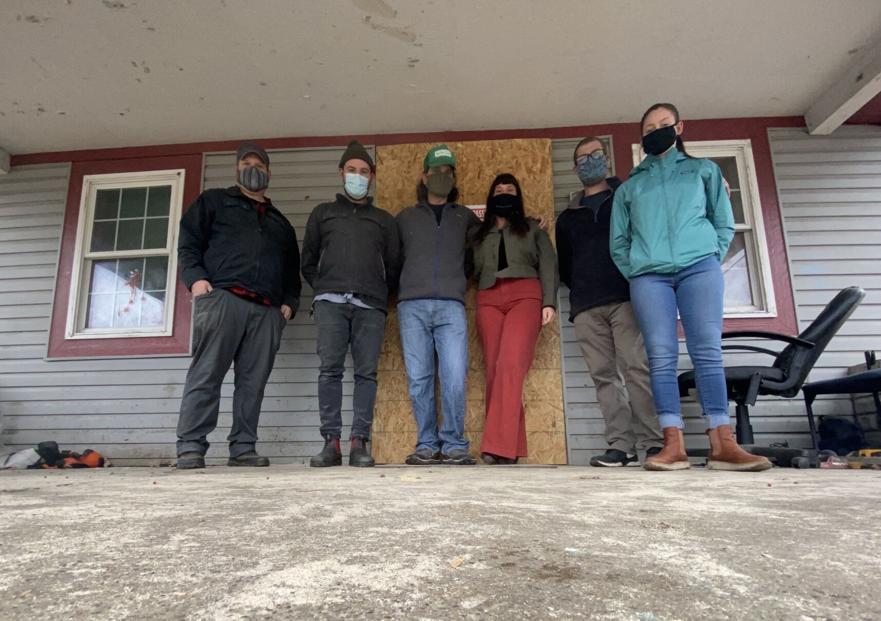 Tube Factory artspace, the hybrid contemporary art museum and community center run by Big Car Collaborative, has been closed since March because of the COVID-19 pandemic. Many in the arts community, no doubt, miss their First Friday gallery receptions and night markets. But Big Car has continued to operate while assisting and empowering Indianapolis artists. 
Tube Factory is located in a former industrial building at 1125 Cruft St., in the Garfield Park neighborhood, on the near southeast side of Indianapolis.
During the pandemic, the nonprofit arts organization has been busy facilitating their Artist and Public Life Residency (APLR) program. This is a long-term affordable home ownership program that requires its resident artists to spend 16 hours a month engaged in community betterment projects.
Four years ago, the nonprofit arts organization began to acquire vacant homes in the vicinity of Tube Factory. After refurbishing them, they invited artists to apply to the program. Big Car has encouraged artists of all types to apply  — from painters to culinary artists but they all must make less than 80% of the average Marion County income. The APLR gives the homeowners an equity stake in the houses, requiring them to sell back their 49% share to the partnership —  if they decide to move. 
Big Car runs the APLR program in partnership with Riley Area Development Corporation and Indianapolis Neighborhood Housing Partnership. There are five occupied houses in the home ownership program, and five occupied houses in a rental program that Big Car runs separately. Two of the refurbished houses (refurbished by Two Chicks and a Hammer, as seen on HGTV's Good Bones) are currently available for rent. Big Car has also recently acquired two more houses to renovate.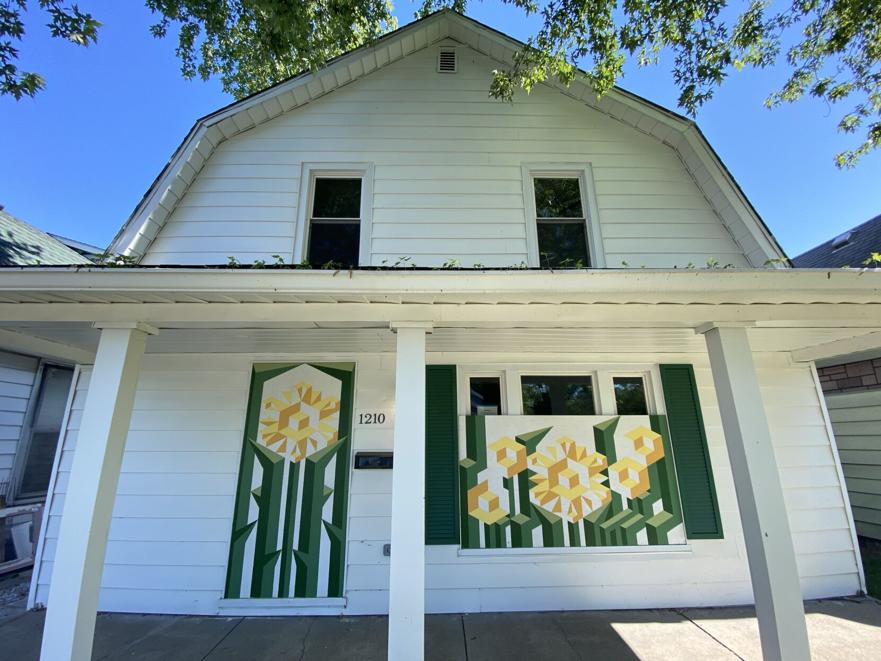 Uzuri and Bashiri Asad have lived in their APLR home, near Tube Factory artspace, for a year.  
"The program is set up so that it's in support of amplifying the voices of artists in the community," said Uzuri, who teaches yoga and dance. 
Her husband Bashiri is a vocalist and songwriter who has appeared on WFYI's Small Studio Sessions and has headlined shows at The Jazz Kitchen.
"At the same time, it's putting people in a position who might have a longer road to the possibility of home ownership and property ownership," Uzuri continued. "I thought it was an excellent idea, and my husband thought it was an excellent idea when we saw the opportunity through the application process to get a home for our family because we now have five children."
Mariah Ivey, who is a spoken word artist, singer, and organizer of That Peace Open Mic, has lived in an APLR home since August 2020.
Apply for the APLR rental program here.
"The biggest appeal for me was, one, being able to purchase a home," said Ivey. "That's a major step and one that I was extremely excited to take. I think that was one of the bigger appeals, but also being able to utilize and exchange resources in this neighborhood, among other artists."
Ivey also believes that the APLR program is making a difference as far as promoting diversity in the predominantly white, working-class Garfield Park community. 
"There are many different artists who are now are navigating this way so I think because they're creative people, because they are musicians and they're visual artists and they're teachers and community organizers, and some of them are Black and some of them are white and there are other people of color —  that increases the possibility of us just collaborating and creating a new kind of neighborhood," she said.
The opportunity to contribute their artistic skills to the Garfield Park community —  and beyond —  is an aspect of the APLR program that Uzuri Asad also appreciates and has found a way to safely share her passion during the pandemic.
"I decided that I would share some of my love for cooking," said Uzuri, while her husband has given impromptu concerts on their front porch. "Occasionally, I'll either do a live stream on my Facebook or Instagram because I've been working on a vegan cookbook for a while, and I just hadn't been really motivated to really get it done until recently."
While being in the APLR program, she had both the opportunity and the space to pursue this project.
"So I went ahead and did it," she said. "It's always been important to me that people understand how easy it is to live a plant-based lifestyle if that is something that they choose to do. That was just an easy way to put a lot of information in a space where people would be able to take it in at their leisure."
Engaging with the community is also an important aspect of the program for Ivey.
"We've definitely been focused on increasing our partnerships with different people and community, collaborating with neighbors on projects —  even just having a conversation and getting to know one another —  that, in addition to working on our own creative practices," she said.
Shauta Marsh, curator and co-founder of Big Car Collaborative, said that this environment of diversity that Ivey describes is not an accident.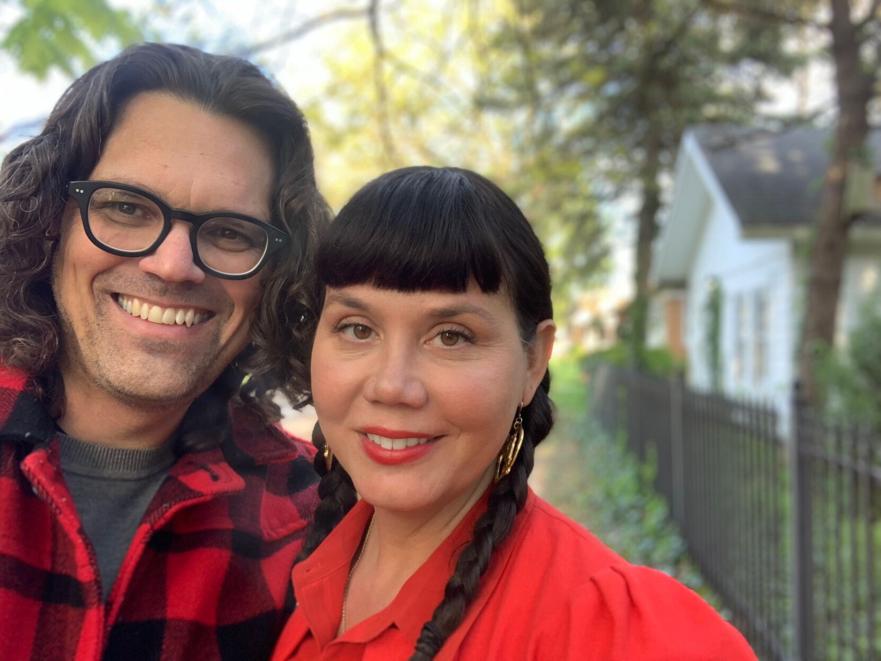 "I want the demographic makeup of the program to reflect the city, so that's that's part of the goal," Marsh said. "Indianapolis is 30% Black, and then, I think it's like 18% Latino. Then, our program needs to reflect supporting artists of all backgrounds and reflect our city and all that our city has to offer."
Trying to create affordable housing is not something entirely new to Indianapolis. The Southeast Neighborhood Development Corporation (SEND) facilitated home ownership opportunities in the Fountain Square neighborhood since 1991. But when the affordability requirements were lifted, residents could —  and some did —  sell at a profit.  
Riley Area Development's president Gary Reiter calls this phenomenon voluntary displacement. The equity and sell-back stipulations of the APLR program, Reiter told NUVO in 2019, are designed to counteract the market forces that lead to displacement and gentrification.
"Typically in a situation where people come into a neighborhood to make improvements, sometimes [residents] either are displaced by rent or voluntarily displaced by selling it to get their profit," Reiter said. "All of a sudden, the neighborhood isn't affordable anymore. So to recognize the contribution of the pioneers coming into the neighborhood, you want them to be able to participate [in a house's equity] at some level but you also want to keep the cultural aspect of the community intact."
The APLR program, which to Reiter's knowledge is unique in the U.S., is designed to avoid what happened in Fountain Square where commercial real estate prices have skyrocketed over the past decade, as a result of it becoming a nightlife hub. 
Based in a small studio in the Murphy Building from 2004-2010, Big Car was the pioneering arts organization in Fountain Square. They were partly —  inadvertently —  responsible for creating the hip scene that commercial developers piggy-backed on. The result was that Big Car itself was priced out of the neighborhood. It's not an experience they want to repeat in Garfield Park. That is, they don't want to be priced out of Garfield Park as a result of improvements they are making. They don't want this to happen to their neighboring Garfield Park residents either.
But the pandemic presented a challenge that the APLR program wasn't necessarily designed for. That is, some artists in the APLR program ran into trouble making rent due to COVID-related cancelations. Big Car didn't evict them or charge late fees for rent, thanks to a $6,000 grant from the Indianapolis Foundation that allowed Big Car to make emergency loans.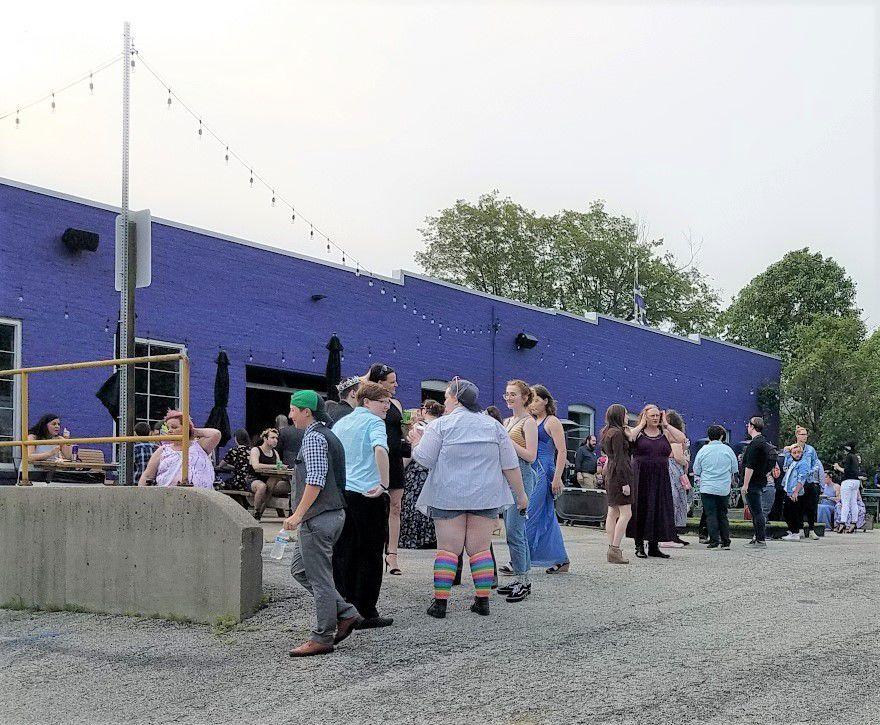 The Power Plant Emergency Grant Program
Notable in this moment is their Power Plant Emergency Grant program, designed to give $1,000 to 60 qualifying visual artists in the most difficult time in recent memory for the Indianapolis arts sector. 
The program, which started Nov. 2 and runs through Dec. 7, awards grants to 10 visual artists per week. The grants are given out on a lottery system weighted towards prioritizing individual artists with the greatest need during the pandemic. The artists need to live and/or work in Marion County. 
 "The world has changed," she said about the mission of the program. "We hope these grants help artists know their value and stay in our city."
The program was an outgrowth of the Rocket Grant program administered by the Charlotte Street Foundation, a nonprofit arts organization in Kansas City. Like the Power Plant grants, the program is funded and directed by the Andy Warhol Foundation for the Visual Arts.    
Big Car has had a longstanding relationship with the Andy Warhol Foundation, which helped fund various exhibitions at Tube Factory artspace and also helped fund the nearby Listen Hear  —  described on its website as an "ongoing sound project" and home of its radio station WQRT —  based at 2620 Shelby St.  
"Their main interest in this has been that we're an artist-run organization that we started out as a group of artists," said Marsh.
Marsh, who served as a juror for the Rocket Grant Program —  an experience that gave her insight into Charlotte Street Foundation's administrative processes  —  is excited about a new non-emergency phase in the program set to begin in 2021 geared towards assisting artist run gallery spaces with grants in the $2,500 to $10,000 range.
Marsh noted a decline in the number of arts organizations in the Circle City that started before well before the pandemic with the closure of Primary Colours in 2016. She also mentioned the decision of the board of Indy Contemporary (formerly known as iMOCA) to discontinue operations in April 2020, citing COVID-19-related financial stresses.
(Marsh served as the executive director of iMOCA from Aug. 2012 to Feb. 2015.)
"We want artist-run spaces to be able to apply, and we want house galleries and we want all that back that we've lost."
WQRT, 99.1 FM
If you tune to Big Car's 100 watt FM station, WQRT, described on its website as "a non-commercial, experimental on-air home for contemporary art, music, and community" you might just catch a twice-monthly electronica show "Good Vibrations" hosted by staff artist Carlie Foreman, Big Car's business manager.
Or if you're tuning in late at night, you might be listening to "Rhinestone Country," described as "classic country for walkin' after midnight … or Soul Glow —  "old school R&B, soul, funk, jazz."
Or you might hear artist and publisher John Clark reciting a poem by Charles Bukowski in place of a commercial break.
This 100-watt radio station located at 99.1 on the radio dial (and streamable, on their website) has offered a smorgasbord of programming different from anything you'll hear on the air —  at least in Central Indiana. There is also a regular series featuring interviews and conversations titled "WQRT in response to the pandemic."
One WQRT program under development that Big Car Executive Director Jim Walker (Shauta Marsh's husband)  is particularly excited about is Words & Music, funded by Indiana Humanities.
The show will focus on Hoosier literary figures who might not be as well known as, say, Kurt Vonnegut. This list includes the poets Mari Evans, Etheredge Knight, Kenneth Rexroth, Dylan Krieger, and Adrian Matejka. One of the programs will focus on a short story titled  "In the heart of the heart of the Country," written by William Gass while teaching at Purdue.
"It's this story of being in the Midwest but feeling on the outside," said Walker. "That one episode is going to be about what it's like to be a writer and artist and a creative person in the Midwest. And then we're going to do another one that's about love poems and sensuality and poetry and connect that to different writers. Some of them will be theme focused, and then others will be more biographical."
Redevelopment in Garfield Park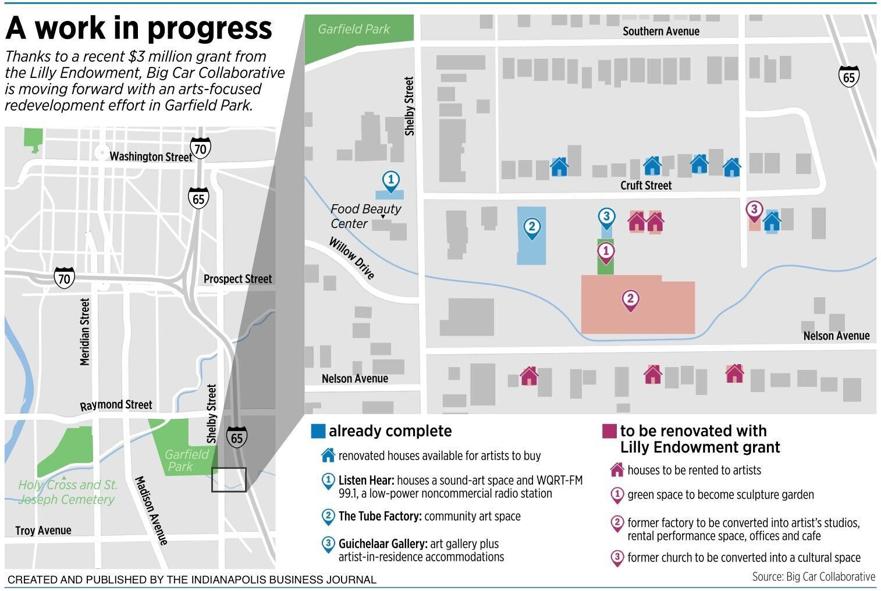 In Dec. 2018, Big Car announced that they had won a three million dollar grant from Lilly Endowment to turn a 44,000 sq. ft. abandoned industrial building adjacent to the Tube Factory into a multi-use arts center, with studios, multiple exhibition spaces, and a cafe. Also as part of this community redevelopment program, the grant also funded renovation of five houses that are being rented to artists as part of the APLR program.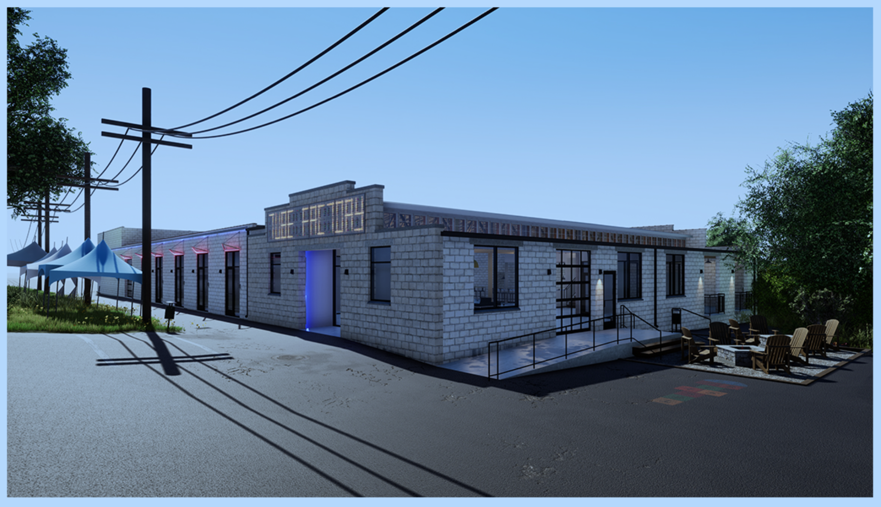 According to Marsh, renovation work on the industrial building, sometimes referred to as "Big Tube," should begin in the spring. She is also hoping that studio rent will help support salaries for staff. (Big Car, she noted, has managed to hang onto its core staff through the pandemic.)
But for the moment, at least, its events will continue to populate the virtual sphere.
"We're going to do an online exhibit together called "Localized":  Marsh says of an upcoming virtual show, in collaboration with Garfield Park Arts Center, running Dec. 4-Dec. 26.  "It's a hyper-local show, so it's Bean Creak and Garfield Park artists."
A show featuring the reimagined western wear of Jerry Lee Atwood is tentatively scheduled for April at Tube Factory. But Marsh acknowledges that any plans for in-person events are dependent on the timely distribution of a coronavirus vaccine.
Plans for 2021 also include the Social Alchemy Symposium in New Harmony, Ind. which will include a wide range of participants, ranging from historians to community organizers. Workshops led by local artists are planned, as are community meals and local tours.
It's not entirely surprising that Big Car's co-founders would have such an interest in the utopian ideals that helped bring New Harmony into existence in the early 1800s.
Formed in 2004, inspired by an influential essay titled "Can Poetry Matter?" by Dana Gioia —  who argued that the only way poetry could survive was to combine it with music and performance and merge audiences —  Big Car has grown both in size and in outreach since its first exhibitions at the Murphy Building.  
Viewed through the lens of Gioia's essay, the opening of Tube Factory artspace in May 2016 might be seen as a watershed moment. Their engagement with the Garfield Park community has led them to places Gioia couldn't possibly imagine — namely, into real estate development. At the same time, you can also see a throughline from Big Car's original vision.
"We're more certain than ever of the importance of artists in society —  and of our role in Indianapolis as an artist-run organization," said Marsh. "Our world needs to rebound, rebuild, and grow stronger. And, to do this right, we need the risks, the laughter, the creativity, the critique, the challenges, and the beauty art and artists provide. We at Big Car believe that humanity has a collective soul. And it's the artists who manifest it into a tangible reality."