The debate about "Ann Dancing" —  the electronic sculpture that was finally turned off May 30 due to its state of disrepair — lit up a lot of Indianapolis residents' social media feed last week. That is because the future of the sculpture is a hot topic of debate right now in the Indy arts community. Some want to repair it, while others think the money being raised for said repair could be put to better use funding work by local artists.
For those unfamiliar with Ann, this obelisk-like sculpture is composed of four rectilinear LED screens that depicted the same animation of a dancing woman in a sleek dress, dancing the nights and days away for over a decade now, in the same circular plaza where Mass Ave meets Delaware and New York Streets.
Originally configured as a temporary installation, the sculpture — designed by London-based Julian Opie — has lasted longer than anyone has had a right to expect. Over the years Ann's hardware has received some attention, but now she needs more than just patchwork fixes: she needs to be brought back from the dead.
In order to resurrect Ann, the nonprofit Indianapolis Cultural Trail Inc., which maintains its eponymous eight-mile pedestrian and bike path connecting the city's cultural districts, put up the crowdfunding website KeepAnnDancing.org May 30 asking for donations through the month of June for the repair of the sculpture, the first in its public art collection.
According to its website, the Cultural Trail has the goal of raising $262,800 for the sculpture. (The original price tag for the work was $150,000.) In their pie chart the biggest slice goes to restoration of the sculpture (58%). Other smaller slices go towards a maintenance fund for the sculpture, for maintenance of the surrounding plaza, and for a fund to improve and maintain the sculptural work on Mass Ave, which will include seed money for future artwork along the Trail. As of this writing, they are, according to the website, 42% of the way towards their goal.
The Cultural Trail Inc. developed this budget — which does not yet exist in line item form — in working with Julian Opie's team, according to Kären Haley, executive director of Indianapolis Cultural Trail, Inc.
"It's a very conservative budget," she told me. "We've had several estimates for the replacement over the time that we've been working with them, making sure that we have the right components. It allows us to fix her, but also address any unknowns that we might have, once we actually get in there to replace them and repair her … We haven't ordered any components because we have to raise the funding first to do it. So that's why we wanted to put together the most conservative estimate so that we didn't have to go back out and ask to raise more money."
The upgrades to Ann include a complete overhaul of hardware, Haley said. Design features include fully integrated fans and allow for ease of maintenance. The maintenance fund will provide for upkeep in the long term.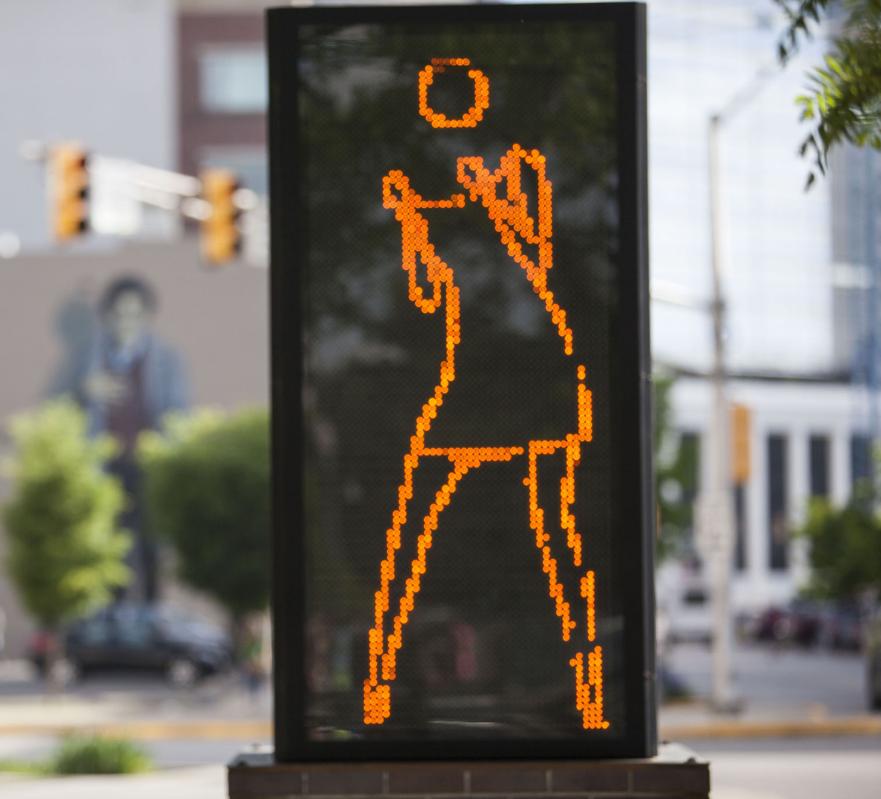 Controversial Ann
While Ann has never done as much for me as it has done for its proponents, I respect those who feel differently and want to fund her resurrection on their own dime.
It should be said that Opie, who has several of his portraits in the National Gallery in London, can count on some proponents for whom the adjective effusive can only work as understatement. In 2015 Jonathan Jones, writing for The Guardian, heaped on the accolades in a review of an exhibition of Opie's paintings in London's Alan Cristea Gallery. In this review,"Opie's Portraits in Motion: This is what Genius Looks Like", Jones compared Opie to Eadweard Muybridge, Georges Seurat, and Leonardo Da Vinci, among others.
I did have the thought —  in looking at the clever, colorful animations currently on Julian Opie's website —  that it might be interesting to see what the artist himself might potentially propose for an update. What if he were able to give Ann a makeover? After all, that pixelated, dancing Ann is just so —  what shall we say? — 2008.
But the goal of The Cultural Foundation is to keep Ann the same as much as possible.
"We want to replace it in a way that you can't tell that we've done any work," Haley told me. "She will look as close to the exact same thing that you see out there today, as she does now, when we're when this is all said and done. That doesn't account necessarily for the repairs that we're going to make to her plinth. But that's not the artwork, that's just what the artwork is sitting upon. But the actual piece, that movement, pixelation, the specific amber shade, all the movement; I think all that will be the same, because that is what he created as his piece of art."
When Ann first came to Indy in 2008, love for Ann was not universal in the press. Lou Harry, working for the Indianapolis Business at the time, wrote that the piece was "a distraction, not an enrichment" — at least at the Mass Ave location. That is, he wouldn't have minded if Ann were moved to another location. While he emphasized that he was a fan of public art, he said the following about Ann. "She's like that crazy, fun person who enlivens your party … and then sticks around long after the party's over. Two days later, she's drinking in your living room."
Nine years later, Indy-based Sarah Urist Green, the host of the PBS Digital Studios production The Art Assignment, had some affectionate words for Ann. During Green's narration of her 2017 "Art Trip: Indianapolis" segment where she and artist Stuart Hyatt took a trip down the Cultural Trail, she shared this thought:
"There is something supremely comforting about Ann dancing morning, noon, and night, through snow, rain and presidential transitions," she said. "That Ann, she never quits."
Green also remarked on some of the other art along the Cultural Trail, including the giant murals of Hoosier authors Kurt Vonnegut and Mari Evans, by locally-based Pamela Bliss and Michael "Alkemi" Jordan respectively.
Big Spender Ann?
But there are local artists, among them Emily Gable, who are plenty ready for her to quit, at least at her current "conservative" price tag.  
"I'm ready to say goodbye to the public art piece 'Ann Dancing', Gable wrote in a May 31 Facebook post. "It's too much to renovate. Like an absurd amount nearly $300,000, "Are you kidding me? Indy is still Indy without her. Bye Ann, it's been fun seeing you dance but not for that much $$$ that money could be used to fund waaaaay more LOCAL public arts & artists. Sorry Ann, you've gone corporate. Go ahead Indy arts community shun me ..."
But instead of shunning her, a fair number of her fellow Indy artists —  Martin Kuntz among them — echoed her sentiments on her Facebook page.
The sentiment of The Arts Council of Indianapolis, however, can be described as all in. In supporting Ann, that is.  
On their Facebook page you can read this: "The Arts Council of Indianapolis envisions a city where public art is essential to creating inspiring places, living in cohesive neighborhoods, and helping culture thrive. We believe public art and the maintenance of our public art is vital to not only the Indianapolis Cultural Trail, but the city of Indianapolis as a whole."
Back in 2013, NUVO's David Hoppe argued that the Cultural Trail, in its quality of design, well-thought out character, and public artwork, put Indy on another level. "Here is proof," he wrote," that the cool factor actually contributes to functionality. The Trail has almost certainly led to a development boom extending the Mass Ave corridor all the way to the East End Building, making such new arrivals as Indy Reads Books and the Black Market restaurant possible."  
Nowadays, it might be a little harder to talk glowingly about this boom without considering the downsides. That is, talk about gentrification and displacement in the Circle City has become more intense since 2013 as the local real estate market has exploded.
Some More History
All this talk about "Ann Dancing" is not the first time art along the Cultural Trail has been the subject of controversy.  
In response to Gable's Facebook post, illustrator Rob Young replied by not only evoking the specter of gentrification but also invoking the Fred Wilson sculpture dustup dating from 2010.
"It's hard to buy the "we support the arts" argument when Fred Wilson got shot down by pearl clutchers and bland work like Ann Dancing gets a gofundme," Young wrote. "And what's even the point? A trapped, faceless woman is forced to dance in a box while more condos and chain restaurants/bars go up on Mass Ave …"
The Fred Wilson sculpture Young referred to, "E Pluribus Unum" —  in Latin meaning From Many, One —  was first proposed by the sculptor in 2009. It was to be located near the City-County Building Downtown. The limestone sculpture would have been a reproduction of the nearly-nude freed male slave at the foot of the Soldiers and Sailors Monument. The 10 x 12 ft. figure would have carried a flag of Wilson's own design, representing an amalgam of African flags of flags of the African diaspora.  
But after encountering strident public opposition to the project, The Central Indiana Community Foundation, called off the project in 2011. This was after three separate meetings in Indianapolis during 2009-2010, after Wilson attempted to explain his project to the public. At the root of the opposition, it seems, was a widespread feeling that the figure was just not relevant to the lives of 21st Century African Americans.  
I can understand and respect this point of view —  as a Jewish American I don't think for example, the statue of a half naked Holocaust survivor would be the best way to represent 21st century American Jewry —  but I don't doubt that Wilson was sincere in his desire to both bring his socially-engaged art to Indianapolis and to explain it to the public.
"Ann Dancing" is a different kind of controversy, but I wouldn't count out people on both sides coming together to work out some sort of middle ground that wasn't possible with "E Pluribus Unum." Maybe out of all this there will emerge increased funding for Indianapolis-based artists.
I do have to say that, while I agree that local artists should be forefront in any public art equation, I also think it's important to keep in mind examples of public sculpture from artists from elsewhere who've enriched the city. You might not have heard of the Los Angeles-based sculptor Peter Shelton, but you probably have seen his "thinman," and his gravity-defying "littlebird" sculptures at the Central Library.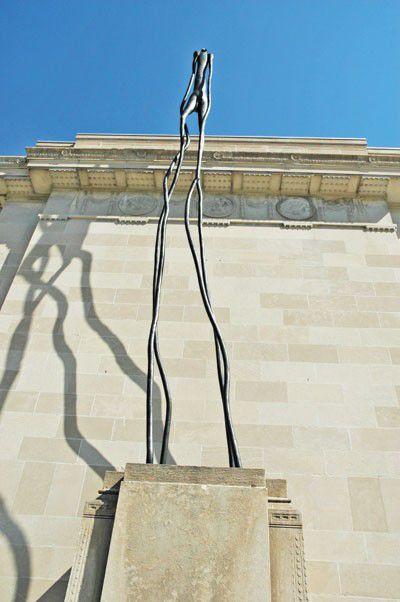 And if there is any ground to see the glass half full in the back and forth over Ann, it may be the heightened attention that Indy residents are paying to public art, and how that attention links up to other hot button issues in Indianapolis.
During a phone conversation with photographer, music producer, and artist Wildstyle Paschall elaborated on his disapproval. But he also shared his excitement about the vitality of the Indianapolis art scene.
"I think in general, people are starting to get the point that local politics affects them a lot more and I think that's carried over into the art scene," he said. "I was having a discussion with a local artist about the Chreece [hip-hop festival] lineup this year, and the concern is that, that maybe there are too many New York national acts on there and that it is going to take away from the Indianapolis artists, so I think people are getting more aware that Indianapolis has amazing artists ... we're just as amazing as everything else. And there needs to be an investment in Indianapolis artists first.  If [Julian Opie] was an Indianapolis artist, maybe people wouldn't be so upset about basically passing the collection plate around ... But even then, I mean, this is still pricey."
And while they come down on opposite sides regarding "Ann Dancing", Haley and Paschall both agree about the importance of community involvement in discussions about public art.
"We were a little surprised with the controversy," said Haley. "But at the same time, the overwhelming majority of people that are that are engaging on social media and posting their favorite Ann movement and their videos, their memories of Ann. The overwhelming majority of the engagement that we've had with people has been very positive. And if anything, I think it's really exciting to think about the fact that there's a community conversation going on about public art, and what that means for Indianapolis.'  
As for myself, while I haven't been inspired to give money to the "Ann Dancing" campaign, I certainly agree with the sentiment that public art needs support from the public.  
I could certainly see myself donating if the Kurt Vonnegut and/or the Mari Evans murals along Mass Ave were damaged or needed a repaint. I feel the same for the thinmanlittlebird sculptures. But the prospect of Ann no longer swinging it on Mass Ave isn't enough to get me to reach for my credit card.