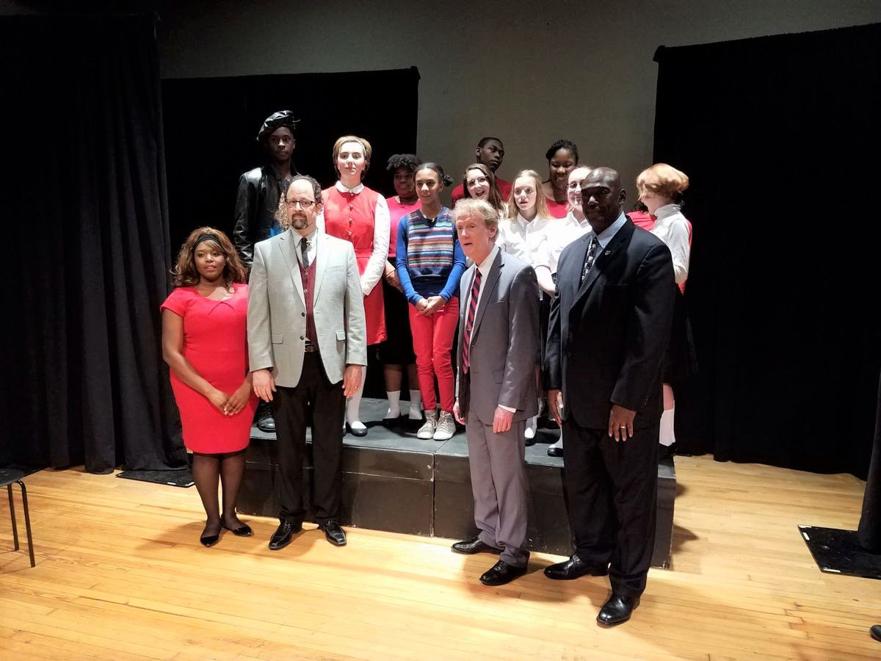 Dear Bobby opens with two teenage girls appearing on opposite sides of the stage, one African-American, the other Jewish. And while the chorus behind them keeps up a constant refrain, repeating the phrase "Dear Bobby," these girls fixate on their love of Bobby Kennedy while addressing the audience.
It is April, 1968, and Kennedy is due to stop in their hometown, Indianapolis, as part of his presidential campaign.
 "I will actually get a chance to look him eye to eye, maybe even shake his hand," says the African-American girl Annabelle Strong, played by Amani Muhammad. "Maybe even ask him questions about civil rights…"
 "I'm fifteen and he's almost as old as father and very much married," says Judith Rosenstein (Kaylee Demlow). "He just makes my heart sing. He's different from the other boys at temple."
 The precocious Annabelle is looking forward to Kennedy's visit because of his idealism. Judith loves Kennedy, well, for other reasons.
There are times that the girls' mixture of inexperience and passion made the audience laugh on opening night. But it's not the laughter of Saturday Night Live skits. Older members of the audience, more likely than not, laughed on opening night because they were reminded of the girls (and boys) who they once were.     
In this premiere performance of Dear Bobby, written by Angela Jackson-Brown and directed by Deborah Asante, there are scattered moments of lightheartedness amidst the earnestness. Such levity is necessary. After all, the play takes us back to Indianapolis on April 4, 1968, when Robert F. Kennedy was expected to deliver a campaign speech.
But he was forced, instead, to deliver the news that Martin Luther King Jr. had been assassinated in Memphis, Tennessee.
The girls' parents know each other because Luther Strong (Darnell Cunningham) is the janitorial supervisor at the hospital where Dr. Benjamin Rosenstein (Mark Wehlage) works. Their daughters are brought together because Strong is organizing volunteers to help with Kennedy's campaign.
Initially, Judith has no intention of participating with the volunteers, as her father tells her to. Judith has some inkling of the way she will be received by African-American kids of her age, and she tells her father as much. She also asks him what a janitorial supervisor is doing working with Kennedy. But her father tells her to quit being a snob.
After all, he says, if Luther Strong had been born white he'd be the head of the hospital where he works.
Judith's worst fears are born out when Annabelle's brother Junior Strong (Joshua Johnson), a Black Panther sympathizer, insults her for being just another white girl.
The two girls meet for the first time right before Kennedy's visit. They soon realize they have more in common than just a shared love of Kennedy, despite their different backgrounds. And they become friends. The best moments in the play are when the two girls are on-stage together. They give strong, naturalistic performances, as naturalistic as can be, that is, considering the musical genre and setting.
(The singing and the music in this performance are beautifully arranged, by the way, and performed with near flawlessness by cast members, chorus, and pianist.)
Kennedy himself (Kevin Caraher) also makes an appearance in this play. Per history, he's tasked with announcing the death of Martin Luther King Jr. and reciting the extemporaneous speech that he delivered subsequently at 17th and Broadway that night.
This speech is generally credited with consoling the predominantly African-African crowd that night–and helping keep Indianapolis calm, when 75 other cities throughout the country experienced riots.
"My favorite poet was Aeschylus," Kennedy/Caraher says, linking past and present struggles. "He wrote: 'In our sleep, pain which cannot forget falls drop by drop upon the heart until, in our own despair, against our will, comes wisdom through the awful grace of God.'"
Dear Bobby is not without a few jarring moments, such as the point in the play where the chorus and the young actors face off with their elders, singing "We are the younger generation!" with the earnestness of Pete Seeger at a sing-a-long.  
This face-off scene may feel jarring because it's so earnest. Or maybe it feels that way because we've become so cynical. In the Q&A period afterwards, an audience member remarked about the Trumpian political moment, and the circular nature of history.
Being cynical is one way of closing yourself from the political world, an attempt to protect yourself from despair. But that is something that the Parkland kids and their supporters, who marched on March 24 in Washington D.C. and around the country–as well as in Indy–have refused to do.
And that is the environment that this musical–carried by kids–dropped into. Dear Bobby has as much to say about 2018 as it does about 1968.