Deborah Kish joined the Eiteljorg Museum of American Indians and Western Art as volunteer services manager in October 2008. She is retiring in October 2020 after 12 years. 
Full disclosure: I've been a part of the Eiteljorg volunteer corps since before and during Deborah Kish's vibrant tenure. At a moment when being a volunteer anywhere is a challenge, I reached out to Kish to share why those of us already connected should 'stay tuned' for when we safely can return, and why — as we sequester — more of us should consider the joys of volunteering with civic and arts organizations. 
Anyone who has attended the Eiteljorg Indian Market regularly held in the heat of August, or has attended the Holiday Train exhibit, is familiar with the scurrying by volunteers to keep everyone comfortable. Less visible are the volunteer and IUPUI intern behind-the-scenes activities and within the galleries. Interns gain practical experience as they prepare for museum-related careers. It does take hours of training to connect with the specific mission of the Eiteljorg as an art museum and to deliver meaningful hands-on-experiences for visitors to the Eiteljorg.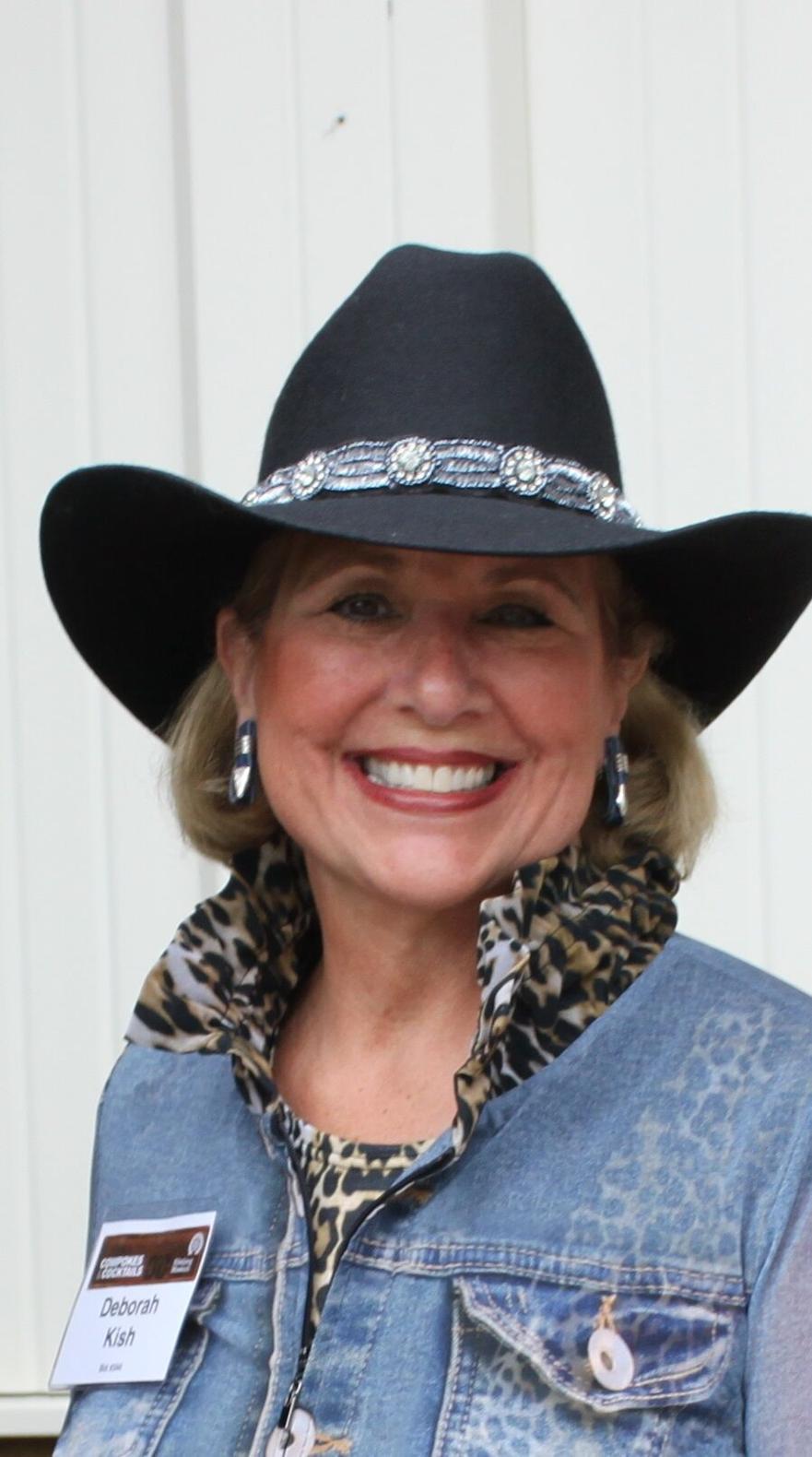 Kish responded to the following questions by email.
RITA KOHN: What particularly draws people to join the Eiteljorg corps of volunteers?
DEBORAH KISH:  Passion or interest in the West or Native American cultures might be the first reason – and secondly, the exciting special events that are in need of volunteers to help with different tasks. And after that it might be a friend that says, "Why don't you volunteer with me and have fun, plus you might learn something!"
KOHN: What are the dynamics of the interface between volunteers, staff and interns, with the public?
KISH: As Volunteer Manager, developing personal relationships with the volunteers and interns is key for me. I learn their names and recognize their faces. I always took pictures of each volunteer or intern so I could put a name with a face. Recognition is the first sign that you have vested yourself in knowing them, and their response is unbelievable. Once they feel you care enough to remember them, they will volunteer for you even when it might be outside their comfort zone. They pay closer attention to your instructions of how to deal with the public during special events, and it also makes it easier if you need to adjust their interactions on a rare occasion.
KOHN: In terms of people hours, what is the significance of a corps of volunteers for a non-profit arts/culture/civic organization, such as the Eiteljorg?
KISH: There are national organizations that report each year the increasing dollar amount of a volunteer's value.  When I started in 2008, the value was $20.25 per hour nationally and $17.16 per hour for Indiana.  In 2019, the value was $27.20 per hour nationally and $24.85 per hour for Indiana. Then I take the total number of volunteer and intern hours for the year and divide by the hours of a full-time position, and that has proven to equal about five to eight full-time positions per year. Volunteers are extremely valuable to any nonprofit.
KOHN: Across your tenure at The Eiteljorg, what have you observed as an arc of volunteering and its benefits for those who volunteer?
KISH: The majority of our volunteers are retired, and those individuals tend to be very involved during the day during the week. Our guide/docent volunteers are offered monthly continuing education, which they definitely take advantage of. When there are special events on the weekends, then the volunteers who have jobs during the week gladly sign up to volunteer. It's a rewarding time, whether you volunteer during the week or the weekend, because our volunteer opportunities follow along with the Eiteljorg mission statement, to inspire an appreciation and understanding of the art, history and cultures of and the Indigenous peoples of North America and of the American West by telling amazing stories.  
KOHN: What now are you looking forward to?
KISH: The only positive thing I feel that COVID has offered me personally was the chance to ease into being home and not being around people. Being an extreme "people person," I knew this would be my biggest adjustment.  I'm currently in training with my 3-year-old Goldendoodle, Maisy, to become a therapy dog team for Paws & Think. This is such a great organization whose mission statement is, "Improving lives through the power of the human-dog connection."  They send out teams to hospitals, nursing homes, libraries, etc.  I have also been asked to be a sustainer mentor for the Junior League of Indianapolis. I am currently playing pickleball, which is great fun and exercise. Before COVID, I was planning to be a part-time tour director for a local travel company, which is on hold for who knows how long. I am also a voracious reader and enjoy riding my recumbent tricycle every day.
KOHN: What else needs to be shared? 
KISH: Most important to me is, "Don't ever question the value of volunteers. Noah's Ark was built by volunteers; the Titanic was built by professionals." Also, "Volunteers are not paid, not because they are worthless but because they are priceless."