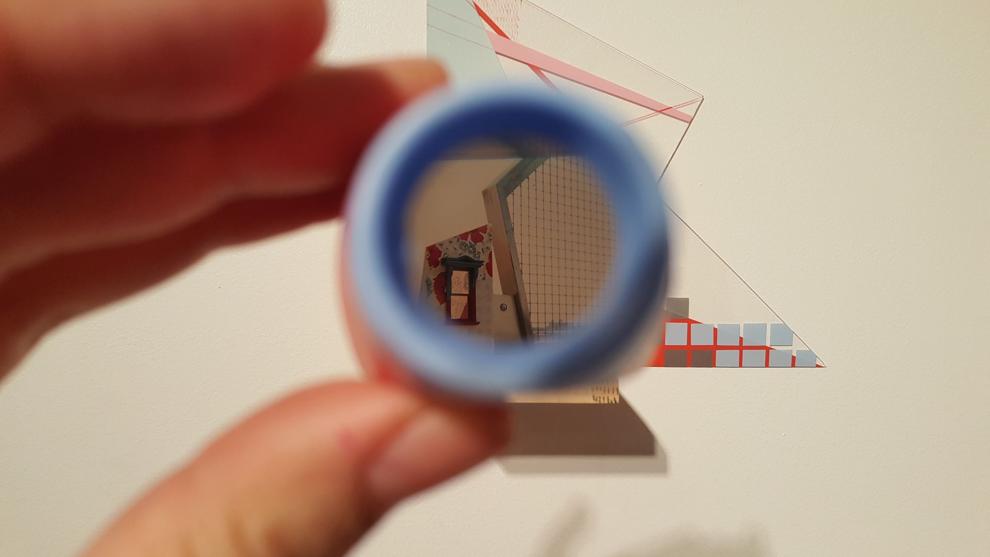 From a triangle of places of far away, artists Kremena Todonova, Gautam Rao, his wife Sameena Rao and I discussed language and how it affects our perception of objects and concepts while waiting for the Englewood Project Celebration to begin. 
We talked about how, in Romance languages, things become gendered; a table is feminine, a newspaper is male. Names can define identities too; Gautam is named after Buddha, Sameena is the Arabic word for fulfilled, Kremena means flintstone.
How did we all end up in the Near Eastside Indy neighborhood of Englewood Village and why is it that four of the five placemaking projects — at this closing reception hosted by iMOCA and Englewood Community Development — are spearheaded by non-Englewood residents?
"My work is about the artist voice versus the government voice in public," explained Rao. "I want to give people a moment to think about their place, turn the bureaucratic voices on their head."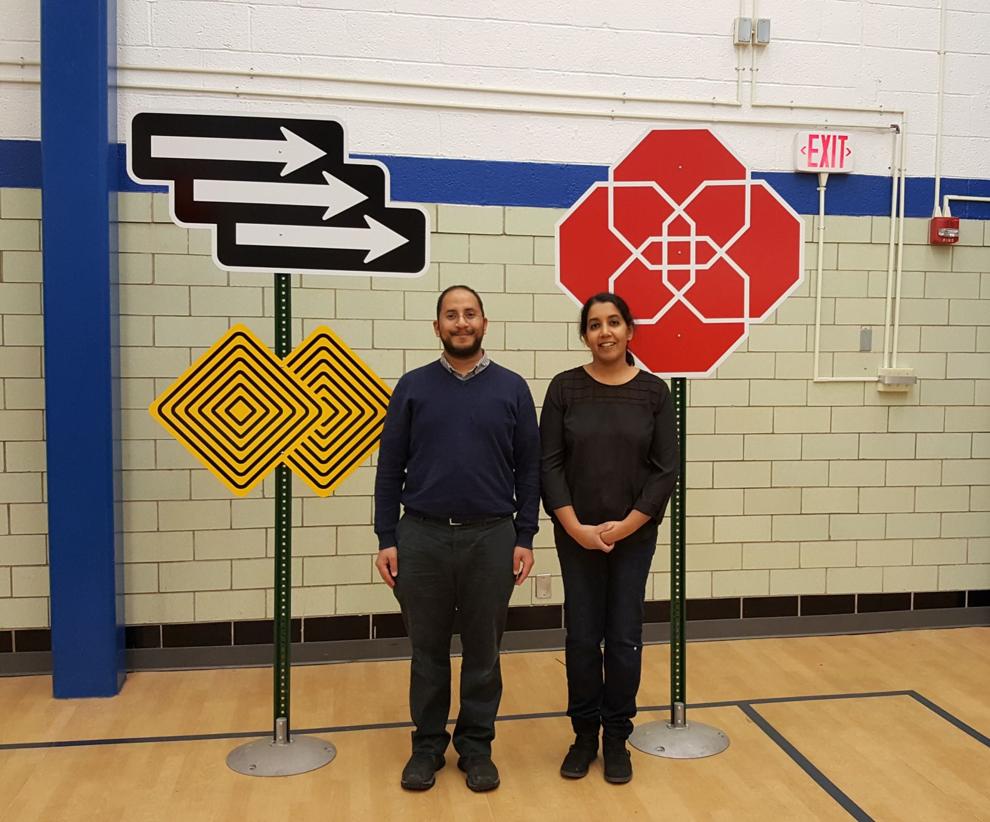 This associate professor of art at Butler University, originally from Washington D.C. —  who has also lived in Bangalore, India — created a set of street signs inspired by the ones pedestrians and drivers are used to seeing on the streets. Except this stop sign-inspired one doesn't say STOP. None of the signs displayed here give any type of clear direction.
"Placemaking is meant to bring out the vibrancy of a neighborhood," he says.
When Kurt Gohde and Kremena Todonova first visited Indianapolis, it was for a project where they photographed people with discarded couches. The professors from Transylvania University in Lexington, Kentucky spent five days listening to the stories of residents and came to the realization that in contrast to their experiences in Lexington, in Indianapolis everyone knew the name of their neighborhood.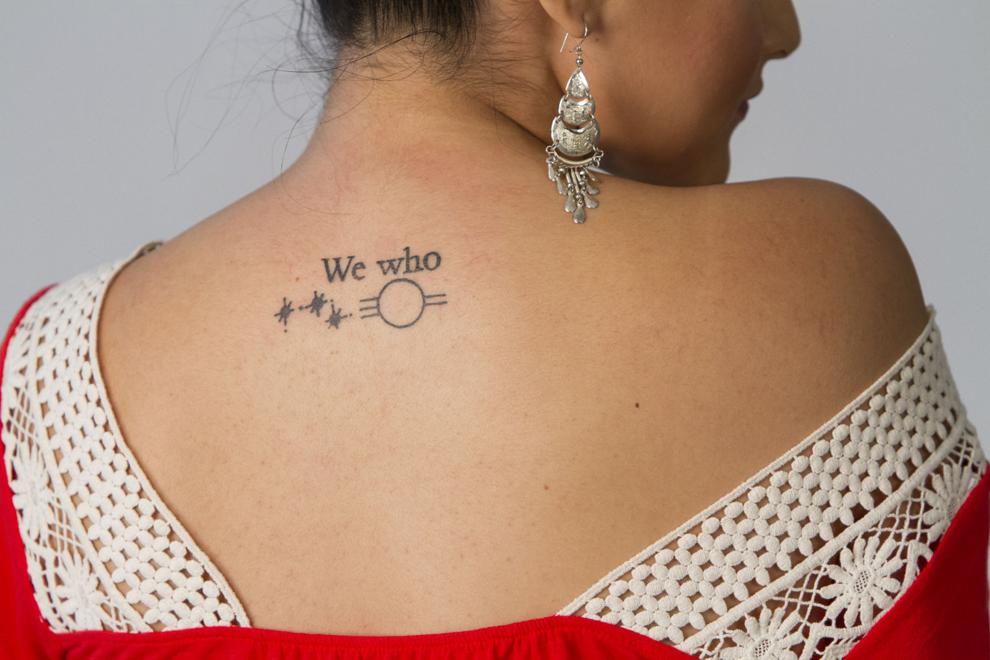 The artist duo had been working on a different needle project involving tattoos in Lexington, then in Boulder and Cincinnati, but their "Love Poem to the World" grew beyond anything they could have planned with anyone being able to download the images of the project. They received photos of tattoos from people from all over the world. The only place where the whole Love Poem to the World exists in tattoo and cross stitch form is in Indianapolis, with original circular elements meant to reference the monument circle and synchro symbols for Englewood Village's electric history.
"Every time we come back to Indianapolis, it very much feels like coming home," Todonova explained. The celebration was the premier of a video documentation of every person who completed a cross stitch or received a tattoo. Everyone in the gym knew someone in the video.
In addition to Todonova and Gohde's Englewood project and Gao's signs, recipients of the placemaking project grants included Wonderland Film Festival and permanent/semi-permanent art installations by Indianapolis artists Josh Betsey and Quincy Owens.
Now, Englewood Village is where I live, but Mexico is where I am from. Driving west on Washington Street and South on State Avenue, I ended up at Circle South Gallery on 1315 Shelby Street for the Sergio Sanchez Santamaria print exhibition organized by La Sardina and AMIGOS (Association of Mexicans in Indianapolis Generating Opportunities).
The artist, who resides in Mexico, was not present at the exhibition which consisted of a collection of prints the artist lent to Nopal Cultural. They were displayed in the Day of The Dead exhibition at the Eiteljorg Museum of American Indians and Western Art, sponsored by Nopal Cultural, on Oct. 28.
With an attendance of mostly people from Mexico, the print collection presented a coincidental placemaking situation where the prints, which make generous use of Latinx iconography and symbols, became a home away from home.
At the exhibition I ran into my pal Esteban Ortiz, who briefly filled me in on his recent travels through the country and the alarming state in which farm workers are finding themselves in our current political climate.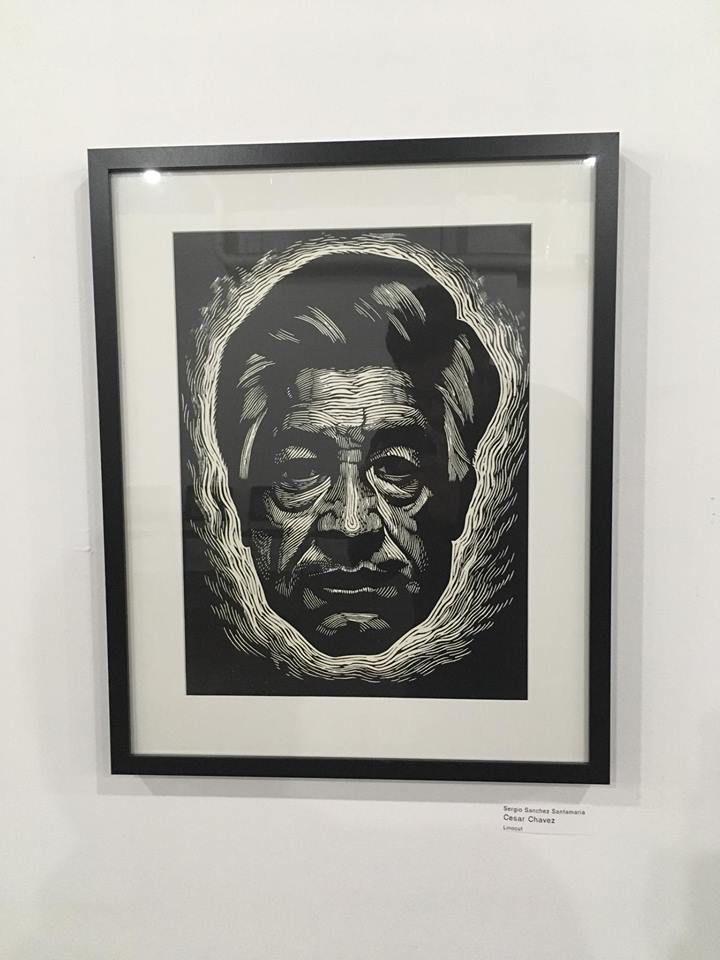 Santamaria's portrait of Cesar Chavez reminds us that symbols come to their meaning when the meaning stays the same, as many Mexican farm workers continue having their basic human rights threatened no differently than several decades ago. I'm amazed by how the artist is able to create this moment, in spite of his absence.
With home, placemaking and travel still on my mind, I headed over to Cat Head Press for the closing reception of Lisa Wicka: In-Betweens and Subtleties. Wicka is an assistant professor at University of Wisconsin-Marinette. She pulls from experience, nostalgia and memory to make small sculptures that include hand-drawn images, printmaking and digital photography.
At first glance the work is a three-dimensional collage of textures, but a small sign on the wall encouraged visitors to look through the small viewfinders propped on the shelf-like sculptures. The viewer suddenly time travels to New York, where a different installation related to the art piece took place. "I like playing with scale and perspective, and temporary presence," says the artist who received her MFA from Purdue University.
Next stop was Satch Art Space where The Surreal Subconscious by Sivavis —  described as "an analogue collage artist" on the artist's Instagram —  also compressed space and time with shifting scale and perspective. The collage work blurred the lines of gender and identity. Some of the works blended images of people into surreal human figures, other works consisted of imaginary and impossible beings assembled from colors and textures.
The artist, as mysterious as the work, does not go by their name and instead opts for a palindrome reflective of their interest in Eastern mysticism, existing both exposed and hidden on their own terms.
As First Friday wound down, I headed over to the Harrison Center for the Arts for the Emerald City Group Show, where the Harrison Gallery and Gallery Annex walls were covered with hundreds of artworks interpreting the mythical city. Most everything was green. And then I began noticing another pattern: Indianapolis interpreted through green-tinted glasses in many of the works, such as "Holcomb Gardens" by Barbara Knuckels, "Garfield Park" by Johnny McKee and "The Murat" by Laura Kivela Schroeder.
My last stop was The Monument Project exhibition on view through Dec. 29 at the Speck Gallery, where Nathan Foxton shared a group of drawings and paintings of the Soldiers' and Sailors' Monument on Monument Circle. The project began as a meditation and response to the Charlottesville, Virginia Robert E. Lee statue removal.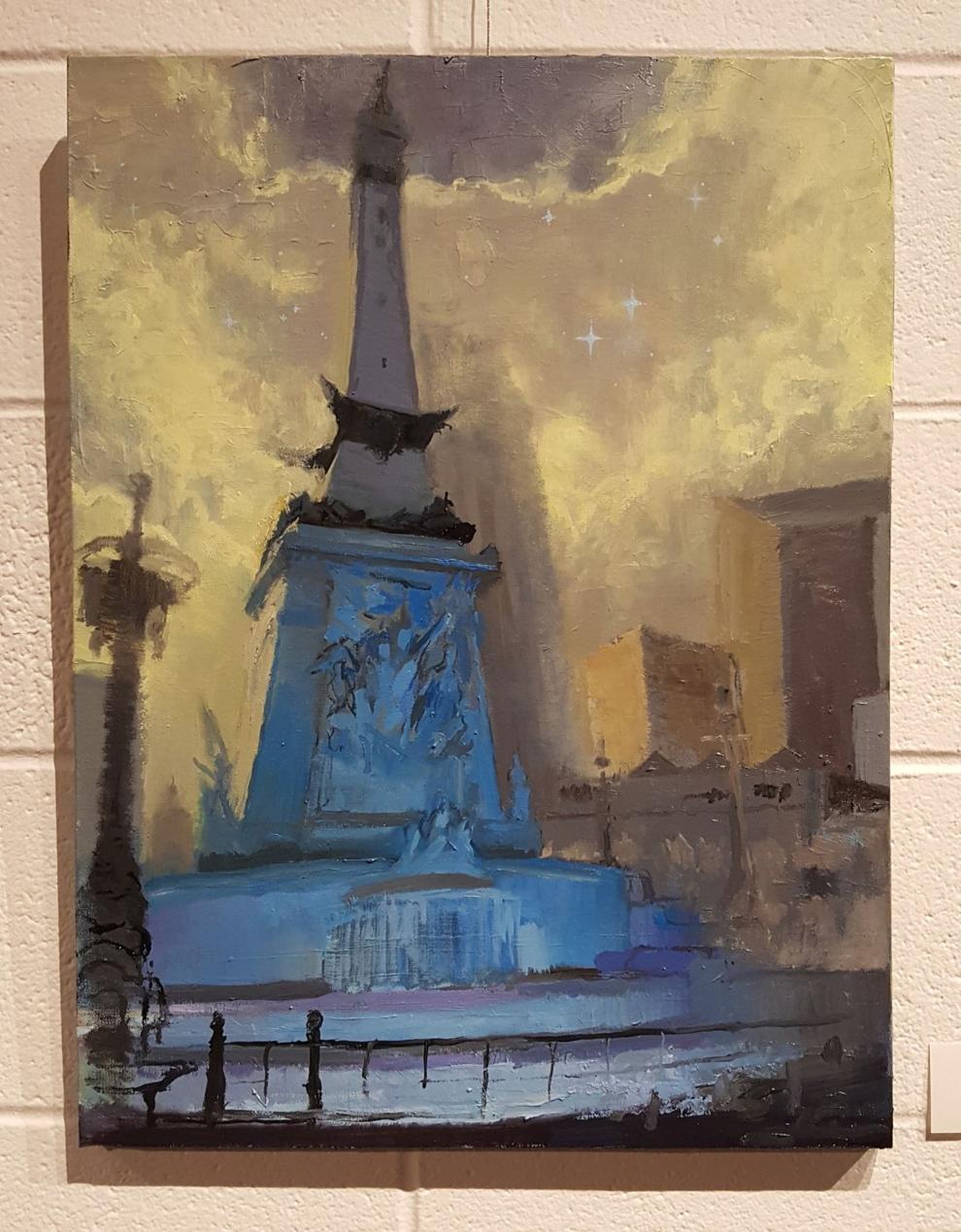 The project is meant to invite the audience to reflect and critique public spaces. Foxton takes on the task of interpreting the archaic language utilized in the city's favorite epic by detailing figures and analyzing the same landscape from dusk 'til dawn. It's a poetic depiction of perspective and change.
"As the city looks for new ways to develop its spaces, how do we include different voices and share our combined culture?" Foxton asks.
It's a good question because we share our spaces with neighbors, visitors, ancestors and descendants. But it means something different for each of us; planting ideas, re-evaluating symbols or a living poem. A monument is not a lie or a truth, but the loudest and potentially most permanent voice in the room (or city). Place is not the only narrative we create for our public spaces but the words that will become our given names. The narrative must welcome all.