Before we begin our tour of the American Galleries in the Indianapolis Museum of Art at Newfields, Dr. Kelli Morgan, associate curator for American art, tells me about how she arrived at her position at Newfields last July.
Her previous position had been the first Winston and Carolyn Lowe Curatorial Fellow for Diversity in the Pennsylvania Academy of Fine Arts in Philadelphia (PAFA). 
As Kelli Morgan was curating at PAFA in 2016, Charles Venable, executive director and CEO of Newfields, was thinking of issues of diversity in the galleries of the Indianapolis Museum of Art at Newfields ... or, rather, the lack of it. But a lack of racial and ethnic diversity in museum collections is a situation by no means unique to Newfields.  
As Morgan tells it, "Charles was at some kind of holiday gathering. And he said, you know, if you walked into one American gallery, in one encyclopedia institution in the country, you've walked into all of them, right? Because they all look the same. And he said, I really want somebody that will do something different."
Continues Morgan, "Two of my colleagues from previous institutions were at that [holiday party with Venable], and said, "You should really call Kelli Morgan. So at the time, was the inaugural fellow of diversity, right? Because this is happening at the Pennsylvania Academy of Fine Arts."
So Venable wound up calling Morgan.
Her response, when he called to ask what she would do if she had full run of the American collection, was unequivocal: "I would change the whole narrative," she said. "And not necessarily change it, right? But ... broaden it. So I ran down how I would do that. And then he ... kept calling."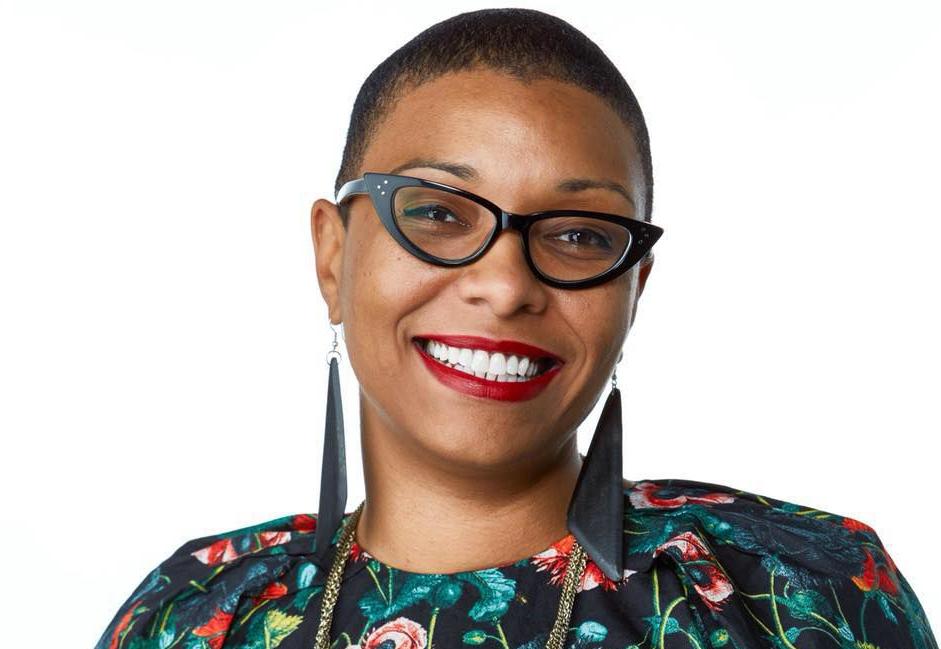 When Morgan finally saw the American galleries at Newfields, she did not mince words in looking at the lack of diversity in the collection. "I was like, "This is problematic as hell.'"
But this was, according to Morgan, exactly what Venable wanted to hear. Morgan formally interviewed, and then got the position. 
Almost a year after Morgan's arrival at Newfields, after some partial rotations of artwork in the American galleries, there have been a few striking changes which we'll get to momentarily. Mostly, however, things remain the same —  for now. That is, bringing a more inclusive perspective to the curating in a museum is not something that happens overnight, and a complete revamp of the American galleries isn't in the works until 2021.
"The point really is to deconstruct and reassemble the more truthful narrative," she says. 
For Morgan, that deconstruction begins when she gives tours of the galleries. For her it begins with the portrait, "George Washington at Princeton"  painted by Charles Wilson Peale and his nephew Charles Peale Polk around 1788.
Morgan points out some things about the painting that you might not think of as you look at it. You might not be thinking about the fact that, George Washington, the first president of the United States, was a slave owner (even if you are, at some level aware of this fact.) 
"America was the only nation birthed from capitalism," says Morgan. "Every other nation sort of found itself evolving to capitalism. And what the primary commodity at that time was human bodies ..."
The other thing Morgan notes is that the painter Peale played a role in the evolution of the American museum. 
"This well-to-do American artist and businessman sets up this model of 'I'm going to build a building, like I have enough resources to build a building to put all of my cool stuff in, to invite all of my friends to come look at all of my cool stuff.'"
Peale founded the Philadelphia Museum in 1786. It later became known as Peale's American Museum.
(His self portrait, "The Artist in His Museum", is displayed at the Pennsylvania Academy of Fine Arts in Philadelphia —  Morgan's old stomping grounds.)
"There's no way," says Morgan, "that we can have the conversations that we're trying to have now about diversity, or widening the audiences or museum outreach ... without acknowledging that was never the point in the first place."
Morgan isn't bringing her approach —  which might be viewed as a long-overdue corrective to Charles Wilson Peale's approach —  to the IMA at Newfields in a vacuum.  
Newfields is at the forefront of a movement in art museum to deaccession —  that is, get rid of — art objects, whether in storage or on display, that are no longer deemed relevant to the current configuration of the museum. In fact, Newfields has deaccessioned 4,615 objects, according to The New York Times, which published an article titled "Clean House to Survive? Museums confront their Crowded Basements" on March 10 that featured a talk with Newfields CEO Venable about the subject. 
Most of the deaccessioned objects have been sold. The process of deaccessioning begins with assigning a letter grade to each piece of art, from an A to a D.
"We're adapting this philosophy of fewer and finer, so some things will go away," Morgan says. "And we're deaccessioning a lot ... all of our C and Ds. So we've ranked we've ranked everything at this point." 
While Morgan is just embarking on her goal of achieving a more diverse and relevant mix in the American galleries —  the timeline for her upcoming curatorial work in the galleries extends through 2021 — one intervention that Morgan has been involved in has been particularly striking. 
That is her recent placement of "Knowledge of the Past is Key to the Future, St. Sebastian," a work completed in 1986 by prominent African American artist Robert H. Colescott, among artworks from the Gilded Age that most repeat visitors to Newfields will be at least vaguely familiar with.
Take, for example, the large (76 x 98-1/2 in.) painting "Washington Street, Indianapolis at Dusk" by German painter Thomas Groll which gives a view of the busy street adjacent to the state capital in the 1890s when electric street lamps were still a new thing and horse-drawn carriages were still very much in use. 
This painting reflects what the street, as well as the Indiana State House looked like when Benjamin Harrison was president.
Across the rotunda-shaped gallery, you see the stained glass window by Louis Comfort Tiffany "Angel of the Resurrection." It was commissioned by Mrs. Benjamin Harrison to create a window in the late president's memory when he died in 1901.   
The stained glass was originally installed at the First Presbyterian Church at 16th and Delaware Sts., and its subject, the horseback-bound, crusading archangel Michael in chainmail commanding the dead to rise at Jesus' second coming. (The archangel is, of course, white.)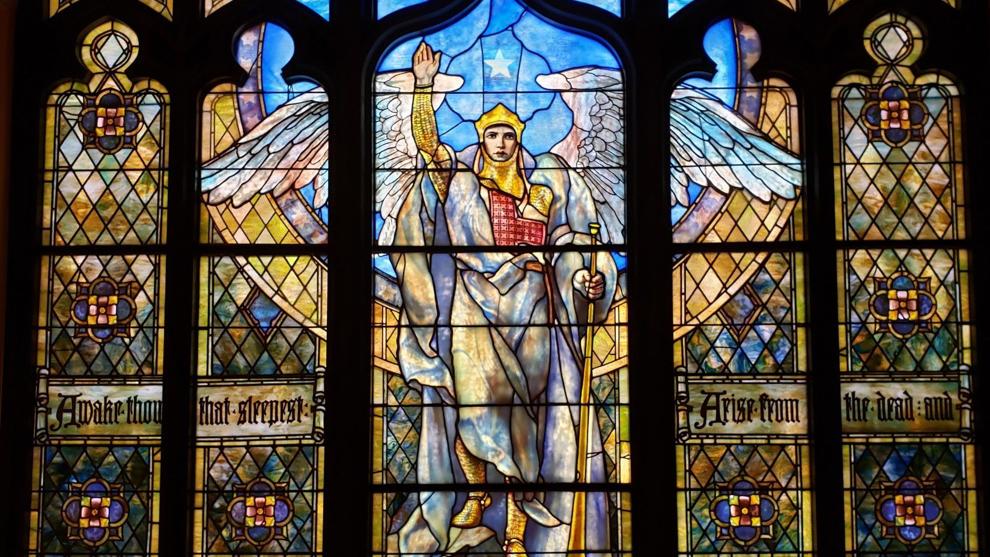 Another painting that seems to represent ingrained attitudes in the Gilded Age is "Glow of Gold, Gleam of Pearl" by William McGregor Paxton, a painting of a nude white woman posing like a Greek statue, which takes on a classical, mythological aspect.
The Colescott painting, seen in contrast to the Paxton, is a particularly stunning juxtaposition.
The Colescott depicts the lynching of a naked figure, half white/half black, tied to a pole and shot with arrows over a pile of skulls in a bold, expressionistic style. 
Morgan's putting this contemporary piece, painted in 1986, smack in the middle of all this Gilded Age art has a purpose that might be described as more historical than art-historical or aesthetic. During the Gilded Age, lynching —  the killings of African Americans and others by torture and hanging —  was common. These extrajudicial killings were perpetrated predominantly, though not exclusively, in the Southern States. (3,446 Blacks were lynched between 1882 and 1968 in the U.S. according to the Tuskegee Institute.)
Its perpetrators often claimed that it was done to defend and protect the sanctity of white womanhood. 
At the very least, the placement of the Colescott among these other works seems to force viewers to acknowledge that lynching was a problem in the Gilded Age.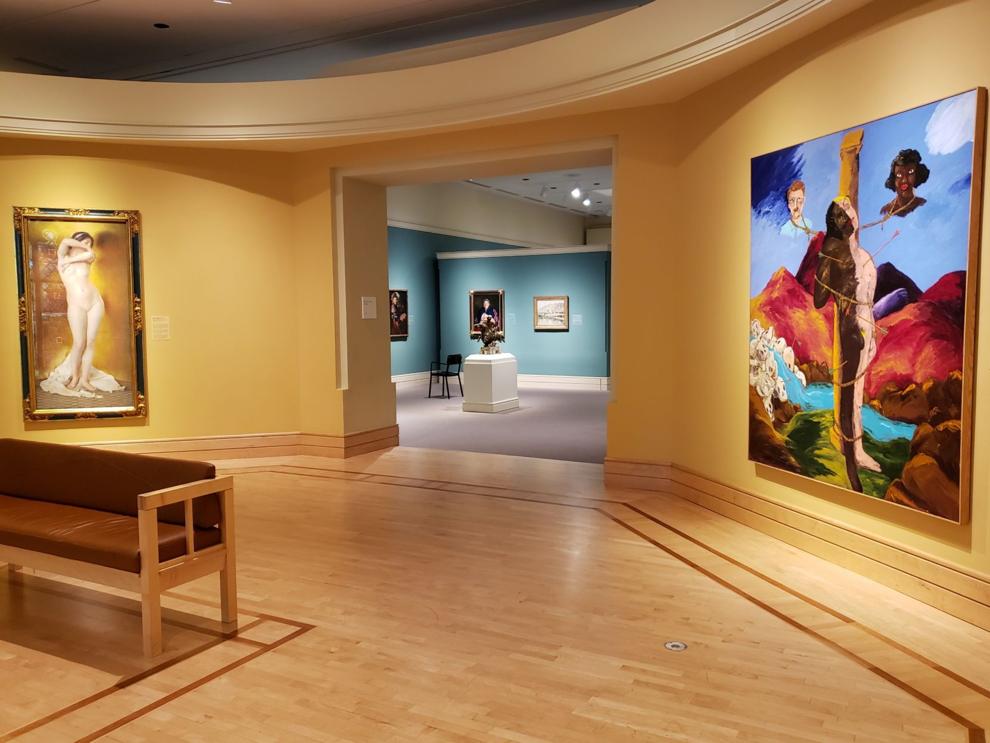 In her wall text titled "America is Hard to See" —  which borrows its title from that of a 2015 exhibition at the Whitney Museum of American Art —  Morgan asks the question: What happens when American art is interpreted through its multiple social and political contexts instead of its aesthetic and art historical merit?  She also challenges the notion that Harrison, who unsuccessfully lobbied congress to protect African American voting rights in the South, was an unblemished advocate for Blacks:  
Known for his faithful service in the Union Army and the Republican Party, Benjamin Harrison was not however, a staunch anti-slavery advocate.  Although he sometimes supported aid for newly freedmen, African Americans were lynched at astronomical rates throughout his presidency.
Morgan acknowledges that all the aforementioned Gilded Age paintings are great works of art. But she also says, "The politics of the age are still very much at work here" while questioning the historical narrative that allows visitors to walk into a museum space without confronting or acknowledging the raw historical realities that track alongside conventional art history.
But Morgan is also interested in highlighting the contributions of African American artists to American art history.
 "Who's making this decision about which narratives we say are true?" Morgan asks. "Which narratives we choose to tout? Or even celebrate, for that matter?"
So Morgan, in her walk-through, points out several African American artists left out of the art historical narrative, (some of whose artwork she is responsible for placing in the galleries, in her latest partial rotation of work there.)
One of the narratives that Morgan chooses to tout is that of Robert Seldon Duncanson, whose "Loch Long" hangs in the galleries. Duncan was a Black painter active in the mid-19th century, whose landscape paintings were in the style of the Hudson River School. 
Another African American artist she touts is Barkley Hendricks (1945 -2017), whose practice as an artist was often to paint life-size portraits of Black friends —  of people he met in the street — and give them a dignity to people who might not be otherwise represented in the arts at all.
Hendricks' "Dr. Kool" (1973), one such painting, portrays a Black male figure in an all white suit.  This artist, says Morgan, wanted his subjects to be seen as a "human being, not as an art object."
The fact that Morgan placed this painting adjacent to Georgia O'Keefe's anthropomorphic flower paintings is not an accident. 
"If you Google 'Barkley Hendricks' "Dr. Kool", the photograph that this painting is based off of, will come up," says Morgan. "So it was just a way for me to say O'Keefe wasn't the only one that was trying to get out from under this patriarchy. There were so many other artists, who were and were doing it through modern aesthetics."  
Speaking of modern, or rather, contemporary aesthetics, Morgan is the curator who brought Samuel Levi Jones' exhibition Left of Center to Newfields. His wall-hanging works —  using law, medical, and other texts that justified discrimination against African Americans as his media — have a monumentality, a monumentality in service to exposure of the fraught history of race relations in the United States.
But Jones, who was born and raised in Marion, Indiana, didn't come into the exhibition preparation process thinking that a lot of wall text was necessary, but Morgan convinced him of the need to provide didactic text to give context to his largely abstract work.
Left of Center was an exhibition that, Morgan says, didn't go through their typical processes and was sped along due to the enthusiastic buy-in of the museum and staff.
According to Morgan, while it's not common for a museum to change up its permanent collections with diversity in mind, contemporary art is a different thing all together. That is, Morgan acknowledges that the contemporary art world has grown more diverse in America as of late, especially on the coasts. During our conversation, Morgan alludes to the 2019 Whitney Biennial, where a majority of artists were people of color, and half were women. 
But that's not to say she thinks the contemporary art world is in a state of perfection.
Morgan refers to "the primarily white and negative criticism" of the Biennial, a subject brought up in The New York Times Sunday Review in an op-ed piece titled "The Dominance of the White Male Critic," published July 5.
So bringing in a contemporary artist like Jones is a way to join in a national conversation about the changing complexion —  and perception —  of contemporary art. 
And Morgan and Jones hit it off. "Like in my curatorial practice, also, [he] deconstructs American art history."
The Experience of the Brooklyn Museum
Newfields may be on the forefront of bringing a more diverse approach to the curating of its permanent collections, but the museum's experience is not unique. One museum, according to Morgan, that is well on its way to incorporating diversity in its collections is the Brooklyn Museum of Art.
American Identities: A New Look when it was launched in 2001, was, according to the Brooklyn Museum's didactic text written at the time, was "an effort to broaden conventional notions of what constitutes 'American' art.'"  Under this organizing principle, Native American objects, and arts from the Spanish colonial era in Latin America were integrated in the American Galleries.
In April 2016, the Brooklyn Museum announced the opening of their reinstalled American art galleries, which was set to explore the theme "What constitutes American art?" with an eye towards a more streamlined American Identities.
The curator responsible for this re-installation was Nancy Rosoff, Andrew W. Mellon Senior Curator for the Arts for the Americas.
According to Rosoff, Anne Pasternak, the museum's director —  who arrived at the museum in Fall 2015 — wanted a more minimalist presentation with fewer wall colors and objects, and a less cluttered appearance. 
"She also requested a strict, chronological approach, beginning with the 'First Peoples of the Americas,' and including greater representation of works from Mexico, Central and South America, not just the United States," says Rosoff.
When asked if the museum was following any road map for this re-installation, or if they were heading into uncharted territory, Rosoff says the following, "Because of the very short time frame (we had less than six months), and recognition that the organizing principles of American Identities were still the best way to showcase the collection, we kept the basic chronological framework but modified it to tell more complex, inclusive stories … changes included the introduction with 'First Peoples', having greater representation of works from Mexico, Central and South America, and change how American art history is usually told." 
The experience of the Brooklyn Museum shows, perhaps, that their effort to bring a "new look" to their American galleries is not a static thing, requires adjustment over time, and might not have a clear endpoint. 
Questions about Diversity
Perhaps, in time, when people compare and contrast different museums' approaches towards diversity, whole new areas of debate will open up. Questions might arise. Do different curators have different ideas of diversity? Can one have a didactic approach that doesn't take away from aesthetics, or vice-versa? How do you find a balance between different approaches?  
Promoting diversity is certainly a hot topic in the museum world right now. If you look at the webpage of MuseumNext —  a nonprofit dedicated towards debating and defining a path into the future for museum leaderships with their conferences and publications — you see many articles dedicated towards expanding diversity. You see links to articles with titles like "What does it mean to Decolonize a Museum?" and "Cultural Diversity in Museums, Five Tactics for Inclusive Marketing."  
But there are only a handful of institutions, according to Morgan, that are currently addressing diversity in their permanent collections in a comprehensive way, including the Brooklyn Museum and Newfields. 
As far as the reaction of the public and the press to the series of changes at the Brooklyn Museum, Rosoff, says "Some reactions have been mixed, like with any exhibition, though on the whole we've had a positive response." 
Morgan has received some feedback on her work so far, particularly on her placement of the Colescott painting in the rotunda.  Not all of it has been positive.
"Some people have complained, [saying] 'Oh, [Colescott's] not even a good painter,'" she says. "But this is not about the narrative itself. It's about the fact that I did it in here. So then that brings up this whole idea of place ... and space, Who own space? Whose narratives are proper, right to be in particular spaces?'
She says she's not afraid to have uncomfortable conversations with people that call out their biases, and, potentially, that help them reach a new understanding.
"It makes people have to own it," she says. "It's an uncomfortable thing. But I always like to say we've been uncomfortable our whole life, we were born into a position of discomfort that we didn't choose. So welcome to the world."
Editors' Note: After I published this piece, I made some significant changes to the text especially concerning the place of contemporary art at Newfields. -- D.G.