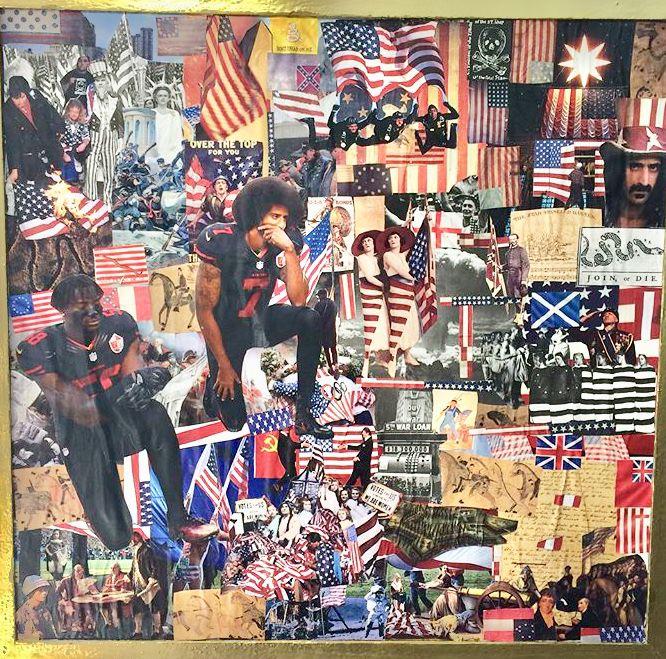 "Message to Earthman" by Sun Ra and his Arkestra is playing in the background as people arrive and begin to take their seats for the closing reception of Black Future Month. This is the second exhibition at Future Friends Holographic Magic Club, a new art gallery inside the Murphy Arts Building.
The gallery features a variety of work by Black artists looking to the present and the future — as opposed to looking back — to celebrate history.
Future Friends is formed by former General Public Collective members Heidi Wieland, Justin Brown, Cinnamon Rose, and Michael Moskaliuk. Weiland and Brown had only joined a few months before GPC closed its doors and were soon working toward replenishing the void with an inclusive and demographically diverse art space.
Their search surprisingly led them to the Murphy Arts Building — from which many artists have been moving out — after a rent offer that they just couldn't refuse.
"We liked the idea of staying in Fountain Square where the foot traffic almost seems guaranteed, and we wanted the average First Friday spectators to be enlightened to art they wouldn't normally see or expect," says Brown.
In addition to the former GPC members, co-owners of Future Friends Holographic Magic Club include artists Gary Macadaeg, Star Adita, and Bre Robinson.
As more people arrive at the closing reception and panel discussion, renowned contemporary artist and panelist Carl Pope is discussing art and lauding a blooming subset of the Indianapolis art scene with painter Tonya Parham. He believes Rabble Coffee on the Near Eastside is intrinsic to what's happening tonight. It is, after all, where many of the present artists, gallery co-owners, and audience first met.
I silently consider my relation to Pope's illuminating narrative; I first saw Brown's artwork at Rabble. I subsequently followed him on Instagram and learned about his involvement with this art gallery, and now I am shaking hands with Pope.
The gallery's next exhibition, opening Friday, March 2, will be a solo show of work by Brown simply called Studio Survey. It will feature collage works from past exhibitions at Listen Hear and the Athenaeum, as well as recently completed projects, including a series of collages sourced from FBI files.
"I've been using FBI files because I've always been fascinated with the fact that anytime anyone organized the community or pushed for equality to speed up the progression of society, they ended up being killed," Brown tells me. "It's interesting for me to work with the files because I like to be able to pull up the weird obsessions that power structures have with people that may disrupt them with words or with images."
Brown, who has dyslexia, describes his learning process as "chopping up subjects to read and piece back together." This learning method led him to think profoundly about the context of everything he learned growing up and to an affinity for etymology that pervades all his work.
The process of deconstructing language is also what leads him to respond in visual critiques.
"I'm trying to balance this weird line of making a visual critique that is consumable at the same time because most people don't want to consume what makes them uncomfortable," he says.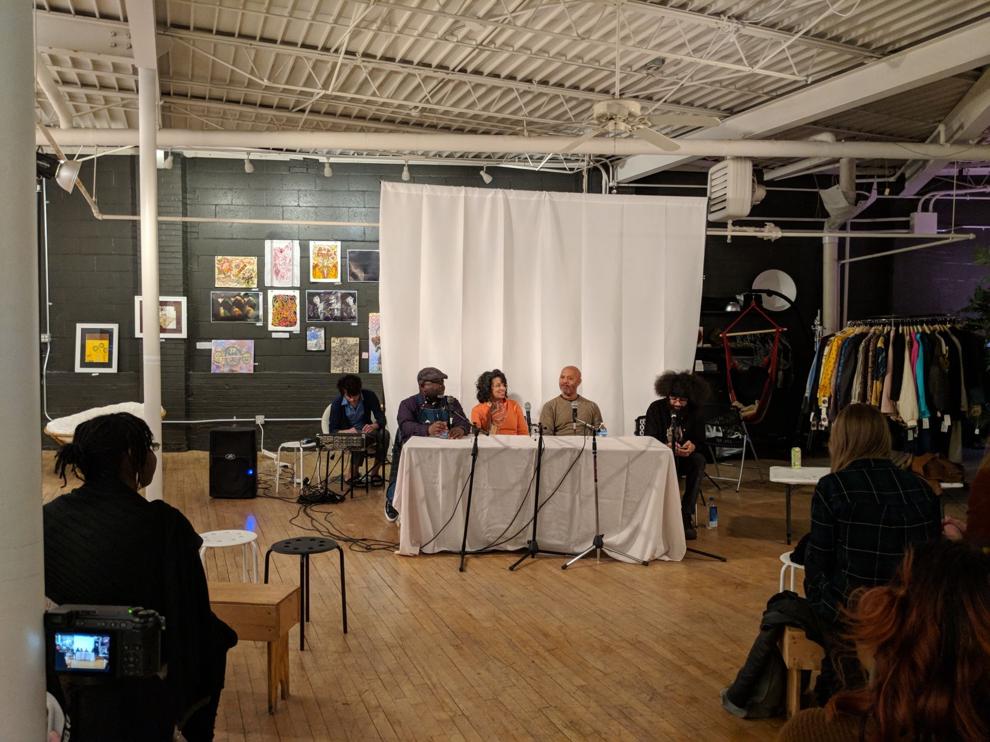 Brown is moderating the panel discussion that, in addition to Pope, also features Indy muralist Clayton Hamilton and artist Judie Sloan.
But there is very little moderation needed. The artist discussion feels as if we are eavesdropping on the artists while they converse in their living room. They effortlessly travel through different topics, each sharing his or her opinion and continuing where the last person left off.
They vividly describe different points in history and bring the audience into rooms of the past, where Vivica Fox is the eight-year-old neighbor or a party where Muhammad Ali is present, Mari Evans is reading poetry, and Etheridge Knight is flirting with the ladies in the back of the room.
There are magical moments in the midst of the conversation. Hamilton's face swells with pride as he describes the accomplishments of his son, artist Walter Lobyn Hamilton. Pope describes his own accomplishments and the lessons he's learned along the way. "Sometimes we have to swallow the poison," he says. "The best way out is always through."
The gallery space feels important with its culmination of history, talent, and knowledge. Both the panel and the art on display look to the present and future, but this moment is made from a brilliant past that is within reach in the gallery too.
"Maybe you can be that drop in the bucket that leaks to something," says Sloan. "If you see the utopia in your brain, then make it into something."