The ISO year-long BTHVN2020 celebration at the historic Hilbert Circle Theatre is conducted by Music Director Krzysztof Urbański.  
"Beethoven forever changed the landscape of classical music, and to recognize that legacy, the ISO commissioned nine composers to write new pieces to be paired with each of the nine Beethoven symphonies," said ISO spokesperson Kristin Cutler.
Along with Beethoven's First and Second Symphonies on Jan. 10 and 11, the ISO introduced "Spire' by Nathaniel Stocky and 'Forestallings' by Hannah Lash, both underwritten by Dr. Christian Wolf and Elaine Holden-Wolf and Carol Dennis. 
Kevin Lin made his guest debut as the newly named ISO Concertmaster at the Jan. 10 and 11 programs. He returns as a guest concertmaster at ISO's Jan. 17 and 18 programs. Lin gains full-time concertmaster status in the Fall, at the start of the 2020-21 season. Originally from New York, Lin currently serves as co-leader of the London Philharmonic Orchestra. He has performed as a soloist and recitalist in Taiwan, South Korea, Canada, the United Kingdom, and in the United States, including guest concertmaster of the Pittsburgh, Houston, and Cincinnati Symphonies and as concertmaster and Principal Second Violin at The Colburn School and The Curtis Institute of Music. He is equally credited as an avid chamber musician. Lin began his violin studies at the age of six. He is a graduate of the Colburn School Conservatory of Music and the Curtis Institute of Music and has won numerous prizes in international competitions, including the 2013 Irving Klein International String Competition, and First prize at the 2011 Schmidbauer International Young Artist String Competition, Junior Division. Lin plays a 1925 Vincenzo Sannino on loan from the Chi-Mei Cultural Foundation, a private museum in Rende District, Tainan, Taiwan.  
Lin will return May 28-31 and June 5-6 as guest concertmaster for two more weekends of the BTHVN2020 celebration. 
Jan. 17 at 8 p.m. and Jan. 18 at 5:30 p.m. ISO concerts feature Beethoven's Third Symphony and the Triple Concerto. "The earth-shaking openings of Beethoven's Third Symphony mark the beginning of the second half of his career and a shift in the history of music itself. The technically challenging piece forced his contemporaries to rethink their definition of a symphony," said Cutler in a news release. This program also premiers' S.C.H.E.rzo, Op. 25' by Dejan Lazić, underwritten by Scott Putney and Susan Sawyer.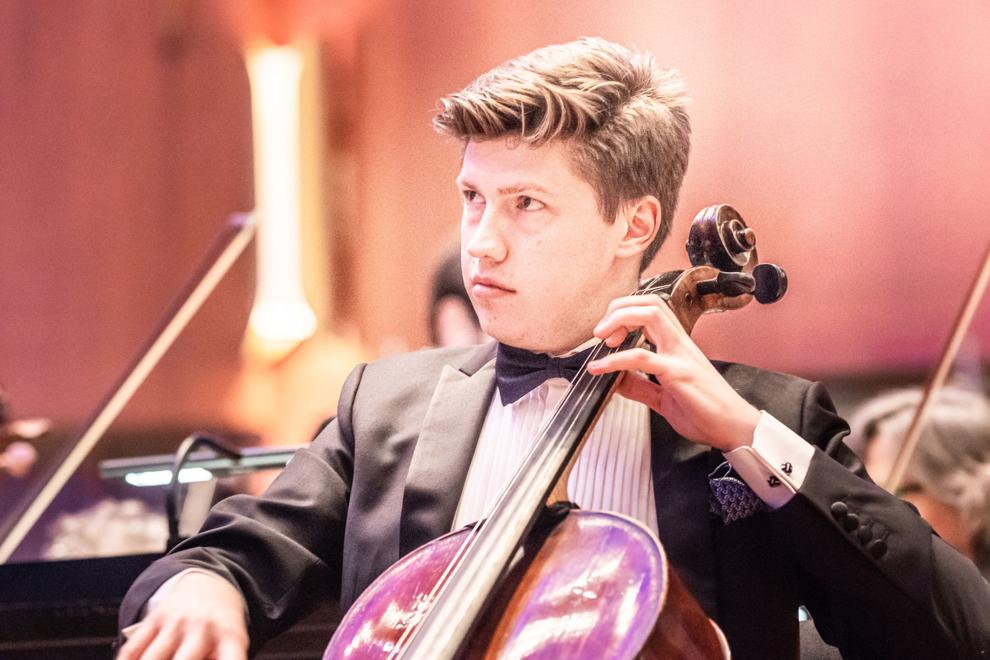 Principal Cello Austin Huntington, along with Dejan Lazić and violinist Benjamin Schmid are featured soloists in Beethoven's Triple Concerto. 
This performance is at the historic Hilbert Circle Theatre.
Jan. 24 at 8 p.m. and Jan. 25 at 5:30 p.m. Beethoven's Fourth and Fifth Symphonies will close out the initial celebratory programs. "The ominous first four notes of the Fifth Symphony make this one of Beethoven's best-known and most frequently played works," according to program notes, adding, "Robert Schumann described Beethoven's Fourth Symphony as "placid and serene—the most perfect in form of all the symphonies." This program also premiers' Dawning' by Huw Watkins and 'Impromptu' by Katherine Balch, commissions are underwritten by Huw Watkins, and Katherine Balch is underwritten by Tom and Dawn Bennett and Ann M. Stack. 
 Doors will open one hour before each performance. Tickets at: IndianapolisSymphony.org.
Of special note with the Beethoven year-long celebration is making each of the concerts available to young audiences. According to the news release, "Next Generation ISO aims to increase awareness and understanding among students of the music-making experience by providing tickets free of charge to schools who may not otherwise be able to participate in the experience of live, world-class symphonic music." More information at: https://www.indianapolissymphony.org/education/teachers/next-generation-iso
Beethoven's five Piano Concertos will be performed May 28-31, and Missa Solemnis will be performed June 5 and 6. The remaining four symphonies will be performed in the Fall of 2020, when Kevin Lin begins as ISO's permanent concertmaster.