I saw three art openings on July 5 in the Circle City, and got some outreach from an art evangelist of sorts. 
My first stop that day was at the Herron School of Art & Design at IUPUI.
The Alchemy of Paper is the most enjoyable and accessible exhibit I've seen at Herron in quite a while. It brought back memories of my grandfather making paper by hand at his chemistry lab, squeezing a wet slurry of shredded paper fiber in a press (i.e. a mould and deckle) and then leaving those newly formed sheets of paper out to dry.
The art of paper-making is on abundant display in this exhibition; Fresh Press showcases its papers made from corn, rye, big bluestem and hemp, relying on the fibers produced on the Sustainable Student Farm on the University of Illinois campus. The samples are accompanied by a video that showcases their processes. 
While the aforementioned presentation is the type of thing you might expect to find in a trade show, most work here is (at least a bit) more conceptual. Michelle Wilson's "Corn, Incorporated" features folksy handmade papers rendered from denim fiber and corn husks, each one featuring the logo of a corporation involved in corn-related agricultural, manufacturing and consumer-related processes. 
As the work seems to suggest, agricultural conglomerates are ingrained in American corn production processes — with companies like Monsanto genetically engineering seeds to resist its own herbicide. The man-made and the natural are so intertwined that it's hard to disentangle the two.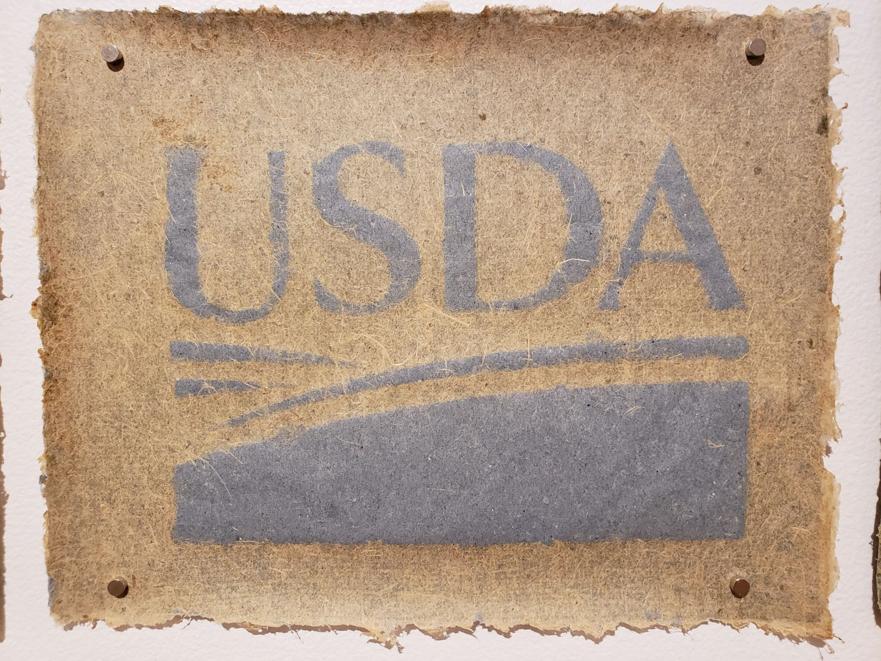 Welcome to the Anthropocene. 
Helen Hiebert's "Alpha Beta" is something different altogether, a wall-hanging work made from handmade papers and balsa wood that looks like the electronic tracking onscreen of some kind of energy-generating process, perhaps a heartbeat or a pulsar's energy bursts from the heart of the galaxy.  It it likely to arouse your curiosity (rather than your anxiety).  
Likewise for some of the other works on view. 
The room-spanning, ceiling-hanging "BookEnviron: Herron: Artists' Books as Shelter, Escape, Epiphany: Shaping Our Space, Our Thoughts, and Our Aspirations" by Veda Rives Aukerman and Meda Rives Smith somewhat resembles a galaxy in the way it spirals outward and hangs in space. Walking around it provides an opportunity for contemplation in our lives increasingly dominated by screens both large and small. The Alchemy of Paper is on view at Herron through Aug. 28.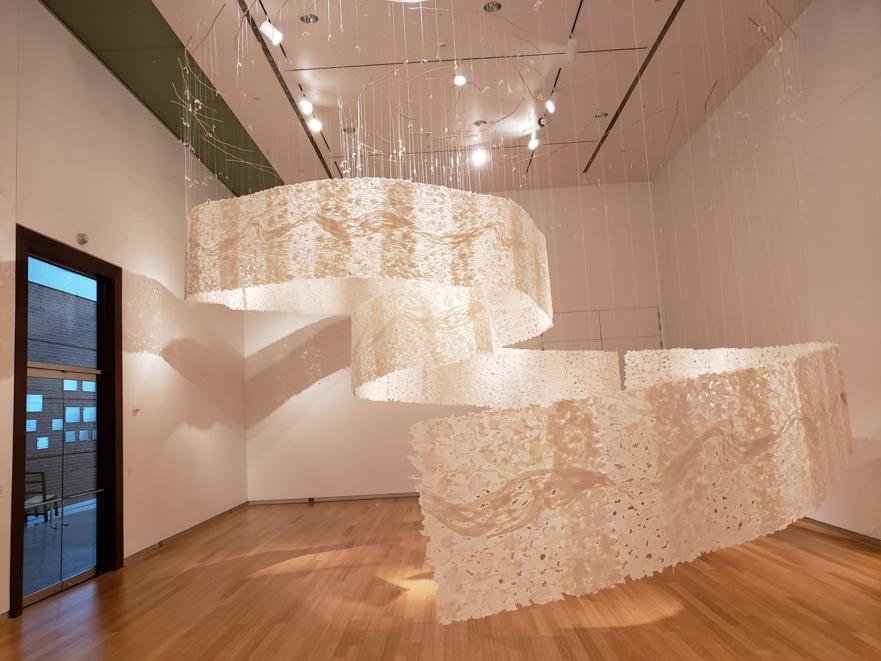 The Aurora PhotoCenter's official launch at Tube Factory artspace was another exhibit that focused on traditional modes of art-making. It features the tintype photography — a mode of photography that saw its most widespread use in the 1860s and 1870s — of Keliy Anderson-Staley. 
What is Aurora?  
This from the Tube Factory website: "In its first year, Aurora will focus on awareness of photography as a medium for art and social expression. By hosting partnerships and pop-up style events, Aurora will work to build a community in central Indiana around the medium of photography through exhibits, conversations, and workshops. As Aurora grows and receives nonprofit status, it will establish a dedicated gallery space, along with darkroom and studio facilities for both community education and working artists." 
The exhibition features portraits that Anderson-Staley made while visiting Indianapolis in June, leading an Aurora-sponsored community workshop at Tube Factory. In addition, you are able to see in this exhibition selected tintypes she has taken in New York, Cleveland, Houston and San Francisco, among other cities. 
Tintype photography is a labor-intensive process for both photographer and subject; capturing an image with a 19th-century-era camera on a metal plate requires that the subject remain still for 15 to 20 minutes. (That is, I think staying still for so long seems labor-intensive to me.)
Accordingly, most of Anderson-Staley's subjects prefer not to smile, because a smile is hard to hold for such a long period. But that's the amount of time it takes for her 19th-century camera to work its magic, creating a mirror image of the subject.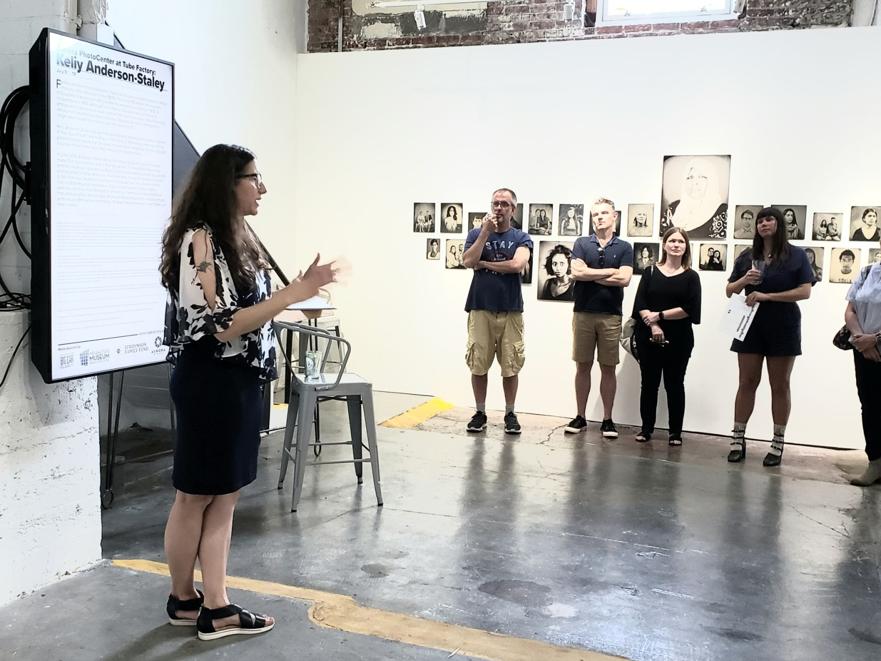 Inkjet prints of her tintypes, featuring her subjects, hang on one wall; photos from her Indy shoot hang on the other. In the center is a selection of historical tintypes from the Indiana State Museum that, shown together with contemporary tintypes, provide perspective on this mode of photography and its history.
Anderson-Staley, who grew up in Maine and currently teaches photography at the University of Texas, told visitors at the opening July 5 that she was aware of the problematic history of photography in the United States, and of her position of privilege as a white photographer. 
The photographer spoke briefly about her processes. An audience of approximately 50 had come to see the exhibition, some who were her subjects during her shoot.
Developing a rapport with her subjects, she explained, is crucial to her process.  
"I've been shooting all around the country for many, many years that I'm really interested in showing the portraits together," she said, "so the people in the pictures can gaze out at you and the viewer can kind of have this one-to-one contact with all these other people that you may or may not know."
The work will be on display through July 26. 
A different kind of photography altogether was going on in Big Car's Listen Hear across the street, Wildstyle Paschall's multimedia installation "Culture, Indy Hiphop Music."  You can see Paschall's photography, in the form of large-scale prints, adorning the walls of Listen Hear, documenting the hip-hop scene in Indianapolis with his Nikon D600.  (Paschall was one of Keliy Anderson-Staley's tintype subjects during her shoot.)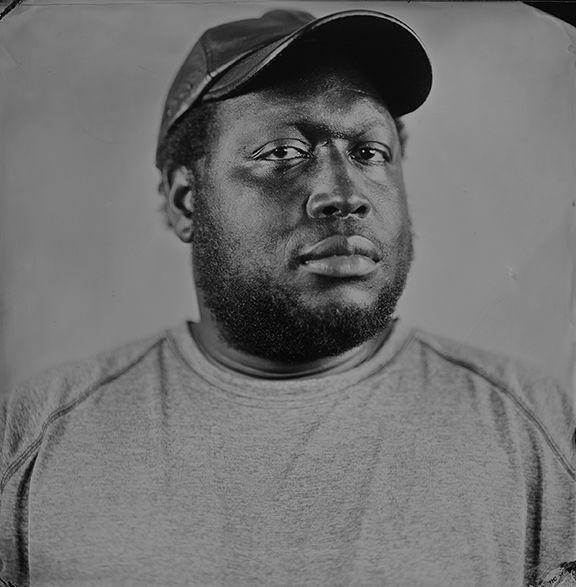 "My process as a hip-hop photographer is about figuring out a way to show people they're missing out if they don't come see it for themselves," Paschall said. "So I'm all about showing crowd interaction, along with the artists entertaining."
Just as I was wrapping up for the evening, on Virginia Avenue at the edge of Fountain Square, I came across an artist I first mistook for a Jehovah's Witness volunteer. He was standing outside the entrance to the Idle Park, where you can sit in a theater-style seat, outdoors, and watch the traffic whizzing by on the tangle of 1-65 and 1-70 spaghetti asphalt. 
When I got a better look at his cart, I saw that he wasn't who he kinda/sorta was pretending to be. He was an artist, it turned out, who was selling his mixed-media, double-sided creations.
"My artist name is Mystified and Thankful," said the non-Jehovah's Witness artist, aka Adam Tallent, who has lived in the Fountain Square area for eight years.
The streetside stand looked exactly like the stands that Jehovah's Witnesses use to carry their literature, and he sells his artwork out of that cart.
I avoided eye contact at first, even though the artist didn't look like a stereotypical clean-cut Jehovah's Witness.  Still, something eventually drew me to him. Perhaps it was the faith that the dude had in his own art-making.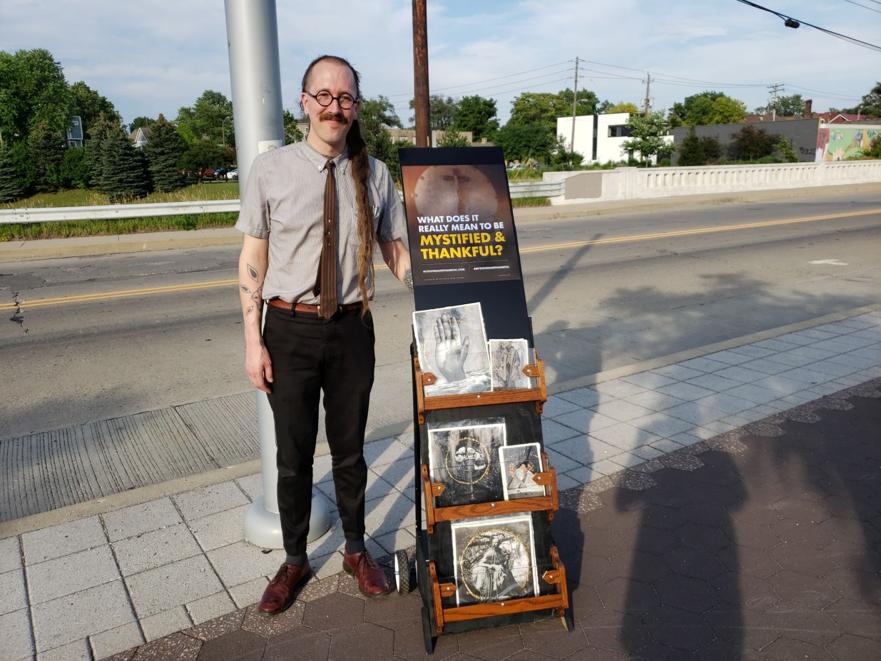 Why did he decide to take on the countenance of a Jehovah's Witness volunteer?
"And so I was driving by one of these cards one day, and I was like, that'd be perfect for artwork," he said. "I started talking to Jehovah's Witnesses, seeing if I could get one. And they don't sell them to non-Jehovah's Witness. I ended up making one."