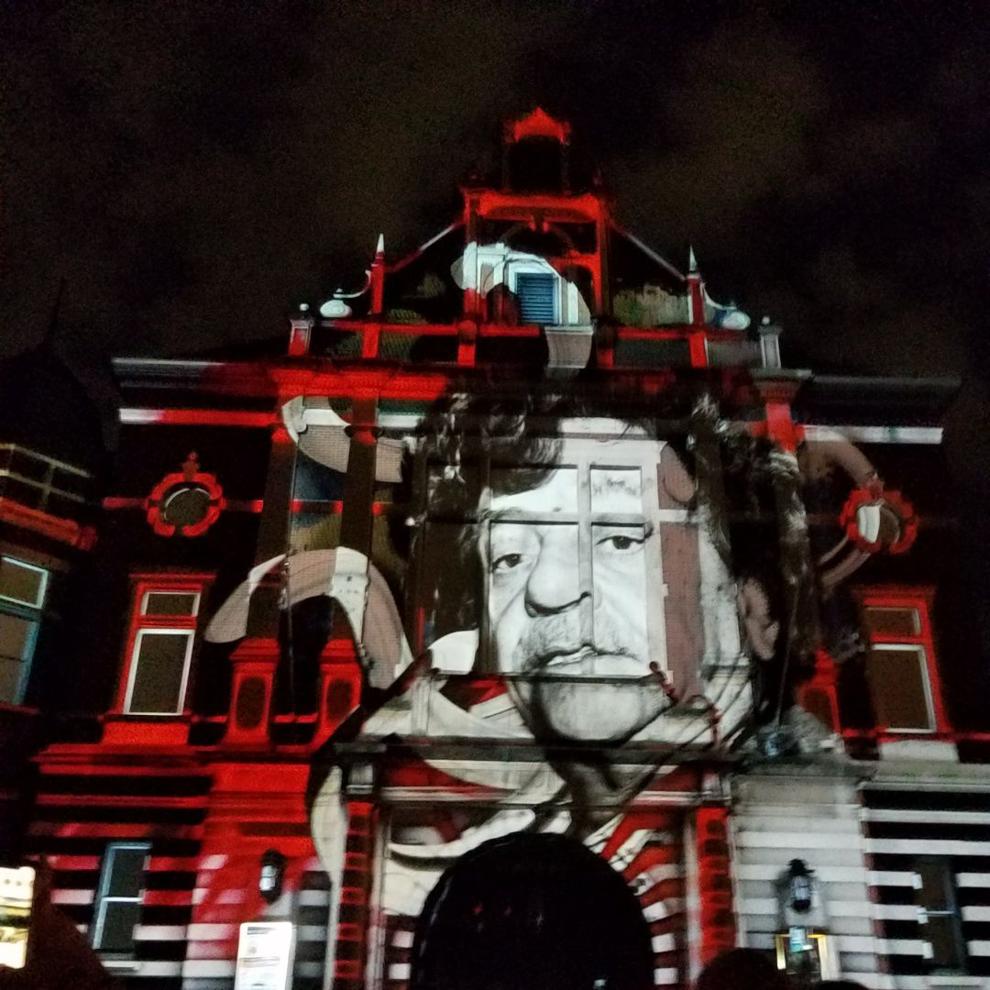 First Friday, October 5
It's one thing to study art abroad. It's another thing to return with compelling art of your own as a result of your studies.
According to the description that Caleb Stoltzfus gave about his exhibit From Process to Impact, his body of work resulted from his studies of plein air painting while abroad in Spain and Morocco. 
I suppose I was just a little skeptical when I came to see his exhibit, showing at the Harrison Center's Speck Gallery. 
But there's no arguing with the impact of the impact of his painting titled The Parade that seemed at first glance entirely composed in shades of sepia, and seems to borrow some of the mood of Goya's black paintings.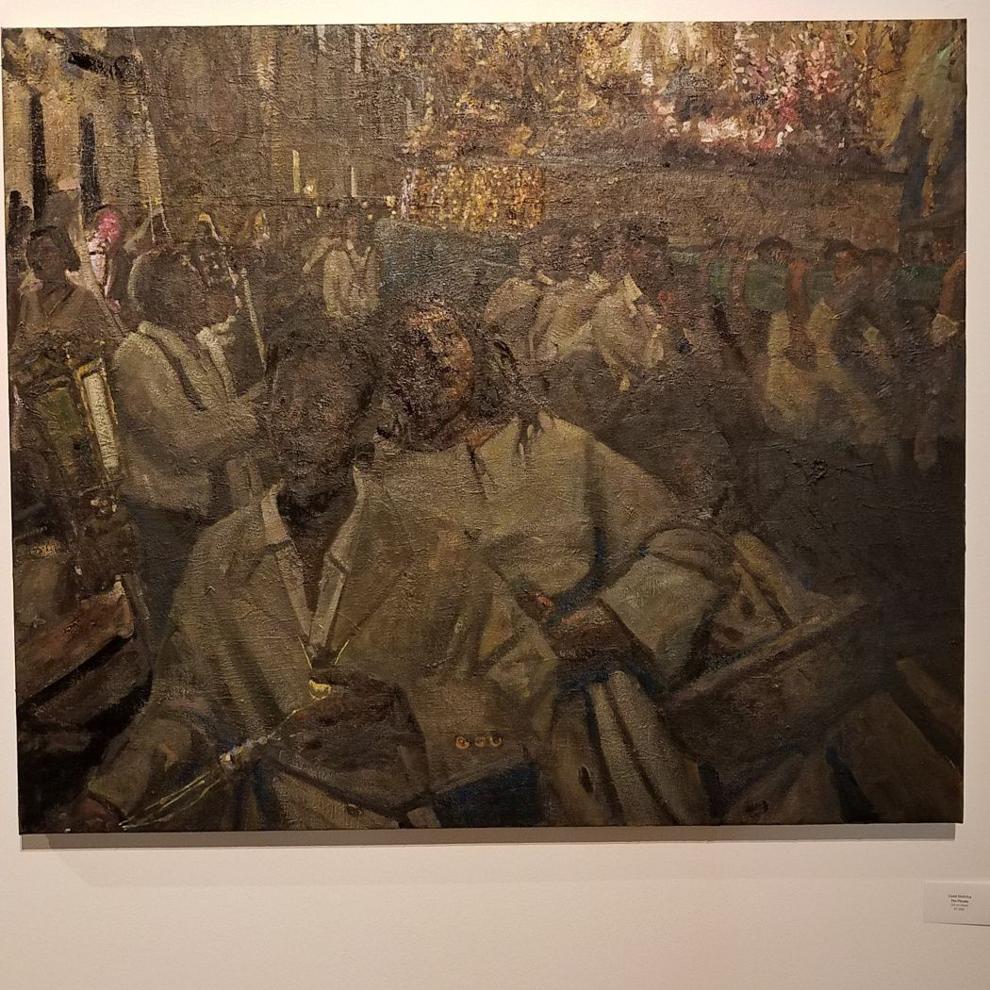 The faces depicted are of participants in what appears to be a religious procession, cast in shadow. These people are nevertheless riveting in their enraptured—or perhaps anguished—expressions. The tone of this painting, however, may not be entirely bereft; there's bursts of color here and there, and glimpses of light, off in the distance.   
In the Harrison's main gallery, I talked to Kipp Normand for the opening of his show Historicity. His exhibit features collages, artifacts, photographs, all relating to the history of Indianapolis. And one of the inconvenient historical facts that Normand alludes is that Indiana was a hotbed of KKK activity in the 1920s.
In 1925 over half the members of the Indiana General Assembly were Klansmen.
Normand thinks the reign of the Klan in Indianapolis might have had something to do with the deadening of culture in the city in the years before the Klan's reign.  
Thus, according to Normand, the rise of Indy's unfortunate moniker "Naptown" might be related indirectly to the influence of the Klan.
"But I don't want to paint a picture that it was all Klan Klan Klan because there were also a great deal of people that opposed the Klan," said Normand. "The Indianapolis Times [was] a newspaper that did great things to expose the hatefulness of that organization."
There's a found photograph in the exhibit of a Klan rally titled "Again" that seems to hint at the current political moment.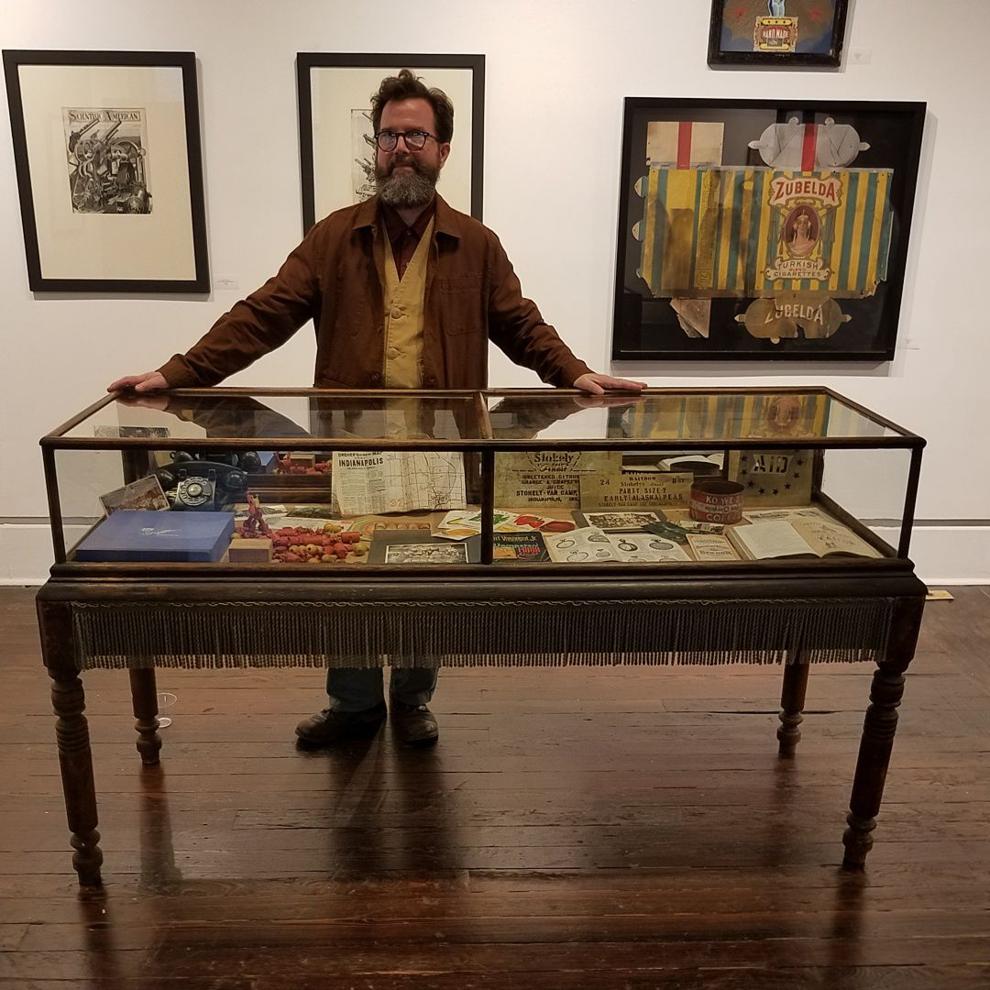 In Normand's display case of memorabilia, however, there are hints that Indiana was once much more progressive than you might think. One of the items is an early 20th century of employees from the Columbia Concert Company.  
"[The company] was owned by the employees and it had an employee council that made a determination about how to handle the business and they shared in the profits from that company and actually on the labels of their canned soup there was this whole statement about how this was an experiment in socialized industry," Normand told me.  
Another of the items in the case is an old paperback copy of Wampeters, Foma and Granfalloons, a book of essays by Naptown-born Kurt Vonnegut who, let's just say, had a complex relationship with the city of his birth.
The aforementioned work at the Harrison Center hangs until October 26.
My next destination was the exhibit "Parallels in Life and Art" at Gallery 924 featuring the work of Richard Emery Nickolson and Anne McKenzie Nickolson.
Anne's works are embroidery on pieced grosgrain ribbon, works that resemble paintings.
While some of Richard's paintings in the exhibit seem to reference ancient petroglyphs, some of Anne's paintings depict the landscapes in which these works are found.
"'Leaving Nature Behind' was from a photo that Anne took of Balanced Rock at Arches National Park, where an RV was parked next to the rock formation.  "And it had an image of Devil's Tower on the back of it," said Anne. "The scene made me laugh, and I wanted to memorialize it."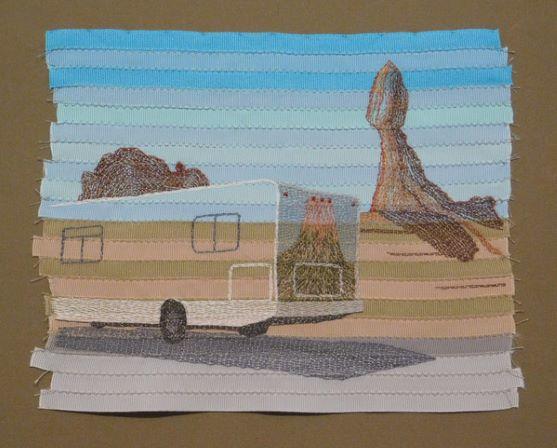 In another painting, which depicts a crowd gathered around one of Van Gogh's bedroom paintings, she again turns a skeptical eye towards technology.
"To See in Person" was about her frequent experience in museums in which the most famous paintings are so overwhelmed by crowds that she can't even see the works.
"The Art Institute of Chicago had a show in the last few years in which they brought together the three versions of Van Gogh's bedrooms," said Anne. "There were many Van Gogh paintings in the show, but the three stars were surrounded by people. In reality, there weren't so many cell phones being held up at the time, this was my invention to describe the effect."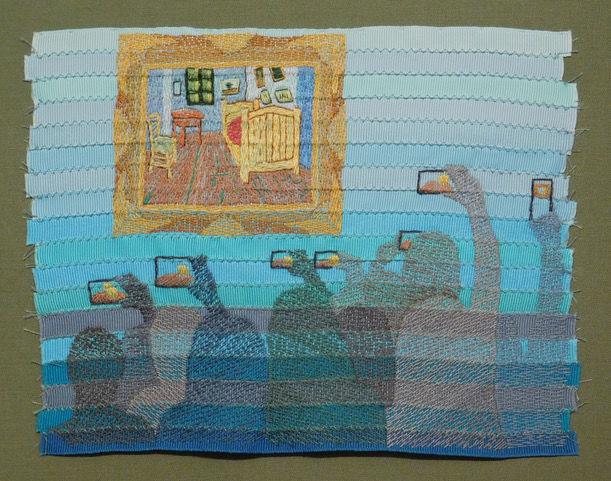 The work hangs through October.
From Gallery 924, it was a quick walk to Central Library, where I not only got to meet Kevin Powell, author of The Education of Kevin Powell, a Boy's Journey into Manhood but also check out the photography exhibition, Sons: Seeing the Modern African American Male by Jerry Taliaferro.
The initial phase of this project involved the selection of 30 African American men from Indianapolis to serve as subjects for photographic portraits.
Anthony Radford, Curator and Artist in Residence at Central Library, talked to me about the portraits in the exhibit, which will be on display through October 31.  
"I was there just about for a lot of these photo sessions, in the afternoon," said Radford. "I got to meet these guys and talk to them ... One brother, he came in and he had on this suit so my first perception was that he was a businessman or worked for a Fortune 500 company or something like that. It turns out that he had invented this machine that purifies water and he went over to Africa and purifies drinking water; he didn't stop there. He was a musician; he didn't stop there he's in drag racing as well."
Looking through the photos it's easy to see that Taliaferro has a deft touch in drawing a compelling pose out of his subjects.
I had met a number of the subjects before, including Indianapolis City-County Council president Vop Osili.  
I also knew Gary Gee, another of Taliaferro's subjects, a mixed-media artist who was present at the exhibition on this night.
I was glad to meet Kevin Powell.
I'm sad to say that I haven't read any of his books. I do recall having seen him on the first season of MTV's The Real World, the groundbreaking reality TV series of the 90s. I recall the difficult and provocative conversations he engaged his roommates on the subject of race.   
Powell told me he was happy to support the Sons exhibition.
"Obviously given what's going on in our country right now around perception I think it's very unique and special what they're doing," he said. "As a fellow journalist, I've always worked with photographers with images in the work that I do so I was thrilled to be a part of it especially given all the things we've seen around the nation around the stereotypes of Black men in this country so I'm glad to support that."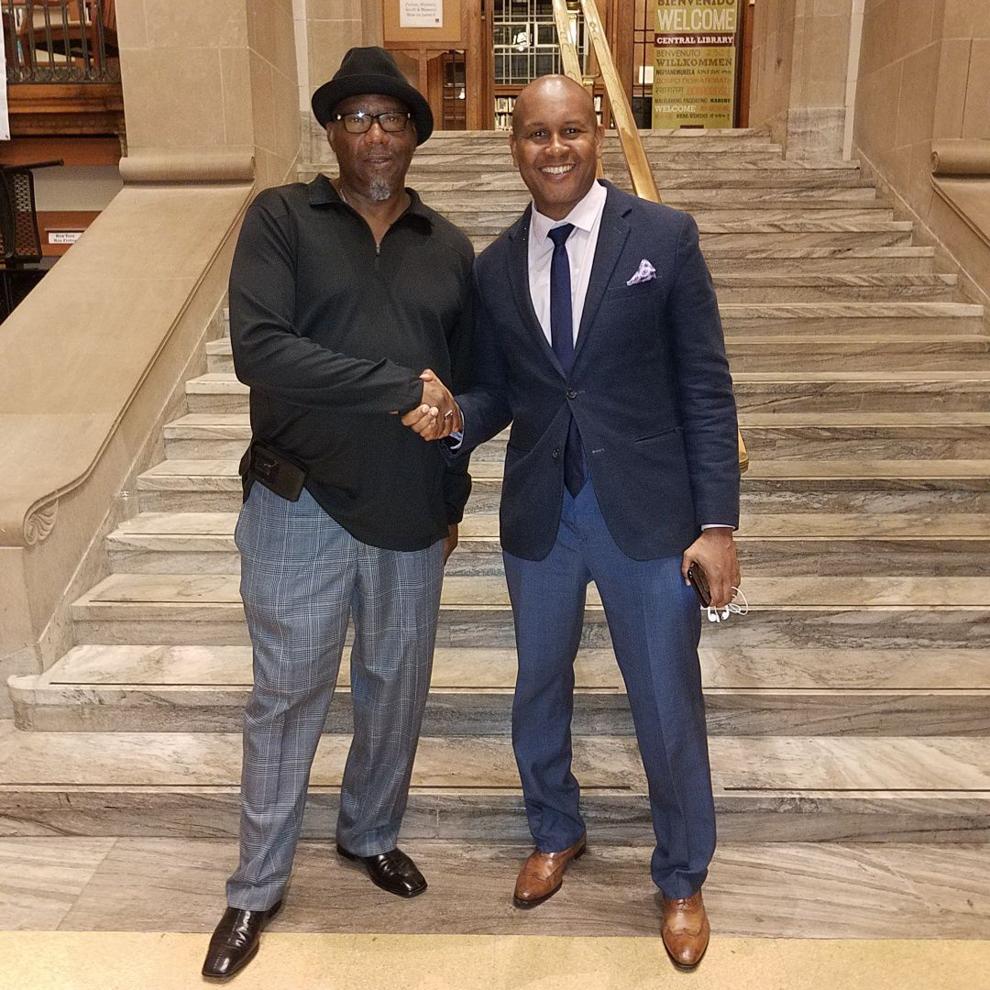 Saturday, Oct. 6
In the afternoon, I took my daughter Naomi to PreEnact Indy, the one-day-long neighborhood festival celebrating diversity, with the expressed goal of "pre-enacting" what an inclusive neighborhood might be like. The annual festival, which was held for the first time last October, was taking place between the Monon Trail and Andrew J. Brown Avenue.
There were food vendors, an open-air stage featuring performances of all sorts, a "Brother Nature Market" where artists and ice cream vendors alike sold their wares, a pop-up roller skating rink, a gospel festival, politicians greeting the public, and groups giving information about subsidized housing. The list goes on and on.   
We were passing by a makeshift storefront where the overhanging sign read "Freetown Barbershop," where there was a lively conversation going on. But no one was cutting anyone's hair or sitting in the barber's chair.  A guy named "Kendrick" raised the question as we passed, to his four companions, "Is 14 too young to date?"
I thought my daughter Naomi, who is 14 years old, might be interested in taking part in the conversation.    
So I shared Naomi's age with the barbershop group, as she looked at me in alarm, and a guy with the name of Kendrick asked her if she felt if 14 was old enough to date. She laughed a little and said, "I don't know."  
(Naomi was certainly a good sport about what her dad was putting her through.)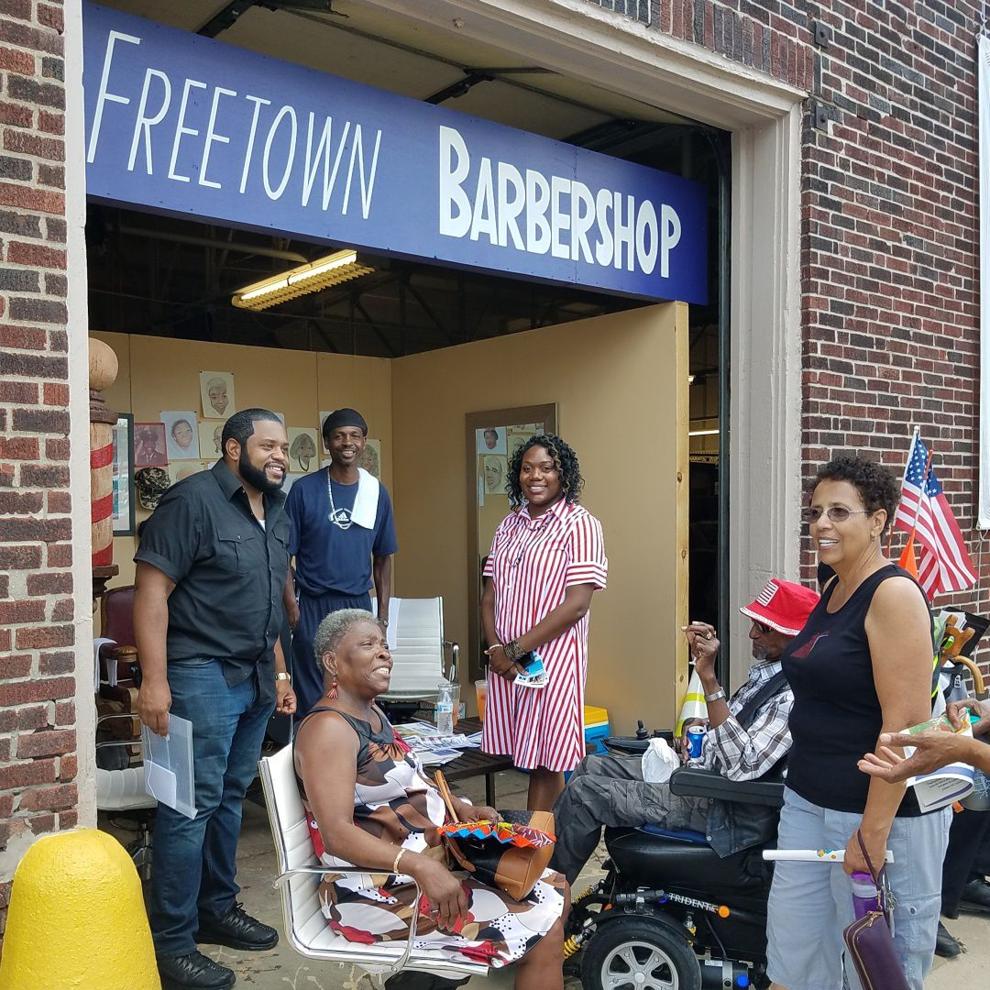 It turned out that "Kendrick" was the stage name for Alex Spearman, who was playing a customer from the neighborhood. And he was a player with Freetown Village, a nonprofit theater organization that bills itself on its website as "a living experience in African American history."
Spearman gave me a flyer for an upcoming Freetown event, but you can check out the website for yourself.
We passed Ajia Durham, outside Anthony Moreland True Victory Church. She was painting a sign that read "Support Our Mission Fighting Hunger," and she had previously painted murals on the outside walls of said church.
"If you know someone in need or would like to help we have a food drive," she said. We do it every year."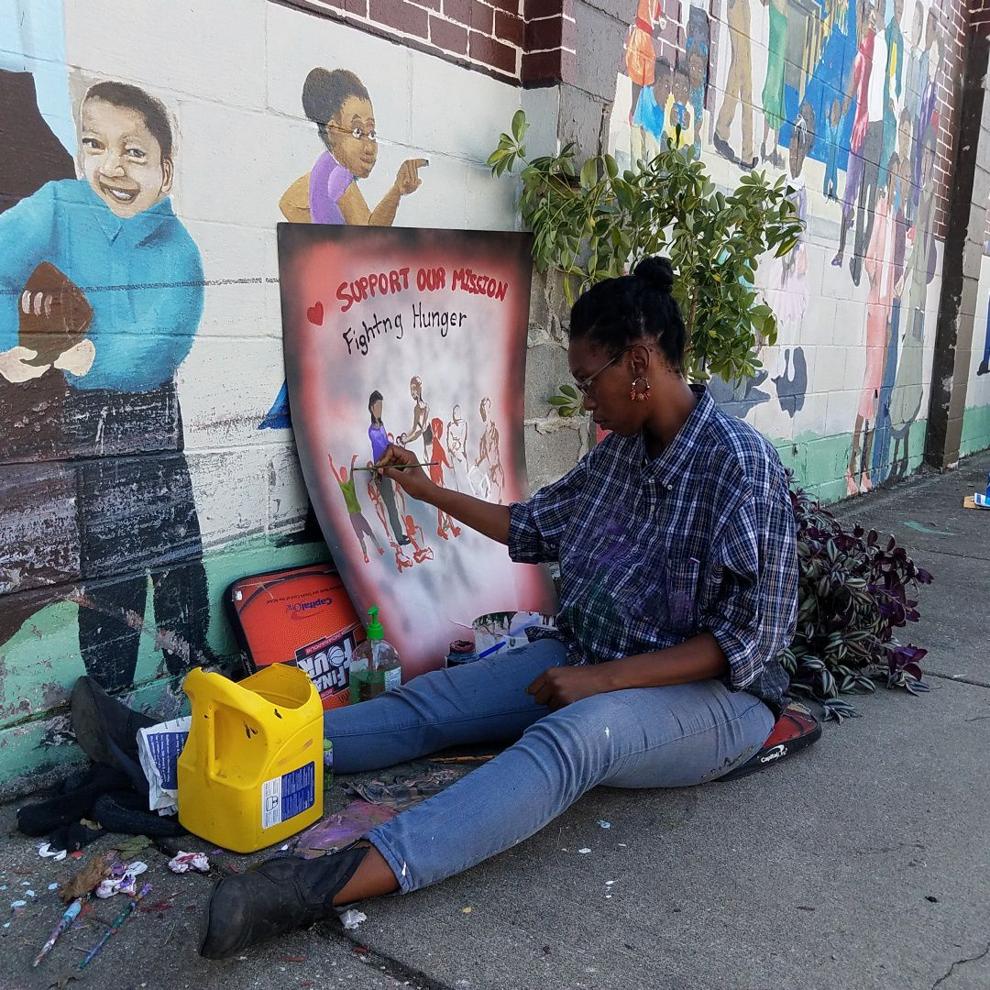 She directed me to the Facebook page of the True Victory Church. 
Next we met up with Gary Gee—in my case it was the second time in 24 hours—at Brother Nature Market where he was selling T-shirts depicting the Statue of Liberty weeping. 
I bought one of them.
Gee had created this depiction during 2016, during the time that Colin Kaepernick was still quarterback for the San Francisco 49ers and taking a knee during the national anthem.
"That's how I felt about everything going on," he said.
At Beckwith Commons named after Frank Beckwith—the first African American to run in a major party primary—the entire day was slated with performances. And Asante Children's Theater, led by Deborah Asante, had a big role in these performances.
 We saw Veronique Briscoe Beuoy take the stage and talk of the importance of porches in her life; hanging out on the porch, studying on the porch, thinking of boys on the porch.
And the platform she was standing on just so happened to be a wooden porch.
After this performance, Naomi and I left PreEnact and drove to Monument Circle, where the Monument Circle Art Fair was winding up for the day. I took this photo at the installation on the lawn of Christ Church Cathedral, depicting a mirror in a cage, the mirror having replaced a nativity scene originally in that spot: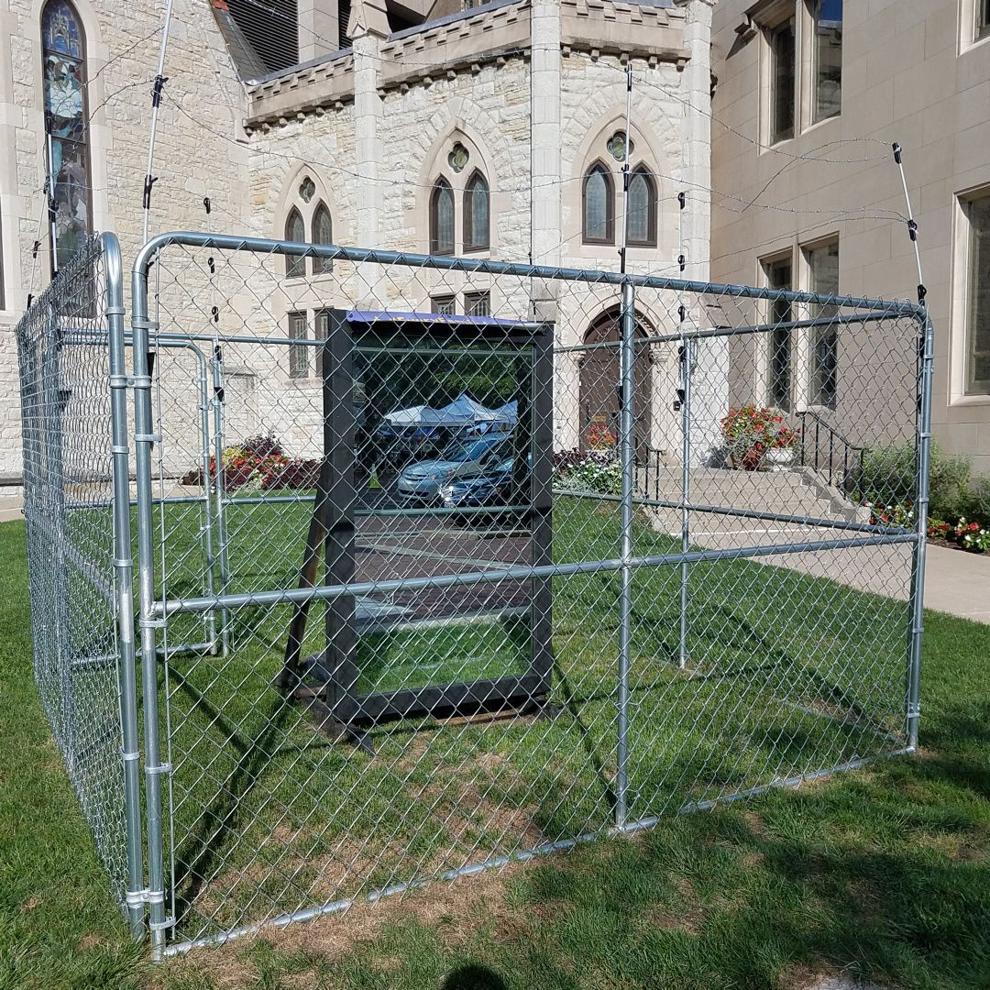 The nativity scene was originally installed in July as a commentary on the Trump Administration's draconian immigration policy.  
The installation, I suppose, is also meant to reflect on this policy, as you reflect on your reflection.
Naomi and I finished the evening by going to the Athenaeum to watch a Light-Art Show by the German art collective URBANSCREEN titled German Influencers.  An hour and a half before the show URBANSCREEN collective member Till Botterweck gave a talk, in front of the huge projector across the street from the Athenaeum covered with plastic sheeting, answering all kinds of questions asked by dozens of people gathered there about the collective's work.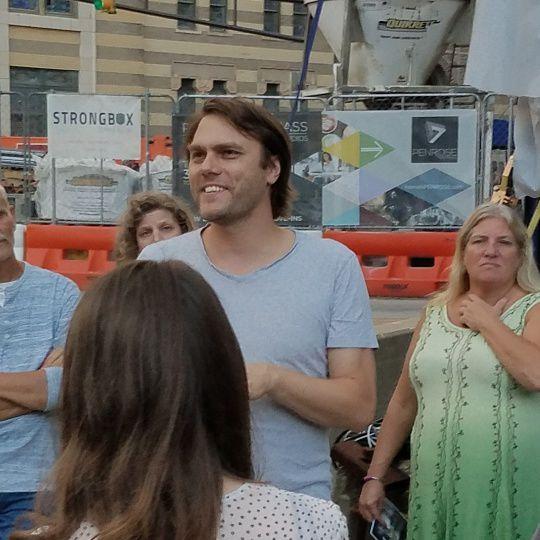 The program would last ten minutes long, starting at 8:30 p.m., and would project images of famous German-American personages on the facade of the Athenaeum including Marlene Dietrich, Kurt Vonnegut, and Marlene Dietrich, along with colorful graphics to the accompaniment of music. 
Then the Light-Art Show would be repeated until 11 p.m. That was the plan.
Just as Botterweck finished his talk it began to rain. It rained hard for about half an hour, but the rain cleared up by 8:30.
So Naomi and I, and around 100-odd people gathered at the corner of Mass Ave and Michigan Street—in front of the building originally called Das Deutsch Haus—were able to check out the show.