For writers and poets, Etheridge Knight is claimed as an Indianapolis author of five collections of poetry that remain influential through generations. His subjects — Black art and experience in America, the importance of family, the rewards of artistic expression —  are as relevant today as they were when he was writing. He was a champion of poetry and its transformative power. He's the author who famously declared, "I died in Korea from a shrapnel wound, and narcotics resurrected me. I died in 1960 from a prison sentence and poetry brought me back to life." He died in Indianapolis in 1991 and is buried in Crown Hill Cemetery. 
Tuesday, May 4, from 7-8 pm, the Indianapolis Public Library's Center for Black Literature and Culture will present an hour-long virtual Knight celebration. The event will be available on the Indianapolis Public Library's Facebook page and the Indianapolis Public Library YouTube page.
The Virtual Celebration of Etheridge Knight will be hosted by Hanako Gavia, assistant director of the Center for Citizenship and Community at Butler University, project manager for the Etheridge Knight Community Partnership Initiative, and Knight's great niece. "For me and my family, he was Uncle Junior," says Gavia. "He was my grandfather's only little brother and someone I had heard about my whole life. He was the fun uncle that loved his siblings and his mother and liked to play tricks. A few family members have their favorite poems from him, but really the most significant part of him to us is that he was a member of our family. A brother, an uncle, a father." 
Knight's legacy will be marked by recorded presentations and performances by family, friends, and poets reading Knight's poetry along with original work. The celebration also previews the archival research exhibit developed over the last two years by Butler University students that focuses on Knight's biography, role in the Black Arts Movement, and contributions to the Indianapolis community. 
Gavia was just a kid when she went to the first Etheridge Knight Festivals, started in 1992 by Knight's sister, Gavia's Great Aunt Dale. When she was younger, Gavia thought it was mostly a family affair and never considered Knight's influence outside of their close-knit unit. Over the years she gained a new appreciation for Knight's reach in the poetry community —  both nationally and locally. "We're happy that this project shares with the public how we saw him," she says, "and also for us to learn about him from a different perspective."
From a creative perspective Gavia gleaned insight into Knight's time in the city and its place in his writing. "Etheridge drew a lot of inspiration from Indianapolis," she says. "I think people believe they have to get out of Indianapolis to make something of themselves or be from New York or L.A. to truly be a great writer. Etheridge shows us that you can appreciate and highlight your own community and your own experiences through writing or any medium and speak to everyone."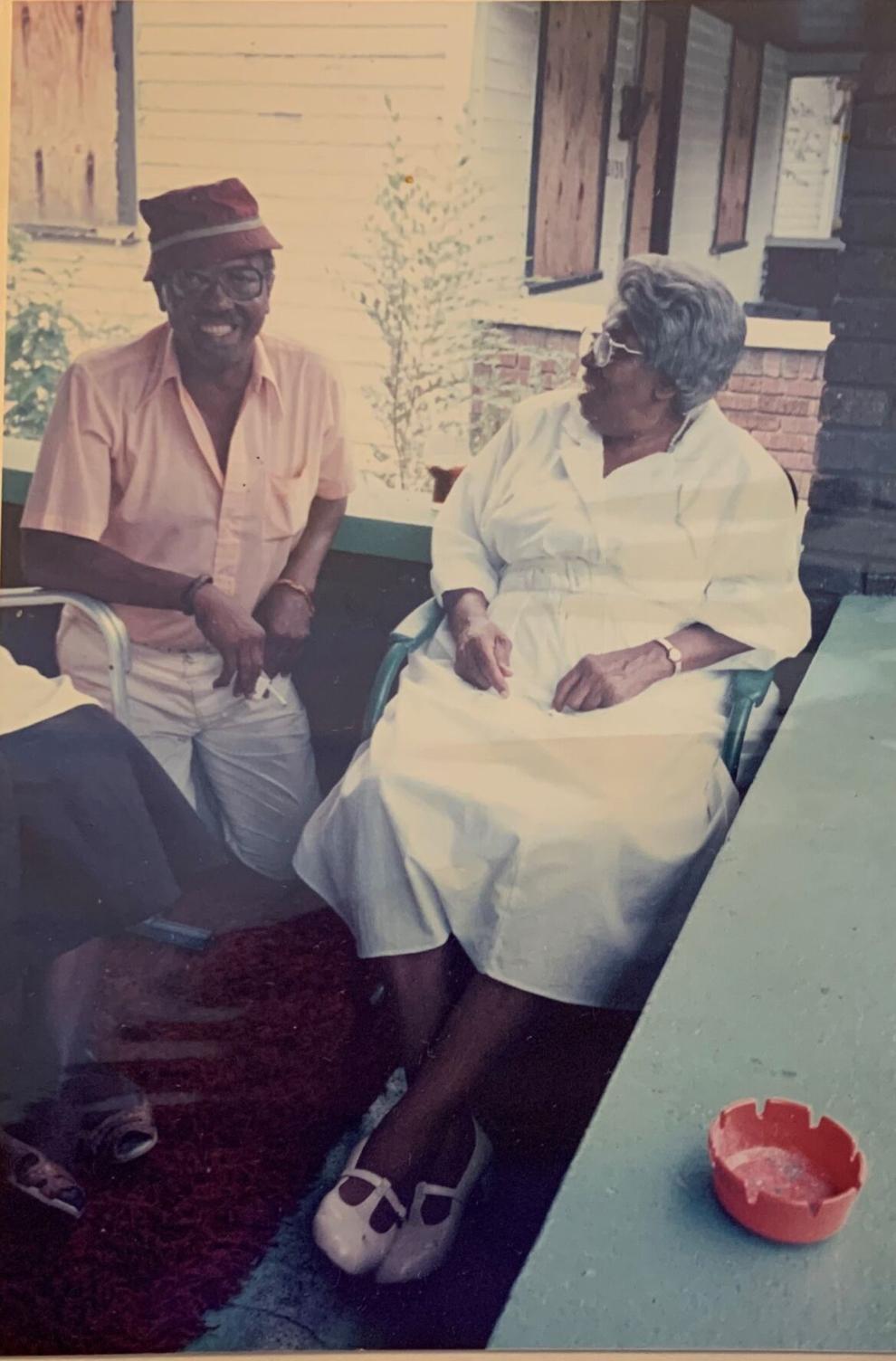 One aspect of Knight's legacy is that his work continues to educate and connect us not only to poetry, but to each other. As part of his mission to share poetry with the people, Knight started the Free People's Poetry Workshops that he offered across the country. Gavia thinks the spirit of this celebration fits Knight's personality perfectly. "My uncle never knew a stranger and had a way about him that made you want to know him," she remembers. "He was happy to get to know and talk to anyone and bring a bunch of different people together, allowing for deeper conversations. I think that is amazing and we should have an appreciation for not only his writing, but his ability to connect and inspire others." 
As the project developed, Gavia recognized that the purpose was also changing, and the goal focused more and more on the spirit of connectedness. She feels that sharing personal and intimate memories of family and friends, while highlighting his poetry, creates an allure and attraction that enriches the appreciation of the man and the writer. "When we started this project, we had planned to spread awareness about Etheridge Knight," says Gavia, "but realized a good amount of our work has been more about revitalization and making connections in the community surrounding him."
While Gavia always thought of Knight as Uncle Junior, she has learned that the community of writers, poets, and friends are also eager to claim him as family. "Working on this project I really began to understand his scope of influence and how great a writer he really was," says Gavia. "I have met and spoken to so many people that really love and are inspired by his work and I see how his voice is able to reach all different kinds of people." 
The event highlights Knight as much as it is a celebration of ourselves and our artistic communities. Gavia says Knight's spirit and legacy is honored by our attention to artists and to our own creative expression. "I want us to learn more about our poets and artists," she says. "And how they are integral parts of the community. I hope we are inspired to also show ourselves in a creative way."
As host of the event, Gavia is happy to share Knight with us and we might be humbled to be part of Knight's family. "He isn't just the family poet," she says. "He belongs to the community and the legacy of the Black Arts Movement."
You can follow and learn more about EKFreePeoples initiatives through @EKFreePeoplesBe on Facebook and Instagram.