Just about every craft brewery brings up a Halloween-themed beer. 
This notice came to my inbox from Grand Junction in Westfield at 1189 E.181st st.: "We just had to release this out of the patch. Our Pumpkin Ale is brewed with 100+ lbs of pumpkin and all spices." They challenged me "to taste the pie" all the way over to my space at 79th and Ditch road.
Taxman's imagery is the quintessential spook all year round. Yes, they have a bright, sparkly side representing the feel of an IRS refund; check out the newly up Gold Standard Belgian-style Blonde Ale in cans. On the flip side, new on tap is the dark-fruited Bourbon Barrel Qualified Belgian-style Quadrupel Ale. One sips this slowly to capture seven layers of taste prompts. No filing errors here.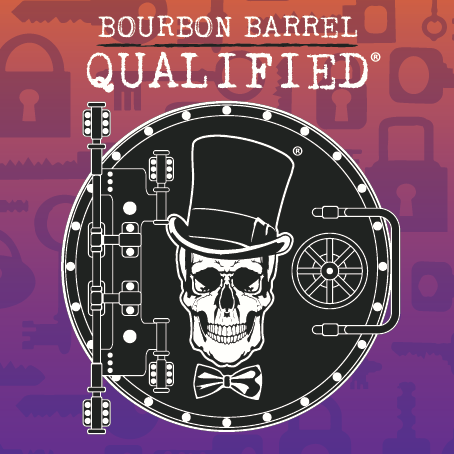 However, no one now or ever before in the annals of Indiana brewing does Halloween with the gusto exhibited by Scarlet Lane.
October 1, we will be launching a new brew, emailed Eilise Lane Servies, SLB CEO/Head Brewer. 
"A Debra Ale Production" is a Black Kolsch with Guava and Passionfruit "celebrating producer and writer Debra Hill. She was a huge driving force in the horror community and helped mold and create early films like Halloween (1978). Women in horror must be celebrated."
However, 'celebrating' isn't exactly what Indiana University Press is doing with the just-published Jane Simon Ammeson revelatory "Story of Serial Killer Belle Gunness." Titled "America's Femme Fatale," Ammeson traces Belle from her November 11, 1859 birth as the youngest of eight children to an impoverished farm family in the far north reaches of Norway. The originally named Brynhild Paulsdater Storset changed her persona several times before she arrived in LaPorte, Indiana, in 1900, traveling from Chicago, to which she had emigrated some twenty years earlier.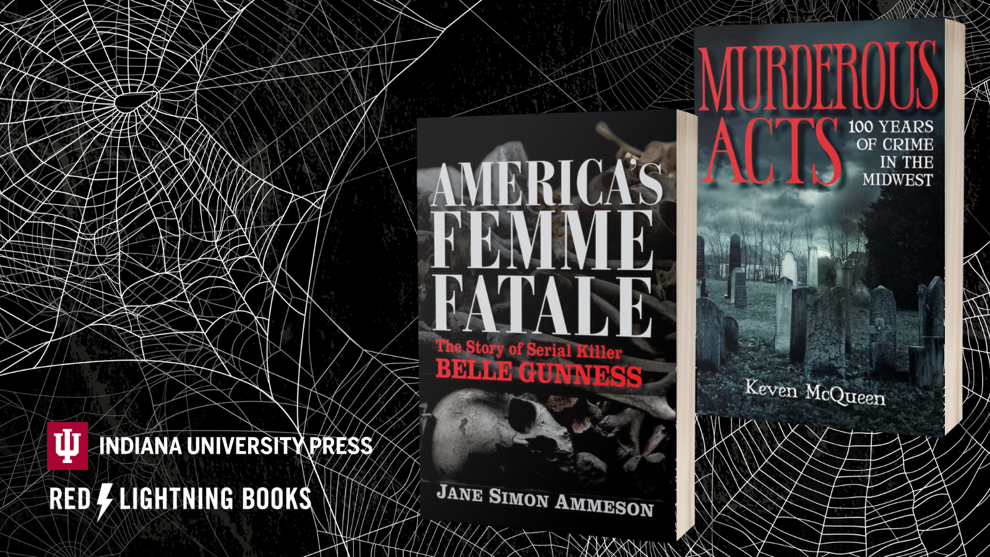 That the bizarre behavior of Belle was whispered about yet tolerated made me wonder about the purity of our national character when no one dares to speak up when children and adults suddenly disappeared once they came into contact with the imposing Brynhild/Bella/Belle. For me, it's a mesmerizing cautionary tale I had to keep reading despite the late-night hour. We still don't know the specifics concerning Belle's whereabouts after a fire destroyed the LaPorte farm. 
Ammeson writes narrative nonfiction with a sense of drama to propel us along the unbelievable. The gruesome story remains in full sight at the La Porte Historical Society. I'm on the trail to learn if Indiana breweries in' The Region' ever have alluded to a brew to Belle, who set out to do in all future suitors/husbands in her adopted country after being jilted by her not-so-honest first suitor in her homeland. A woman spurned, turned to the dark side.
Indiana's chapter in Keven McQueen's "Murderous Acts: 100 years of crime in the midwest" opens with "Halloween night 1911…the community of Muncie, Indiana, held a masked costume party in Franklin Hall, located at 113-117 North Mulberry." [now a parking lot] 
Here, the young man feels jilted by the young lady of his dreams. "In a fit of jealousy, he "produced a .38-caliber revolver from his hip pocket, aimed it at her breast, and pulled the trigger three times. It fired the third time, and the bullet went entirely through Alta's body…" 
McQueen writes with assured swiftness as he progresses through retellings that don't show much to applaud in the way of justice served. A hundred years later, it's still easy to 'blame the victim.' 
"Kill Da Umpire!" gains a sadistic turn in June 1907 when "two baseball teams representing Springfield, Massachusetts, and New Haven, Indiana, played at the New Haven field," informs McQueen. When the Indiana fans disagreed with the umpire's call, they enacted the catchphrase—bludgeoning him to near death. No one was apprehended.
Forewarned is forearmed, per the story on July 14, 1902, at the "baseball game held at Cannelton, Indiana, between the local team and a team from Owensboro, Kentucky." When the Cannelton pitcher harassed the umpire and "the argument came to blows, …the umpire produced a pistol and shot the pitcher in the back as he ran away." Author McQueen fails to report the outcome. This leaves me thinking a trip along the Ohio is in order.
The next reported episode takes us to Otter Creek Township, ten miles from Terre Haute, involving another slippery slide into newspaper reporting. A Samuel Dias, or was it, Henry Dyas, take your pick from the papers in hand, "needed to take an anger-management class, had such a thing existed back in 1843," opines McQueen. In any case, this was the man who took an ax to George Brock in sight of many witnesses. Nevertheless, the wheels of justice here too proceeded with detours, culminating on July 5, 1844, when Dias "was the first man hanged in Vigo County."
"Long ago, Moses Rush married a young woman named Jane in Brown Township, Montgomery County, 1836, but newspaper reports originating from within days of the unpleasant events that followed the wedding day say it took place in June or July 1839." 
This final story within "Indiana Imbroglios" takes us to New Albany. The convoluted story of Willard Schray is the stuff of opera. And as with Bella, his whereabouts when the law finally caught up with him in the 1940s after he "ambled into a Pearl Street saloon on the night of January 17, 1914, and told acquaintances, "Well, I killed my wife an hour ago." Find out on your own what followed. It boggles the mind.
McQueen sleuths his "historical true crime…and real-life surrealism" throughout the realm of newspaper accounts. I'll refrain from offering my personal assessments of reportage—after all, I'm part of this fourth estate; yet I do wonder at how far we have not come for what excites readers and how the media panders.
You'll also slosh through mayhem in the states of Missouri, Michigan, Illinois, Nebraska, Kansas, Minnesota, Iowa, Ohio, and Wisconsin.
I'm not suggesting that we now should lift pints to soothe our souls, but there's much to be said for reading and sharing our thoughts with a fine Indiana craft brew in hand. 
Scarlet Lane's "very full and exciting calendar of events for October is sharing our spookiness all over town," announced Eilese Lane Servies. The "big Welcome to October party on October 9 is at the McCordsville location. We are celebrating Halloween with the best theme ever: Halloween (The Movie). "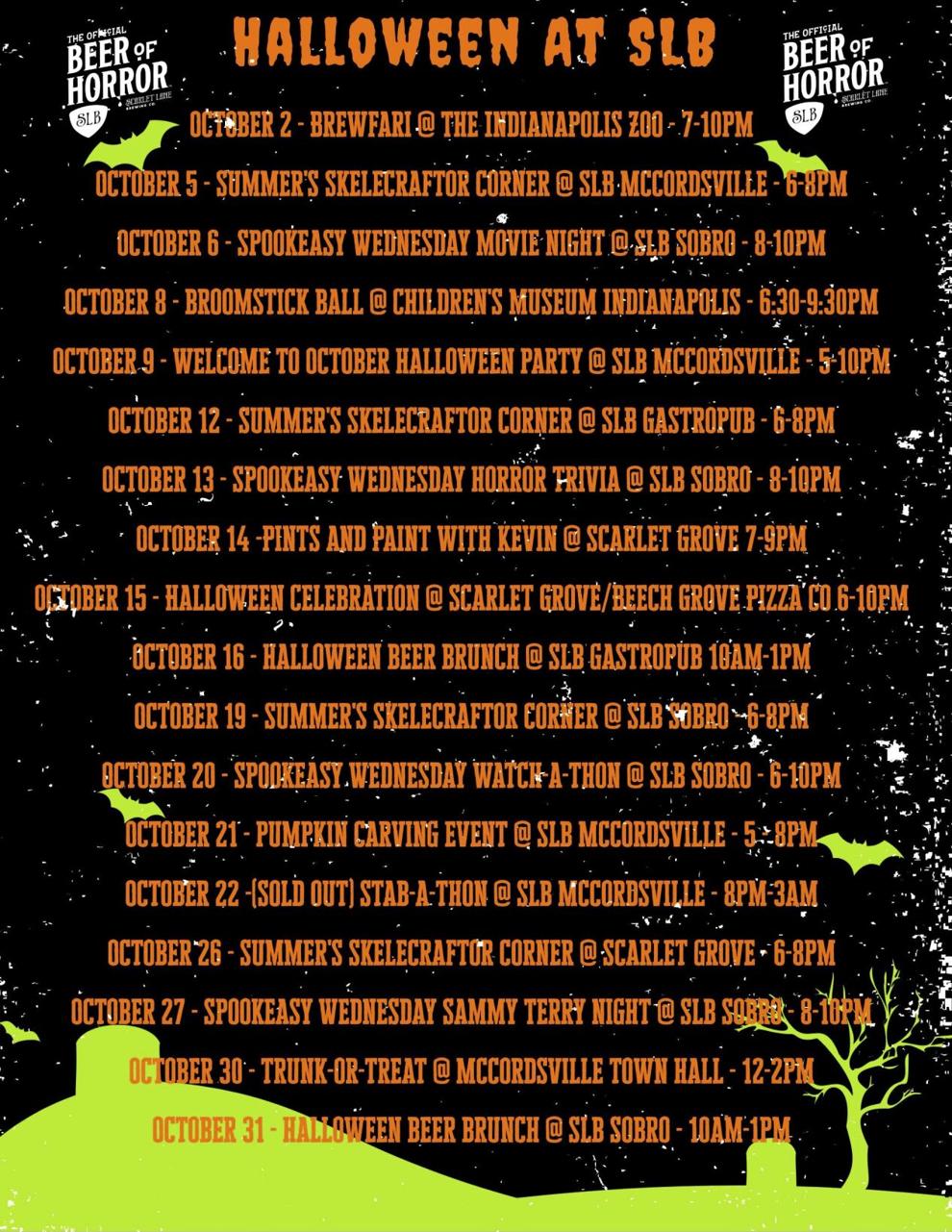 =====
Joining Scarlet Lane's monthlong October calendar you'll find more events here:
At the Indianapolis Zoo, 1200 W. Washington St.
Oct. 2, 7-10 p.m. Brewfari; presented by Scarlet Lane Brewing Company, adults-only evening to benefit the Zoo's animals & programs.
Bring your competitive spirit for a spooktacular costume contest.
All Brewfari guests will also enjoy psychic readings inside the Ascension St. Vincent Dolphin Gallery and entertainment from DJ Lockstar in the Bicentennial Pavilion.
Learn more here: https://indyschild.com/halloween-brewfari-adult-only-night-at-the-indianapolis-zoo/
Oct. 6-31, ZooBoo at the Simon Skjodt International Orangutan Center, is free for Zoo members and included with regular admission "for itty-bitty ghouls and goblins, as well as the bigger kids. October weather means active animals, colorful foliage and a new season to explore. Combine that with engaging, hands-free activities, spooktacular costumes, and trick-or-treating — plus, the chance to boogie-woogie to a live DJ — and you've got an unforgettable family tradition. "
Pumpkin Town, at The Bicentennial Pavilion, "is home to a whimsical village with adorable cats, fancy rats, and Mayor Jack, who keeps guests on their toes with his boo-worthy jokes! One of our most popular areas, we'll be monitoring attendance in this area to ensure guests have space for social distancing. Professor Pumpkin leads mystifying science demonstrations for little witches and wizards at Pumpkin School. Guests can also visit not-so-scary creatures in Jack's Barn or the cats being fostered in Bewitching Bites," reads the promo.
Explore ZooBoo after dark with extended dates, now including Wednesdays. 
Indiana Historical Society, features Free History Happy Hour Virtual Programs online, via Zoom
Registration closes 2 hours prior to the start of the program.
October 7, 5:30-6:30 p.m.;. Free: register here: https://tickets.indianahistory.org/Info.aspx?EventID=104
Indiana Ghost Stories, from haunted libraries to ghostly sightings on bridges, Indiana's folklore is rich with stories of spirits and the paranormal. Gather round to hear about Indiana's ghostly legends with Dr. Tamara Hunt from the University of Southern Indiana.  
History Happy Hours are informal conversations with IHS staff and scholars that usually last around 60-minutes. We will use the Zoom webinar platform, so you can join us from your kitchen table, couch, or porch. Just make sure you're ready to type, as we will make sure there is plenty of time for your questions through the chat feature. History Happy Hour takes place virtually over Zoom. You can either join through an internet-connected device or calling-in via phone. We will send you a link and phone number through the email you used to register around two hours before the program begins. Don't see the email? Make sure to check your spam or junk folder. 
Check out all our past programs here. (Scroll down to the History Happy Hour menu to see the recordings.)
October 28, 5:30 p.m. to 6:30 p.m. Free: register here: https://tickets.indianahistory.org/Policies.aspx
In 1906, Mishawaka's front pages were dominated by the murder of Cecilia Ludwig, who was knocked unconscious with a wooden potato masher and burned in her home.
Join author Gary Sosniecki to uncover the details of this historical murder.
Oct. 23,11 a.m.-2 p.m. 2021 Indiana Brewery Running Series "Spooktacular Beer Run." The 5k-is course starts and ends at Metazoa Brewing, 140 S. College Ave., 46202. "Weave through the surrounding area at whatever pace you like; no matter what, there's a beer waiting for you at the finish line. We are all about being active, having fun and giving back to our local community. Since our inaugural event (the Brewery Running Series was founded in Minnesota in 2012), we have been able to donate over $200,000 back to local nonprofits. This event will add to that tally! So not only do you get to a little exercise and enjoy a great beer, you are contributing to our awesome community! $5 of every registration for this event will be donated back to Friends of Indianapolis Dogs Outside (FIDO).
Info & register here: https://www.eventbrite.com/e/beer-run-metazoa-brewing-2021-indiana-brewery-running-series-tickets-130277584763
Oct. 23-30: Irvington's 75th Halloween Festival is billed as "The oldest and largest event like this in the country. Week-long events include a massive street fair, parade, contests, charity Masquerade Ball, 250 vendors and artists, plus a pet costume contest." Of course, Irvington's resident brewery, Black Acre, is creating and pouring appropriately themed brews. More info at: 317-535-4291
Learn about greater Indianapolis-Halloween related events here: Read more on Do317