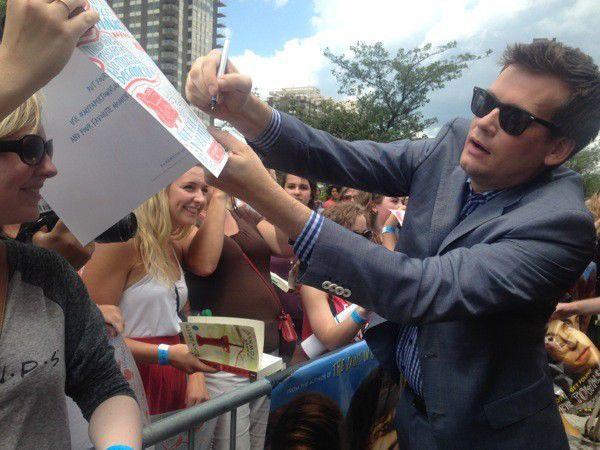 If you're as big a fan of John Green novels as Colts quarterback Andrew Luck is, you're not going to want to miss their "Listen Up" conversation at Old National Center on May 3.
Luck will interview John Green about his latest young adult novel Turtles all the Way Down which just so happens to be the May selection for the Andrew Luck Book Club.
The interview, sponsored by local PBS station WFYI-20, will be recorded and broadcast as part of The Great American Read, an eight-part-series, on public television starting May 22.  As part of this series, viewers will be encouraged to vote on their favorite novel from a list of 100 finalists. Green's book Looking for Alaska is on this list. And considering as well that Green himself was on Time Magazine's list of the world's 100 most influential people in 2014, chances are pretty good that Looking for Alaska will be a contender for that top spot.
In Turtles All the Way Down, his fifth solo novel, Green's protagonist is 16-year-old high school student Aza Holmes, on the search for the fugitive billionaire Russell Pickett. Her OCD and anxiety mirror issues that Green himself has struggled with, as he has admitted in multiple interviews, including with the New York Times.  
Green is involved in numerous projects other than novel writing, including being one half of the Vlogbrothers with his brother Hank. In these weekly YouTube broadcast they they touch on matters trivial and profound—at the speed of sound—from expounding on their high school grades to the latest in medical research. Somehow, through all the jump cut editing, they manage to impart bits of wisdom along the way.
Vlogbrothers is just one of a portfolio of YouTube channels that the Green brothers work on together including Crash Course—a video series featuring educational courses based on the high school curriculum, which is in partnership with PBS Digital Studios.
Green's wife Sarah Urist Green, former curator at the Indianapolis Museum of Art, is the creator, curator, and host of another PBS Digital production The Art Assignment and Green occasionally lends a hand in this production.
Despite what seems like what must be a crazy-busy life, in talking to Green it becomes clear that he makes room in his life for family time.
It also becomes clear how much he loves his hometown of Indianapolis.
I talked with John Green by phone on Friday, April 27.
NUVO: How did the event with Andrew Luck come about?
JOHN GREEN: I don't actually know.  The way that it came about for me is that my neighbor, who is involved in WFYI asked me if I would be interested in being part of Andrew Luck's book club and I said, yeah, of course. So I was really excited. I'm a fan of Andrew's and the work he does in the community. So it was really exciting to have a chance to talk with him and hopefully raise some money for WFYI.
NUVO: Well, first of all, I have to say that my daughter Naomi is a really big fan of your books, particularly The Fault in Our Stars.
GREEN: Please thank her for me.
NUVO: I will. She went on to read the unexpurgated Diary of Anne Frank and I didn't see any direct correlation between one and the other, but in talking to her I wonder what propelled you to use Anne Frank as subject matter in that book.
GREEN: It's an interesting question. Partly the characters in the novel were in Amsterdam and that's one of the places that people tend to visit; and then partly because I think that Anne Frank is one of the very few direct voices of young people we have from the Holocaust. And she was an extraordinary writer; I think she would have been an extraordinary writer regardless of historical context or what her life had been like...  I guess that partly because I wanted to have them thinking and talking about Anne Frank. I think that's something that most American High School students do. And partly because they were in Amsterdam. 
NUVO: Your books appeal not just to young adults but to a lot of adults as well.  Why do you think there's that crossover?
GREEN: I don't know. I'm pretty lucky and I think in general authors are pretty terrible analysts of their work or their audience or their popularity or lack thereof. I feel much more qualified to think about other people's work than I do about my own on some level. But I hope there's something universal, I do think that there's something universal in those core experiences of adolescents. I think that a lot of the questions that we're asking as teenagers are questions that are still important to us in adulthood. We may be asking them in different ways but in a lot of cases we're still to construct meaning out of the world as we find it and what our responsibilities are to ourselves and other people.
NUVO: You [and your wife Sarah] collaborate on certain projects and one of them is the [PBS Digital Studios series] The Art Assignment. Are you still involved?
GREEN: I'm still involved. Sarah does 95 percent of the work but I still carry the camera around sometimes.  
NUVO: Well, you do from time to time jump into discussions. What is your role in those discussions?
GREEN: Oh, I guess my role in The Art Assignment is probably as the every person, the person who doesn't know a lot about contemporary art but is curious about it. I guess if I have a role in it—again, it's very much Sarah's show and she produces every episode; she writes every episode and she hosts almost every episode. But we collaborate very closely in everything, in most of what we do professionally. Sarah's the first person who reads everything I write. And I read most of what she writes as well. And that's always been part of our relationship… I trust her voice. I trust her editorial insight so much. I just think that she's a really smart writer and a really smart reader so we do get to collaborate quite a lot and it's a lot of fun for us.
NUVO: If there is to be a new movie made from one of your books would you like it to be filmed in Indianapolis?
GREEN: Yeah. If there's a Turtles All the Way Down movie, I would love for it to be filmed in Indianapolis.  I was trying very hard to write about Indianapolis in the book. And I wanted Indianapolis to be a character in the story.  I thought that they did a great job turning Pittsburgh into Indianapolis for The Fault in Our Stars movie, and They did a wonderful job reconstructing the Funky Bones sculpture that's in 100 Acres for the movie in Pittsburgh, but just in general it's always better if you could film in the real place. I understand why that's difficult and there's a lot of tax implications that I don't have a great understanding of involved, but I would love to see it filmed here; so much of the story for me is about the White River and the way it creates and divides our city and obviously it would be really cool for me to see the White River on the big screen.
NUVO: Do you spend a lot of time on the White River?
GREEN: I spend a lot of time on the river. I kayak a lot on the river. And I canoe sometimes with my family when the water level's right. I know that it's filthy and I try not to drink the water. I love being on the river.
NUVO: What book are you working on now?
GREEN: I don't know if I am working on a book. I don't know. It's hard to know.  I don't feel an urge and desire to publish a book, I have to say. I'm writing... I'm making a podcast where I do these weird reviews of random things from Diet Dr. Pepper to Super Mario Kart to the Bonneville Salt Flats and that's very enjoyable and it forces me to write a few thousand words every months and I'm pretty happy right now.
NUVO: And you also have the collaboration with your brother.
GREEN: I make a video. That's another 800 words that I write every week... My brother and I have been making these videos back and forth with each other now for 11 and a half years It's a huge part of my life and one of the great blessings of my life so I want to continue doing that and continue to make stuff but I don't feel a lot of pressure to write a book at the moment  I guess.
NUVO: Do you always envision yourself writing for a young adult audience?
GREEN: Yeah, I really like teenagers as characters and as readers.The future's very unpredictable, you know? I have no idea whether I'll ever write another book, let alone what kind of book it will be. The short answer is I don't know but I really like writing for teenagers. I really love young adult literature. I still feel deeply interested in it and engaged with it. I also feel like there are brilliant young adult writers writing right now and part of what appeals to so much about writing for teenagers is being able to be part of the conversation that those other writers are reading.
NUVO: What are some of your favorite hangouts in Indianapolis?
GREEN: I love Holliday Park. It's beautiful and fascinating in its history and we take our kids there and we take our kids to The Children's Museum. Probably my favorite place in Indianapolis is the Indianapolis Motor Speedway. I love that place and I love going there with my kids.
NUVO: Are you making plans for the Indy 500 right now?
GREEN: My plans for the Indy 500 are only set 364 days in advance.  
NUVO: So right when one ends you're planning for the next.
GREEN: I wake up on Monday and I think all right, what are we going to do next year.  I love the Indy 500. I know it's a huge part of Indianapolis cultural life. I think sometimes we fail to apprehend just how beautiful and interesting it is. It's the largest non-religious gathering of human beings on earth. It's incredibly exciting and I think that we're really lucky to have that in our city.