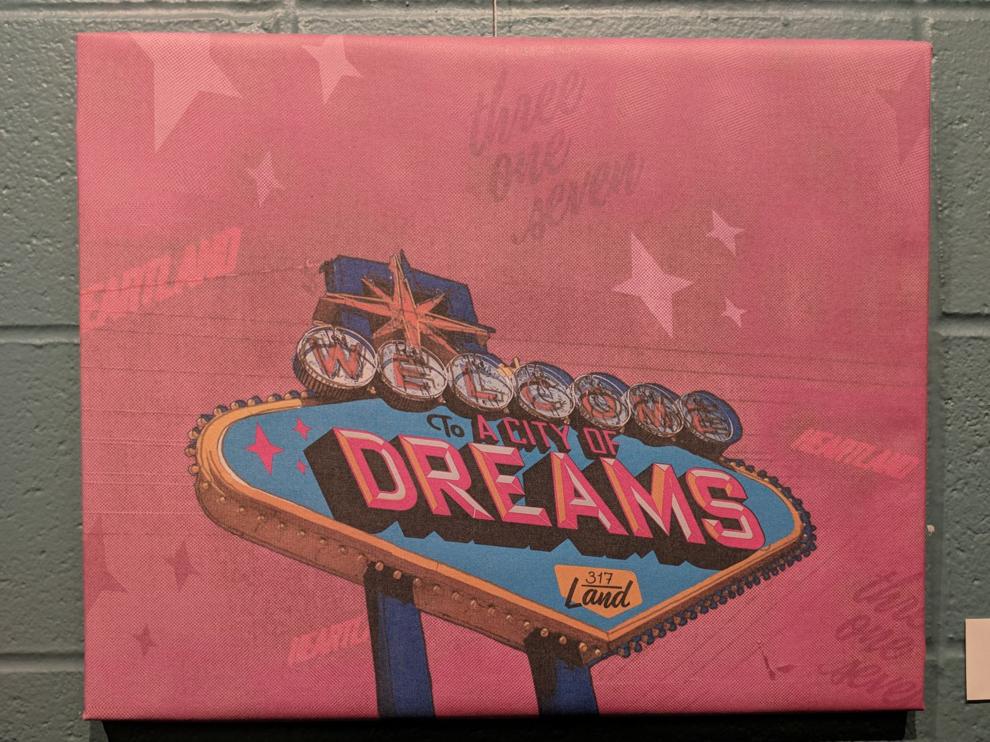 It's Women's History Month, and every artist I had a chance to talk to about his work happened to be a man. Not a great way to set the tone for the month, but nonetheless, it was a night filled with good work. Now, I wasn't able to attend every gallery opening in the city, so I just hope somewhere in the city women enjoyed representation.
 There is an interesting juxtaposition of styles at the WVM group show in the Middle Space Gallery at Cat Head Press on display through March 31. The show features work by sculptors Steve Moore and Nick Witten, as well as custom fabricator and furniture-maker Chris Vorhees.
 Back in January, I had the opportunity to see the work of Nick Witten for the Thumb Gun show at StorageSpace, and it left me in a contemplative state from considering iconography derived from the white working class and products of ingenuity born from necessity as sources for artwork.
An example of Witten's work dealing with these subjects is the papier-mâché, foam, and spray-painted sculpture of an upside-down trash can with a mailbox attached to it titled "Mailbox #1."
Also notable was the broken iPhone video installation, "Untitled," where a neon-green sweatshirt lies on the pavement as it burns. The video broadcasts the feeling of life going in shitty direction, spiraling out of control.
"I was mostly interested in fluorescent yellow that is very popular in fashion and the color construction workers wear to be seen on the side of the road," said Witten. "I'm continuing to figure out what that means. How do I talk about it without exploiting it?"
I then headed over to the Fountain Square Clay Center for a much-needed pick-me-up of coffee and decorative art. The show  Coffee, Mugs, and Pour Overs consisted of 15 different potters challenged with interpreting the concept of "pour over." Visitors enjoyed artists' interpretations of communal pots, coffee sets, and Chemex-shaped pottery.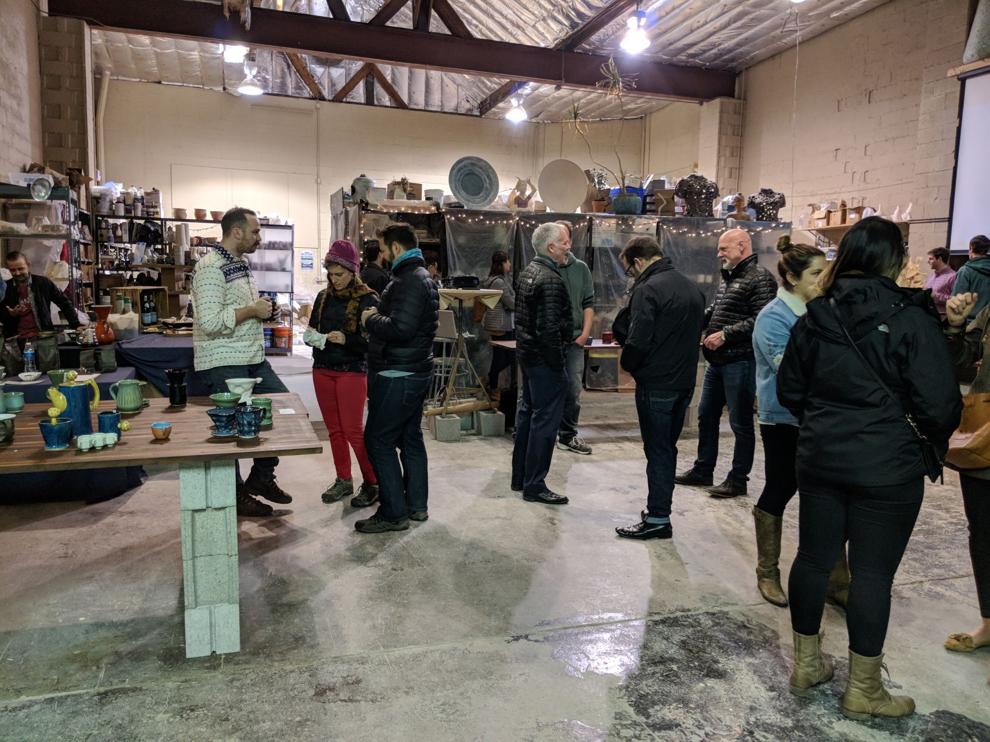 "This is my first time making pour-over pottery. It was all about learning the technicalities — flow and drain rate — to allow coffee to be as effective as possible," said ceramicist Tim Compton. "You can buy the one that is mass produced in China, but it won't be the most exciting."
Farther north in the city, at the Harrison Center, I made my way in through the City Gallery, where graphic design artist Josh Betsey has a solo exhibition titled Waking Dreams through March 30.
"This show is about my journey to becoming part of the art scene in Indianapolis and getting people to love it as much as I love it, being from the East Coast," said Betsey.
The designs consist of slogans about Indianapolis that Betsey connects to imagined landmarks, such as in "Heartland Stardust" where a sign reminiscent of Las Vegas designates 317 Land (i.e., Indianapolis) "A City of Dreams."
"I have a theory that what makes a place great or impactful is the type of imagery that is part of the landscape," said Betsey. "Indy needs more destination landmarks that make people feel like they've arrived."
At the Harrison's Speck Gallery, a mysterious filmmaker and video artist going by the name of KWA presents an entire gallery filled with large works extracted from an abstract video that is also on display through March 30. The works can only be fully appreciated when seen through 3D glasses that are made available.
 According to the artist's statement, the images are printed at cinematic scale and are meant to explore the space between stimuli and response and the way each of us reacts to it.
 The main attraction of the evening at the Harrison Gallery and Gallery Annex was Justin Vining's solo exhibition, In the Moment (also on view at the Harrison through March 30). The exhibition consists of a wide variety of painted landscapes, houses, familiar city places, and even a few small paintings of fruits and vegetables.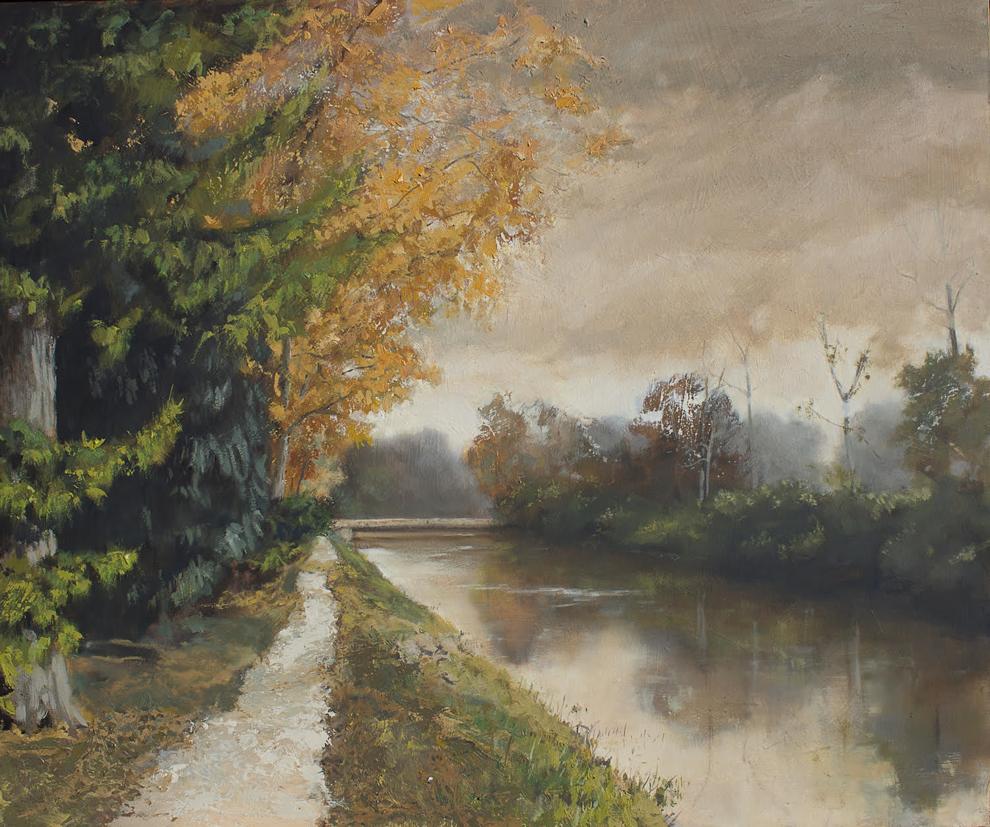 The variety of work selected for In the Moment seems curated with Vining's status as prolific, hot seller in mind, with the gallery space set up to accommodate as much work as possible. In a move that seems particularly bold, there is also a display of the easel and other materials the artist employs in his plein air ventures.
The most outstanding works are his paintings of farm houses on slabs of wood locally sourced from Indy Urban Hardwood. "Indiana history is a passion of mine," said Vining. "These houses come from historic Indiana paintings. In a way, I'm paying tribute to the Indiana artists that came before me."
As I made my way out of the gallery, I ran into my friend and artist Kipp Normand, who invited me to visit the artist studios upstairs. Normand and artists Johnny McKee and Josh Rush had taken a selection of works from their studios for a relaxed display of old and new works.
The hallway was crowded and beers were being passed around. There were two paintings Normand really wanted me to see by landscape painter Rush, but the two said paintings stand out for not depicting typical landscapes.
One of the paintings is a bit hidden from view and was hanging high inside the artist's studio. It portrays a blond woman sleeping in a bedroom where the night light is dancing on the floor, side tables, walls, and bed sheets.
The second one is entitled "Text Me." In it, Rush's wife is seen inside a yellow bedroom, holding her phone, legs folded, on a bed of tousled sheets.
"I took the picture, and it took me a year to paint it," said Rush. "We were negotiating our schedules at a hostel in San Francisco."
With that painting in mind, I called it a night. It seemed to me the perfect note to end the busiest art night of the month. A small detail of life, kept, cherished, and worked into something beautiful.