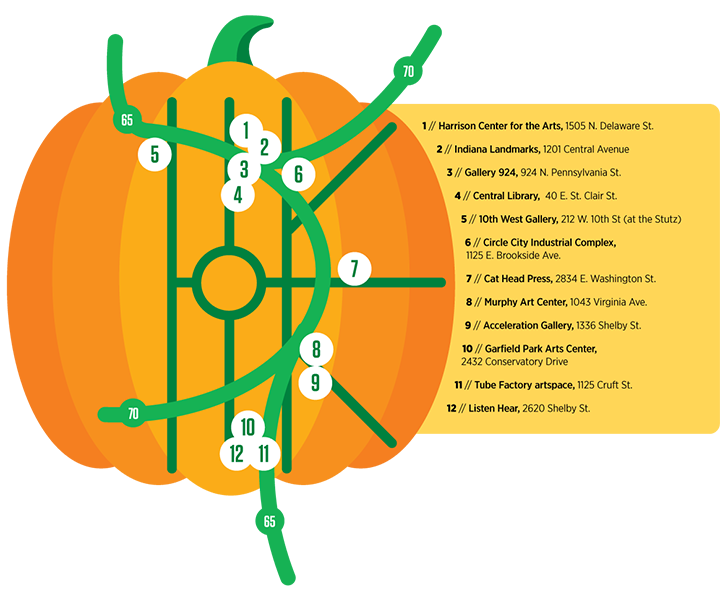 Various assorted goblins, ghouls, and Freddy Kruegers are getting ready for you in haunted houses throughout the city, but that's not the dominant theme of the exhibitions I'm finding around town for this coming First Friday, Oct. 5.
Instead, we have a smörgåsbord of themes, as it were.
At the Harrison Center, the theme is all about city planning, as befits an organization getting ready to spearhead this years PreEnact on Saturday, Oct. 6. You can learn about four major plans for the city of Indianapolis: Plan 2020's Marion County Land Use Plan, Thrive Indianapolis, the White River Vision Plan, and Indy Move—and do it with a glass of wine in your hand, if you like.
There will, of course, be art, headed up by the exhibition Historicity in the Harrison Gallery, featuring work by Kipp Normand, whose assemblages often reflect the historical heritage of Indianapolis.
"For Historicity, the task I have set myself is to ask some essential questions," Normand says about his work. "What do we believe about ourselves? About our history? About our future as a city? This is an opportunity to tell the stories of Indianapolis. The familiar stories and those that ought to be familiar."

In the Harrison's Gallery Annex, you will have a chance to check out Will Carpenter's exhibition The Language of Houses Overheard. I first came across a painting by Carpenter at the 91st Annual Hoosier Salon in 2015 and thought it was a scandal that he didn't win any awards for his work. I wrote the following at the time:
The real standout of this exhibition . . . was the mixed media painting by William Carpenter titled "The Transfiguration of Shards," depicting a low-rise urban landscape crowded with single family homes pained primarily in grayscale. The hope of a horizon is nixed as your eye travels up between the narrow rectangular confines of the painting—about eight times taller than it is wide—seeing home upon home were piled on top of one another in a great big heap as if you were looking at a hillside in Brazil. But it's clearly not Brazil, as the house at the bottom of the canvas looks just like a typical American home with a two-car garage and a mailbox at roadside. The outlines of the houses lose their distinctiveness as your eye travels upward and there are some bizarre double image effects here and there and you wonder perhaps if this is a dreamscape, an ode to a particular home hanging around in the recesses of the artist's memory, a home lost in a mortgage gone bad or lost to unforeseen circumstances…
At Indiana Landmarks, there is a solo show featuring several surrealistic colorful paintings by Brinton Farrand and work by students of K-8 Edison School of the Arts in Indianapolis.
At Gallery 924, Anne McKenzie Nickolson and Richard Emery Nickolson, who have a long history of artmaking in Indy, will have a two person show.
Anne is a fiber artist drawn to depicting a myriad of subject matter in her work, from wildlife to the Eiffel Tower. Richard is a painter drawn to depicting radio transmission towers, among other subjects, in his painting. But he's also influenced by prehistoric rock art painting that he's seen in his travels. "What I am trying to do now is invent post-postmodern 21st century pictographs like warning signs," he told NUVO's Jennifer Delgadillo. One thing that will be interesting to look watch in this exhibition, is thematic parallels between the two artists.
At Central Library, you have the opportunity to check out an exhibit titled Sons, Seeing the Modern African American Male, featuring images of 30 local Black males, photographed by Jerry Taliaferro.
"The exhibit reveals how Black American males see themselves while encouraging a thought-provoking examination of how they are perceived" according to the promotional text. At this public opening Kevin Powell, author of 13 books including The Education of Kevin Powell, a Boy's Journey into Manhood, will be in attendance.
If you missed last month's DeHaan Artists of Distinction exhibition at Gallery 924, you'll definitely want to check out DeHaan winner Phillip Campbell's Bulletproof at 10th West Gallery. Campbell recently went out on a limb, as it were, as an artist and changed his mediums, basically going from making painted wood carvings with strong symbolic/narrative elements bulletproof quilts made of Kevlar (among other materials).   
Circle City Industrial Complex (CCIC) artist Nancy Lee is celebrating 10 years of artmaking at that vast complex. The jewelry maker will have a "A Sparkling Diamond Celebration" celebrating her time at the vast complex. Lee is the author of The Complete Idiot's Guide to Making Metal Jewelry, so you can be damn sure she knows her stuff.
In the CCIC's second floor Schwitzer Gallery, you will find Stories of Gun Violence Across America, Indianapolis, a photography exhibition by Joe Quint.  According to the promotional text, "Quint has worked over the last four years to tell the stories of gun violence survivors, including the family members of victims and those who've witnessed horrific acts of violence."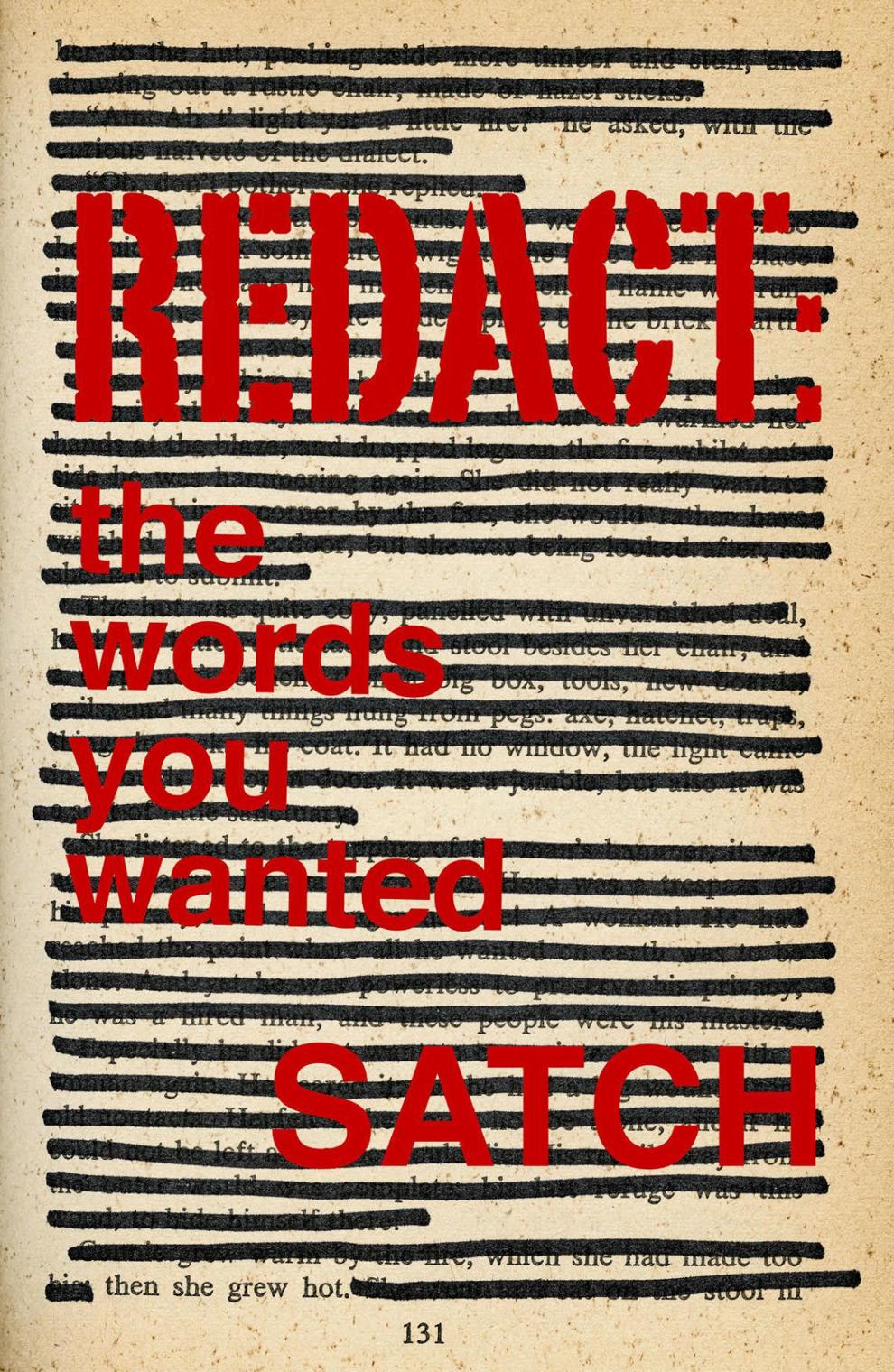 Also at the CCIC, adjacent to Satch Art Space in the Stokol Gallery, you will find Redact: the words you wanted, an installation by Satch meant to correspond with Banned Books Week, which was inspired by the book Lady Chatterly's Lover by D.H. Lawrence. The book was published in 1928, but the unexpurgated version was banned in the U.S. until 1960.
This exhibition, according to the promotional text "turns back the clock on the reality of our past social landscape and then brings the possibility of banning books, censoring news coverage and restricting freedom of speech into the very times that we are living in, every day."'
Cat Head Press will be exhibiting the work of Nicaraguan self-taught printmaker Carlos Barberena in their Middle Space Gallery in a show called Lustful Appetite and it seems, by a cursory glance at his website, that he has a lustful appetite for inserting contemporary imagery into prints referencing iconic masterpieces.
I was highly impressed by Future Friends Holographic Magic Club's show last month, titled Muslims Aren't Interested in Being Afraid. This month's show, Dia de Muertos: Family Means Everything, is the result of a recent trip by SunRai to Tepoztlán, Mexico, for Day of the Dead celebrations. Future Friends is located at the Murphy Art Center.
Garfield Park Arts Center is hosting the Annual SALI (Southside Art League, Inc.) National Abstract Art Competition; while a little further north on Shelby Street longtime NUVO cartoonist Wayne Bertsch is one of several artists participating in a group show at Acceleration Gallery featuring his pen and ink drawings of music icons, including Kurt Cobain and Johnny Cash, on sheets of music.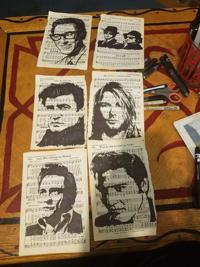 Pen and ink drawing by Wayne Bertsch
Tube Factory artspace will be exhibiting photos of "Black and Brown bodies" titled Blue Black. According to the promotional copy, "Danicia Monét is an arts and culture ambassador and urban planner pursuing her Ph.D. on the User-Experience of Race. Her research uses a multidisciplinary approach to examining Black and Brown bodies in public space as she focuses on the context of Race & Space–Growing Critical Cultural Capacity in the Built Environment."
And finally, it's fitting that Listen Hear would have an the installation entitled "Vibrate Higher," featuring work by Big Car staff artist Carlie Foreman. After all, so much at Listen Hear has to do with sound vibrations, including Big Car's radio station WQRT, run out of a closet-sized space in the back.