Anthony de Mare, as a dynamic interpreter of the spoken word in a symbiotic relationship with the Steinway piano, toured us across composers encapsulating three centuries of life in the U.S. and Great Britain on November 17 at the University of Indianapolis. It's not just chatting-up the audience to rest his hands between selections in a program titled "The American Innovator." De Mare's contextual insights lead us to consider a work as through a prism- to feel, see and hear the spectrum of its inner workings and how each work is situated within the larger context of what motivates a composer. 
De Mare referenced his broader cultural interests, including drama, literature, and visual art, along with his passion for music during the pre-concert conversation with Dr. Joel Harrison, president/CEO and artistic director of the APA.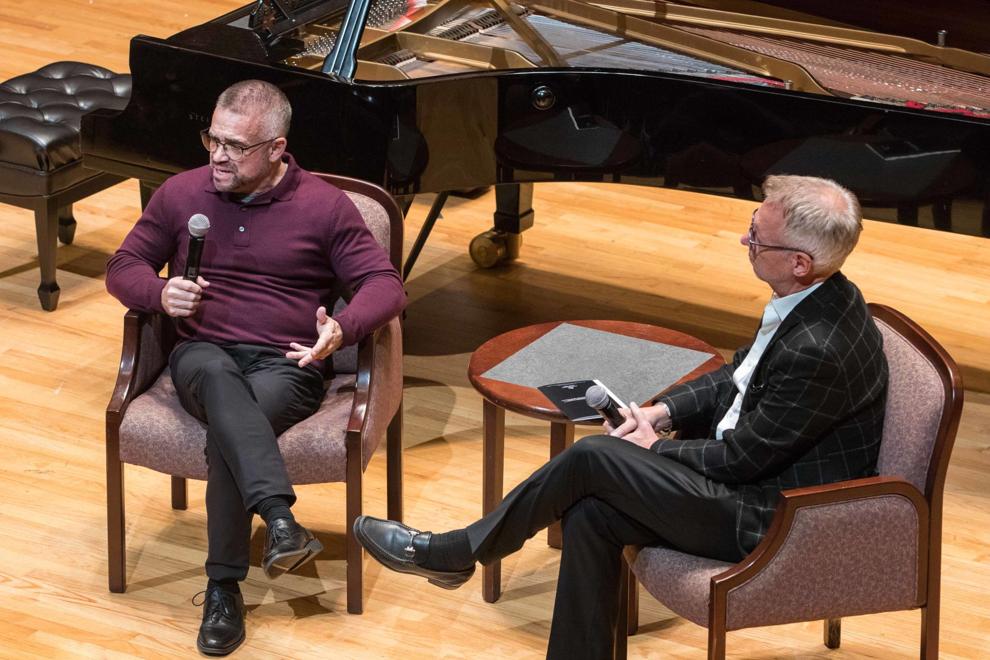 Charles Ives, George Antheil, and Henry Cowell were early 20th Century contemporaries. "Each was very different from one another, but they share similar aesthetics and philosophies," pointed out de Mare. 
They each had experimental tendencies to ask the pianist to undertake an unexpected turn. What makes hearing them interesting is traversing through three different sets of landscapes and ethnicities; Ives with The Alcott family in Concord, Mass., 1840-60, particularly referencing the Father—Bronson—and daughter—Louisa May—relationship; Antheil with Jazz Sonata as a percussive in-your-face-move-your-body avant-garde loop [as a side note, in 1941, Antheil worked with actress/scientist Hedy Lamarr to develop a radio guidance system as part of U.S. WW II naval defense, since translated for the telecommunications industry]; and Cowell's The Banshee, requiring the pianist to stroke and attack the strings instead of fingering the keyboard. As an atmospheric depiction of an Irish banshee tale, it's scary enough to wrap a scarf around your head and duck.
When De Mare initiated the Liaisons project, commissioning composers to re-imagine Stephen Sondheim for the piano, it signaled his ongoing dedication to innovative piano works. Since expanded with new commissions, the original forays still shine. Kenji Bunch took on The Demon Barber as A Fantasia in the Ballad of Sweeny Todd. If you peg it as shades of Liszt with a plethora of voices coming at you, you're perfectly correct. And you need more than a scarf to keep your teeth from jarring and your knuckles from turning white with fear.
All this requires unabashed virtuoso playing, but what sets de Mare apart from kitsch, is his physical and emotional investment in each presentation for an arc as an intellectual program. 
De Mare as ethnomusicologist gained traction with a tender reading of the Billy Strayhdorn jazz classic, Lotus Blossom, here in a Fred Hersch arrangement, with a nod to Duke Ellington. Alongside, de Mare paired Bruce Stark's Urban Nocturnes as a crossover classical/jazz essay on city nightlife; it's people who create the space, yet the space imposes upon a composition a distinct sound color and tempo vibe. Space is the spice rack of innovation. De Mare's meticulous rendering gives us space to absorb the transitions and intermingling.
From Sunday in the Park with George, Steve Reich offers up Finishing the Hat as a two-piano glyph this Sondheim work. You have to attend to believe what's possible. The 'innovator' theme takes a giant step without so much as a 'may I.' 
The first act closed with Federic Rzewski's Piano Piece No. 4 and the audience member wishing for a hard hat, forget the scarf. With a vivid memory of Miss Saigon's helicopter buzzing down at your seat, who knew a piano could be coaxed into those configurations of sounds and still feel musical, and still stand?
Act two served up the tour de force DeProfundis, representing de Mare's initial encounter with Rzewski 25-years ago. With vocalizations as a constellation of incarceration effects upon Oscar Wilde, along with delivering the text of the letter to his partner, Lord Alfred Douglas, this work can leave an audience member totally wrung out. 
In each presentation, de Mare serves the inner core of the composer's intent. As a stand-alone, each piece has power, together, as a thoughtful program, it is powerful. Courageous, in the sense of daring an audience to come along, de Mare pays us tribute for our intellect and sense of adventure.
Liaisons 2020 is on a national tour. March 14, 2020, it's on stage at Ravinia in Highland Park, Ill. Learn more here:
https://www.anthonydemare.com/#schedule
A Steinway Artist, DeMare is a Professor of Piano at Manhattan School of Music and New York University and is new music curator for the Sheen Center for Thought and Culture in New York City. 
Find the APA podcast here: https://www.americanpianists.org/thejourney
Actors Theatre of Indiana (ATI) and Carmel Symphony Orchestra (CSO) are collaborating on a concert production of Stephen Sondheim's Sweeney Todd, The Demon Barber of Fleet Street at the Palladium at the Center for the Performing Arts on February 21 and 22, 2020. 
"Called a tasty, thrilling theatrical treat, this Stephen Sondheim groundbreaking musical has simultaneously shocked, awed and delighted audiences across the world. Sweeney Todd is an infamous tale of an unjustly exiled barber returning to London to seek revenge on the judge who framed him. Lush, operatic and full of soaring beauty, pitch-black comedy and stunning terror, it is one of the signal achievements of the American Musical Theatre in the last 50 years," reads the news release. Tickets are available now at the Center for the Performing Arts box office (thecenterpresents.org), or through the ATI (atistage.org) and CSO (carmelsymphony.org) websites.
Up next for the continuing APA 40th Anniversary celebration: 
INGRID FLITER
- Sunday, March 8, 2020, at 3:30 pm
- Indiana Landmarks Center
- Celebrating Beethoven's 250th birthday with two of his best-known
- piano sonatas.
DAN TEPFER
- Sunday, March 3, 2020, at 3:30 pm
- Trinity Episcopal Church
- Infusing Bach with jazz improvisation in the critically-acclaimed
- Goldberg Variations.
Tickets here: https://www.eventbrite.com/o/american-pianists-association-10608010897?bbemailid=16206008&bblinkid=181457092&bbejrid=1197296202