Dance Kaleidoscope is moving into its new home at Circle City Industrial Complex (CCIC), the historic Schwitzer manufacturing facility, at 1125 Brookside Ave., in Near Eastside Indianapolis. 
Starting Aug. 10, with health safety measures in place, dancers will take company class and rehearse "in studios with large windows near the soaring ceilings," according to Paul Hansen's news release. 
This news is music to my ears.
After decades in a snug, windowless space on the north fringe of the Butler campus, the dancers will now be bathed in natural light. "We're bringing the Martha Graham sky inside our space," said dancer Jillian Godwin.
Godwin's comment brings to mind a span of Graham images, the most striking coming from "Appalachian Spring," when the young bride gazes at the horizon, all of her being expressing a longing for what now ends; kissing her fingertips, she stretches them to the sky. Then, in the final moment of this iconic work, as the light fades at day's end, married and entering into her new home, we again witness her body's upward pull as her arm drifts into the night sky.
Looking at photographs of Graham, I'm always struck by the effect of one leg pointing toward the sky, and while her arms are tight against her body, her hands are formed as cups open to the sky. But then again it's Martha Graham's face that most lingers in memory from experiencing her in person on stage; it is her cheekbones famously described, "as high as the sky," by a reviewer and repeated for fifty years thereafter.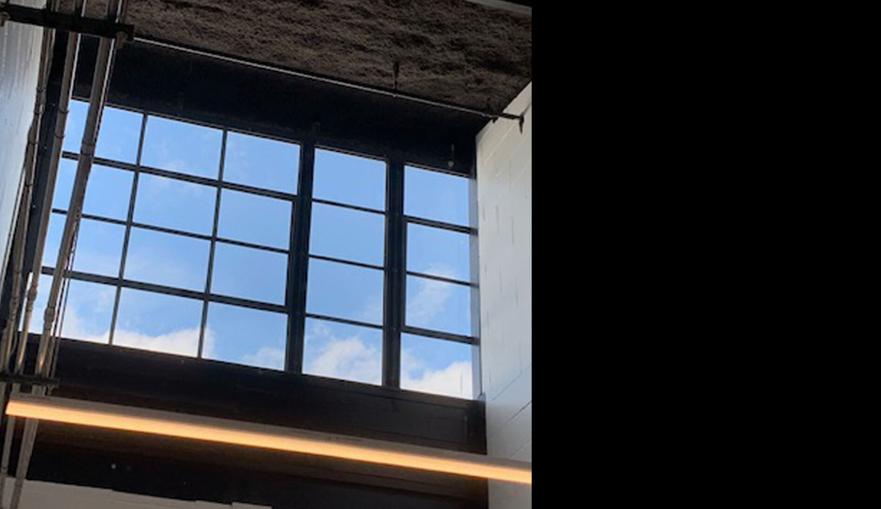 Paige Robinson, a company dancer and one of the teachers for DK's public dance classes, told me what it feels like to leave the old space, "I remember when I first set foot in the studios at Butler for my audition for DK. The space itself is not particularly imposing, there were dancers, and belongings scattered, a sound system, a piano, barres set up for company class. All very standard for any dance studio."
But what happened to her in that space changed her completely. "I will never forget that space and everything I learned there," she continued. "David, Libby, my fellow dancers, guest choreographers, all taught me so much. Magic happened in that space. 
And now they have a space of their own. She described it as "An incredible opportunity to make more magic and bring it to the community and beyond. [Over the past year], seeing the space go from empty, to frames, to completed has been thrilling."
When I expressed concern to Hansen about the viability of this bold move at this time, he assured that even though DK, like other arts organizations, has been impacted by a loss of income from cancelled classes, performances and events due to COVID-19, "Substantial funds had already been invested in the new space, so the decision was made to carry the project through to completion."
David Hochoy, DK Artistic Director, underscored the significance of the move. 
 "For DK, this represents the culmination of many years of dreams, searches, plans, problem solving and collaboration to achieve this much needed facility that we can truly call home," he said. "As the company moves forward, this new space will enable us to grow, thrive, and bring the art of contemporary dance to our constituencies throughout Indianapolis."
DK Executive Director Jan Virgin described what is happening overall for DK as it approaches its 2021-2022 golden anniversary season. 
"This new space offers the company the opportunity to reinvent who and what we are," she said. "We plan to embrace and engage with the diverse communities we will be housed in the midst of. This new space gives DK the opportunity to do more, and to be more—DK will have a home that will be welcoming to all." 
Board President Bobbi K. Samples, said the completion of the building project, allows DK "to develop fresh and new programming and productions."
"I've imagined all the dancing, choreography, discovery, and how many children will call this place a second home," concluded Paige Robinson. "That's what my childhood dance studio was to me. I still know every corner and remember where I stood when big things happened. I know we will be able to bring joy to so many young dancers in our new home." 
With health safety measures in place, public dance classes are scheduled to begin the week of Sept. 8. 
Speaking from the point of view of a company member who has been "sequestering," Robinson concluded, "Of course I'm excited to dance in the new space. I'm so excited it's hard to put it in words. But one of our lasting impacts with this new space will be the children who will grow up here. I'm honored to be a teacher at the DK school and to be a part of this amazing company. I'm itching to get in there and dance with my people again, to make magic together."
DK's new home, in addition to two large dance studios with sprung floors, and a costume shop/storage space, includes a multi-purpose room where "DK hopes to partner with the local neighborhood," said Hansen.  While the administrative staff will continue to be housed in their long-time home in Butler University's Lilly Hall, as part of a cluster of arts organizations, Hansen said, "The unique community of artists and businesses in the CCIC makes it a perfect home for DK."