In early January the Indianapolis Artsgarden sat mostly empty, except for the sound equipment and stage lighting. Except for the performers and musicians scheduled to record, one by one, under the atrium's glass domes. Three days were filled with the energy and music surrounding Black History Month and Black artists in Indiana. Three days of reunion for artists and leaders as they prepared for the 25th annual Art & Soul. 
[Watch the Art & Soul Kickoff with AshLee "PsyWrn Simone" Baskin, Mathew Cooper, Christopher Pitts, and Yadin Kol by clicking here.]
The Arts Council of Indianapolis, in partnership with WISH-TV, is presenting the 25th Art & Soul at the Artsgarden 2021 online this year. Performances by 12 local artists and musicians, along with four featured artist performances, will be aired daily through the month of February. Shows will be available on WISH-TV's Facebook page and the Arts Council website. 
The event continues a tradition of honoring and showcasing local Black artists. Denise Herd, now president of Herd Strategies, served as the program coordinator for the first Art & Soul. Describing the energy around the event she says, "The spirit of Art & Soul is one of freedom and inclusivity. Black culture is the blueprint for pop culture. You see the influence everywhere and in all art forms. It's this spirit, seeing it in its purest state during Art & Soul which makes the event and the artistry so special."
Ernest Disney-Britton, Arts Council vice president of community impact & investment, learned about the city's storied musicians as a young man. He remembers growing up in Cincinnati and hearing his parents and their friends talk about the scene in Indianapolis. "Since moving here in 2012, I've been even more astounded by the impact of the Black music scene," he says. "Yes, the history is there, including Indiana Avenue, but the current superstar talents, Rob Dixon, Jared Thompson, Brenda Williams, and more that I've experienced through Art & Soul, is what makes this a world-class music city." 
While Art & Soul is not live at the Artsgarden, as it has been since 1996, performances will still find viewers. 
"This year, we couldn't come together in person," continues Disney-Britton. "So our program partners at the Indy Jazz Fest and Asante Children's Theatre worked with us to make a 28-day celebration into a virtual event all produced by a remarkable young local videographer, Tai Payne who also worked on the IndyJazz Fest broadcast this Fall." 
The Arts Council also partnered with WISH-TV and expects to reach beyond their usual online audience. 
A quarter-century ago the task was finding a stage. Herd remembers the importance of programming 27 events in 29 days for that first Art & Soul held in the newly opened Artsgarden. "Black artists and the work they did was almost underground," she says. "There wasn't a platform or a vehicle for our artists to showcase their works on a mainstream platform." 
Reflecting on those challenges and the incredible success of the event, Herd says, "I knew it was an awesome and a once in a lifetime opportunity. I also recognized I had a responsibility to the arts community and the Black artists in our community to ensure their voices were heard."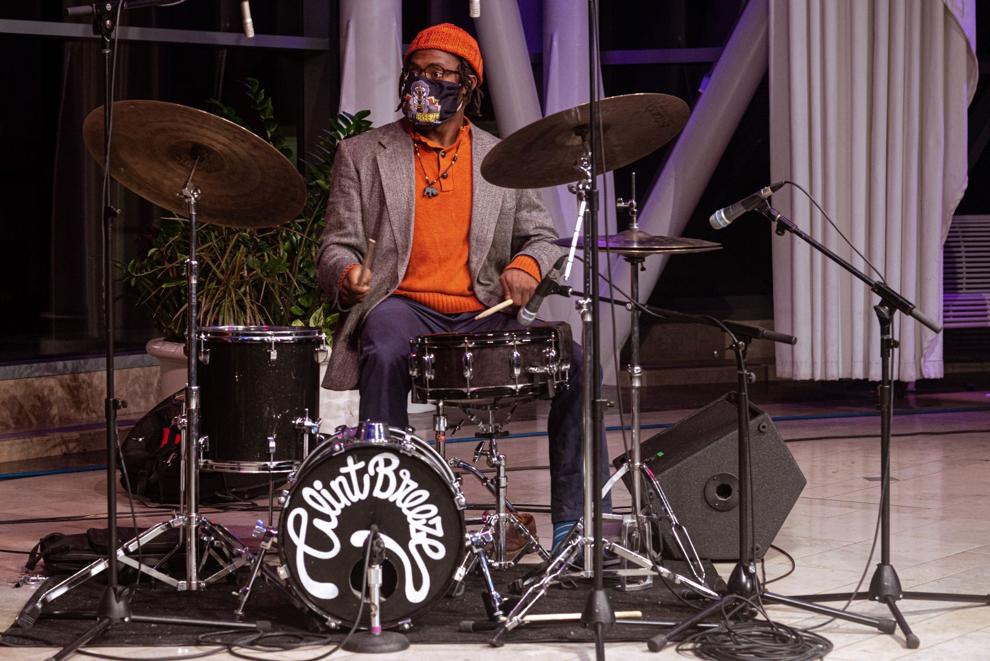 On this anniversary the impact of Black artists continues to speak to Indianapolis. Music fills the clubs. Murals line our streets. The influence on our community is rich, and Art & Soul rightly connects and amplifies these voices. "It's amazing to think about the number of artists and advisors who have been involved with Art & Soul," says Herd. "And to think about the number of individuals who experienced Art & Soul since its inception just leaves me speechless." 
This spirit of this year's event will be shared during a time of heightened social and racial justice, but that's nothing new to Black artists. "Black artists were providing artistic energy to the racial justice movement long before this summer," Disney-Britton says. "From the plantation to the civil rights movement, artistic expression has always kept us going forward. This summer's heightened awareness by those who are not Black artists can only help spread the message." 
And the message of the festival? 
"The theme for Art & Soul at the Artsgarden 2021 is 'Black by Popular Demand,'" he says. "I think that says it all."