Playwright Jim Poyser is our jester for the end-times, a trickster holding up a comical mirror to a tragedy of our own making, perfectly symbolized by...what else? A leaf blower. Those icons of our broken relationship with nature.
Leaf blowers greet you as you enter the theater for Climate Follies, Poyser's IndyFringe offering, directed by Raphael Schwartzman. For the next hour, a troupe of five actors—Jaddy Ciucci, Kerrigan Howard, Beverly Roche, Dena Toler, and Anabel Watson—wiggle, flail and whoop their way through a dozen or so skits, each both silly and stinging.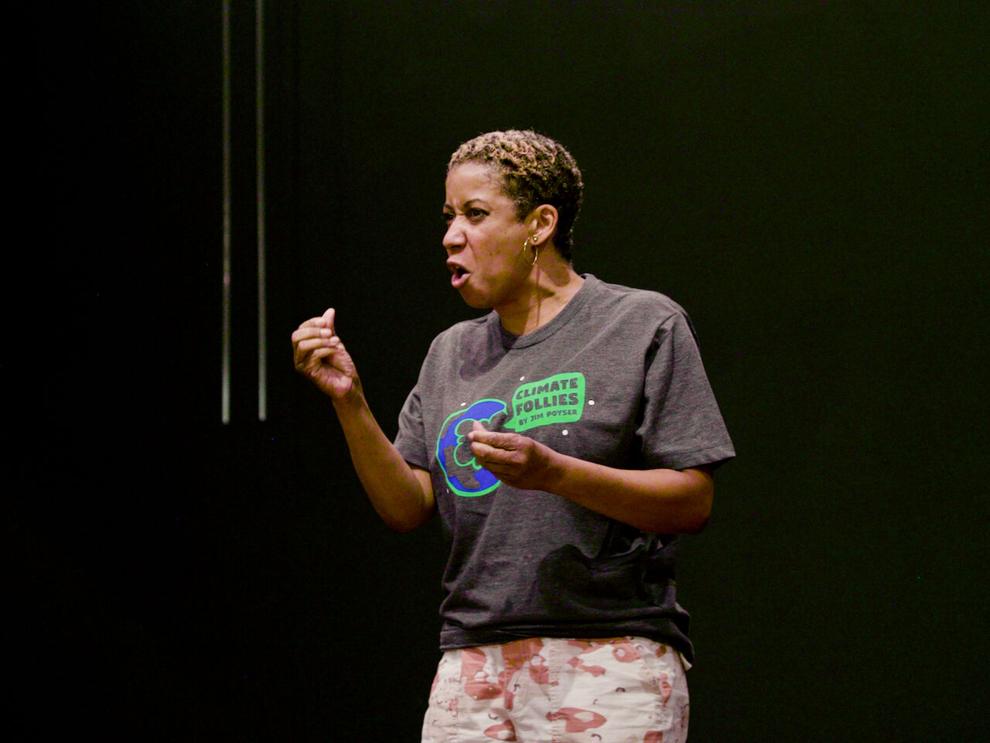 You laugh for the same reason you laugh at certain horror movies: to seek psychological distance. But also, this play is truly goofy.
Climate Follies is perfectly timed! This month, the Intergovernmental Panel on Climate Change issued a new report stating that we are locked into 30 years of worsening climate impacts, no matter what we do.
Fans of Jim Poyser, who edited NUVO from 1995 to 2013, know him as a soothsayer who's been wrestling with climate doom all these years: in NUVO, in books (The Last Actor), blogs (The Apocadocs), and one-on-one conversations. His pessimism-fueled creativity makes more sense than it ever did before.
So how do the cast and crew pull off the giggles about civilization's end? With cardboard, duct tape, and the darkest-ever jokes. Imagine answering for your carbon footprint (including your pet's) at the Pearly Gates. Battling a wildfire with a squirt gun. Or eating your own boogers out of greed? Indeed, Climate Follies veers into the scatological territory at times, since infantile grossness is the only response left to abject horror. 
Insatiability is another favorite Poyser theme (hello, cannibalism!) Local touches are also nice. One skit causes us to ask: what hell hath been unleashed on Danville and Plainfield?
The actors go all-in with a high-energy embrace of the material. Like any good Fringe show, the hour-long bonanza goes by quickly. The impact, though, stings, spanks, and smacks. Climate Follies ensures we are as duly unsettled as we should have been years ago, while the clowns keep clowning like there is not a tomorrow.
This ditzy, devastating work needs you to see it.
Venue: Oasis at the Murat
Tickets: $20 for adults, $14 for students.
Cover photo provided by Tim Brickley