The unavoidable outcome. Can we learn from the devastating power of hatred? Can we embrace the best parts of attainable love? 
The layers heap upon each other in Shakespeare's Romeo and Juliet. The tears are as assuredly prescient in the telling as they are in the peeling of an onion past the thin veneer of its skin and into its interior—its heart.

There was something of a jolt to my cognizance when the notice came for Dance Kaleidoscope's opening 2022 program set for January 6. Romeo and Juliet on the second anniversary of an assault on our seat of government.
Because hatred and divisiveness are manifest at the core of the story we like to think of as the penultimate love story, when the invitation came to experience a rehearsal to test out the costumes, I showed up at the new DK studios at Brookside Avenue. The virulent effects of January 6, 2020, came with me. I needed to dig deeper. 

The power of dance to delve into the irrationality of hatred helped walk me through what I witnessed on live-time television almost two years ago. Through art, we can embrace the notion that there is a beauty of the human spirit that can transcend the ugly parts of us.
DK's "Star-crossed Lovers: one timeless story; two visual tellings of Romeo and Juliet" comes to us through differing lenses. 
"Romeo and Juliet Fantasy," choreographed by DK artistic director David Hochoy to music from Tchaikovsky's "Romeo and Juliet Fantasy," shares a gossamer sensibility, the ephemeral qualities of a butterfly. The costumes are all alike, a full-length thin layer of blue-hues flowing over a body-fitting pair of shorts and a top. Whatever happens, is in the shimmering motion of the fabric. This is an ongoing universal story. Alas, we can't seem to summon the wherewithal to stem the senseless tragedy.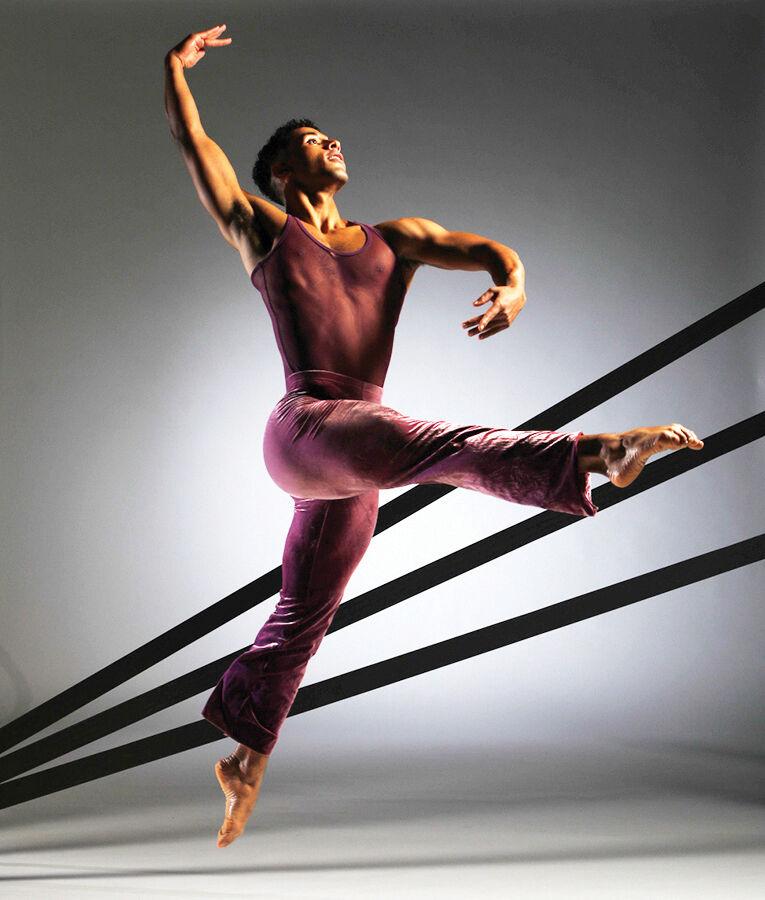 "In this version, three different couples swirl out of the ensemble to become Romeo and Juliet in different parts of the story — the romantic balcony scene, the passionate bedroom scene, and the final death scene in the tomb," reads the program note. "The steps are based on the Martha Graham technique." 
"Everyone knows the story of Romeo and Juliet. It's one of our favorite tragic love stories immortalized by Shakespeare and re-told for each new generation in a slightly different fashion," offers Hochoy in an email. "Tchaikovsky's composition does not follow the story in a linear way. Instead, he paints a mood poem that uses elements of the story to create a dramatic and powerful piece of music. What we have, in turn, created to the music is a group work from which emerge three pairs of lovers and an older/parental couple who give us glimpses into different aspects of the familiar story. The pain and anguish, rapture and heartbreak that our young lovers experience will hopefully allow the viewer some fresh, emotional insight into Shakespeare's beloved tragedy."
"The costumes by Cheryl Sparks for Romeo and Juliet Fantasy are simple, and all the dancers wear the same costume," emailed Paul Hansen, marketing director. "This is because David Hochoy's concept is for an ensemble piece with different dancers emerging to tell parts of the story. Three different couples swirl from the group to play Romeo and Juliet in different scenes — the romantic balcony scene, the passionate bedroom scene, and the death scene in the crypt. In using the ensemble in this way, David highlights that this story of people's differences causing tragedy is universal." 
"Sweet Sorrow," choreographed by DK associate artistic director Stuart Coleman, is a world premiere.
"While Sweet Sorrow remains mostly true to Shakespeare's story, a few modern-day revisions will allow the story to resonate strongly with today's audiences. Company dancers Justin Rainey and Marie Kuhns dance the roles of Romeo and Juliet," added Hansen.
Coleman is using a range of movements that draws from contemporary to Hip Hop. "For example, the ball where Romeo and Juliet first meet looks and sounds like a late-night dance club, with a playlist of music from numerous contemporary composers and EDM (Electronic Dance Music) artists," offers Hansen.
"NYC designer Erica Johnston has created costumes that have both masculine and feminine elements to reflect the blurred lines of gender identity. To further explore gender, the role of the Nurse has been cast with a male (Manuel Valdes), and Juliet's short-tempered first cousin Tybalt and Romeo's good friend Benvolio will be danced by women (Natalie Clevenger and Holly Harkins)," described Hansen. 
My reaction to Johnston's layerings atop body suits impressed me as moths—heavier in their gauziness and potentially lethal in their penchant for cloth-eating—devastating to the fabric of our society? 
Laura Glover responded to my email with her thoughts about lighting the two versions of Romeo and Juliet in the two-act "Star-Crossed Lovers."
"It is difficult to quantify the difference in lighting between the two pieces because I am so artistically drawn to both of them. Romeo and Juliet Fantasy, choreographed by David Hochoy, exudes a certain romanticism that requires a delicate touch from the lighting. It also requires me to go inside of Romeo and Juliet's psyche, especially with the love duets and Emily Dyson's solo as Juliet, where she contemplates ending her life. I am able to support those thoughts and emotions through the use of color, pattern and angle. And you will notice that each of the three duets has a very different feel from innocence through desire through grief.
"With Stuart Coleman's Sweet Sorrow, I am drawn by the youth of the characters. For instance, for the party scene, I am going clubbing! I will try to explore the depths of a techno club where you can be anyone you want through the use of movement in light - expect to be inundated with color, lots of shadow, flash and excitement. For the more internal moments, expect there to be a more minor feel to the emotions of our star crossed lovers - remember that they are teenagers filled with all the feels,  
"As far as the visual distinction between the two pieces, Sweet Sorrow does include a set! And I am in the throes of working on this piece, so I am still artistically growing with this piece. Which basically means, you are going to have to experience these two dynamic, moving pieces to find out that final distinction."
Finally, I reached out to Coleman and Johnston with an email Q/A for their more extended input for this world premiere:
Rita Kohn: What compels you to create this new work and premiere it in sync with David Hochoy's already beloved version?
Stuart Coleman: I have loved the story of Romeo and Juliet since I was in kindergarten. My father was (and always will be) an English teacher, and I was always a child of the theater, so the Shakespeare bug hit me early. But as time has gone on, the world has changed and so have I. Now there are parts of Shakespeare's classic story that are less palatable for our modern generation. The fake poison administered by Friar Lawrence, the undelivered letter telling Romeo his lover's death was a farce, and of course, the lovers meeting one evening and being married the next day — not very believable in today's world. I wanted to create a Romeo and Juliet story centered around everything contemporary — movement styles, costume silhouettes, and a slightly revised storyline that would resonate with younger audiences. As far as David's Romeo and Juliet Fantasy, that work was in the first DK performance, I attended. I remember turning to my friend after it was done, and I said, "That's the kind of dancing I want to be doing." It's an honor to be able to share my own interpretation of the story alongside the very piece that brought me to this company. 
Kohn: What is the challenge and the joy of building Sweet Sorrow at this time on this DK company — many new members who have before danced to David's piece, working along with the veteran dancers who have a history with David's work. What is the dynamic?
Coleman: I'm so grateful to the DK dancers for their work in this process. They have been gracious, patient, and inspiring for me to create this work. They have been exceptionally great about keeping the integrity of both David's and my pieces separate. They clearly understand the difference between the two styles, aesthetics and theatricality — it's honestly a joy for me to watch them interpret this story two different ways. 
Kohn: I got a sneak peek at some of the costumes--oh my... it's your story, so I won't intrude; please, what's the costume story...& share all the way back to Butler University and the development of a friendship and a working relationship with Erica Johnston. 
Coleman: Erica and I entered Butler University together as dance majors in 2010. Because we were in the same year and had many classes together, and we got to perform together numerous times during our four years. We even lived together in New York for the summer of 2012 while we studied at the Paul Taylor summer intensive. That summer we had our first collaboration when she designed costumes for a piece I was creating called Electric Fences. DK patrons may remember that work when I presented a revised version in DK's 2014 IndyFringe show, New Voices. Collaborating with her on that project was a joy, and I knew I didn't want it to be the last time. As professionals since graduating college, we have been waiting for the right opportunity to work together again. When this new telling of Romeo and Juliet became a reality, I knew Erica had to be the one to design the costumes. 
Kohn: One company, two versions of the same story; a very different and challenging programming concept--what do audience members need to consider after purchasing tickets and before taking their seats to experience this program? Should we all show up early to experience pre-show experiences shared by the Indianapolis Shakespeare Company and by GenderNexus? [gender-bending is a different kind of conversation--but here we are back to The Greeks and to the 16th century time of Shakespeare per who performs... I am tossing out a lot to chew on ...] 
Coleman: I'm thrilled that DK is partnering with Indy Shakes and GenderNexus as part of this program because collaboration is such a monumental component of the success of the arts in our city. I genuinely hope that our audience members participate in this enriching aspect of the performance. But more than anything, I hope the audience comes and enjoys themselves. We are here at the theater to come together and celebrate and appreciate art. Yes, I hope they are rediscovering the beauty and poignancy of Shakespeare's story, and I hope they look at my new adaptation with subtle story updates and gender-fluid casting and leave inspired... but more than anything, I hope our audiences once again enjoy experiencing live art from the incredibly talented dancers in this company.
Kohn: What else? This is a program where the audience has a strong role of its own --individually and collectively...I admit to weeping just watching a rehearsal in the process of the dancers building their characters into their bones/onto their bodies.
Coleman: This program will definitely take audiences through a gambit of emotions. Both David's and my works have moments of extreme high: pure ecstasy, friendship, and passion. But as with any good telling of Romeo and Juliet, there are devastating moments of anger, rage, grief, and death. Dancer Cody Miley dies three times in the course of the evening. Neither David nor I hold back from the drama and romance that makes this story so captivating.
From ERICA JOHNSTON:
Kohn: What is the challenge of flying into Indy during this moment of 'wear a mask/stay healthy' and flying back to NYC-- developing the costumes in a window of trust ...or is this the 'new normal' for what you have been doing since March 2020?
Erica Johnston: I spent quite a bit of time developing the concepts for the costumes with Stuart before my in-person trip; technology has made it so easy to communicate, and I sent him many sketches, photos, and videos over the course of a couple of months. This sort of digital exchange is something I've done with many collaborators, both before and during the shutdown. I built everything in New York-based on the dancers' measurements and then shipped it all to DK the week before I came to visit. Flying to Indianapolis was pretty straightforward- I am grateful for the safety precautions put in place by the airlines and by DK, and those precautions (combined with being fully vaccinated myself) made me feel comfortable traveling. 
Kohn: What else do we need to know about the premiere of new work with new costumes.
Erica Johnston: In any new work (dance, theater, film, etc.), costumes play just as much of a world-building and storytelling role as the performers themselves; if you see a still photo of a piece, more often than not the only truly identifying markers of which work is depicted are the costumes and set pieces. It was my responsibility to create a society of sorts for Sweet Sorrow, and it was important to me that the costumes bore a sense of severity and austerity worthy of the original Shakespeare but in a very contemporary context.  
Stuart asked me to incorporate elements of gender identity and inclusivity; rather than building something neutral/ambiguous (like shorts and tee-shirts) I decided instead to take what are traditionally very gendered silhouettes (long flowing skirts, structured jackets, pants, etc) and mix-and-match them across the entire cast. I also played with the expression of vulnerability- the only character who really shows complete, unhindered openness is Juliet (Romeo's later actions against Tybalt are triggered by the violent legacy of his family, causing me to believe that he has already been irreparably affected by his circumstances). Because of this, I chose to expose Juliet's collarbone while everyone else keeps their neck covered.  
Following the tragic events of the story, she then "covers up", armoring herself against the world. The use of color was perhaps my most telling factor in defining each character; those who are the most polarized have costumes to the farthest ends of my palette (purple to orange), while those who ultimately favor unity dress in the middle-range. I wanted red to be the through-line color because to me red signifies humanity (literally, blood), something that is the same in all of us, no matter where we come from or what we believe. 
====
Erica Johnston is a New York City based costume designer, performer, dance instructor, and costume builder. Design Credits: Peridance Contemporary Dance Company (Igal Perry, Dwight Rhoden), The Ailey School (Claudia Schreier, Virginie Méçène), J Chen Project (Jessica Chen), Marymount Manhattan College (Christian Von Howard, Adam Barruch, Dawn Bazemore), Hudson Ballet Theatre. Costume builds: Alvin Ailey American Dance Theater, Ephrat Asherie Dance, Philadanco, Sidra Bell Dance, New York City Ballet, ABT Studio Company, Ballet X, HBO's Legendary! S1, Illuminate Dancewear, Jon Batiste and Stay Human. Wardrobe credits: Limón Dance Company, A$AP Rocky, Art Garfunkel. Erica is a guest instructor for the Ailey Extension and the Champaign Ballet Academy. In 2020/21, she directed an album of original music for ballet class by composer Nevada Lozano and authored a partnered text on teaching introductory music theory to ballet dancers. She holds a BFA in Dance Performance from Butler University.  www.pointecreations.com
Stuart Coleman is a company dancer and was promoted to Associate Artistic Director in 2021. Stuart began dancing in Lynchburg, VA, as a student of Keith Lee and then at Virginia School of the Arts. He graduated cum laude from Butler University with departmental dance honors in 2014. Stuart has attended programs with Alonzo King's LINES Ballet, Alvin Ailey American Dance Theatre, Paul Taylor Dance Company and Ballet West. He has performed repertory by dance pantheons such as Martha Graham, Paul Taylor, Talley Beatty, and Nacho Duato. His choreography has been featured in concerts produced by Dance Kaleidoscope, Phoenix Rising Dance Company, Ballet Theatre of Indiana and Butler Ballet. The Arts Council of Indianapolis named Stuart a Robert D. Beckmann, Jr. Emerging Artist Fellow in 2015. Our 2021-22 season is Stuart's his 8th with Dance Kaleidoscope.
=====
Performance Dates/Times:
Thursday, January 6, 7pm
Friday, January 7, 8pm
Saturday, January 8, 2:30pm*
Sunday, January 9, 2:30pm
*Note: On Saturday, January 8, we have moved our performance to 2:30 pm due to the recently announced free rock concerts that will happen that evening on The Circle. We want to create positive experiences for you, and we thought avoiding the increased traffic and number of pedestrians would be helpful.
Learn more here: https://dancekal.org/features/concerts/star-crossed-lovers-jan-6-9
=======
Also, access DK's three-part video project FROM | INTO | TOWARDS created and conceived by company dancer Manuel Valdes 
go to: https://dancekal.org/donate-now
Part Two: INTO, now available, features two duets and a trio, highlighting our connection to each other. "Venturing back into the world after a year or so of separation felt as strange as a first date, but also exciting to be able to feel a collective sense of community again. Through two duets and a trio, the dancers convey different moments of relationships: togetherness, shyness, tenderness and how those connections balance us as humans," said Manuel Valdes
Choreographer: Manuel Valdes
Videographer/Editor: Paige Gray
Dancers: Aleksa Coffey, Eduardo Zambrana, Emily Dyson, Justin Rainey, Marie Kuhns
Music: Johann Sebastian Bach - Thomas Zehetmair
Photographer: Drew Endicott
Part three, TOWARDS, Manuel Valdes' hopeful look towards 2022, will be added on December 26. 
Recap: "FROM (part one) portrays the idea of individuals acknowledging their insecurities and expressing how the world tells them to cope. We are too often told how we should feel and sometimes that can shrink us as people. This work is a celebration of one's ability to identify their faults, but also love and accept every part of who they are."
Choreographer: Manuel Valdes
Dancers: Natalie Clevenger, Emily Franks, Holly Harkins, Paige Robinson
Videographer/Editor: Paige Gray
Music Producer: COCO-PALOMA and Héctor Oaks
====
More data here:
• Subscription, Ticket, and Health Information
• Star-Crossed Lovers • Jan. 6-9
Cover image courtesy of Freddie Kelvin