If you've driven by The District Theatre on Mass Ave, you might have noticed the sign from The District Theatre sign missing, but that doesn't mean anything is amiss. 
"The canopy, which had the signage on it, has been removed, as the first step to restoring the facade of The District Theatre," IndyFringe Executive Director Moffat explains.
The theatrical nonprofit manages operations at the District Theatre, but there is no word yet from the city on when in-person performances can resume inside the venue. That depends on the local infection rate of COVID-19 over the next several months.
But the organization is putting their outdoor pocket park, adjacent to the IndyFringe Basile Theatre, to full use by scheduling all its events there. At the same time, IndyFringe is looking to have an outdoor performance space on Mass Ave., in what Moffat describes as a "bump-out."
That is, once the District Theatre facade is repaired — work is set to commence in September —   the bump-out outside the District Theatre will become home to a community gathering space and a certain piano, beloved by the community.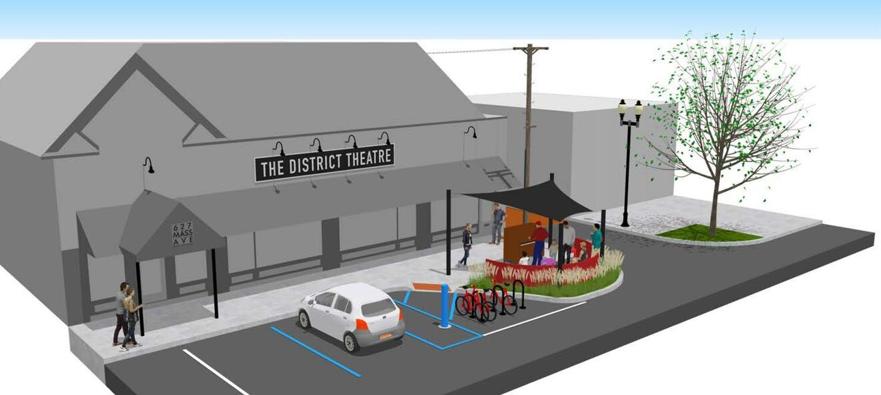 "You may recall the Artful Piano was vandalized in September 2019," says Moffat. That prompted a fundraiser which grew from 'How do we protect the piano' to 'How do we get much needed work done to the facade of the theater.'"
In the world of nonprofit arts organizations, that involves raising money. 
"In 2019 The District raised $30,000 and was awarded a matching Patronicity Grant to restore the building: windows, frames, paint and a canopy wide enough to have two people walk or stand under it," adds Moffat.  "The garden bump out on Mass Ave was included in the exterior design/facade, and will now be known as "The Gathering Space" — the summer home for the Artful Piano — and a performance space year-round outside a performing space that in the short term is closed." 
But the IndyFringe calendar is chock-full of events —   including OnyxFest —   from now until Halloween, which has everything to do with their pocket park
In 2017, IndyFringe created their Pocket Park, adjacent to the theater at 719 E. St Clair St., with an outdoor performance stage, ample seating, and bike racks. The park, made possible by a MAC grant and an Indiana QuiP grant, would eventually serve to buoy IndyFringe during the rough waters of COVID-19. 
The tally since the July 5 opening of the Pocket Park includes eleven shows and events featured in The Garden, with ten sell outs for a total audience of over 800 patrons. The work of five African American local artists has been on display in the Pocket Park. This site also hosted filming a Cultural Comedy segment for the in-process WFYI  documentary produced by Gary Harrison and narrated by Judy O'Bannon. Find a preview for the mid-October broadcast on WFYI-1 here.
Having the events outdoors allows for full, socially-distanced COVID-19 precautions.
"Kudos to the performers for performing, the audiences for enthusiastically showing up," says Moffat.'''