At first glance, Tuesdays with Morrie, based on the true story of a man's visits to his dying sociology professor, might not strike you as the most uplifting material. But it's doubtful that Mitch Albom's memoir, and the dramatic productions based on it, would have been so phenomenally successful if the story were in any way a downer.
The Indiana Repertory Theatre is now streaming its production of Tuesdays with Morrie, by Albom and Jeffrey Hatcher, based on Albom's memoir, published in 1997.  The production is available for view now through Feb. 21, 2021.
For more information and to purchase online tickets click here.
NUVO's Rita Kohn recently interviewed Benjamin Hanna, IRTs associate artistic director and director of Tuesdays with Morrie and actor Henry Woronicz, who plays Morrie. His TV credits include Seinfeld, Star Trek, Law & Order, Cheers, and Third Rock from the Sun.
RITA KOHN: What has it been like producing Tuesday with Morrie during the pandemic?
BENJAMIN HANNA: This period of isolation has shown me how little space I have made to slow down and find joy in life's smaller moments. As I revisit the story of Mitch and Morrie, I recall the teachings of my many mentors, including my dear grandfather Frank Haughlan. I hope that Tuesdays with Morrie inspires our audiences to remember the words of their Morrie, whoever and wherever they may be."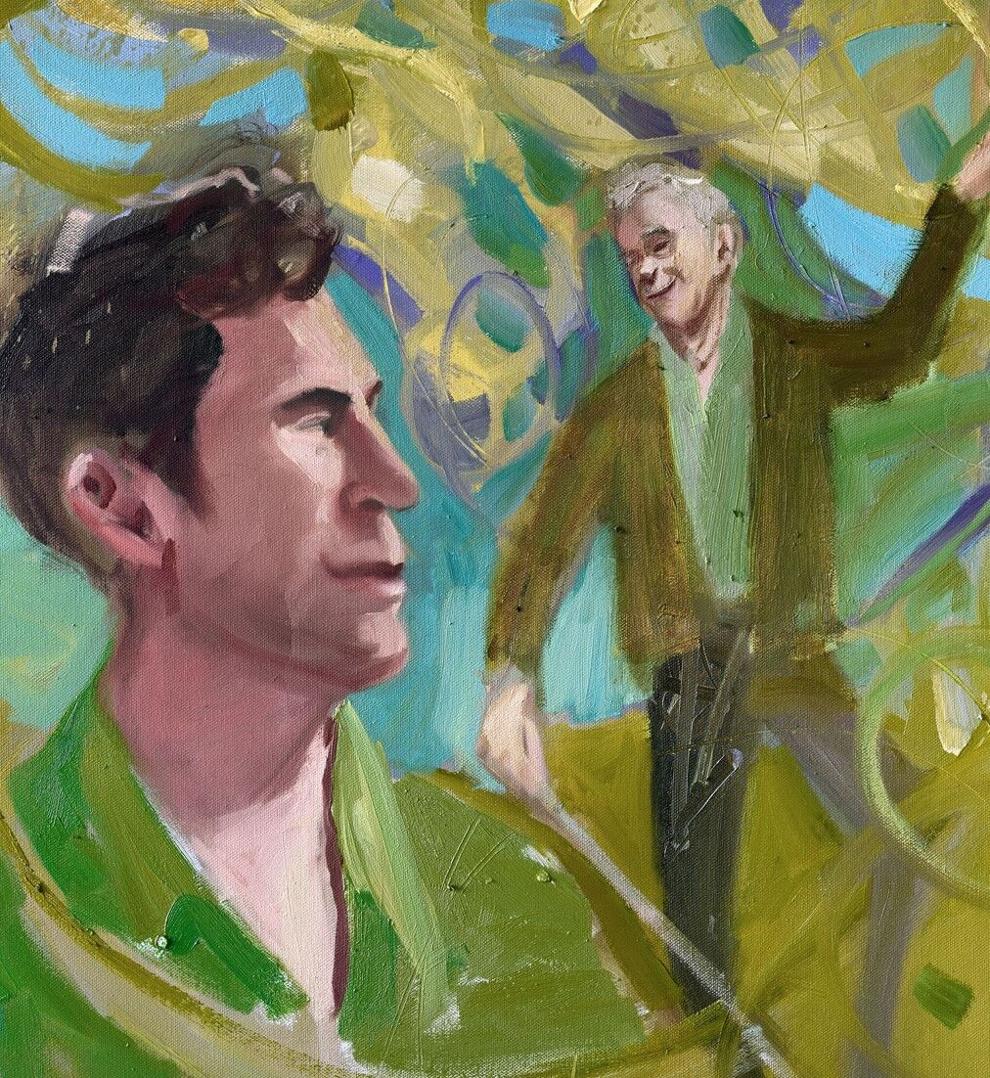 KOHN: What changed for you personally in the development of this production with the reality of living in the time of COVID-19, let alone in acknowledging the growth of the two in intimate conversations after a hiatus of years apart?
HENRY WORONICZ: Well, not much changed for me in the process of how I go about working in a character in a play —   that process has developed for me over many years, and the pandemic has had little effect in that. What HAS changed, of course, is the manner in which we're all working during this crazed time: strict union rules regarding social distancing, masks, who can safely be in which areas of the theatre as we rehearse, etc. That, and the fact that this performance will be recorded on film and then made available for streaming to the IRT audience, makes the creation of this play quite unique for most of us. But the heart of the theatre remains the same —  gathering together to share a story. Even a pandemic cannot alter that.
KOHN: How have you connected the original book with the dramatic script?
HANNA: I revisited the book in preparation for rehearsals. Years after I read it the first time (in high school!) it remains a very special book, full of wisdom and light. The script for our production was co-written by playwright Jeffrey Hatcher and the author of the book, Mitch Albom. So, in many ways, the play is just a smaller set of visits/moments that we see over the many months that Mitch visits Morrie.
KOHN: Why is recalling the adventure of life fulfilling from the perspectives of these two people who must reflect on the reality of death?
WORONICZ: I believe that sharing anyone's adventure in life can be fulfilling, particularly if they have some wisdom or a particular perspective to share. That's kind of why I'm in the theatre!  Morrie Schwartz was obviously a remarkable man and teacher, and it's been a true pleasure getting to know him through Mitch Albom's loving tribute. And I have to confess, that at the age of 66, I have had my own share of triumph and tragedy. I have experienced the deep loss of friends and family, as well as the joy that comes with those relationships that last through time. Working on this play has been a great reminder to stay present to life, take each day as a blessing, and to embrace the path in front of you, with all those who might share it with you. 
KOHN: The now time is not the usual way of developing a live performance. What has IRT  learned from creating the magnificent opening production This Wonderful Life as a one-person drama, to help create this two-person work as a remote access for audiences?
HANNA: We have really been scaffolding our work to build as we learn more about the art of producing theatre on film. We had so many learning moments in our first go-around and, by adding another actor to the mix we double many of the elements we need to wrangle: more actors means more mics, more costumes, and physical interaction that we need to be extra-safe and careful as we produce. We have incredibly clear guidelines for keeping everyone safe and healthy including temp checks, testing protocols, sanitization techniques, mask-wearing, and social distancing.
What I learned most in the first production is that while there are cameras, and we are conscious of working with the wonderful folks at WFYI to create the best conditions for filming, we are making a piece of theatre. This piece shares a commonality with This Wonderful Life in that there is direct address —  Mitch speaks to the audience throughout and is telling us this story.  That is a beautiful gift in a time when we crave that audience-actor connection.  
KOHN: I personally am a retired professor who still keeps in contact with a handful of students who have flown off into their wonderful careers and family structures, so I connect viscerally with this play. What do you especially connect with and what's the special link you feel with a diverse audience?
WORONICZ: Hmmm ... I think perhaps I've answered most of this last question in my previous replies. I will only add that the pleasure of playing to a diverse audience is inherent in that description: embracing diversity and the sharing of each other's unique stories is perhaps the only way we can bring humanity together, and move toward a greater understanding of 'the other', and our collective journey.
KOHN: We are socially-rigged; knowing this how will all your associated programming reach into our lives to enliven our togetherness?
HANNA: Excellent question!  Seeing theatre in your living room can almost feel nostalgic at this point.  Tuesdays with Morrie reminds us to live like there is no tomorrow and enjoy every single morsel of time we have.  Morrie embraces the human experience of death and invites us to think about death every day —  not with fear, but with joy for the gift of the present!  The story of Mitch and Morrie is also a reconnecting of old friends, of mentor and mentee, and learning how to listen to and love someone you have grown apart from.  Pandemic induced isolation requires us to put energy into finding new ways of connecting and of instigating connection. 
KOHN: What changed for you personally in the development of this production with the reality of living in the time of COVID-19, let alone in acknowledging the growth of the two in intimate conversations after a hiatus of years apart?
HANNA: Theatre is a highly collaborative art-form that requires deep listening, intimacy, and trust. Just like Mitch and Morrie, many of us were coming back to making work together after a long hiatus and with many new rules and many additional requirements for filming. We all have been vulnerable in new ways and also honoring that things don't need to look the same as they did before the pandemic.  Different isn't bad.  We are adapting and growing as we need to and trying to find joy —  and gifts! —  in even the most complex problems.