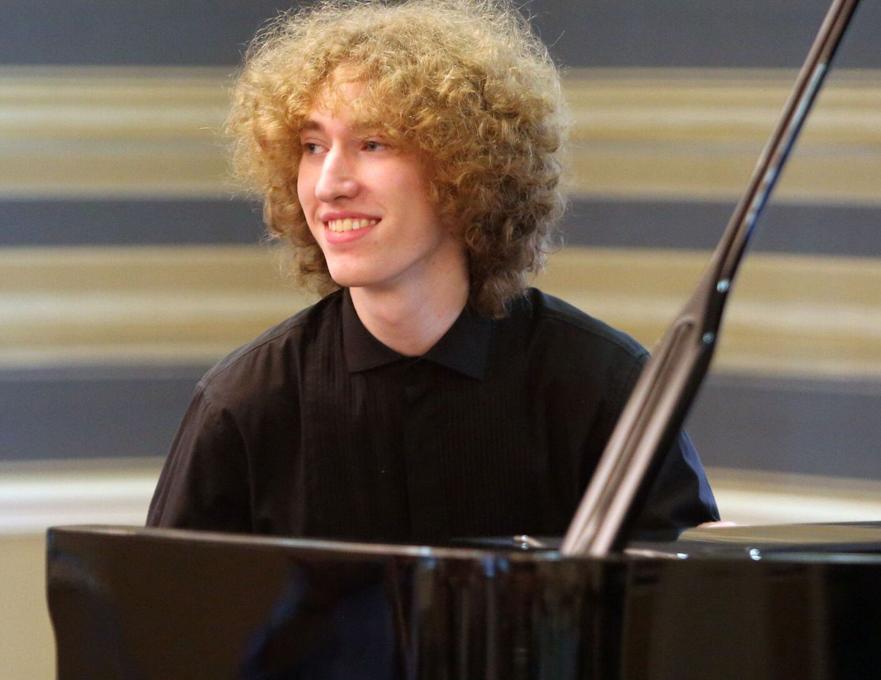 Twenty-three-year-old Michael Davidman brings us into the second online "Piano Stories: Emerging Voices" series featuring the five finalists of the 2021 American Pianist Awards through early 2021.
Buy tickets here for the virtual performance starting Dec. 18 at 8 p.m. 
New York City-based Davidman began piano lessons at age five, subsequently placing first in the Pre-College Concerto Competition in all three age categories (10, 12, and 16) at the Manhattan School of Music. At age 13, he was chosen by Lang Lang's management to perform in the 2010 Lang Lang masterclass at Manhattan School of Music. 
Other honors include first prize in the LISMA Foundation International Music Competition, the Ithaca College of Music Piano Competition, and the Wagner College Young Musicians Performance Competition. He entered Curtis Institute of Music in 2015 with a four-year scholarship from the Chopin Foundation of the United States. 
In 2018, Davidman won first prize at the New York International Piano Competition (chamber ensemble). As a soloist, he has performed with the Philadelphia Orchestra, Monterey Symphony, Manhattan School of Music Philharmonic Orchestra, New York Concerti Sinfonietta, the NY Chamber Orchestra, and more. 
Lee Clifford, APA director of marketing, noted in an email exchange, "I was particularly intrigued by Michael's interest in opera. He runs a YouTube channel that brings light to old opera recordings. It is amusingly called Puccini MD."
This was my jumping-off point for the email Q&A with Michael Davidman: 
RITA KOHN: Your connection with opera proves there's no such thing as too young. How has your early connection with opera helped shape your connection with the piano and the kind of repertoire that speaks to you and fuels your passion for sharing?
MICHAEL DAVIDMAN: Listening to opera from a young age has definitely shaped my approach to the piano and interpretation of musical works, as well as my repertoire choices. I like to play pieces that have a wide range of possibilities when it comes to emotional expression and interpretation. If I don't feel that I truly have something to "say" in a piece, I tend not to play it. If another pianist has given an interpretation that really satisfies me, it would be difficult for me to choose that piece, until I have, over time, stumbled upon something previously unseen within myself that can be expressed in that music. I like music that has a strong sense of melodic continuity, music that the audience can naturally follow, and therefore become lulled into a state of pure connection with what they are hearing. I have a taste for music with a lot of drama and contrast, requiring a good sense of pacing and structure in order to play effectively.  
KOHN: Do you trace the demographic reach/range for who logs on to your blog, and if yes, what are you learning about what pulls others, along with you yourself to savor these 'old' recordings?
DAVIDMAN: I have never actually checked to see the demographics of who watches the videos on my channel. From the many comments and communications I've received about certain recordings, I am sure that the majority of people watching are middle-aged and over, and have a European background. For them, the videos on my channel take them back to their youth, and remind them of some of the artists that they saw live, or that their parents knew and loved. Another main group of people watching are music aficionados, and connoisseurs in varying areas of interest, such as 78s, live recordings, and opera singers of the past. My channel also has a following from young singers who are interested in hearing examples of the outstanding techniques and authentic interpretations of the older generations of opera singers. The recordings that I share are centered around rare, live opera recordings from the pre-WWII era. I have expanded it in the past few years to include a wider variety of opera selections, as well as chamber music and orchestral recordings, and now it has become a 50/50 balance between the two. Personally speaking, I grew up listening to many older recordings of opera. My Italian grandmother, who, despite not being a musician, knew many of the arias by heart, would play for me all the singers that she had been familiar with since she was a child. The intention of my channel has always been to provide a platform where these older recordings can be accessed with ease, for the enjoyment of those who are familiar with the artists, and would like to enjoy their art in performances which they maybe have not heard before. There is also an educational element in this, but I realize that it is difficult to fully appreciate some of the things that get posted unless that connection is there, and the listener is already familiar with the operas and their performance traditions. It is my hope that more people of my own generation will listen. What I enjoy most about the old recordings is the emotional authenticity of the performers and the sense of total dedication to and belief in what they are doing.  
KOHN: Obviously, the time of COVID-19 is taking you and your four APA cohorts along a different kind of journey; how are you adapting to 'not the usual' and how is this call for drawing upon different strengths helping you shape your playing now, and what you envision for the near and far-future?
DAVIDMAN: Initially, I used the extra time generated by canceled concerts to experiment with my practicing and to explore repertoire that I had been wanting to learn for a long time but didn't have the chance to do so. However, recently, I've been thinking about enhancing my social media presence by making a public Instagram featuring short performances each week (or every few days) of solo pieces in my repertoire, opera arrangements, the American songbook, chamber music with friends, and interesting experiments involving my new-found audio and video editing skills (something which I never thought of myself as capable of before!). For example, I recently managed to put together my playing with an old recording of a singer after removing the orchestra, as well as record myself playing both parts of some two pianos/ four hands repertoire and put it all together as one recording. I'm still learning, but this unique time we live in has opened up a fun new avenue of exploration for me in my musical activities.
KOHN: Bacri revised his original 2007 Piano Sonata No. 2 in 2010. Did revising a work pique your interest and thus make it part of your repertoire? What differences from 2007 to 2010 do you detect as making this a compelling work for you? What's going on here? 
DAVIDMAN: I have never seen the pre-revision of the work, and I am not aware that it is in print. It did not figure in my choice of this piece, and I believe that the 2010 version is probably reflective of the composer's full intentions. I admire this sonata by Bacri because it is a coherent and expressive piece of music, reflecting the best of the French tradition. Its style and intent are so set apart from the dominant trends in contemporary music, that it often surprises people expecting to hear something entirely different when they see the year 2007 on the program.
KOHN: What for you is the lure to the Granados's work?  (Yes, it's demanding with subtlety and power, drawing upon your inventiveness.)
DAVIDMAN: The Goyescas are very close to my heart, and I feel a strong personal connection to them. While playing them, I believe that a wide range of my interpretive and technical capabilities are on display. I listened to the studio recordings I made for this particular performance, and it's interesting to see that they differ in a number of ways from how I sound playing them live. Maybe they are slightly more introspective and subdued. Each piece in the set is almost like a raw improvisation that Granados wrote down without much alteration after the fact, maybe with some slight refining of structure and technical passages. I have a strong image in my mind of each piece, and I very much enjoy creating the 18th century Spanish atmosphere, as well as giving voice to the feelings and situations of the "majos" of the title. 
KOHN: Chopin's  Piano Sonata No. 3 in B Minor, Op. 58, is his last in this genre. It's been lauded for "lofty melodic inventiveness, but bemoaned [for] a lack of feel for design," according to a citation online. What's your approach per this analysis, so the audience gets the best experience? 
DAVIDMAN: I'm not sure who made this statement, but I definitely disagree with the second part of it. This sonata is one of Chopin's most rigorously structured pieces, with a special kind of detail in and perfection of contrapuntal proliferation that only the most skillful of composers fully achieve. Each movement is a world in and of itself, yet when played together, they form a balanced contrast and logical progression to the finale. I will only be playing the last two movements on this program. I would say that this piece is one of the hardest I've ever approached. Each phrase can be worked on to no end.
KOHN: What else does a NUVO reader need to know about you, this virtual program, etc., until we all meet in person?
DAVIDMAN: I'm very happy to be participating in this concert series for the Frances Clark Center and APA, and I hope you enjoy the performance!