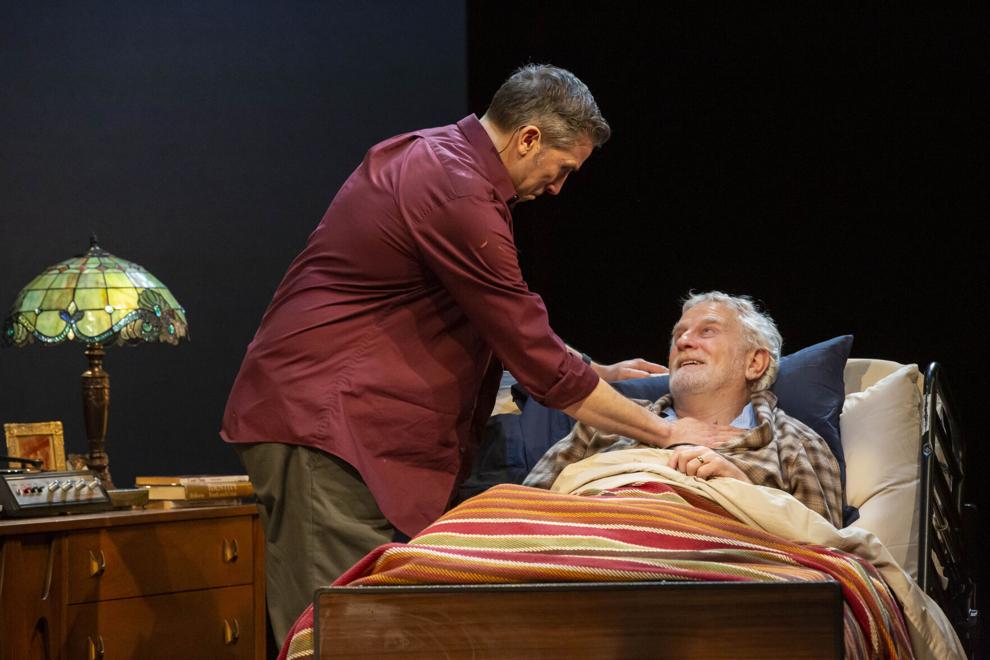 Being transformed into a story unfolding on a stage, within the space of 90 minutes, is a nod to good theatre. 
Becoming engaged, as an audience member, in an act of transcendence and emerging from the journey in a better body, with  a keener mind, a more spirited sense of self, is being in the presence of great theater.   
I have been experiencing the IRT since the mid-1980s.  Nothing from that store of collective memory glows as does this iteration of Tuesdays with Morrie. What happens feels so natural — listening to one person share his story of connecting with another person; this is what happened and how it came about — a beginning, a middle, an end, filled with the right amount of humor surrounding sadness. Throughout the storytelling one can nod, yes, yes, this makes sense. You're a student and he's a professor, and yes, I've experienced something similar, I can relate. And, yes, I too meant to stay in touch with someone, but stuff happened and years passed,  and then, by some fluke of fate … and here we are …
Access information and tickets here.
It's the ands that grab one by the throat and throttles your head. 
'And' manifests as a third character in this two-person spoken autobiography. Let us parse and, a word, described as a particle handed down to us from the Anglo Saxon canon. "An article expressing the general relation of connection or addition,' reads the Webster definition of "and."
Within the directorial artistry of Benjamin Hanna we are drawn into 'and' as physical entities, sometimes capricious, sometimes, thoughtful, all-in-all a stand-in for Shakespeare's otherworldly Puck. That's where transcendence enters as the act of rising above something. 
Being in this moment of Tuesdays with Morrie took me out of my ordinary cognizance to go to a place beyond a theatre producing a play. The chemistry between Ryan Artzberger as Mitch, Henry Woronicz as Morrie, indeed rises above expected character development to a superior state of being.  At the outset we are witnessing memory — their personal and collective memory — layering in live action over their bones. Mitch playing the piano, Morrie dancing with the melody spilling out … and then …
a pulsing  rhythm takes us into this journey of heightened perception. Living, maintains Morrie, is asking questions — it's not a matter of wrong questions or right questions — the substance in asking is paying attention to the needle on the compass.  If we are assigning labels, Morrie is a professor, his subject is sociology; Mitch is a journalist, his beat is sports. 
And yet ...
What really happens with Mitch and Morrie is a peeling away from the who we are in the flesh to who we are in the bones.
Living is a daily drama. We constantly are articulating, or in our head thinking up, one-liners, soliloquies, retorts in fencing for upmanship, for excusing something we did or did not do; the repartee of our becoming. 
"I'll keep in touch," says Mitch, twice, because Morrie asks him to repeat at their parting following the graduation ceremony. Morrie expects action, not intention. 
"I meant to keep in touch," explains Mitch, 16 years later, but..
Ah, recognizes Morrie… "but: …or is it me internalizing "but?"  But this happened, but I had to, but I…
Ands, ifs and buts' pile up—littering our space as extraneous stuff — or as tools and materials used to build a better world?
And, if, but … Morrie sees them as prompts in various configurations for questions for Mitch to frame as the impetus for conversations in redux form from their on campus connection.  It's a deep-think segue from the easier 'why' with its corollary accurate or finagling roster of answers.
And, but...Morrie asks questions too — of Mitch and of himself…are you at peace with yourself? Pointed and rhetorical...
Mitch does a double-take. So too do I.
Morrie sends me to books, in the very same way he directs Mitch to volumes he hands over.
'Do you remember that little room at college,' asks Morrie. 'I loved to stand out the door and listen. Such talent.'
Mitch gave up music. Stuff happened … Mitch obtained a degree in journalism; he pursued a career; he achieved status. He did not open envelopes from Brandeis…not even one from the department of sociology.
And Morrie? He kept teaching, and waiting…
No spoiler here…connect with Mitch and Morrie on your own… 
with life's greatest lesson