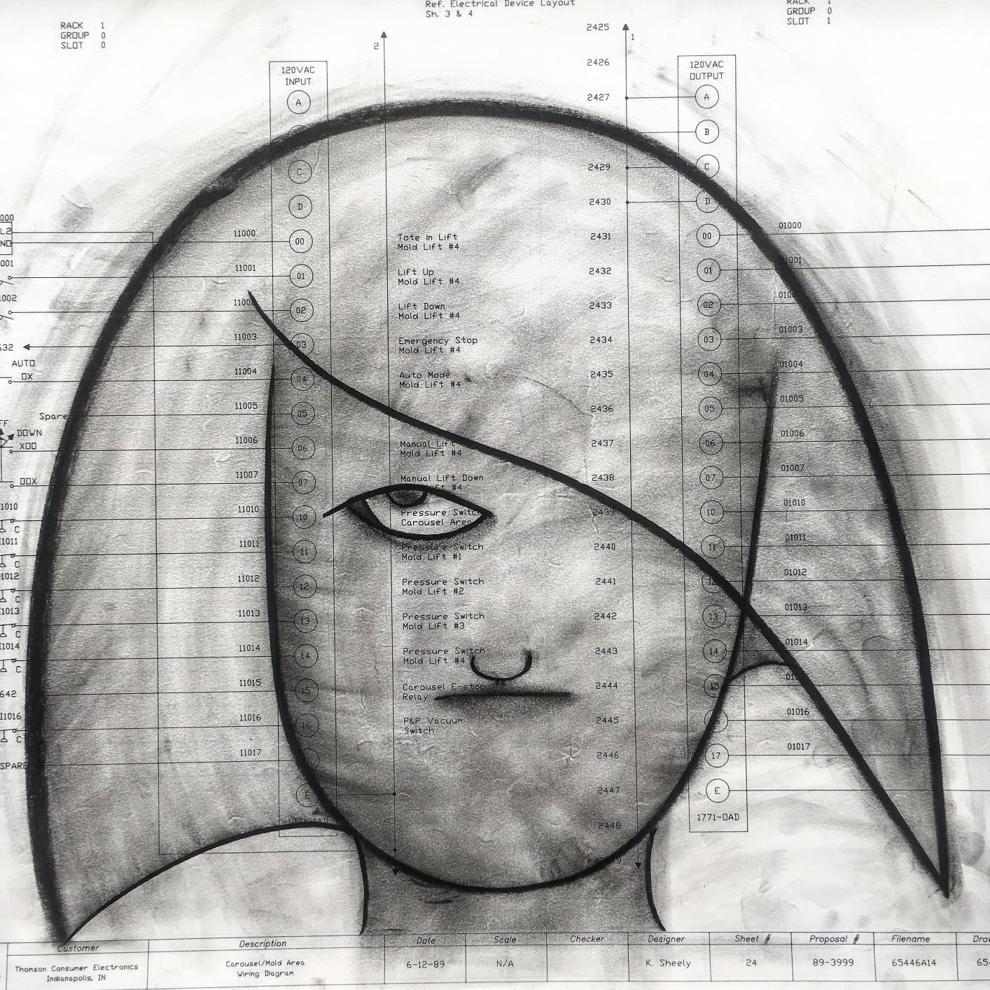 There is much in John Clark's artwork that is playful, that anyone with a sense of wonder will find appealing. This appeal is one constant throughout a career that encompasses zine publishing and writing as well as art making.
The opening reception for Clark's solo exhibit Plans for Automatic Drawings at Healing Arts Indy — a show of work mostly composed within the past four months — will open March 15 and be on view through April.
Some of Clark's creations are drawn on discarded architectural blueprints and employ various techniques used by surrealists in the early part of the 20th Century to prompt their creativity. Automatic drawing might involve letting your pencil roam freely on a piece of paper. Or it might involve rubbing a crayon on paper set against a rough surface to get an impression. Later, you might be inspired to add details to the drawing that you never would have thought of when you first started out. 
If you look through the pages of pLopLop, the literary zine that Clark served (and still serves) as editor, you just might spot an automatic drawing or two. 
 pLopLop started in 1991 as a literary broadside; the broadside was printed on a heavy stock paper printed on both sides, with blank spaces where Clark drew tributes to his literary heroes, Charles Bukowski and Richard Brautigan.
How pLopLop became the zine title requires a bit of explanation: Clark says took after the name of a character created by German artist Max Ernst.  
"He invented collage and a lot of techniques that I liked to use, automatic techniques," says Clark. "He had this character; it was sort of an alter-ego called LopLop and I just loved that word and throwing ideas around for this new zine and someone said, how about Indiana Review of Poetry, and I said, no that sounds really boring. So I had sort of played around with pLopLop and sort of put a 'p' at the beginning with LopLop to sort of round it off."
There's other meanings as well.
"It has origins like Alka Seltzer, plop plop fizz fizz, other things that sound plop, and there was a comic book I love that some of the people from Mad contributed to called Plop!" says Clark. "I loved that as a kid."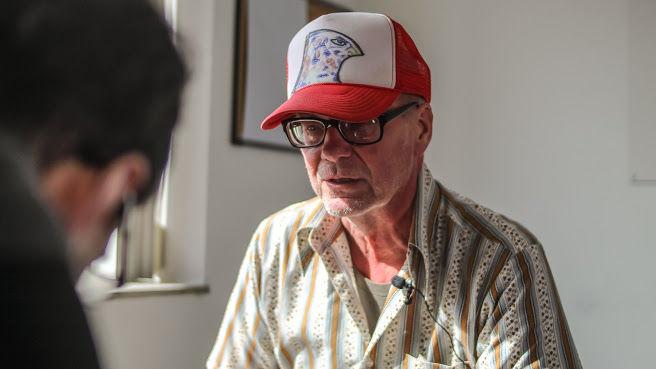 pLopLop published poems and stories of local writers as well as Clark's drawings. But when it came time to publish pLopLop #3, Clark decided to do something he hadn't done before: contact his literary hero, legendary writer and poet Charles Bukowski, and see if he'd like to be a contributor.   
"I got Bukowski's address finally and sent him this thing with a self-addressed envelope," says  And I said, 'we're doing a special edition, we're doing a special issue about defecation basically.  And you're the master poet of this, your the one who's written best on the subject.' I didn't lay it on too thick, but he wrote this really incredible thing that was a marvelous sort of epic poem.  
"He started off saying [in the first lines of the poem] I don't know if I could really do this," says Clark, "but then he got into it and started rolling. I just remember getting that in the mail, getting up and calling my friends and saying, you won't believe what I just got in the mail. I got this poem from Charles Bukowski. And they're like, we'll be right over."  
Clark sees a lesson in Bukowski's career as a writer.
"No matter how famous he became — and he's even much more famous since he passed 25 years ago — he never turned his back on the small presses. That's where he got his start. That was a good sort of lesson to learn from that.  Don't lose track of where you got started."
pLopLop #3— AKA Duh Turd Issue — dropped in 1993. After Clark published issues of pLopLop more or less once a year throughout the 1990s.
He published the likes of Wanda Coleman, Eileen Myles, Hal Sirowitz, and Fielding Dawson and many more well-known writers in addition to locally-based writers like Kit Andis. He also published a drawing by Kurt Vonnegut in pLopLop #4.  
 [Editor's note: Clark also published Dan Grossman's poetry numerous times in pLopLop and they have been friends going back 25 years]
But as the 1990s became the 2000s, and the internet became much more of a thing, pLopLop didn't develop much of a presence online. And Clark published the zine on a much less frequent schedule.
"I think you could really see where the subscriptions and submissions fell off," says Clark. "It's so much easier to post online.  I kind of lost more interest that way. I've never really been involved in online I've thought I should send something to it but I never have. Paper was really essential."
But the less frequently Clark published pLopLop, the more he developed as a visual artist. Sometimes he painted his work on blank canvases, and sometimes he'd buy a bunch of paintings at Goodwill and turn, say, a covered bridge into something considerably more weird.  
He started showing much of this work in the halls of the Murphy Art Center as it started to develop as an arts hub, after Big Car Collective (now Collaborative) moved there in 2005.
Sometimes he'd create his own superheroes on canvas, like Plexigirl.  
And Clark still loves to draw on paper — whether he's using crayons, Sharpies, or charcoal — whether its expensive paper bought in an art store or the old, architectural blueprints he transforms into something completely different.
The exhibition, which consists entirely of new work, will be a great chance to introduce yourself to this artist and his work.  Or if you're familiar with some of some of his work but haven't see it around for a while, it will be a good chance to catch up. 
"That really is seen at the show at Healing Arts because there's some canvas there too but a lot of different types of paper that really seem to come from the past and land on my desk and get transformed," says Clark. "But it seems right."