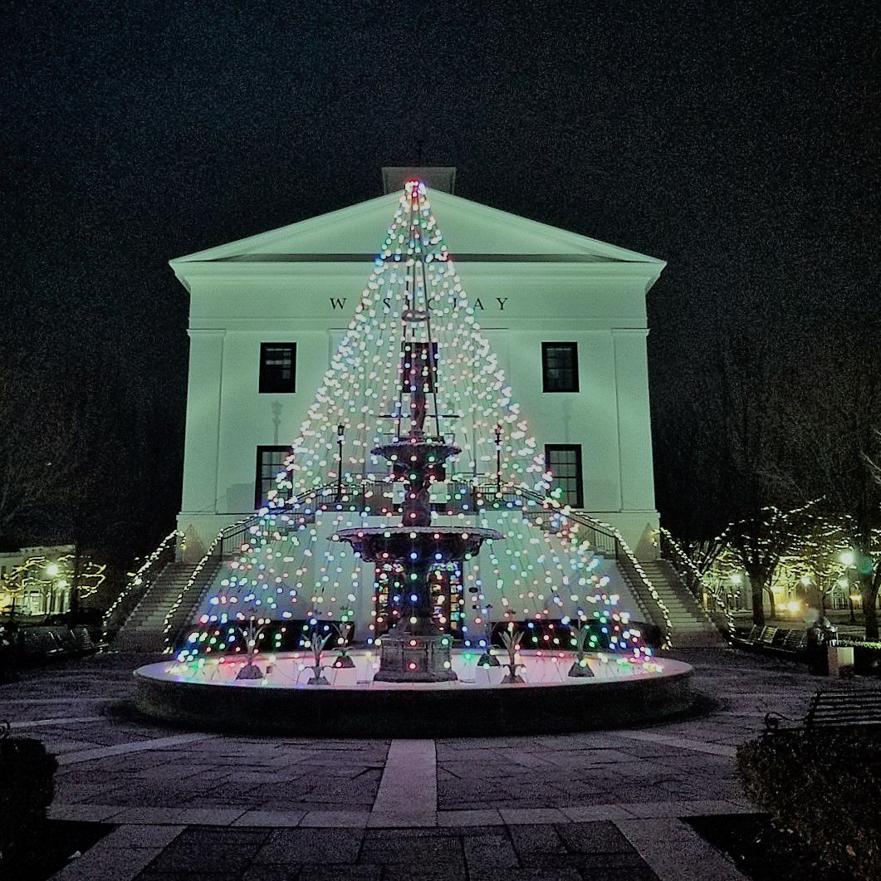 My daughter Naomi, her mom Katya, and I missed the downtown tree lighting at Monument Circle. The lighting of the village center at the Village of WestClay in Carmel, we decided, might serve as a substitute.
As we parked a short distance away from the village center on Saturday evening, we could see colored Christmas lights in the shape of a fir tree. We also saw white lights on many other trees around the central park.
We had missed the ceremonial lighting.
As we neared the display of Christmas lights, we could see that there was no accompanying Christmas tree beneath. The lights were strung instead from the top of the fountain, in front of the three-story meeting house.
This meeting house had the severe aspect of a colonial-era courthouse.  
At 7:30 p.m. or so, there were still people gathered around. But the Carmel Holiday singers, who were billed as a highlight, had already packed it in and called it an evening.
I had something of an ulterior motive in going to this lighting ceremony. That is, I was curious about the people who lived here and their motives for doing so.
I've often had the impression, when driving by or through the Village of WestClay, that I'm driving through a painting by Thomas Kinkade, the painter known for his quaint, retro, and light-drenched depictions of American domestic bliss.
The vast WestClay development, which spans 719 acres, certainly summons up the mythology of the Edenic American past. The houses especially. You'll find a retro-eclectic mix of styles here—Italianate, Federal, Greek Revival, Gothic Revival, Colonial, and Tudor—all fighting for your attention, all built around the turn of Y2K or later. But if you're wanting Mid-Century Modern, forget about it.
The street names also hearken back to Hoosier days of yore. Names like Beveridge Pond, named after U.S. Senator from Indiana (1899-1911) Albert Beveridge and Colfax Circle named after Schuyler Colfax, speaker of the Indiana House from 1863-1869.
I was curious about to find out what Aaron Renn, who has written about Carmel in his blog Urbanophile.com, thinks about all this. Recently on the Strong Towns Podcast,  Renn noted the fervor with which Carmel mayor Jim Brainard, using new urbanist design strategies—walkability, urban density, and roundabouts—has transformed the city over the past decade. I wondered how the Village of West Clay fit into the picture.
I emailed him and asked for a response.
He emailed me back; "I don't have much to say about the Village of WestClay, which appears to be a typical new urbanist type development."
Renn doesn't see this development, which like Downtown Carmel has residential and retail clustered together, as unique to Carmel.
"There are a number of these around the country," he continued. "The idea is to create a neo-traditional development with front porches, garages in back, retro architecture, integrated retail, etc. I would view it as an instance of a format, an attractive one to many people."
Considering the starting point for the prices of houses currently listed on the WestClay website is $593,990, many people attracted by said format presumably would be hard pressed to pony up for the mortgage. Or, even, the rents for WestClay apartment units. (The average one bedroom apartment rents for $1,111, according to apartmenthomeliving.com.)
If the idea of the lighting ceremony was to attract future residents, the Villages of West Clay had already lost the battle with my daughter. That is to say, she was particularly unimpressed by the Christmas-lights-festooned fountain.
In fairness, however, it's hard to impress a 14-year-old.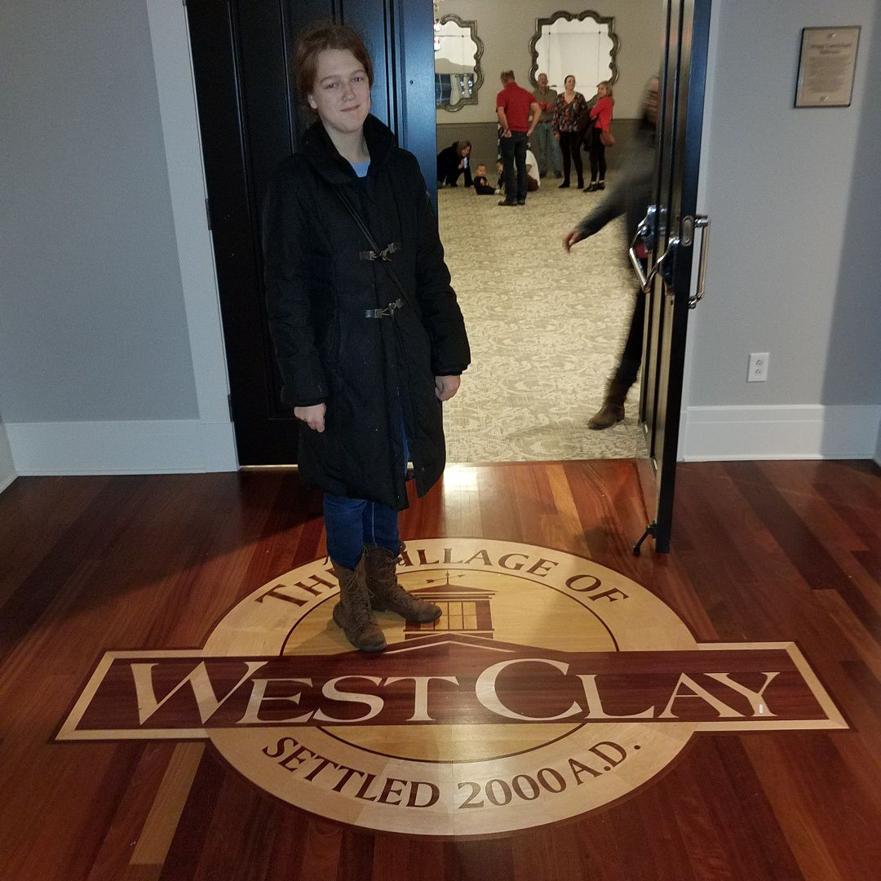 So we headed into the Meeting House, where there was, apparently, some fun to be had.  On the second floor there was free popcorn for the taking and on the third floor we found some kids arts and crafts activities taking place. There were also some blueprints on display for the forthcoming Carmel Clay Public Library branch just a couple blocks from the meeting house.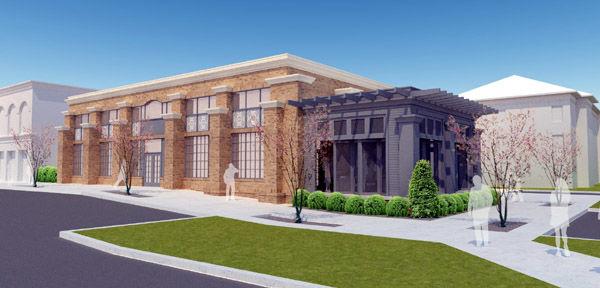 We headed back outside where we had some hot chocolate which was being offered gratis. Also being offered for free were the horse and buggy rides, for which there was a long line so we didn't bother waiting. (The rides were sponsored by a local furniture store.)
Then we went home.
The next morning I woke up thinking about WestClay. I wondered if I was missing something. So later that day I drove back on my own to try to figure it all out. I noticed, as I parked, a woman jogging by. There was also a young man in the park playing catch in the park with his son.
Perhaps my initial assessment of the place had been too harsh. There were, after all, real human beings who lived here.
I walked around the village center for a bit.
It's no secret that the Village of West Clay has had trouble filling its commercial storefronts. This is a particular challenge when all its retail is hidden from West Main Street, the nearest major thoroughfare.
Things have seemed to fill out in the past few years, however, like Ralph Macchio getting chunkier around the midriff in each successive Karate Kid film.
I spotted a law and insurance offices, a dry cleaner, a gift shop, and two restaurants. I also saw the site of the forthcoming Carmel Library West Branch, in the space that had formerly housed a Harvest Fresh Market.
I stopped at Sahm's Ale House for a beer and a taco.
There was a reasonable crowd for an early Sunday evening watching the Colts vs. Miami Dolphins game. It was a slightly older crowd than you'd find in, say, Revolucion. But this, of course, was not Fountain Square.
I asked the twentysomething bartender what he knew about doing business in Villages of WestClay.
"I'm not the best person to ask," he said. "I've only been here a month and a half."
But it turned that he knew more than he let on. He said two previous businesses had failed to launch at the Sahm's address. But Sahm's did a pretty good business, he said, especially on Friday and Saturday nights.  
If you build it, they will come. Eventually.
"People around here, it's pretty great," the guy said. "They treat this like their neighborhood bar."