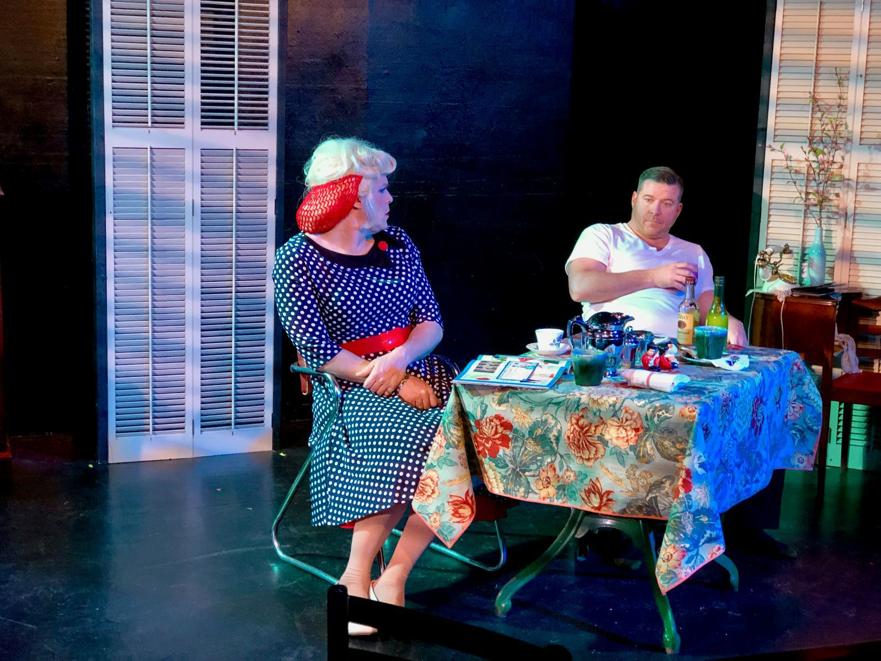 With Mayor Joe Hogsett giving an introduction, opening night for Tennessee Williams' and Tell Sad Stories of the Death of Queens felt like a big deal. Not only was it opening night for this particular production—of one of the most obscure Tennessee Williams plays—but it was also the inaugural performance of Be Out Loud Theatre Company (BOLT), a new Indy-based company dedicated to LGBTQ theater.
In his introductory remarks, the mayor acknowledged the importance of the District Theatre—at 627 Mass Ave—and praised the contributions of Indy's LGBT community to the success of Mass Ave as a center of arts and commerce.  
With Sad Stories the title definitely telegraphs the mood. The play comes from a time where the LGBT community was forced to live in the shadows. 
Williams, a gay icon, told The New York Times in 1975,  "I never considered my homosexuality as anything to be disguised. Neither did I consider it a matter to be over-emphasized."
Written in 1957, and revised in 1962, the play might serve as a historical marker to compare with more contemporary fare that (one hopes) BOLT will bring to the fore.
But the play, directed by BOLT founder Michael Swinford, didn't itself come out of the closet, as it were, until more than three decades after Williams' death.
That is, Sad Tales was not performed until 2004.
And while this play feels like close cousins to Williams' Cat on a Hot Tin Roof, its explorations of gay yearning—and spurning—are much more overt.
Sad Tales takes place in the same New Orleans milieu as A Streetcar Named Desire and opens with protagonist Candy Delaney (Lance Gray)— a cross-dressing male—bringing home the sailor Karl (Chris Saunders) to his apartment.
When Candy slips into something more comfortable—into the "queen" of the play's title—he repulses the homophobic Karl, who reacts violently. But he is, it becomes apparent, struggling with feelings of sexual attraction to Candy as well.
Played with absolutely convincing brutality by Chris Saunders, Karl makes Marlon Brando's Stanley Kowalski look like Mr. Rogers in comparison.
Candy Delaney, on the other hand, is played with extraordinary confidence and sensitivity by Gray. His drawly southern accent goes a long way to setting the mood of the play. Candy is a well-off property owner and interior decorator, depressed at the prospect of turning 35.
In order to get Karl to stay, Candy entices him with spending money, a bed to sleep, unlimited alcohol, and an offer to procure him female prostitutes. Candy also attempts to persuade Karl that he in no way wants to seduce him, that he just wants his friendship, but you may wind up questioning Candy's motives.
Because, after all, Karl is an irredeemable pig. The only thing he could possibly have to offer is degradation and abuse.
Violence is never far from the surface with Karl. It is clear, in fact, that Karl wants nothing more than to fuck and/or beat up anyone or anything he comes into contact with while drinking as much as he can before he's forced to go out to sea again.
Fortunately Candy's two young, gay, and sunnily-dispositioned  tenants Alvin (Joe Barsanti) and Jerry (Christian Condra) succeed in lightening the mood during certain points of the performance.
But there are also moments during the play where Candy treats Alvin and Jerry with outright hostility, as if mimicking how he's treated by Karl, and how he's treated by society-at-large.
After the inevitable explosion of violence, and after Candy performs the aria "Un bel dì vedremo" from Madame Butterfly, the play ends rather abruptly as if Williams abandoned the project in frustration.
But that is no reason to avoid this production. The acting all the way around, particularly of the leads, is top-notch. In the District's intimate cabaret space, you get to see them perform right up in your face.
And while the subject matter is heavy, it's not without occasional moments of humor.
Sad Tales made me think of the 1970 film The Boys in the Band, directed by William Friedkin, and based on the off-Broadway play by Matt Crowley. If both seem dated in their depictions of gay characters, it's important to remember that they are the products of their pre-Stonewall, pre-AIDS-crisis times. And while Sad Tales as a play never quite rises to the level of Cat on a Hot Tin Roof, say, it provides necessary insight to Williams' larger body of work.