Sarah Urist Green and her family have called Indianapolis home for more than a decade. For each of those ten or so years, Green has worked to connect audiences with artwork—first, as curator at the Indianapolis Museum of Art (2007-2013) and, most recently, as the creative force behind the PBS video series The Art Assignment.
As writer, producer, researcher and host of the series, Green aims to spark curiosity and creativity with an audience that consists of a mix of art aficionados and novices.
Talking with artists was an aspect of her museum job that Green loved, and it's a role that she continues to relish as series host.
As originally-conceived, the PBS Digital Studios web series introduces viewers to contemporary artists based in cities and towns and rural areas across the U.S. After providing biographical information and an overview of the artist's work, Green invites the artist to speak directly to viewers and give a particular "art assignment" to make the experience more interactive.
"There are a lot of tutorials on YouTube," says Green. "You can learn how to stretch a canvas. You can learn how to mix paint. You can learn the craft of it through a lot of great schools but it's that element of the thought process and the conceptual approach that you often don't get to until you get to a certain stage of art school. With my videos, I'm hoping people will be exposed to ideas that will help them make thoughtful art."
Green is modest about the success of the series, but, five years into The Art Assignment, she has established a worldwide reach and relevance. This shouldn't come as a surprise to anyone who was paying attention to the work she did at the IMA before departing. Among her work as a curator, Green was largely responsible for the successful Andy Warhol and Ai Weiwei exhibits during her tenure.
In the 2010 exhibition Andy Warhol Enterprises, Green provided fresh insight on the renowned pop artist, who had made his name in the 60s by making paintings based on everyday commercial products such as soup cans.
While many critics took aim at Warhol for selling out, especially in the later part of his career, Green made the case in Andy Warhol Enterprises that such an accusation is really beside the point. It's a case that Green summarized five years later in her Art Assignment video "The Case for Andy Warhol."
"By laying bare the relationship between commerce and art, Warhol nullified the very idea of a sellout," Green says.
But even when Green goes into head-on art critic mode—she's as knowledgeable as Robert Hughes but far less dour—The Art Assignment takes a sort of Schoolhouse Rock approach to contemporary art. That is, just like the producers of those quirky animated segments wedged between Saturday morning cartoons in the 70s, she wants you to get educated and have fun at the same time.
Her transition from curator to YouTube video host came at a not particularly fun time at the Indianapolis Museum of Art: a time of turbulence and layoffs after Charles Venable became CEO in 2012.
"There were a lot of discussions happening at the museum about reaching new audiences," says Green. "[. . .] really thinking about how to reach new people—people who don't necessarily want to go into the very formal space of the art museum."
At the same time this was happening, Green's husband, best-selling author John Green, was establishing a YouTube presence with his brother Hank and their series Vlogbrothers and the more recent educational series Crash Course.
"I had my husband John at home making videos," says Green, "occupying this space on the internet and having really interesting discussions with interesting people who wanted to learn about a wide variety of subjects. I started to think about ways that I could show what I like about curating and what I like about being about being involved in art."
"So I came up with a few different concepts for what a show might look like," she explains.
"I definitely wanted to continue meeting new artists. I loved that about working in the museum. I loved being able to email an artist and say, 'hey can I drop by your studio.' This idea of The Art Assignment gave me a wider leash to do that."
"When I learned PBS Digital Studios was becoming a thing and they were accepting proposals for digital series, I pitched the idea while still working at the museum. Eventually they accepted it, and I left the museum because this was going to be a weekly series."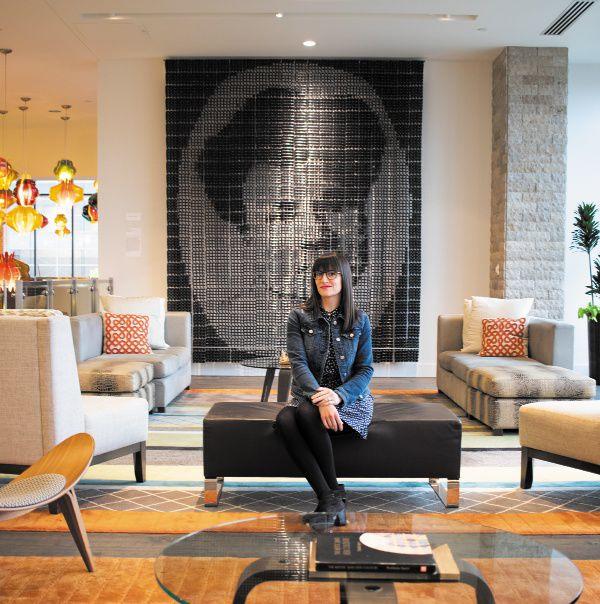 Transitioning from a curatorial role at a large museum to producing videos had its ups and downs, and there were definitely some adjustments Green had to make.
"In museum work, I was used to being very careful and taking a long time developing a show over the course of years," says Green.
"During the first three years of The Art Assignment videos, we made 46 episodes over the course of each year. Now we're doing 26, but I have to come up with an idea, research it, write it, and in a much shorter period of time.
"I still fact check. I still do my due diligence with all of my research, but if I can't find the right word, I put in the best word I can think of then and move forward. It's helpful not only because I can reach a deadline but also because it gives off a certain vibe that I hope, on the internet, is a little less self-serious and more playful."
The inaugural Art Assignment video, "Meet in the Middle," went live on the web on Feb, 20, 2014. In it, Sarah and John Green visit an art space called Flux Factory in Queens where they meet artists Christopher Robbins and Douglas Paulson.
For that video, "the assignment they offered was everyone to choose a friend and calculate the exact geographical midpoint between where the two of them live, decide on a date and time to meet, and then don't communicate until you meet at that point, and then to document your journey."
Watching the video, viewers see the artists traipsing about Queens towards their central point on the map, as well as John acting as a foil of sorts for Sarah. "Why is that art?" he asks about the seemingly off-topic nature of this assignment.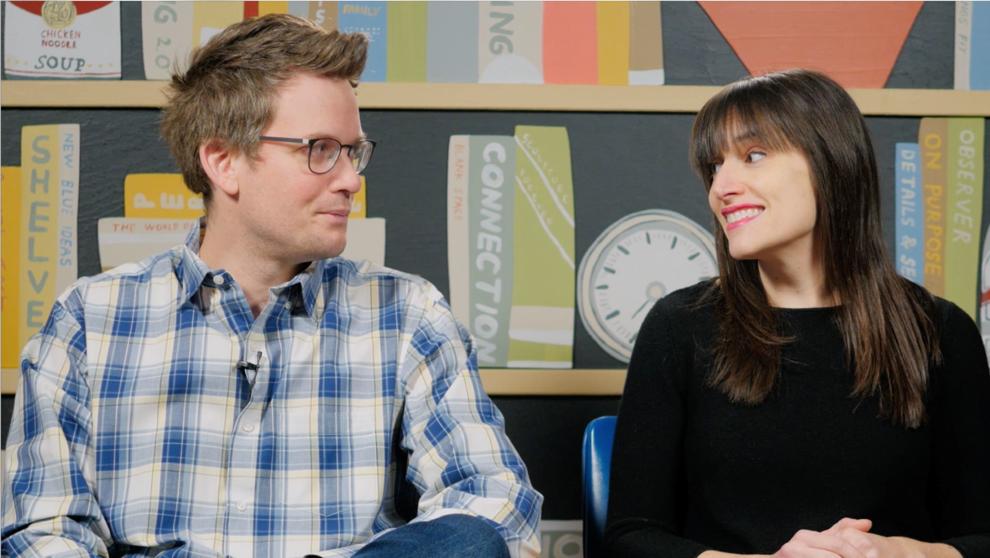 To which Sarah gives her response, "People have been arguing for a long time that art doesn't have to be an object or material…[it can be] triggers for experiences instead."
"All right," John replies, "I just have to say that on some level for me, art is painting."
"Well, it's still that, it's just that its this too now," Sarah says, "The definition has broadened." She then dives into the historical precedence for this type of conceptual art, with the help of colorful animation and nifty graphics.
For his part, John is modest about his role in The Art Assignment production.
"Sarah does 95 percent of the work, but I still carry the camera around sometimes," he says. John also says his role is to act as a sort of everyman, someone who doesn't know much about contemporary art but is curious.
"It's very much Sarah's show and she produces every episode," he says. "She writes every episode and she hosts almost every episode.
"But we collaborate very closely in everything, in most of what we do professionally. Sarah's the first person who reads everything I write. And I read most of what she writes as well. That's always been part of our relationship. She's a really smart writer and a really smart reader, so we do get to collaborate quite a lot. It's a lot of fun for us."
It also seems to be a lot of fun for the individual artists featured in the The Art Assignment episodes. Sonya Clark, an artist based in Richmond, Virginia, used her video to talk about how she incorporates issues such as race and history with mediums such as human hair and plastic combs—as she did in her recent portrait of hair care tycoon Madam C.J. Walker, currently on view at The Alexander Hotel in Indianapolis.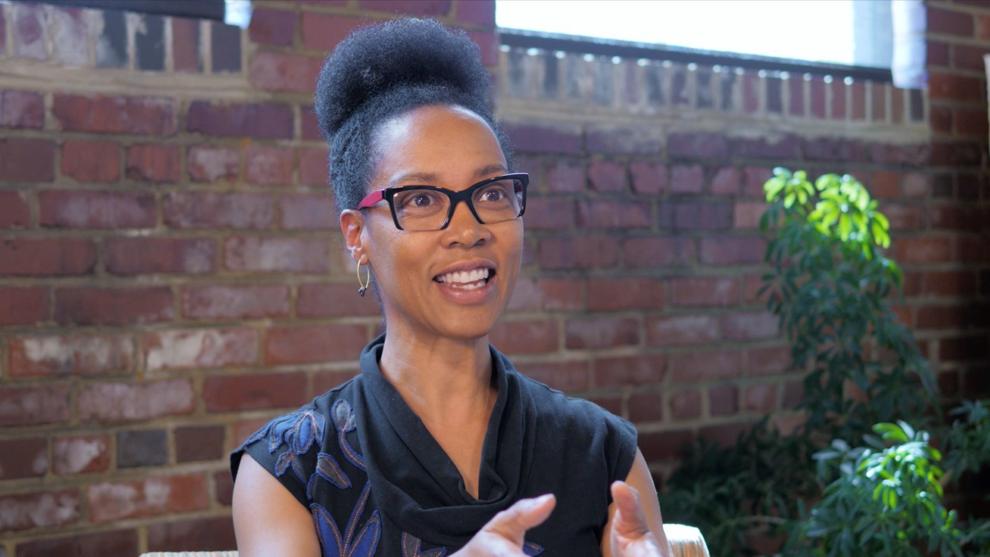 Race also comes up in the work of Philadelphia-based abstract painter Odili Donald Odita, whose wall painting "The Wisdom of Trees" can be seen in the Cummins Distribution Headquarters in Downtown Indianapolis. His assignment for Green's video series was to put one white object near another white object.
"You put together two different white objects and one looks pink and one looks blue," Green says about this particular assignment. "You quickly understand that there's no such thing as white.
"That exercise serves a few different purposes," says Green. "One of them is to help you pay more attention, to look more closely. It has metaphorical resonance with race, when you're thinking about, for example, the relativity of color."
With this particular Art Assignment episode, which debuted a year ago, the series came to a crossroads.
"Odili's assignment was the last one that we put out, the 60th," says Green. "And his assignment was so good, I felt it was a good place to stop for a while."
This doesn't mean that The Art Assignment series itself will pause in its entirety, however. It just means that Green will focus on creating differently-focused videos under The Art Assignment umbrella rather than videos as originally conceived.
In fact, fans of the series will be delighted to know that the original concept has not been abandoned. "We will actually in the next year restart some assignments and then blending them back in," says Green.
The free-to-view series has evolved since 2014. There are now also Art Assignment videos on particular works of art and on art cooking. "The Case For" videos make the case for individual artists and art movements. There are "Art Trip" videos to cities across the North American continent and beyond, and videos that provide a rapid response to developments in the art world.
The pause from the original Art Assignment video structure, however, has to do with developments in the virtual world, namely, with audience demand, something all internet content providers have to look at.
"The funny thing about YouTube is it changes so much every year and what's popular changes," says Green. "A lot of interview-based content doesn't perform as well as opinion-based content. If you look at our video views, for example, the videos where I sit in front of the camera perform better than if I have an artist interview with somebody no one's ever heard of.
"What I'm trying to find through all of this crazy mix of formats," she says, "are different ways to talk to people who won't click on an artist interview."
Perhaps the craziest of formats are the "Art Cooking" episodes. One involved Green cooking live crawfish and then assembling them in a tower after a recipe in Salvador Dali's 1973 cookbook Les Diners de Gala.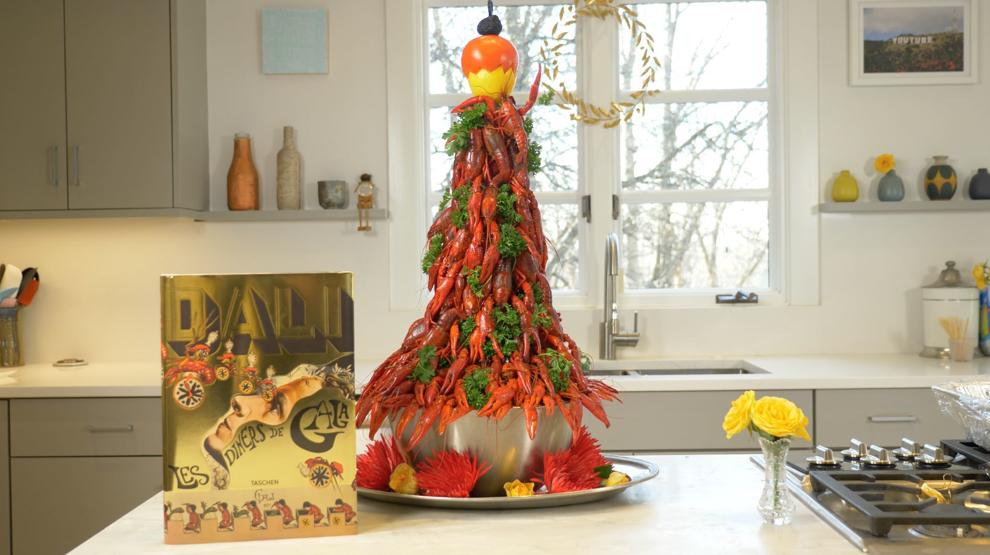 "The art cooking videos are immensely fun to make," Green says. "I've been making educational videos art for several years now. And what I'm trying to do is reach people who aren't necessarily outwardly into art or don't know whether they're into art so they're not going to click on a video that's strictly about art. But if you can present art ideas through a cooking tutorial perhaps they'll be more open to it. I love to cook. And I love to think about that side of art history."
Particularly exciting are the "Art Trip" videos, where Green and her crew, including director Mark Olsen who's been with The Art Assignment from the beginning, visit various cities across the world and check out the art (and the food) at the speed of sound.  Among the cities she's visited are London, Venice, Tijuana, New York City, Los Angeles, Detroit, and Indianapolis.
In her 2016 "Art Trip" to Indy, Green and multimedia artist Stuart Hyatt bike  along the Cultural Trail, visiting the public art and art exhibitions in Monument Circle, Mass Ave, and Fountain Square.
"There were no big surprises," Green says about the episode, "but I did have more fun than I thought I would... We've lived here for over a decade now. And it's a different place. It's a more walkable place. There's more to do downtown. There are more things happening. I feel like the changes are happening faster which is exciting."
In her most recent post, Green breaks down the "Bansky stunt" that involved a hidden shredder destroying a piece at auction. In addition to explaining exactly how Banksy's canvas "Girl with Balloon" self-shredded, Green explains who Banksy is—or rather what is known about this artist and political activist who keeps his identity concealed. She also explains the all-important context of his work, and makes the case for why Banksy is a vital artist.
She's also made the case for Kanye West, calling him "a multidisciplinary, newest-wave artist-artist."
"I may regret that one," says Green. "But I do stand by my argument that his work deserves to be taken seriously even though he acts like a clown and says things that are absurd. I'm not making the case for why Kanye West is the best artist of all time, and I'm not making the case for why Kanye West is an excellent human being."