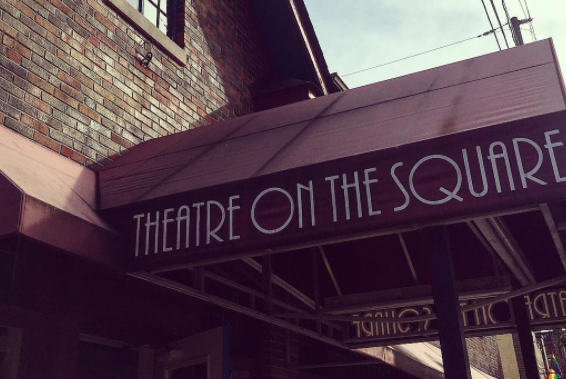 2017 has been an exciting year in the local theater community. New faces, familiar faces, new spaces, and a slew of fantastic shows — from tear inducing, to cerebrally challenging, to rib cracking — have made this year's journey in stories exceptional. Indianapolis's theater scene is thriving, so go ahead and chew off a piece of it. 2018 looks to be even better. New and improved locations and innovative productions — from both established and new companies — are only the beginning. Below is just a tiny glimpse of what has kept audiences engaged and involved this past year.
1 // Mad Mad Hercules, NoExit Performance in association with Zach Rosing Productions
My frequent theater companion Katrina commented, "The number of shows we've been to where people either end up in their underwear or doing weird things with puppets is amazing." And Mad Mad Hercules not only added to that list, in both respects, but also has the distinction of being the funniest effing thing I have seen in years. Years. Local playwright Bennett Ayres crafted one of the filthiest scripts I know of in a way that approached a work of art. The crassness and degradation was no holds barred.
2 // Boeing Boeing, Indiana Repertory Theatre
The show was full of excruciatingly funny lines, most of which were delivered by housekeeper Berthe, played by Elizabeth Ledo (who, in looks and attitude, reminded me of Edna from The Incredibles) and the show's standout, Chris Klopatek. Klopatek, as the nerdy, nervous, clumsy Robert, stole every single scene he was in. But Ledo was right behind him, delivering her character's own brand of snarky shtick. Greta Wohlrabe, as the "aggressive German" Gretchen, was alternately endearing and side-splitting.
3 // The Great Bike Race, Theatre on the Square
Writer-director Zack Neiditch expanded the 40-minute IndyFringe version. Overall, its comedic ride was well worth taking. It's a story about bicyclists racing the Tour de France in 1904, but I assure you, this wasn't the stage version of a historical documentary. The show was full of dirty tricks and sexual innuendo. Plus, there was a stuffed cat a la the Killer Rabbit of Caerbannog. And a cow. And an angry mob of French hicks. The stage was full of crazy-funny insanity. And ah-maze-balls victory dances.
4 // The Gab produced by Zach & Zack, IndyFringe
Chat show-cum-cat fight The Gab features a gaggle of crazy women (and one gay male assistant who keeps talking about makeup sex). These women know how to stir some shit. The show was packed with laughs, low verbal blows, and physical smack downs that kept it rolling until the cameras cut off for the final time. Lots of silly fun.
5 // A Very Phoenix Xmas 12: Up to Snow Good, Phoenix Theatre
I lost all coherent thought when the cast did "Les Miserabelves." I think I got disruptive because I was in the back cackling so much. Cackling. At one point, I think my BFF who was with me was considering CPR. I can't even explain the experience; it was something you had to witness for yourself.   
The not-quite closings, the not-quite open yet, and the Cat!
1 // Theatre on the Square renovations
No, folks, this Mass Ave theater isn't closed forever! It's just undergoing much-needed renovations and repairs. In August, TOTS announced that it is partnering with the Central Indiana Community Foundation (CICF) and other community partners to update the venue. The work is underway, the most recent being structural. The theater is slated to re-open early in 2018.
2 // The Phoenix Theatre's brand-new home is almost done
This has been a much-anticipated, multi-million dollar investment, the planning of which began back in 2016. The move has been backed by a rainbow of donors, only a few of which include the Allen Whitehill Clowes Charitable Foundation, Frank and Katrina Basile, the Christel DeHaan Family Foundation and Lilly Endowment. Demolition of the old Auto Vault building, located at the intersection of North Illinois Street and South Walnut Street downtown, began in February 2017 with a groundbreaking ceremony May 2.
The new building promises to increase the quality of shows and experiences for all involved. The 20,000-square-foot new building will be the first new freestanding theater built in Indianapolis in the last 100 years. Spaces include a proscenium theater and a configurable black-box theater. New amenities include a grand lobby that opens onto the Indianapolis Cultural Trail and free parking. The new location will open in April 2018 with expanded programming.
3 // The Cat opened in Carmel
The Cat, the newest theater and multipurpose venue in Carmel, took over the now-closed live-music venue The Warehouse in February of this year, and its first performance was in May. The theater has seven resident theater companies, including five brand-new ones, and rents out the space for others performers. The theater's focus is to serve the greater Indianapolis area.