The Arts Council of Indianapolis kicked off the 2019-20 arts season on Aug. 30 at the JW Marriott. Highlights of the 33rd annual Start with Art luncheon included remarks by Indianapolis Mayor Joe Hogsett, and his enthusiastic dancing with the children of Kids Dance Outreach in the moments before said remarks.
In his keynote address, Xavier Ramey, CEO and lead strategist for Chicago-based social impact consulting firm Justice Informed, passionately emphasized the importance of the arts in promoting diversity. The topic also was highlighted in several presentations.
"This spring at CICF we introduced a new mission and a new strategic plan called Inclusive Cities," said Brian Payne, president and CEO of the Central Indiana Community Foundation. "And we are embarking on a multi-generational body of work to create equitable opportunity for all individuals, no matter their race, place or identity. And to dismantle systemic racism in Central Indiana in the arts. We know that the arts play a very critical role to that big goal."
The two recipients of the Robert D. Beckmann Jr. Emerging Artists Fellowship also were announced at Start with Art. These grants of $3,500 go out to recipients across the arts spectrum on an annual basis. The two winners for 2020 are poet and spoken-word artist Manon Voice and musician Joshua Thompson. 
Thompson will use the fellowship to travel to Boston to study with Smithsonian research fellow Bill Banfield at the Berklee School of Music.  
"This fellowship will provide me with the performance and organizational resources needed to continue and elevate my current work as a specialist in classical compositions written by people of African descent," Thompson wrote in a Facebook post after the event. "I am incredibly grateful for this once in a lifetime opportunity!" 
Voice, who performed a spoken-word piece highlighting the depth and diversity of the Indianapolis art scene, will use her fellowship funds to travel to important sites relating to the life of Jalal al-Din Muhammed Rumi, the Sufi mystic poet of the 13th century in Turkey. 
The Council also announced the 2019 ARTI Awards, which recognize contributions to Indianapolis arts in the spheres of business, philanthropy, arts education, equity and impact.
Shannon Linker, vice president of the Arts Council, began the ARTI Awards presentation by recognizing Kroger Inc.'s contribution to the artistic community for its taking over title sponsorship of the Indianapolis Symphony Orchestra after the dissolution of former sponsor Marsh Supermarkets.
The 2019 Small Business ARTI Award was awarded to Tea's Me Cafe Indy for its innovative business model that incorporates book clubs, open-mic nights and art exhibitions, and for aiming its events toward young artists and African-American artists. Tea's Me is owned by former Indiana Fever star Tamika Catchings.  
The 2019 Larry Hurt Excellence in Arts Education ARTI Award was given to David Newman, Fine Arts Instructional Coach for Indianapolis Public Schools, for his work with the Any Given Child Indy Program, which brings arts organization resources to IPS students.
The ARTI Awards themselves were designed by Beatriz Vásquez, a 2018 High Art billboard and Creative Renewal Arts Fellow winner whose specialty is the traditional Mexican craft of papel picado (cut paper). 
Vásquez has lived in Indianapolis for close to 25 years. She was born and raised in the border town of Brownsville, Texas. But she also has spent time on the other side of the border, in Matamoros, Mexico. "My family, for generations and generations, we have been stepped on in so many ways," she told NUVO. "Now I feel that I have a platform to where I can actually speak out." 
Volunteers also were recognized, including Martha O'Connor and Greg Henneke for their patronage and support of The Cabaret and the Phoenix Theatre, and Joyce Rogers for her leadership role in the restoration of the Madam Walker Legacy Center.   
The 2019 Full Creative Life For All Award was given to Flava Fresh Contemporary Arts Series, headed by D. Del Reverda-Jennings. The Flava Fresh series displays group shows with an emphasis on artists of color in Indianapolis venues.
The 2019 ARTful Impact ARTI Award was given to the Women's Fund of Central Indiana, which was recognized for its $750,000 gift to Asante Children's Theatre. The grant will support the Sankofa Paradigm Program, a therapeutic theater program for girls at the Boys & Girls Clubs of Indianapolis.  
The public at large can participate in a "People's Choice Award" to choose their favorite of the 10 artists chosen for the 2019-20 High Art Program, which is supported by the partnership of the Arts Council of Indianapolis and Reagan Outdoor Advertising.
Featured on a rotating basis, each artist's work is depicted on billboards throughout Marion and surrounding counties.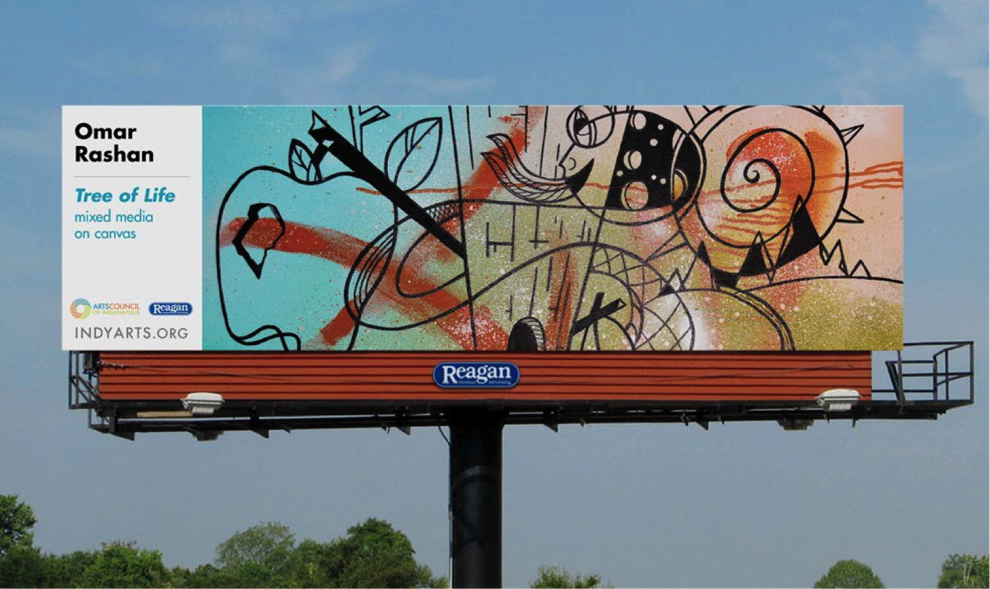 The 2019-20 artists are:  
● Jenny Ambroise.
● R.A. Buys. 
● Pheary Heak. 
● Mallory Hodgkin. 
● Eric Lubrick. 
● Omar Rashan. 
● Rebecca Robinson. 
● Nick Smith. 
● Charise Tallent. 
● Danielle Winger.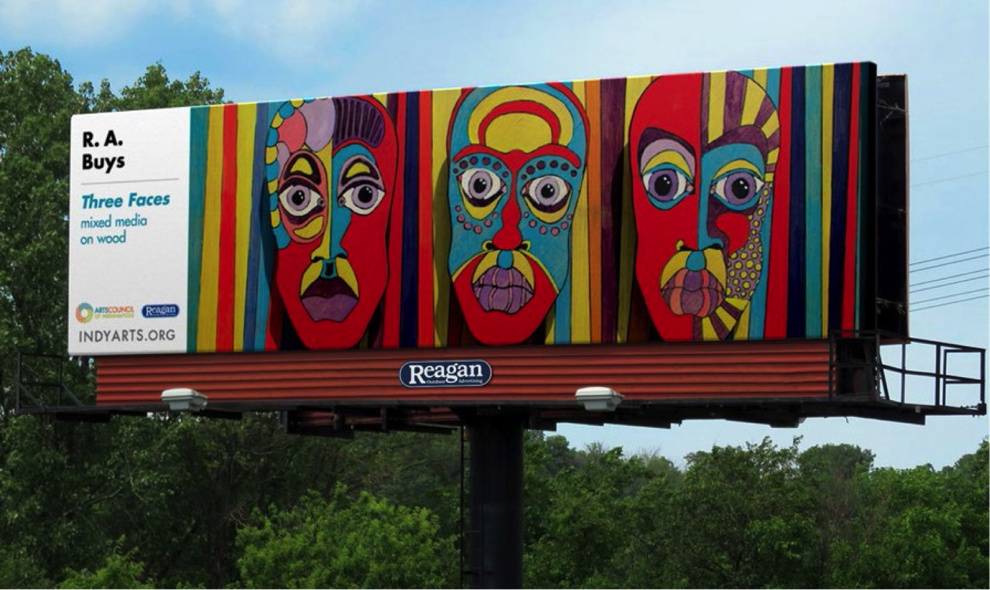 You can catch the work of High Art artist Omar Rashan at Tea's Me Cafe until Sept. 15.
Also mentioned at Start with Art is the forthcoming DeHaan Artists of Distinction Group Exhibition at Gallery 924 featuring artists awarded the DeHaan Artist of Distinction Award in 2018, which will include Anila Quayyum Agha, Artur Silva, Kassim Norris, Stefan Petranek and Corey Robinson. The exhibition opens with a reception on the Sept. 6 First Friday, 2019 and runs through Sept. 27.