On Sept. 3, Indianapolis artist Stuart Hyatt dedicated the functional sculptures, at the IUPUI campus along the White River, that he designed to house bats. The houses, says Hyatt, are now occupied.
"We have evidence that all three have been inhabited because of their guano they're dropping," says Hyatt. "I personally saw one in one of the houses last week. ... I'm going to get out there one of the evenings with a good camera lens to film as the sun sets to see if any bats emerge and also bring my detectors, which will be able to tell me which species they are."
Hyatt, as part of his ongoing storytelling project with the IUPUI Arts & Humanities Institute, with the support of The National Geographic Society, is making field recordings of bat echolocations that will become part of a forthcoming album of contemporary music with many human collaborators under the title Ultrasonic: Making Music with Endangered Bats. 
"I think of these little dudes as my as my bandmates," says Hyatt. "Most of their sounds are that which we cannot hear. They communicate in ultrasonic frequencies. To hear them and to make music with them, you have to go through this outlandishly complex technical procedure to bring all of that into our range of hearing."
Hyatt, who has just been named a National Geographic Explorer for his work, has rounded up many musical collaborators for Ultrasonic, which is similar to how Hyatt made his previous Field Works recordings.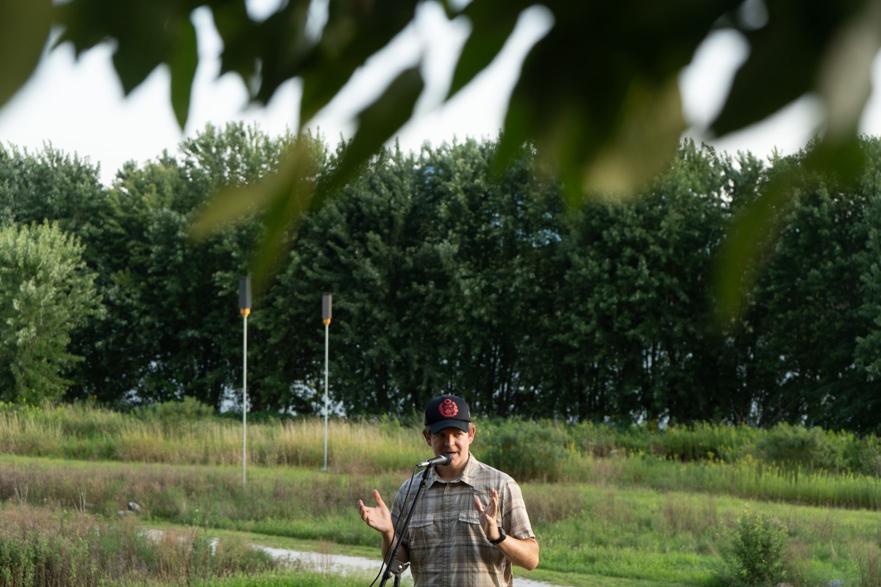 These collaborators and contributors include Eluvium, Christina Vantzou, Sarah Davachi, Ben Lukas Boysen, Machinefabriek, Mary Lattimore, Felicia Atkinson, Noveller, Chihei Hatakeyama, John Also Bennett, Kelly Moran, Taylor Deupree, Jefre Cantu-Ledesma, Julien Marchal, and Player Piano.
Ultrasonic, which will be pressed to vinyl as a double album, should arrive in the spring of 2020.
"I'm personally only creating a very small percentage of the music," says Hyatt. "The collaborators and contributors are far and wide. And until we get until we get the vinyl in production, you won't know the exact release date." 
After members of the public were able to witness the functional sculpture dedication on Sept. 3., as part of an IUPUI Welcoming campus event, sponsored by the IUPUI Arts & Humanities Institute, they then took a bus out to Sodalis Nature Park in Plainfield, where anyone who wanted could listen to the bats themselves using ultrasonic bat detectors.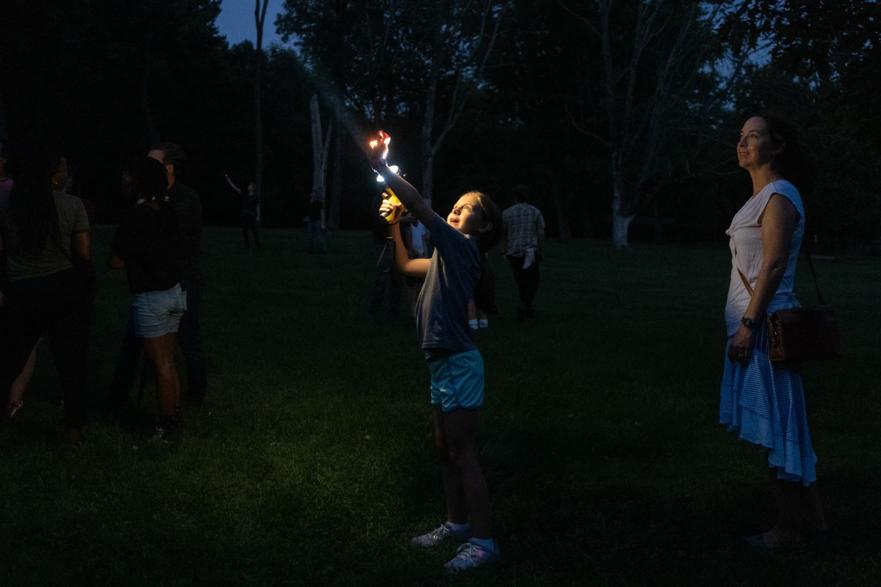 The nature park is named after the bat species Myotis Sodalis, which is endangered. The aim of Hyatt's project is to bring attention to the plight of the species and its habitats.  
"We had the actual scientists and students who are studying these bats out there to lead the public on these little mini-tours," says Hyatt. "It never gets old turning on a detector and hearing the sky explode. If you've never done it, the first time is truly a magical moment. Both adults and kids ... the smiles just are super contagious."