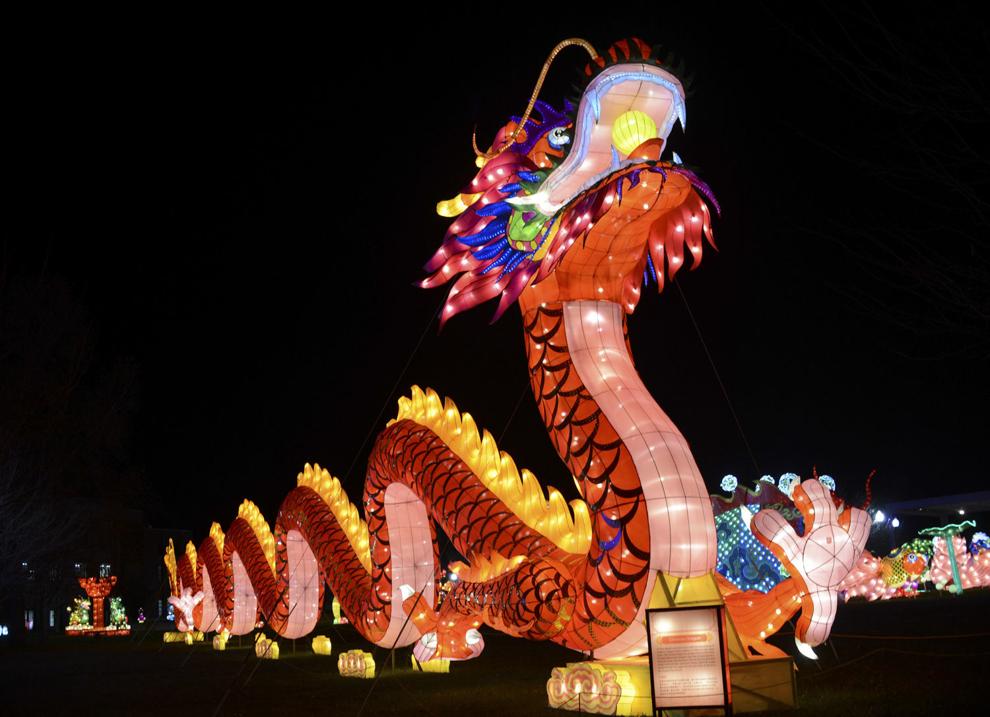 There have been few bright spots in 2017.
Toxic tweets; vicious partisan battles; rising tides; actual real-life Nazis. So, to fight all that darkness, NUVO went searching for something to illuminate the last month of this venomous year — literally.
Apparently, Indy's event-planners are on our same wavelength, because Indy is chock-full of locales ablaze this month. Join us on a tour of six luminous installations, plus a handful of cracking holiday shows. Feeling similarly exhausted by the noxious milieu of this year? Grab a mug of something warm — and hopefully spiked — and flip through a gloriously non-political batch of shimmery stuff.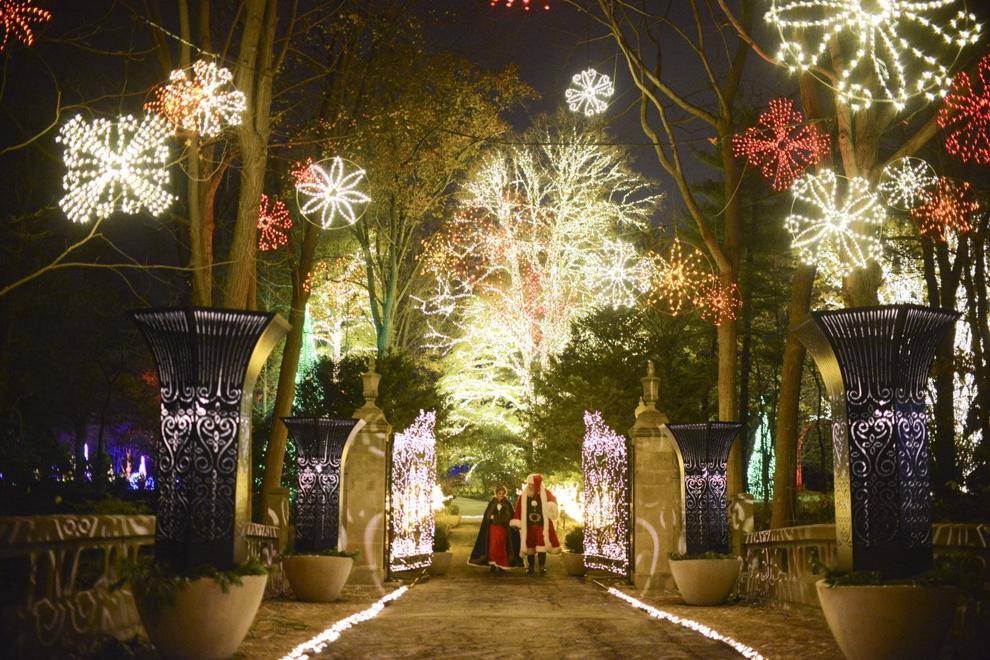 When // Through Jan. 7, 5 p.m & 7 p.m.
Where // Newfields (formerly the IMA)
Tickets // $12-$25, $8-$20 members, 20 percent off if ordered online.
There's this scene in Akira Kurosawa's film Dreams, where the dreaming protagonist is walking through a museum gallery and steps into the Vincent Van Gogh painting "Langois Bridge at Arles."
That's how I felt when stepping over the Snowflake Bridge into Winterlights at Newfields (aka Lilly Garden at the Indianapolis Museum of Art) in the early evening of November 16, just after nightfall.
Even though it looks like a cinematic dreamscape — more akin to Van Gogh's "Starry Night" than "Langois Bridge" — this extravaganza of lights is a very real thing.
After the bridge, with its huge snowflakes suspended overhead, came the Frosted Forest with its many glowing Christmas tree displays — and a number of large deciduous trees decked out in white bulbs.
Then there's the Landscape of Light surrounding the Lilly House, where the grounds themselves are lit up with multicolored lights that seem to dance with the music with which they are choreographed. On the night I visited, the music was Tchaikovsky's The Nutcracker Suite.
The lyrics in my mind, however, weren't quite in sync with the evening. They were from a Lou Reed song, "Open House."
"Fly me to the moon/fly me to a star/but there's no stars in the New York Sky/They're all on the ground."
It's part of Reed's song cycle Songs for Drella, commemorating the death of Andy Warhol.
One particular work of art Andy Warhol might've been amused by at Winterfields is "Playtime Indy," a 40-foot-high holiday tree made by artist Karl Unnasch in 2015 from all kinds of toys, including kiddie pools, and lit from the interior.
Then there's the Lilly House. This is the house occupied by Josiah K. Lilly and family from 1932 until his death in 1966, and donated to the Art Association of Indianapolis along with the surrounding property in 1967. (This would become IMA — now Newfields — grounds). It was restored in the early 2000s to serve as a house museum and opened as such in 2002. It will be open to the public for the duration of the Winterlights run.
The most impressive thing to me walking through this French chateau style house, built in 1913, were the library shelves full up to the ceiling with books.
I met up with my daughter Naomi and her mom. Naomi had noticed Mr. and Mrs. Santa Claus wondering around, greeting visitors, on leave from their yearly logistical gift-giving nightmare.
But Naomi, 13, expressed concern that, if there were two pairs of actors playing Mr. and Mrs. Claus at Winterlights and they happened to cross paths, a young child might happen to see it.
"The kid would be very confused," she said.
I was more interested in getting myself a hot spiked cider than tracking down Mr. and Mrs. Claus. And that's exactly what I did at one of the stands offering such amenities. Then I warmed my hands at one of the wood-fired warming stations strategically located throughout the grounds (s'mores are available for those so inclined).
The price for drinks along with tickets to get in could set you back say, $50 or more if you're a family with kids coming to the Winterlights.
One might ask, then, is the Winterfields concept based on a sustainable business model? That is a question that will be answered at least in part by attendance numbers in January, after its inaugural run.
I ran into Gary Stoppelman, the Deputy Director of Marketing and External Affairs and asked him to sum up the Newfields experience, in a few words.
"The whole point is a new holiday tradition here, much as if Mrs. Lilly herself had dreamed it up," he said.
Laying down and hanging the 1.2 million lights, he told me, had begun in September.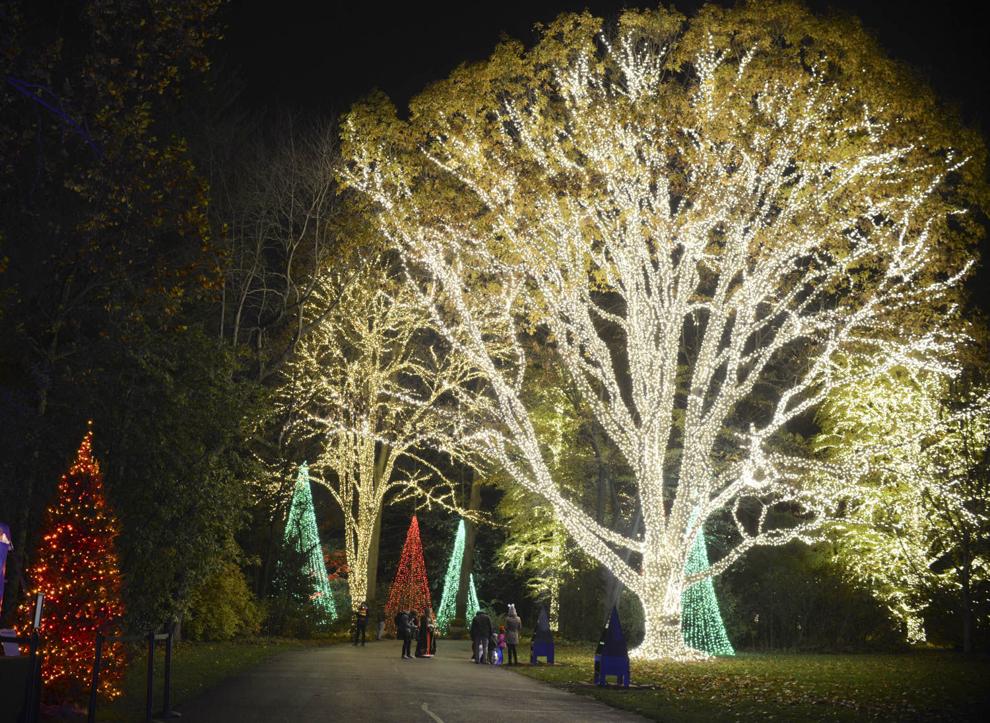 The concept of decking out gardens with bazillions of Christmas lights isn't exactly new. It has been successful elsewhere both abroad and in the U.S. I asked Stoppelman if he expected the same kind of success here.
"This is traditionally a low time for gardens and yet [for many of] the gardens around the country that have helped us and guided us. It becomes their peak seasons," he said. "So we're just hoping that this attracts a new visitor who's looking for something new to do this holiday season. And to think of Newfields as not just an indoor experience, but as a place where little kids can run, a place where mom and dad can actually have a drink as they stroll."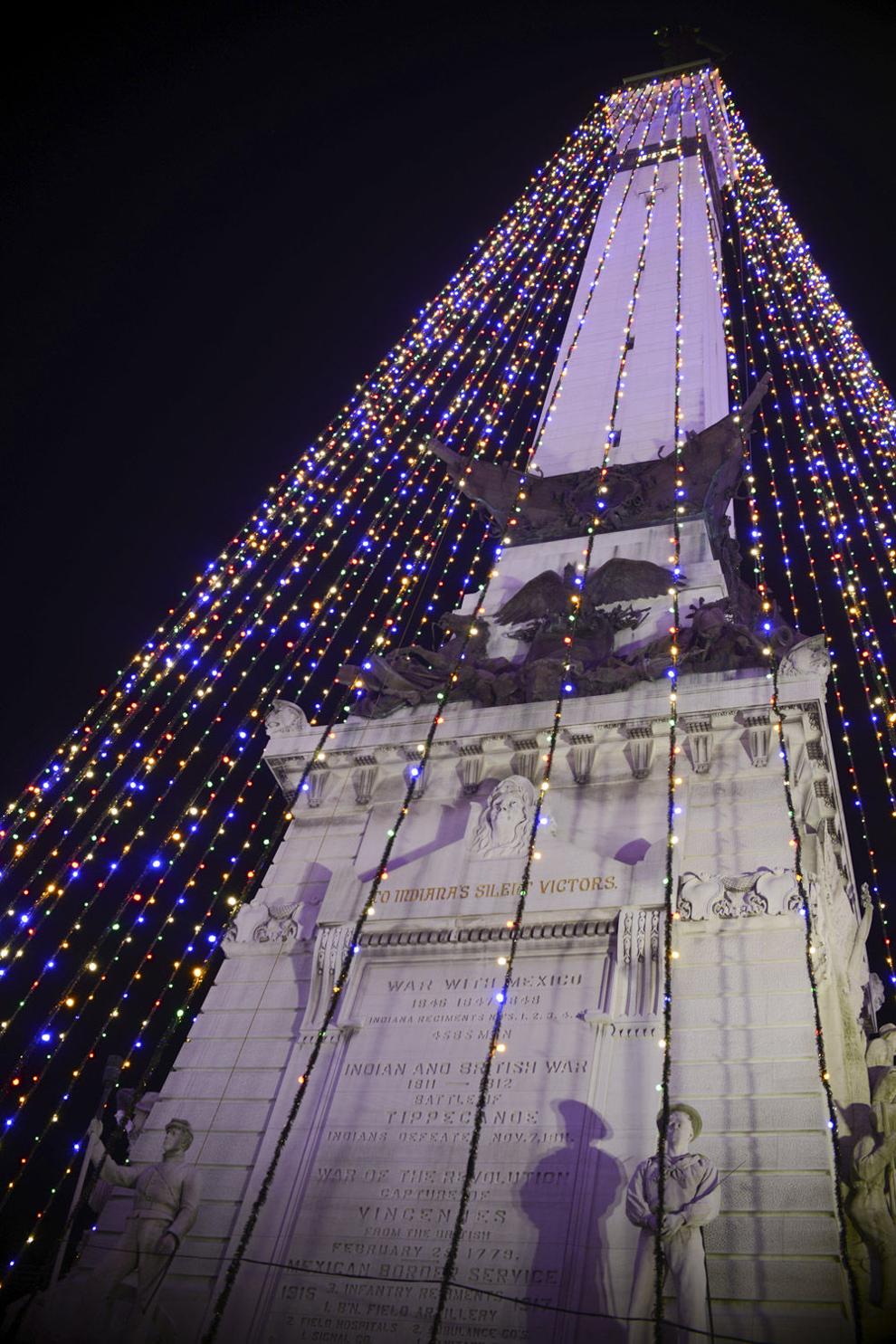 When // Every day, all day
Tickets // Free, all-ages
You know it. You love it. You peep it every time you drive down Meridian or Market. But did you know that this year the lights are all LED? Yup, it's an even brighter Monument Circle.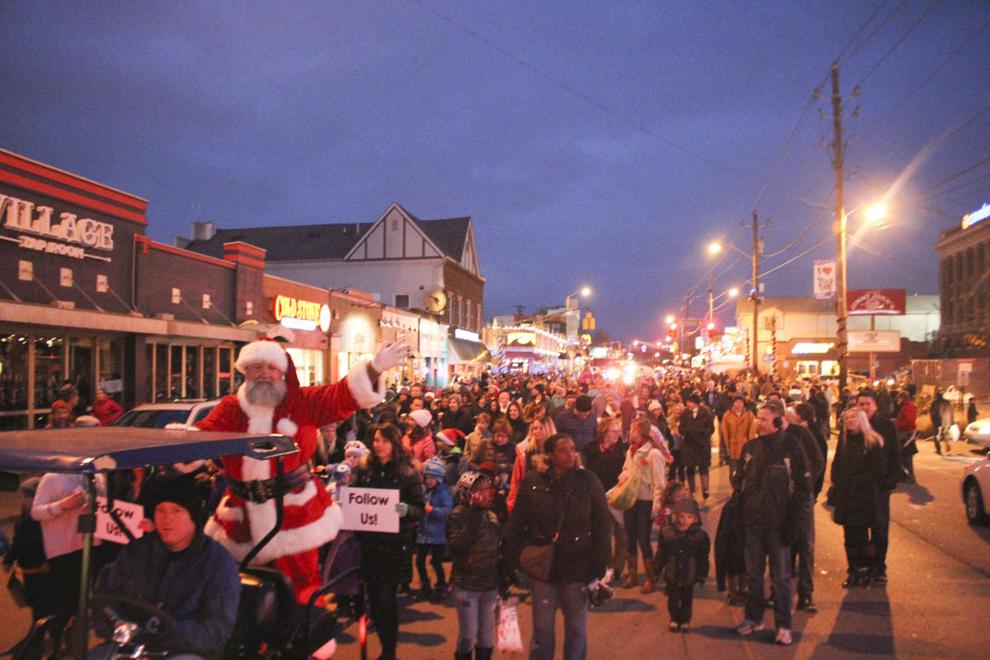 When // Dec. 3, 3 p.m. - 7 p.m.
Where // Broad Ripple Village
Tickets // Free, all-ages
Compared to some of the other more extensive installations on this list, Broad Ripple's one-day holiday fest and light parade may fall a bit further down your list. But consider this my plea to bump that up. First of all, this event is freeeee. (Sorry, Newfields, but nothing beats free, says your local free-weekly editor.) Second, a parade of lit-up vehicles parading around Broad Ripple Avenue en route followup (or replacement) to the Circle of Lights ceremony that is oft-mega-packed and impossible to park near — and already over.
Festivities kick off around 3 p.m. and continue to the lighting ceremony at 7 p.m.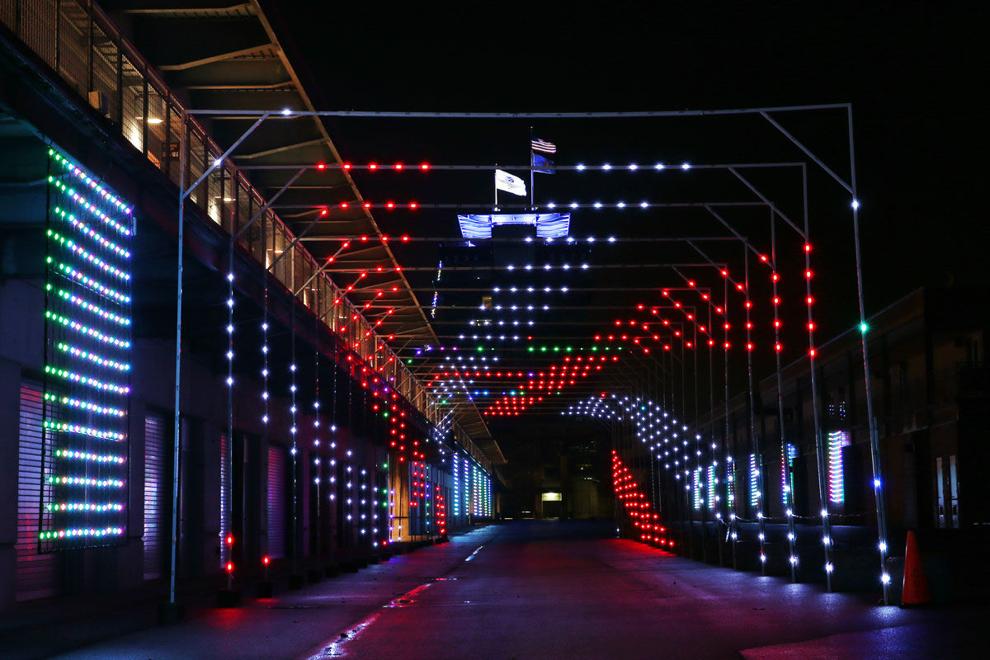 When // Sunday – Thursday, 6 p.m. – 9 p.m., Friday & Saturday, 6 p.m. – 10 p.m., through Dec. 30
Where // Indianapolis Motor Speedway
Tickets // $25-$100 per vehicle, all-ages
Vroom, vroom, friends. From 6 p.m. to 9 or 10 p.m. most nights for the next month, you can get in your very own racecar (read: CRV) and Helio Castroneves your way over the Yard of Bricks. For two-ish miles, you'll see 40 scenes, 500 displays and 2.5 million lights, the most of any display in our light guide. Tickets per car range from $25 to $50 or so (more if you're driving a 15+ passenger car).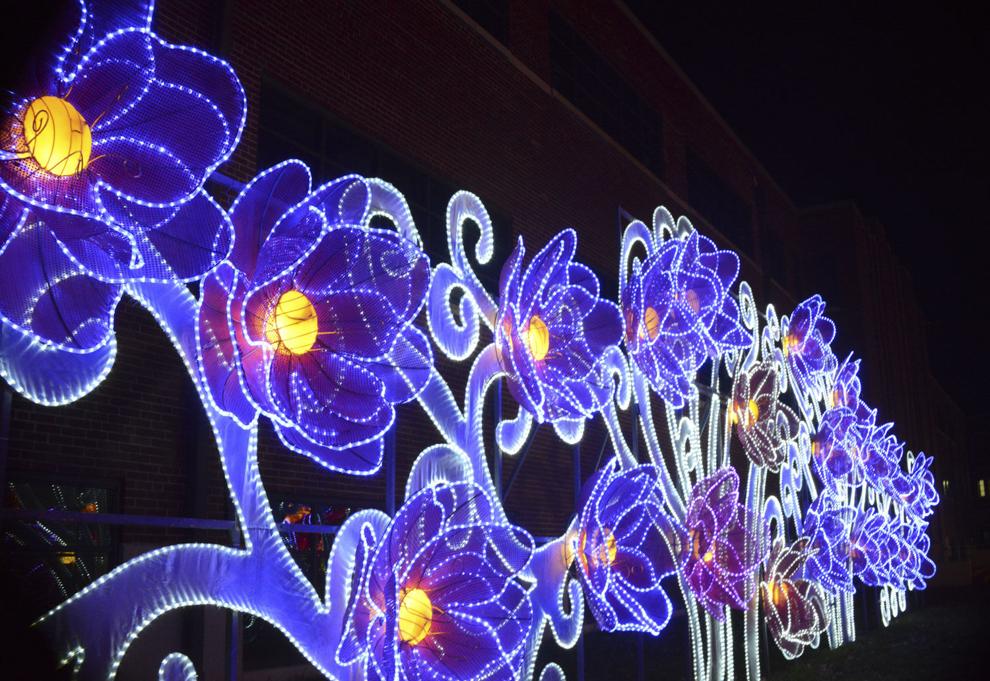 When // Through Jan. 7, 5:30 p.m. - 10: p.m. nightly
Where // Celebration Park at Indiana State Fairgrounds
Tickets // $15 adults, $12 seniors/military, $10 children
To get to the first ever Indiana Chinese Lantern Festival, we had to enter through a very Hoosier covered bridge, albeit one hung with bulb shaped Chinese lanterns.
We — my 13-year-old daughter Naomi, her half-brother Yoel and I — then found ourselves walking under what was inscribed as "the best lantern in the world," in the form of an archway or paifang (牌坊), the kind of commemorative archways that exist all over China. But this interior-lit archway, didn't define the border to some faraway Chinese city, of course, but the border of the State Fair's Celebration Park, now lit up at night in a rainbow of colors.
We visited on a Saturday night.
While the Indiana Chinese Lantern Festival is the first such lantern festival in Indianapolis, it stems from a tradition stretching back more than 2,000 years according to Jessie Li, event manager with Tianyu Arts and Culture, Inc.
"The lantern festival starts from a very old dynasty, the Tang dynasty," Li told me earlier this month. "It was a festival for people to enjoy and celebrate. And then it became a tradition in the Chinese New Year. So where I come from, where our headquarters is, it's a city called Zigong [Sichuan Province] We have the biggest lantern festival every Chinese New Year, in China. So this is where it starts, where it comes from. So actually the lantern festival industry has become a big industry in my hometown."
The first set of the 33 sets of handmade, interior lit — lit by LEDs — lantern displays that we encountered were in the form of leopards.
"Leopards are one of the fastest creatures in the world," I said, reading the placard in front of the display for the benefit of Yoel. "They have the ability to run up to 36 m.p.h."
And although these leopards were stationary, it was possible to imagine them running across the plains of sub-Saharan East Africa, their habitat.
And then we passed through a series of glowing archways entitled the "Funny Monkey Gate," decorated with depictions of funny looking monkeys holding their bananas.
Indiana Chinese Lantern Festival
Indiana Chinese Lantern Festival at the State Fairgrounds runs until January 7.
Some of the creatures we went on to encounter were larger than life — sometimes much larger than life — as in the case of the jellyfish, monkeys, terra-cotta warriors and frogs on waterlilies. Sometimes they were smaller than life like the display of dinosaurs. But with the large dragon stretching 100 feet … well, it's really impossible to tell.
And of course this particular glowing-red dragon with the sleek S-curve shaped shaft of its body receding into the night, caught Yoel's attention.
I read the placard: "The Chinese people are proud to be called the descendants of dragons. Dragons have a history in China stretching back over 8,000 years. The dragon is a symbol of luck and fortune…. The Chinese believe that dragons have lots of super powers. They can jump into the sea and fly into the sky and even bring wind or rain… In Ancient China whenever people would pray for a good harvest year, they would go to the Dragon King Temple."
Then I said, "Now, buddy, you were looking at a dinosaur book today."
"It's speculated that the dinosaur bones that the Chinese people saw in the rocks were actually those of dragons," I told him, incorrectly.
Actually, I should have told him that the dinosaur bone discoveries in China were thought to be remains of dragons. My excuse? I wasn't paying enough attention to what I was saying because I had one eye peeled for the Lantern Fest's food offerings.
I had somehow imagined a long row of busy cooks with simmering woks, with hanging suckling pigs and squid everywhere, but in fact I only saw three food vendors on site: two of them offered carnival-type food; sausages, popcorn, and candied apples. (Beer is served on the premises after 7 p.m.)
And then there was one lonely food truck offering Americanized Chinese food type staples: I got an egg roll and a pot sticker. Naomi got a milk tea and we got popcorn for Yoel.
It was satisfying, though; my disappointment was erased by my full belly. I do, after all, think that Americanized Chinese food undeservedly gets a bad rap by food snobs. (Where can you get a better bargain than a carton of steaming fried rice from your local Chinese carryout restaurant?)
We got our food in time for the start of the festival's performances. There were hat jugglers, Tibetan dancers, object jugglers — who were twirling and balancing cookware you might find in a Chinese restaurant — and hoop jumpers.
My favorite were the object jugglers, while Naomi's were the hat jugglers. Yoel refused to offer an opinion.
Afterwards, Yoel, who can be a pretty impatient six-year-old, wanted to make sure we saw every single display of lanterns in Celebration Park. So did Naomi. And so did I.
Each of the intricately designed glowing lanterns, after all, was in itself a work of art. And worth a look.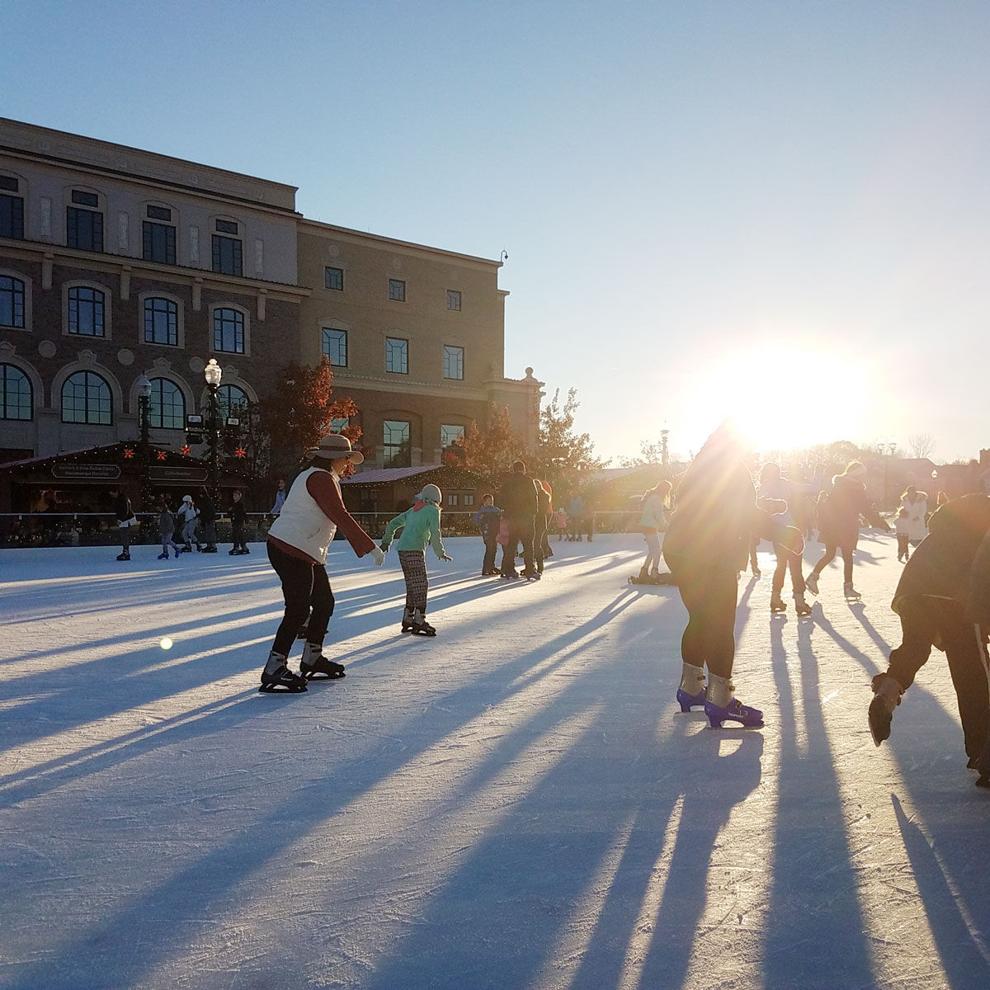 When // Through Dec. 24, closed weekly on Mon. & Tues.
Where // 10 Center Green, Carmel
Tickets // Free for market, but cost for skate sessions
Christkindlmarkt can be found smack between the Tarkington Theatre and the Palladium at Center Green, in the heart of Downtown Carmel. It opened for business Nov. 19, for the first time ever.
This outdoor market with wooden kiosks — with vendors selling everything from Meissen porcelain to Hanukkah menorahs to soft pretzels — surrounds an outdoor skating rink.
And, unlike many other comparable events throughout Indianapolis, there's no fee to get in.
I visited on Sunday, Nov. 26, to try to get a feel for the place. (I had also paid a visit on the night of Nov. 19, when it was all lit up and glowing with Christmas lights, reflecting on skaters' blades and on the ice.)
And I felt distinctly that the place was trying its hardest to be a little slice of Germany.
The Eurocentricity of Carmel's latest attraction is entirely the vision of Mayor Jim Brainard, Carmel's mayor since 1996, who was nowhere around on Sunday as I took a stroll through the market.
Thanks to Brainard, it's pretty damned hard to find a traffic light in Carmel. That is to say he's replaced more than a hundred intersections with roundabouts, a European innovation. The Palladium is likewise based on a European model, derived from the architecture of Venetian architect Andrea Palladio — er, more or less. (I go back and forth myself whether the Palladium more closely resembles a Roman temple or a Cheesecake Factory.) I could go on, but it's no exaggeration to say that Brainard has transformed Carmel.
Of course the mayor might have been there, somewhere in the dense crowd; among the babies in strollers drooling as they took everything in, seated couples warming themselves at strategically-placed-gas-fueled firepits, families munching walking waffles (freshly-made waffles with whipped cream rather than syrup), lots of skaters on the rink, lots of prospective skaters in line waiting to get on the ice (90-minutes skate sessions are available for purchase), shoppers looking for Christmas gifts, and of course, dudes drinking beer. But, alas, I missed him.
I did however come across Crystal Dockery, 36, a woman who was willing to talk to me about why she had come to Christkindlmarkt. She was standing at the ice skating rink watching her 10-year-old son.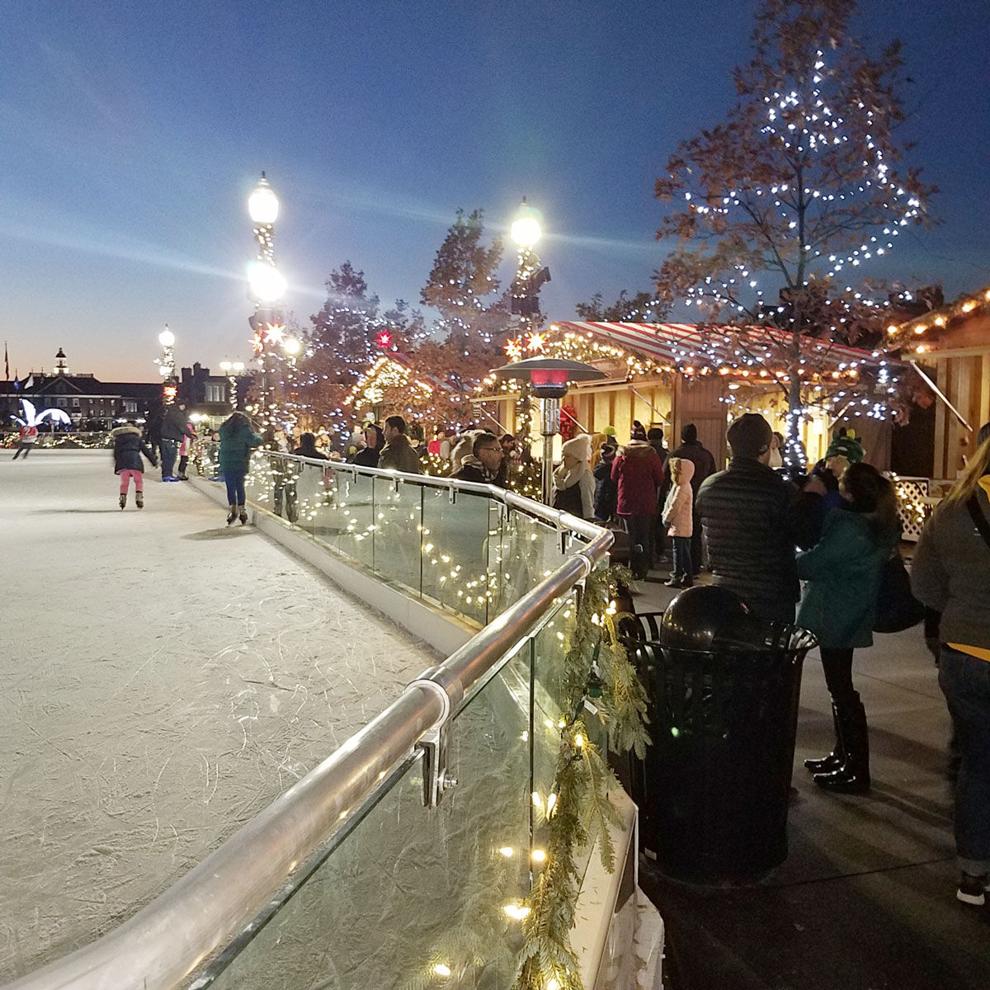 "Well, actually, my husband works for the city of Carmel, and he helped build these buildings," she said. "So we came to check those out and check the German fair out, see what it is like, and they have food. The kids wanted to ice skate of course."
Christkindlmarkt is not just an event but a numbers game: the more visitors it attracts, the more business is transacted, and the easier the 6 million dollars spent on the project by the city of Carmel can be justified. And this event opened just three days after S&P lowered Carmel's credit rating from AAA+ to AA, after noting that the city had accumulated 300 million dollars in debt over the past three years.
I walked up to two uniformed police officers. The first officer, who declined to give his name, told me that attendance for Friday, Nov. 24 was 16,000. The other officer just so happened to be Lieutenant Joe Bickel, who was the Carmel Police Department's information officer.
I asked him why he thought people were attracted to this event.
"It's something new, something different," Bickel said. "Carmel has a ton of events throughout the year. Usually when it gets towards the wintertime there's not a lot of events happening. So this is a good way for people to experience German culture, food, and people love to ice skate ... It has that attraction too. I think it will be busy everyday it's open."
We talked some more, about visitors coming up to them and saying how it reminded them of being in Germany, about how he thought that Christkindlmarkt would draw visitors from all over Central Indiana and beyond, not just Carmel.
And then Bickel mentioned another feature of Carmel that also rings true about outdoor events in Carmel in general.
"And what I like about Carmel," Bickel said. "There's no such thing as paid parking in Carmel."