"Call me Swankie or a Tech Titan, whichever you prefer," said Charlene Swankie, who appears beside Frances McDormand in the acclaimed new film Nomadland.
 I said OK and launched into my first question.
But Swankie wanted to talk Titans. She started to answer my question but stopped and changed the subject.
"By the way, I went to Tech High School in Indianapolis." As in Arsenal Tech. It was as if she thought I had missed something when she mentioned the Tech Titans, and perhaps she was right. And then she said, "I named them the Titans."
I didn't see that coming.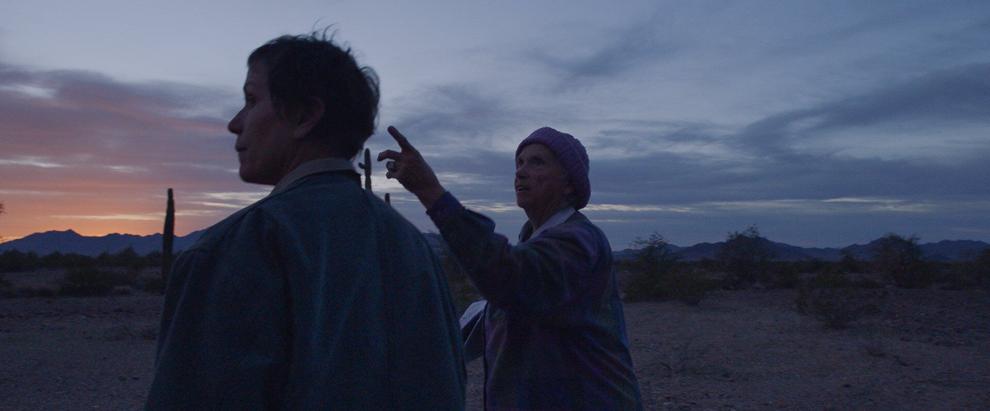 "I named them the Titans," she said, repeating herself to make sure I was on track.
"You named them the Titans?" I asked. "How does that happen?"
"They used to be the Greenclads, whatever that is," said Swankie, speaking to me via Zoom from her home, a 2006 Chevrolet van, somewhere in Arizona.
Remind me, who is Charlene Swankie?
Charlene Swankie has been living the vandwelling life since 2008. We see her —  playing a character mostly based on her life —  in Nomadland, the recently released film directed by Chloé Zhao, starring Frances McDormand, and based on Jessica Bruder's account of modern-day nomads who took to the road following the 2008 recession.
I know a good story when I hear it, and I also appreciate good videography when I see it. Nomadland offers both, along with captivating characters like Fern, Bob Wells (of Cheap RV Living fame), Linda May, and of course, Swankie.
When I learned that Swankie's character in Nomadland was based on a real vandweller, I was so compelled by her character's stories — especially the part about the swallows nesting over the river—that I looked her up on the internet … spoiler alert! … to find out whether she had indeed died, as she did in the film.
Apparently, I wasn't the only one! Others had done the same. I found the Swankie Wheels Facebook page and the Swankie Lives blog. Swankie is very much alive and well, responding to fan questions. During that search, I learned that Swankie — aka Charlene Beaty, her maiden name — has been researching genealogy and collecting rocks, and I discovered that she grew up in Indianapolis. Hence the reason I was talking with her.
She was born in Florida, then her family moved to Indianapolis when she was very young. She told me that she lived on the east side, around Washington and Oriental Streets, attended Public School 78 and Public School 14. And she graduated from Arsenal Technical High School in 1962. She wasn't keen on the team name Greenclads.
"I started a cheer block, and I decided I didn't like the word Greenclad," said Swankie. "I sat down and went through the dictionary one night until I got to the word 'Titans,' and thought, 'That goes good with Tech.'"
Swankie wasn't the only one who disliked Greenclads because a "Name the Team" contest was held in 1961. Swankie's suggested name "Titans" prevailed, according to the October 28, 1961 edition of The Indianapolis Star.
A rolling stone gathers no moss
As a young woman whose formative years were influenced by 1950s Midwestern rules and sensibilities, Swankie did what she thought she was supposed to do: she got married and had children. But life got in the way, and things didn't quite work out the way she had hoped.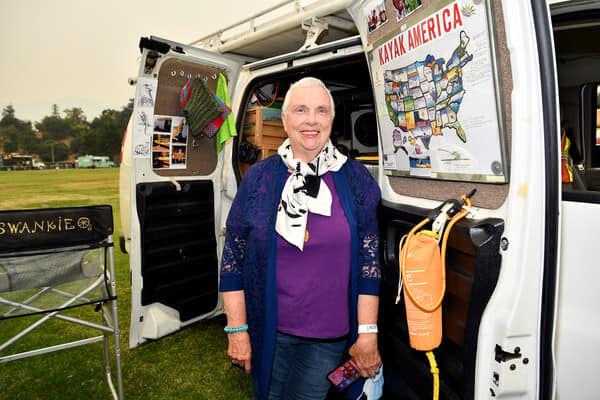 "If you're in a bad situation and don't have a reason to stay in it, then you have a reason to get out of it," said Swankie. "I was in a really bad situation a number of times. It took me a long time to learn how to stop doing that. We're brought up to think that we're supposed to follow the rules and live this Cinderella dream and just endure it."
According to her blog, by the end of the 1970s, she was divorced with two little boys. Wanting to study recreation, she found herself back in Indiana, this time in Bloomington, completing a BS in Recreation in 1980 at Indiana University. However, Swankie's IU experience was not easy.
"I was a single mother, and I was struggling, and I had two little kids to take care of, and I was working part-time and going to school full time. I didn't know which way was up most of the time," said Swankie.
In 2001, she married David Swankie. However, he died shortly after they were married. As heartbreaking as this was, Swankie said he left her with good health insurance, which she said she'll have for life.
Van life … and kayak life
By 2008, Swankie had launched her nomadic life and her Swankie Wheels blog, which documented her adventures. She said she would have gone fully mobile in the 1990s, but she said she didn't have the necessary technology.
The living space inside her van solar-panel-topped van is about 5' x 10', including the bed and a poster of the United States illustrating the places she has paddled. On her blog, she introduces herself like this:
"In 2006, I was shopping for a wheelchair. By 2007, I had new knees, better health and by 2008 a kayak. In Aug 2013, I kayaked my 49th state, Alaska, at the Holgate Glacier and in May 2014, I kayaked Hawaii, my 50th state, to celebrate my 70th Birthday and the finale to the wonderful adventure of Kayaking America?"
As Swankie spoke to me, I saw a Kayak America sticker on a bulletin board behind her right shoulder. She has kayaked every state, beginning with California in 2008. It was the kayak that brought Swankie back to Indiana in August 2011. She put her kayak in Lake Monroe, officially logging her 35th state paddled. Unfortunately, the White River wasn't part of her paddling plan.
"When I was there, it wasn't water that you wanted to get in," said Swankie. However, she acknowledged that the river was in much better condition now than in the 1960s.
When asked whether she might return to Indiana, Swankie said, "I won't be returning. I'm not going east of the Mississippi again."
She added, "All the relatives who lived there, except for two nephews, have left the state. There's nobody left — they've either died or moved away. There are still some classmates around; some of them are on my Facebook."
And Now Hollywood life … or not
Swankie will be the first to tell you that she's an introvert. So much so that if she doesn't want visitors, she'll hang a skull and crossbones flag on her van—just like she did in Nomadland. When Bruder documented the life of vandwellers in her book, Nomadland: Surviving America in the Twenty-First Century, Swankie was among the nomads interviewed. When McDormand teamed up with Zhao to produce the film, naturally, they included Swankie, mostly as herself — except the part where she dies and her friends toss rocks into a bonfire in remembrance of her.
"I didn't like pretending, acting that I was sick and dying because I'm not sick and dying," said Swankie. "I'm very healthy and strong." Otherwise, she said the Swankie character in the film wasn't acting.
While the circumstances that brought Swankie to the nomadic life are different from those portrayed in the book and the film, the celebrity life was not part of Swankie's plan — "you're asking an introvert if they want to do 10 interviews in one morning?!" Swankie said the film hasn't changed her life.
"I don't intend to let it change my life. I was perfectly happy with the way I had things before the movie, and I'm probably going to continue to do things the same way after the movie," she said. Furthermore, she said she would be true to the film scene where she describes her exit.
"I'm not going to end up in a hospital and die in a hospital bed," she said.
As much as the celebrity life has thrown her, even more so than the pandemic, the two supporting actress award nominations she received were beyond anything she could have imagined. Given that Nomadland has won two Golden Globes and a host of other awards, Swankie is waiting to see what happens at the Academy Awards. And then she'll return to being Swankie.
Some advice before you buy that van …
Living the van life isn't for everyone, especially those with medical issues. And while it might be nice to imagine what life could be like on the open road, Swankie has advice, especially for older women — those who have spent their lives being unpaid wives, mothers, and grandmothers, devoting their lives to their families, who end up with no social security benefits. 
"If you're in that position, think of a way to get income so you're putting into social security or some way that you have something to live off of afterwards because $500 or $1000 a month just doesn't cut it in this day and age. You can't live in a clean, decent place for that amount of money."
For a woman who has endured more than a lifetime of challenges and health issues, Swankie seems to have lived the last 13 years or so comfortably and on her own terms. And probably, that's because she has abided by the advice she leaves with others: 
"Never give up, find a way because you have no idea what might be in store —it could be beyond your wildest imaginings!"