For National Poetry Month we're taking a deep dive into the local spoken word scene. So far we've talked to Devon Ginn of Iconoclast open mic and slam.
We've also talked to Corey Ewing and Tatjana Rebelle of VOCAB.
This time around we're talking to Mariah Ivey, founder and host of That Peace Open Mic, held every third Thursday at Central Library.
Ivey founded That Peace specifically to cater to under-21 spoken word performers who didn't have a whole lot of places to go in the Circle City.  
In addition to being a teaching and performing artist, poet and MC, she is program facilitator at the Peace Learning Center. But perhaps this graduate of Pike High School is best known for her band TribeSouL that our own Seth Johnson wrote about last July.
On Thursday, April 18, That Peace will feature the internationally renowned spoken word artist and author K-Love, the Poet, along with the paintings of Indy native Mechi Shakur at the Center for Black Literature & Culture at Central Library.
We talked by phone on Tuesday, Feb. 5.
NUVO: I'm doing a piece on spoken word in Indianapolis and I haven't had a chance to check out That Peace yet. Can you tell me about it?
MARIAH IVEY:  That Peace Open Mic started four years ago. I started it, in July of 2015. So this year we'll be celebrating our 4-year anniversary. We started it at [Write-On the] Poetry Spot which is right off 33rd and Clifton [streets.] Very small venue, but it's been one of the longest running venues in the city, and particularly one I grew up performing at. So, when I started this space, I wanted to create a space that you didn't have to be 21 to get into because obviously a lot of Indy's art scene caters specifically to the 21-and-over crowd. I specifically wanted to target young people. I specifically wanted to target voices and artists of color and a space where all art forms were appreciated. So that's kind of how it started. From there we outgrew the venue; we literally were packing it out in this small space. We started off with a house band and the full thing. From there, we went onto Fletcher Place Arts & Books and the same thing happened there. We started growing to capacity so we were unable to house the show in the venue anymore because it became way to many people. So, I stumbled across a beautiful partnership with the Public Library, at the Center for Black Literature & Culture specifically.
So, we took our show there literally the month after that space had its grand opening. So we've been there ever since. We've been holding it at Central Library every third Thursday of the month and it's just continued to grow. So now that we're in 2019, we don't just do our monthly show, but now we're doing bimonthly community service projects and other workshops for artists, for artists to actually come and grow: writing workshops; performing workshops; and then we still have our open mic show.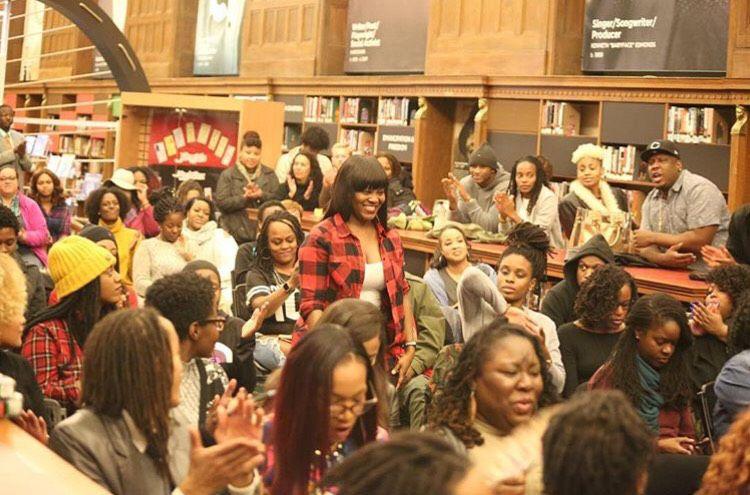 NUVO: What is the difference between poetry and spoken word? Is there a difference? Does it matter?
IVEY: As a poet myself, I personally don't mind if someone calls me a poet or a spoken word artist. To me, they're one in the same, but how I've heard it; is that a spoken word artist taps in more to the performing aspect of it; perhaps a poet is more so a writer but not necessarily a performing poet. So, I've heard it differentiated using those two definitions. To me, they're one in the same.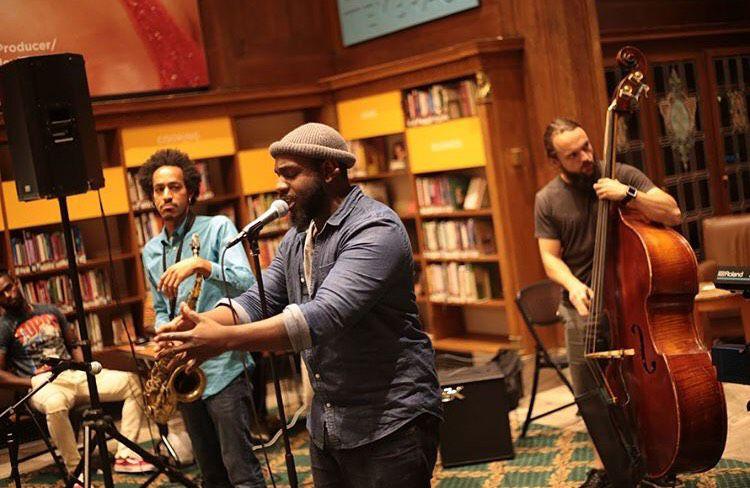 NUVO: Is the open mic pretty much anything goes or are there some rules?
IVEY: Of course, our open mic is open to all. We do have a featured artist every month. That feature we have every month will come in and do a 15-to 20-minute set so out of them we'll just have people who sign up on the open mic list so we mostly get poets vocalists. We've gotten a few dancers; a lot of rappers; a lot of singers so it's mostly that. So, it's always a good mix of people and I've seen just That Peace Open Mic itself has and maybe I'm a little biased because I'm the host and founder of it but I do feel like there is a certain standard to That Peace where people come expecting substance. They come to That Peace expecting something, to be inspired, to be motivated, to feel like family. So, I feel like that's the unspoken standard. A lot of people who perform kind of meet that standard. So rarely do I come across any artist who are not completely inspirational, who are not just great artists. There's just a lot of great talent that comes.  
NUVO: What's the typical age range of participants?
IVEY: We open it to all. I would say our target range is mostly young adults. I would say about 18 to 35 is our main demographic … from junior and senior in high school to young adult, that is our main audience. But, of course, you have elders who come. Every once in a while you'll have younger teens who show up which is awesome: in my opinion. I love having the younger people there, able to be a part of something and grow into it. So, eventually when I don't want to host the open mic anymore we have a younger generation coming up behind us.
NUVO: I'm really glad I'm talking to you because most of the places I've been so far are over-21 venues. Are you guys one of the only under-21 venues? Or, do you know of others?
IVEY: I know Localmotion is all ages. But that's the only other open mic I know of. I know that they do First Fridays [Tea's the Artist] at Tea's Me Cafe, that's specifically youth-read run. And Chantel Massey and Eric Sanders they lead that open mic at Tea's Me. But outside of that, that's all I know of. There's definitely not a lot of us.
NUVO: Do you see incorporating as a nonprofit on the horizon? Is that something you thought about?
IVEY: Yeah, for sure. That Peace Open Mic is in the process of becoming an official organization just because we have so many different aspects of the show and it's becoming an umbrella. So, as I come into contact with so many new artists, I have artists who come up to me and say, "I really enjoy doing this, I really enjoy doing that."... and find a place for it in the open mic. So we have someone on the team who is leading some health and wellness workshops. And we incorporated that into our show by having a health and wellness vendor set up shop in every show that we have. Because we have so many aspects under I this umbrella, we are becoming an official organization, so yes. 
NUVO: Anything else you want to tell me about That Peace?
IVEY: I've really enjoyed hosting That Peace Open Mic. I've enjoyed creating space where different creatives and artists alike can come together and build family and honestly build and continue to creating solid art scene infrastructure here in Indianapolis. I think as an artist coming up there wasn't always a network that you could easily come into; and meet people and thrive and get opportunities and growing opp and things of that nature; I think now we're starting to build that infrastructure that new artists can come into and they have something to do every night of the week. They have workshops they can go to grow-ins and people they can build with who can mentor them as well I'm just excited to contribute to the arts scene. It's where I'm from so I'm just doing my due diligence.