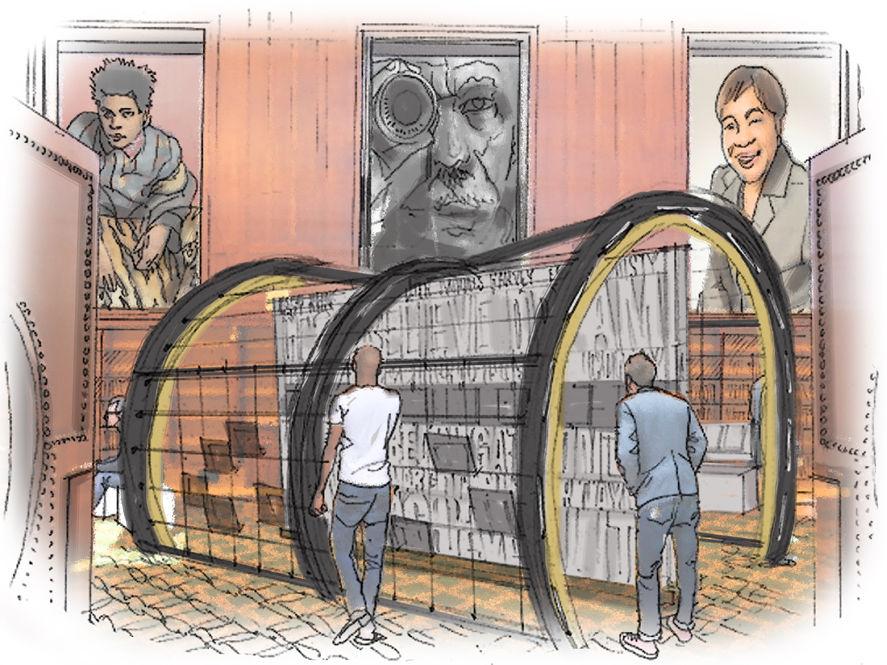 "This is going to be a place for everyone," says Special Collections Librarian Nichelle Hayes about the Center for Black Literature and Culture (CBLC) which will have its grand opening Oct. 21 at the Indianapolis Public Library's Central Library. Hayes has been spearheading the CBLC opening since January, 2017.
"We want this to be a place that is both windows and mirrors," she says. "So for windows — people that are not of African descent — it is for them to learn about that rich heritage and culture. Then for people who are of African descent, they can see themselves reflected in a lot of different powerful and positive ways."
Indianapolis, where 30 percent of the residents are Black, already has venues that celebrate the role of people of African descent. There's the Crispus Attucks Museum in the eponymous IPS high school, the Madame Walker Theatre Center on Indiana Avenue, Freetown Village Living History Museum and the Dr. Martin Luther King Jr. Park Landmark for Peace Memorial.
But the CBLC will be unique among them, offering a new event space, gathering place, and lending library. Approximately 10,000 new and existing works that are available in and through the CBLC will feature authors who span the entire breadth of human endeavor with their writing and/or their subjects.
Ultimately, the 3,800-square-foot space will be home to up to 40,000 volumes, says Hayes.
To get a sense of how to redesign Central Library's RB Annis West Reading Room — which would ultimately be transformed into the CBLC by RLR Associates —  Hayes visited the Schomburg Center for Research in Black Culture, the Center for Civil and Human Rights in Atlanta and the National Museum of African American History and Culture in Washington, D.C., which has seen extraordinary demand for tickets since its opening on Sept. 24, 2016.
The CBLC will offer both exhibitions and programming. Hayes ultimately wants the CBLC to be a destination for not just Indianapolis residents, but for visitors from around the country.
The CBLC features several large portraits of African Americans with ties to Indiana who have had an impact beyond the Hoosier state. Those images include poet Mari Evans, Congresswoman Julia Carson, Judge Tonya Walton Pratt, Tamika Catchings, Tavis Smiley, Amos Brown, Vivica A. Fox, Kenneth "Babyface" Edmonds, and others.
By featuring African-Americans of various backgrounds, both Hayes and Indianapolis Library CEO Jackie Nytes, who herself was inspired by Evans' personal library, hope to encourage visitors to the center to learn more about these figures and their accomplishments.
Hayes says that the CBLC will help the library meet their strategic goals to embrace the city's diverse community and to provide a "third place," a space that isn't home or work, but a place to simply hang out. It will be open to the public during regular library hours.
Hayes says she is hopeful that someone who visits the space will not only check out one work by, for example, Maya Angelou or James Baldwin, but to want to read all of their works or the works of contemporary African-American authors [such as Ta-Nehisi Coates and Nathan McCall].
Nytes adds that there will also be opportunities for teachers to bring their students to the CBLC as part of their regular library field trips or as motivation for additional field trips.
As for programming, the grand opening from noon to 3 p.m. on Oct. 21 will feature journalist and political commentator Rolan Martin. However, Hayes says, that event will not be "one and done."
On Nov. 18, the CBLC will host Fall Fest '17, including the teen Slammin Rhymes Challenge XII, a poetry competition for middle and high school students. It will also feature syndicated cartoonist Robb Armstrong, who created the "Jump Street" comic strip. 
In February 2018, the CBLC will be the venue for the 30th anniversary of the library's Meet the Artists series, presented by the Library's African-American History Committee, who has also been instrumental with the CBLC's creation. While past Meet the Artists exhibits were featured throughout the library January through March as a way to celebrate Black History Month around February, the artwork for the 2018 event will be on display throughout the year in the CBLC.
Other events for the CBLC are also in the pipeline for 2018.
"We've been really blessed to find some of the partners in this city we have," adds Nytes, a former city-county councilor for predominately African-American communities in Indianapolis. "Lilly endowment immediately understood and stepped up with five years of funding for the Center. RLR Designs has been so thoughtful in helping us figure out how to make it more than just a room of books."
Hayes hopes that visitors to to the CBLC will leave with this takeaway: "Black history is American history is world history," she says.
Hayes cites one glaring example of African-Americans not getting their due for their achievements: the Black women who were crucial to the space program but not mentioned in the historical narrative. This story is chronicled in Hidden Figures (both the book and the film).
The CBLC goes beyond diversity, she says. "It goes to equity and inclusion," she says. "We want to be a place to have dialogue, discourse, and understanding."