Steve Sanner, CEO and founder of Jiffy Lube of Indiana, decided back in 2016 to cover the graffiti on the Broad Ripple store location. He commissioned local artist, Ethan Culleton, to do the work. Over the span of a few days, "Harmony" was painted with the help of community volunteers. The result is an expression of diversity, beauty, and growth. 
In partnership with the Arts Council of Indianapolis, the Jiffy Lube Mural Project continues. Today, of the fifty Indiana Jiffy Lube locations, eighteen stores have murals. This summer, six more artists have been commissioned for locations around Indianapolis and the state.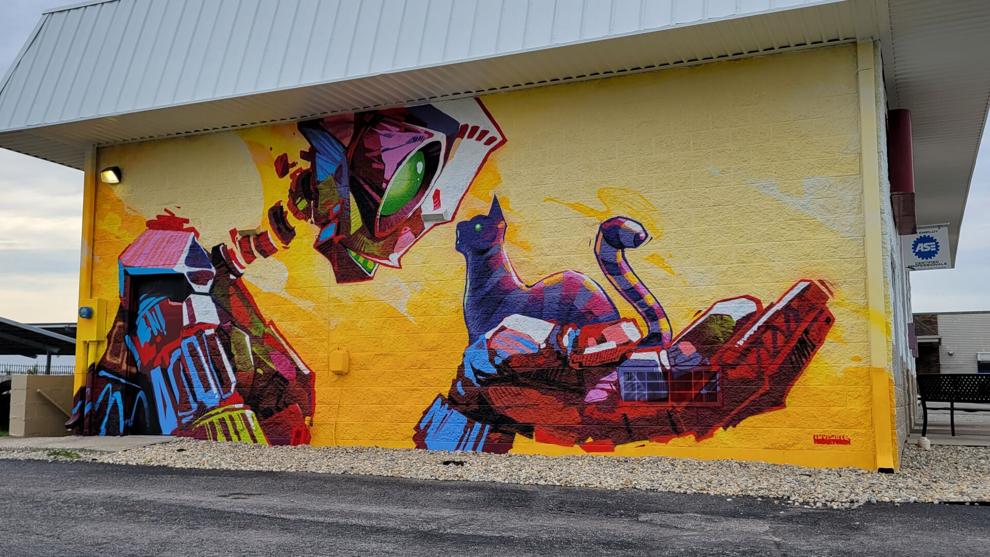 "You wouldn't expect to see all of this colorful artwork at a place where you get your oil changed," says Sanner, "and that's the beauty of the collaborative project. We are able to brighten customers' and drivers' days in a unique way while supporting local artists' important work." 
The collaboration is appreciated. "Everyone seems to love the murals," says Julia Muney Moore, Director of Public Art for the Arts Council of Indianapolis. "Particularly outside of Indianapolis where there isn't as much mural activity or in parts of town where public art isn't prevalent. Pamela Bliss' "Bee Mindful: They are Important" mural was kind of a revelation for Southsiders, for example. Carl Leck's mural, "Behind the Curtain," done last year in Fishers, absolutely astonishes people. It's actually kind of a tourist attraction." 
"I think it shows business owners that supporting the arts in this very visible way is not just good for the community, it's good for business," Moore says. "For artists, having someone who trusts them in this way and who really wants them to stretch, instead of just asking them to do something that they have done a million times before, is very empowering."
"I love that public art is so accessible," Moore says. "People can feel afraid to go into a formal art gallery and nobody should fear art! Putting art where it's not expected to be helps keep us alert to the possibilities of our environment. If anything can appear anywhere, this lack of limitation should inspire huge creativity in all areas of our lives."
Bringing artists into public view and presenting art in public spaces remains central to the collaboration between Jiffy Lube and the Arts Council. Moore says, "A successful relationship leads to more in-depth knowledge within the general public of who artists are and what they do, and how artists can be part of the community instead of separate from it."
The Jiffy Lube Mural Project also gives artists the freedom to conceptualize their own message. "So many times, public art is somewhat prescribed," says Moore. "With Jiffy Lube it's artist choice. Many artists who we work with and who are familiar with commission work remark that they are not used to being able to tell their own story instead of someone else's story. The more public art can thoughtfully tell everyone's story and share different aesthetics and perceptions of the world with each other, the better off we all are. That's where artists do their best work."
For Sanner, the mural project teaches several important lessons as an extension of Jiffy Lube's "Growing People Through Work Program." Jiffy Lube offers employees' free studio art classes and Art Center gift cards as part of the program. "We've learned just how important public art is — not only to the artists or even a business but to the community," says Sanner. "The partnership with the Arts Council has shown us the overwhelming interest our employees have in the arts and the importance of providing them with opportunities to expand their skill sets." 
The responsibility to highlight the value of art in our communities and everyday lives is usually the task of artists. Jiffy Lube lightens that load with its artistic and financial support, providing a canvas that Sanner hopes provides inspiration for others. 
"It would be great to see businesses across the city and state follow suit by collaborating with local artists," he says. "It's a win-win —   beautifying your business while supporting the creative community and brightening people's days in an unexpected way. Supporting the arts is more important now than ever as we're emerging from lockdown and the pandemic, which prevented many artists from showing and selling their work. We, as local business owners, have a responsibility to improve our city and support the community in any way that we can."