When I was a sophomore in high school, I'd drive from the suburbs to wander around Fountain Square during First Fridays, specifically in the Murphy building. It felt like a different world weaving through the artist's studios and Big Car's art gallery. I remember the first time seeing John Clark with his tight, red, Jack Kerouac t-shirt and wearing some kind of trucker hat. I thought, "Who is this guy?"
Over the years, I've collected copies of pLopLop, John's "antholozine" which collected local writers as well as John's favorites, like Eileen Myles, Charles Bukowski, and Kurt Vonnegut. They were always playful, strange, and surreal, just like John. I would occasionally see his paintings and drawings around the city over the years and his current show at StorageSpace gave me the opportunity to invite him over for a conversation about Surrealism, Indianapolis, growing up with a preacher as your father (like my own), publishing, and cultivating a community in the arts. 
TAYLOR LEWANDOWSKI: So, tell me about this 'SuperPeace' character you've resurrected for your new show, "Do Over," at StorageSpace?
JOHN CLARK: In middle school, this English teacher wanted to start a magazine. It was a brand new school in Louisville, Kentucky.
LEWANDOWSKI: Is that where you grew up?
CLARK: Yeah. Well, we moved around a lot. My dad was a preacher, so we'd get run out of town. [Laughs]
LEWANDOWSKI: What kind of preacher?
CLARK: Called Church of Christ, but it's like nondenominational. No music. It was strict. My dad was a big influence on me because I'd see him get up and talk. He got to this point where he'd go on these Gospel Meetings and preach for a week. So I traveled with him for a bit. In the church in Louisville, they had a print shop. They'd publish a bulletin every week. There were these guys in this big room with a press. I would go with my dad to this supply store for ink or anything they needed. It was in my blood—printer's ink, as they say. I would go there help out and watch as they printed out bulletins or my dad's booklets.
So, this class in seventh grade, nobody else was willing to draw anything, so I drew this SuperPeace guy. It was the seventies and it was peace, man. He had a peace symbol on his chest and he's creating peace in the school if there was any trouble. It was real cheesy, but it was fun to get something published. Now, it's really the complete opposite of what I'm doing now because back then it was mimeograph and you couldn't improvise. You were drawing into this weird paper that leaves an impression. You couldn't improvise at all. That's why I included it in this StorageSpace show, because it's the opposite of these paintings and drawings that I painted over and over on one canvas. There's various layers until I was happy with one to leave it. That's what I've always been interested in: Transformation. I've always been a fan and practitioner of surrealism; transformation is the key to what I do. Take something that's boring, and the slightest thing you can add to an image can change it completely. That's what I consider fun.
LEWANDOWSKI: When did you come to Indianapolis?
CLARK: I came here in '89.
LEWANDOWSKI: You moved all around before that?
CLARK: Yeah. We lived in Cincinnati, Birmingham, Louisville, and Tampa. In Tampa, I got married and moved to Indianapolis. Married a Hoosier woman and that worked for a while, but then didn't. I ended up staying here. That's how I got into the arts, which really had to do with my job at Borders. It was a great bookstore back then.
LEWANDOWSKI: That was in the Castleton area?
CLARK: Yeah. A friend of mine, Kit Andis, was working there and I'd go and talk to him about books and publishing. I told him I want to get a job there and he said, 'There's no way. There's never any openings. Nothing.' But pretty soon something opened up. It was a great experience. Writers would visit from Butler [University] and other places. I got to meet Gary Snyder, Robert Creeley, and all these people I looked up to. We started an open mic at Borders once a month. And it became a real, world-class place. I got employee discounts ordering small press books. I started painting a little bit and then I started pLopLop.
LEWANDOWSKI: Were you painting before?
CLARK: A little bit, but not too much. Mainly drawing and sketchbooks.
LEWANDOWSKI: So, Borders was this catalyst that opened up all these different creative possibilities.
CLARK: Yes. There would be these smart people who'd come in and bs with us all day. It was great. There were some great visiting writers, like Gary Snyder. He was fantastic. He gave a little reading at Borders, signed some books. So, I asked him if it'd be okay if he did a little drawing. In each of my books, there's a hieroglyphic drawing along with his signature. That was so generous.
There was also Larry Brown. A great writer. I was educated about him by a few of the staff. He came to town. It was kinda sad. He was drinking a lot. He got snowed in and I ended up hanging out with him for the night. Very distinct southern accent. "Man, I'll tell you about Crews," he'd say. "That Harry Crews. Let me tell you." [Laughs] The way Larry said, "Crews." He wrote little personalized things in my book, like, "John, thanks for taking care of me." There's one collection that has that Bukowski story, "92 Days." He said, "Man, I'm glad you like Charles too. This is my thing for Charles." [Laughs] Those were some of the Borders' adventures.
Through that and talking to Kit, we had this idea of creating a zine. So, pLopLop started as a pamphlet size. I think I used a photocopy machine at Borders when it was slow.
LEWANDOWSKI: Could you briefly describe pLopLop? I know it has been written about a lot.
CLARK: I called it the antholozine of poetry and prose, so I think I coined a term or something. The cover I'd grab a sharpie and draw something and color it in. That's where I started to paint more.
LEWANDOWSKI: From the creation of this zine?
CLARK: Yeah. I'd write pLopLop on each cover and paint them a little bit and take them into Borders and see if they sold. It wasn't till the third issue that I started getting people like Bukowski, Gerald Locklin, Eileen Myles, and others. I sent a self-addressed stamped letter in the care of Black Sparrow and I got something back. Well, I thought that was pretty cool. You just ask. So, that's what I started doing—sending out letters. At Borders, there was this fat writer/ publisher directory, so you could get people's addresses.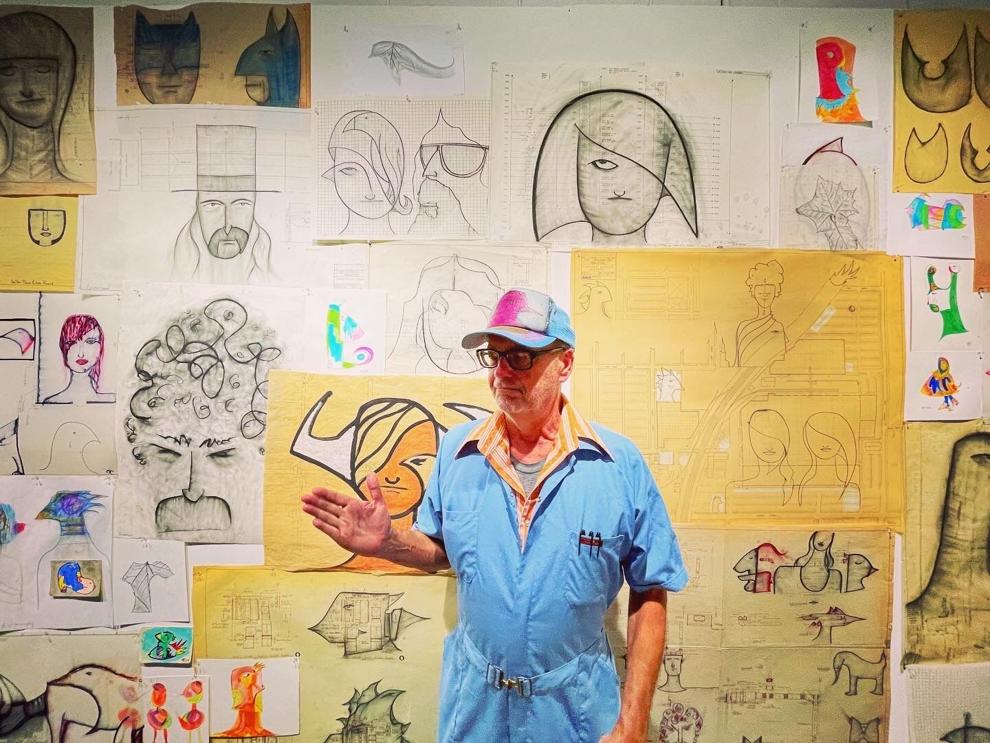 LEWANDOWSKI: Have you always been attached to Jack Kerouac and the Beat Generation? Why do you feel such an affinity for those types of writers?
CLARK: I found out that Kerouac came to Tampa from St. Pete. and he had these drinking buddies and it turned out where I lived in Tampa was blocks away from this dive bar. It was called The Wild Boar. I started finding books that were from people who knew Kerouac, college students who were around then.
LEWANDOWSKI: How old were in during this period?
CLARK: I was probably 22. I was able to imagine him as a real person for the first time. Not like this Hemingway or thing, but this guy who probably walked around and got lost or something. It made him real. There was this great bookstore in St. Pete. and a couple of guys who worked there said, "Yeah, he used to come in here wearing a hardhat," and other stories like that. He didn't want to be recognized or whatever. They had a really cool limited edition Visions of Cody that they had him sign. I thought that was so cool. It made him a more real person. Of course, he had flaws. I don't know. I began thinking I could start doing it, because I recognized this is a great writer, but also he's just a normal guy.
I would also go to the Dali Museum, which had just opened. That was really mind-blowing. To just drive across the bay and look at paintings up close for a long time. I'd really absorb it. A similar experience was visiting my family in Houston and there's a great museum called The Menil Collection. They were heavy with Surrealism. That was another place I spent a lot of time in and looked for so long security guards would ask, "So, what do you see in there?" So, that was part of the education. That was the Vanity of Duluoz, the subtitle: "An Adventurous Education." That's certainly what I've had. Partially doing stuff and really just reading and goofing off.
LEWANDOWSKI: How have you seen Indianapolis change from '89 to now?
CLARK: I feel like I stumbled into it through Borders. I worked at another bookstore in the Fashion Mall called Coopersmith's, so I had some experience. That was cool because I was able to special order avant-garde literature, like Black Sparrow and City Lights and Richard Brautigan. I'd do a display. That was really cool. As far as changes, there are just more collaborations and a concern for community. That lead up to meeting Jim Walker. He was a book fan and I sort of met him through Borders. I remember him hand delivering some poems. That was the start of what made Big Car a collaboration.
LEWANDOWSKI: What year was that?
CLARK: 2004. We started in the Murphy building. My experience at Borders led up to that. Most of the meetings before it was known as Big Car were mainly writers like Anne Laker and Jim and me and a few others who had a writer's group. We moved into a big space and grew organically. It was the beginning of social media and the iPhone appeared. It was fun. I'd swing by and grab a case of beer and go to the Murphy and see who'd show up. More and more people stepped up. A lot of music shows which led to a great community. It was a good time. It was this Fountain Square-based thing at that point.
LEWANDOWSKI: I imagine Fountain Square was much different back then.
CLARK: There were some studios at the Murphy and this arts supplies store. Artists had some big spaces. Phil Campbell, the guy who owned the place, he was an artist so he was sympathetic with what we were trying to do and gave us break on rent. So, we pitched in to paint the walls and redo the floors. Jim would have some weird ideas. We ran a parade sponsored by the IMA. That's why I wore this blue jumpsuit to the opening night for Do Over. I wore that during the parade. We all had matching blue jumpsuits except one guy who wore a brown one. As far as what changed, I think it's an awareness of community. Being a part of Big Car, I'm more aware of that. I guess I've always been either with the Borders community, or Murphy building community.
LEWANDOWSKI: So, we've talked about the past, what about the future?
CLARK: I haven't made the push on it yet, because of the painting, but we're looking on autumn for the new pLopLop. I'm inviting people to submit one poem each. Maybe that's too stingy. It's going to be loose. I haven't put the push on it yet. I'm looking forward to it. It's about time.
All photos courtesy of Jim Walker.