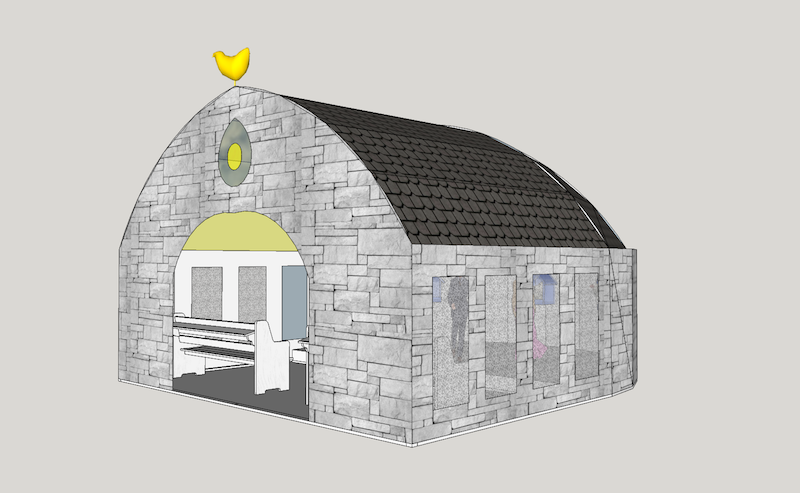 If you pay a visit to Tube Factory artspace in Indy's Garfield Park neighborhood, you'll see that it's buzzing with activity, thanks in part to two active bee hives now on the premises. But the nonprofit arts venue under the Big Car umbrella is also trying to raise money for a community kitchen and Vegas style chapel complete with chickens.
If Big Car Collaborative, which runs Tube Factory, is successful in raising $50,000 by Oct. 19, you'll be able to come to the Tube to have a meal and, if you like, get married.  
"We're going to have the chicken chapel of love," says Big Car's director of programming and exhibitions Shauta Marsh. "It's going to be a Vegas-style wedding chapel and meditation space," she says. "I'm going to get ordained and I will perform ceremonies if people want to get married. Or they will just be free to meditate."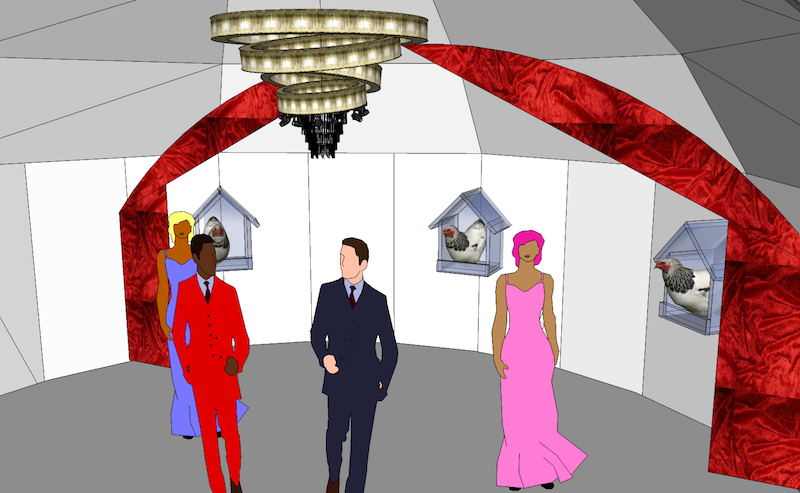 And yes, just as Marsh will perform double duty for Big Car, so will the chickens. That is, they will lay eggs for the community kitchen while doing something a little bit more unusual.  
"These chickens will be part of people's wedding ceremonies if they so desire," says Marsh.  "And I've raised them since they were two days old. We have several different breeds." 
If Big Car meets the $50,000 goal of this "Sunnyside Up campaign" the Indiana Housing and Community Development Authority will kick in the equivalent amount. The monies would, in addition to funding the chapel, also fund a social kitchen and a serving space in a community gathering area for a community that is underserved in terms of the food options available.
That space will serve to offer instructional activities about urban ecology, agriculture, food and nutrition. These activities would expand on programming already in place on the Tube Factory greenspace; the community garden, chicken coops, and the aforementioned beehives.
You'll find St. Louis-based Juan William Chávez's Indianapolis Bee Sanctuary adjacent to the chicken coops. In place since early August, it could be described as a functional art installation, consisting of colorful wood structures housing two separate beehives. They are set on a foundation of concrete pavers and then surrounded by a retainer wall made of cedar planks. The wall props up a landscaped hill composed of organic soil: fertile ground to enrich plants that the bees can then pollinate.
"There's 90 native species in the sculpture and sourced here," says Marsh, "All organic. Bees [...] can be poisoned by different fertilizers and pesticides."
Big Car built the sanctuary to Chávez's specifications. Lead builder and staff artist Elliot Thornton helped him manifest the design.  
Chávez has run similar projects in St. Louis and in those projects he had the assistance of teenage volunteers.
The volunteers for the project, who wore bee suits for portions of the project, were supplied by Indy-based nonprofit organization TeenWorks.    
The sanctuary was completed in the summer and was ready for public view in early August.
But Big Car also sought assistance elsewhere to set up the beehives.
They got it from Kate Franzman, founder and head beekeeper at Bee Public, an Indy-based organization. Her goal is to make the city bee-friendly in a world where overall bee populations have seen steep declines over the past decade.
"I reached out to Kate to help us as an organization to make sure that we're doing it right that we're taking care of the bees correctly," Marsh said.  
Marsh describes the bees as "super chill."  
"We were working with an auger and a hammer drill which were super loud and they're just doing their thing making honey," she says. "These are a new colony. These are two different hives and there's a queen in each."
If you visit the Bee Sanctuary, you'll need to put on a bee suit. But you can wear street clothes to see Chávez's Mesa Hive exhibit.
In Mesa Hive, in Tube Factory's main gallery, you will see various amalgamations of objects put together on a Mylar blanket in the center of the gallery. But these sculptural pieces have something in common with the altars you find in Catholic churches throughout the America Southwest and in Mexico.
"The exhibit is in reference to his Peruvian heritage," says Marsh. "Mesas are basically blankets that shamans take into the Andes Mountains and create power charged objects for healing. Mesas also another word for table; it's actually where the whole concept of altars comes from. Mesas were the first  altars and the incas are the shamans who created mesas in the Andes Mountains."