"Graffiti alley," just east of Virginia Avenue in Fountain Square, is now blank.
Once the canvas for Indianapolis graffiti artists including Mike Meares, Joy Hernandez, and Dan Handskillz —  and visiting artists such as Jules Muck —  the brick walls have been painted over leaving little trace of the artwork that invited community pride, identity, and selfies. 
On Thursday, June 3, Square Cat Vinyl posted with Snakeroot Botanicals on Facebook that the graffiti and murals on the side of the building were mostly covered by 1:30 p.m. The Facebook post expressed disbelief and disappointment. "Sad day for our alley, our city, local art, street art, and the overall art community," it reads. "Sad to see a local landlord, (not ours), whitewash a city/neighborhood landmark in the blink of an eye."'
That landlord is Eric Koehring, and the painters who painted over the murals are Koehring & Sons employees, according to Mike Angel, co-owner of Square Cat Vinyl. [Editor's note: we have a pending request to Eric Koehring for comment on this story.]
The landmark featured in the Indy Arts Guide, the graffiti that served as a model for fostering relationships with local artists and the community, is now a bland taupe that completely covers the vibrant colors, images and voices once emboldened by the opportunity to turn the city into a canvas.
Joy Hernandez, founder and owner of Full Circle Nine Gallery, was one of the artists whose work, the familiar "Bean the Astronaut", is no longer visible. Her contribution to the alley wall was also her first outdoor mural in Indy, along with the beginning of her Bean series. The loss is stinging to her, but she says it's to be expected. "There's been a lot of weird feelings today," says Hernandez, who is also one of six artists selected to work on Jiffy Lube's most recent mural project (see below). "We understand that street art is impermanent. That's just part of the game."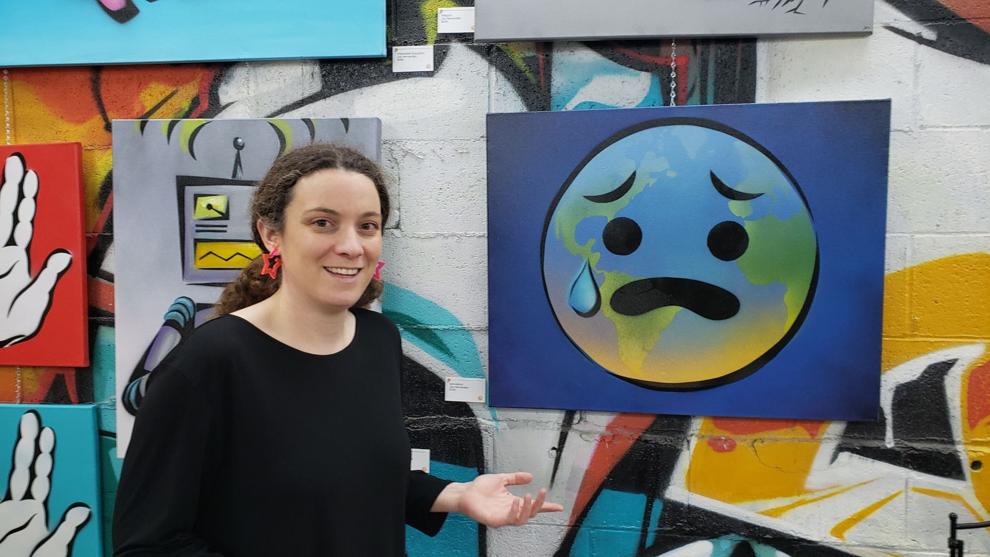 The actions of Thursday, June 3 remind Hernandez of the nature of public art. Earlier this year she participated in the creation of one of the four court murals for SWISH during March Madness. She says she remembers feeling conflicted about all the traffic that would soon alter the work. In the end, she resigned to letting it go and giving it over. 
"I kept thinking, 'These belong to the world now,' she says. "Like a song on someone else's ears. You had your original intent in writing the song, but as soon as someone else hears it, they bring their own meaning to it."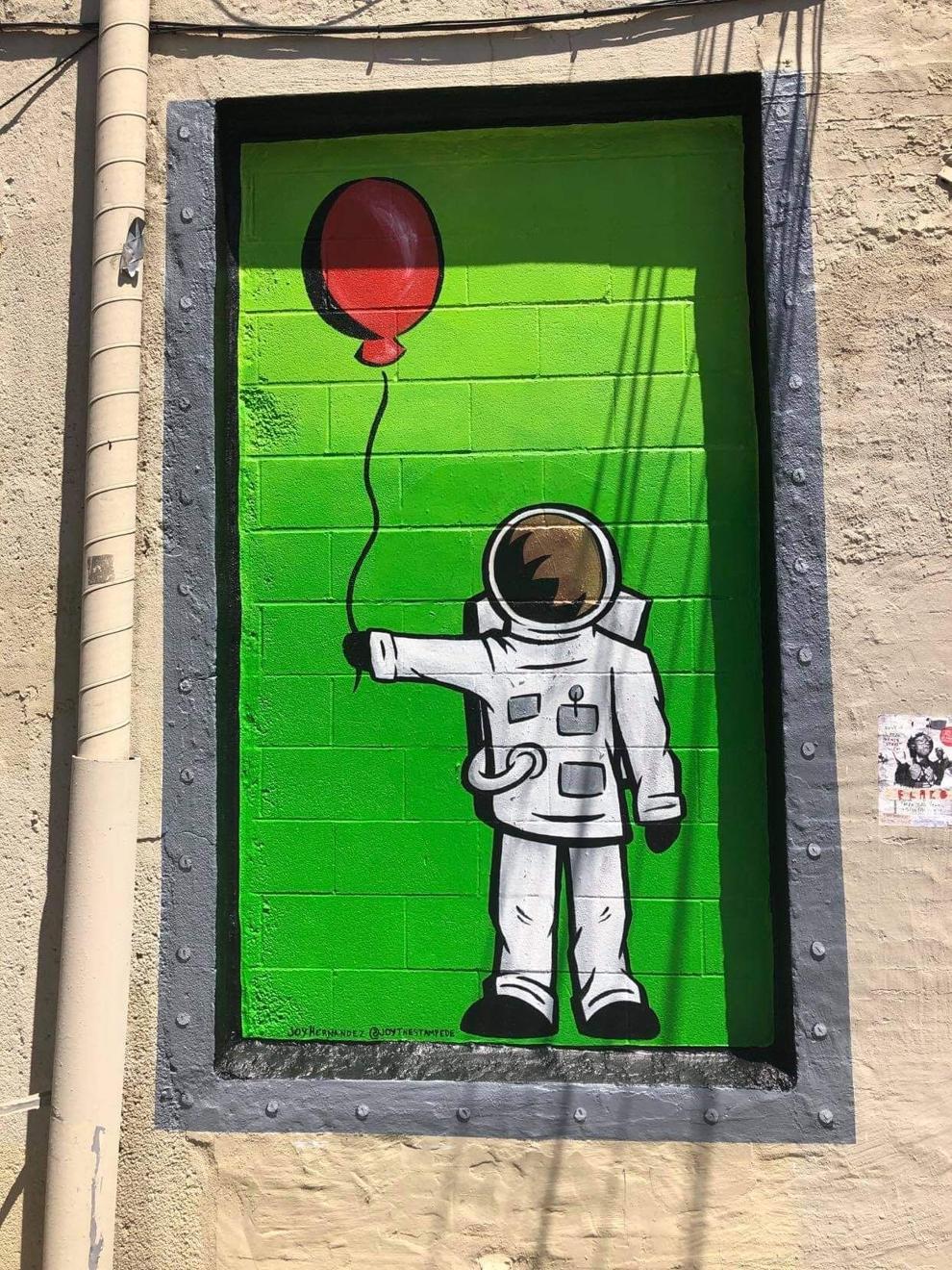 Her past experience helps her with the loss now. In addressing the whitewashing, she remembers the lesson. "Things will happen to that song," she says. "It'll get garbled, it'll degrade. You know, life. But also, it's just really sad. Street art is a moment in time, but I really wish that moment had lasted a little longer." 
The Virginia Avenue alley, like many murals in the city, are created, in part, to deter taggers from targeting businesses and stores, according to Hernandez. She attributes a certain respect for public art behind the decrease in tagging and takes pride in the fact that the Virginia Avenue alley murals have never been tagged, although other unpainted spots in the alley had been tagged. She wonders what might happen to that fresh and clean alley today. 
"Now, this wall has been beiged over and it's ripe for the tags," she says. "It's counterintuitive. You don't want graffiti on your walls, so you blitz the art there that's been respected, and open the door for a free-for-all? I hope they bought enough extra beige paint, because I see that wall going all wild west until art is re-commissioned for it." 
Going forward Hernandez will start work in July as one of six artists chosen to work with the Arts Council and the Jiffy Lube mural project. The project has produced murals on the sides of Jiffy Lube buildings across central Indiana. Not surprisingly, the Jiffy Lube mural project grew out of a request to cover tags on a building.
Not surprisingly, Hernandez is a big fan of the project.
"Jiffy Lube puts its money where its mouth is when supporting, paying, and respecting local art and artists," she says. "This SNAFU in the alley is the exact opposite of what Jiffy Lube does."
Steve Sanner, CEO and founder of Jiffy Lube of Indiana, explains, "Back in 2016, we commissioned a local artist to cover up graffiti at our Broad Ripple store location — a tactic that's known to deter taggers. Not only did it work —   the project took on a life of its own. The response we received was incredible and we quickly realized we were on to something great." 
As the Arts Council of Indianapolis took notice the two formed a partnership that has resulted in paid experience for local artists and the beautification of public space, safe from any removal. Julia Moore, Director of Public Art for the Arts Council, says the importance of the murals, at Jiffy Lube and around the city, reflect not only the artistic life of the city, but the existence of all life in the city. 
"Public art both creates meaning in public space, and reflects meaning that is already there," she says. "It's a way to both show and understand who we are and what we value. We all share public space, and we all deserve to see ourselves in it. If we don't see other people seeing and valuing our experiences, we start to believe that we don't belong. And we all deserve to let other people know we exist.
For the next few days, Hernandez and others will remember the alley and art that used to exist, and waste little time in reinforcing the value of artists to the city. Their contributions remain a significant element of the city's texture and given the support of the community it is difficult to imagine the alley being left to neutral shades.
"I'd love to repaint there," says Hernandez. "I have read in comments that so many people loved that mural. I also hope that artists in that alley are treated by building owners with the same respect that the rest of the community has given us. I don't take that respect lightly or for granted, and I wish our art, any art in this city, wasn't taken for granted like this either."