At the Circle City Industrial Complex, artist Katrina Murray asked patrons to contribute Post-it notes to her work, at a show called "Propaganda" patrons explored a variety of political art, and at Hoy Polloy, Justin Brown displayed new work that explored the etymology of the word census.  
On the night that a COVID positive Donald Trump was transported to Walter Reed Hospital, patrons at these three Near Eastside exhibits were treated to art with political and/or sociological overtones.
At the Research Show  ... Ceramic Face Sculptures,  at the CCIC's Schwitzer Gallery, Katrina Murray displayed dozens of highly detailed ceramic face sculptures —  miniature relief sculptures —  that she bisque fired and glaze fired after carving by hand. 
"I've been spending a lot of time making ceramic sculptures, relief sculptures, out of clay from home because, during the pandemic, I couldn't come to my studio," said Murray. "And during that time, I just watched the news and just watched all the unrest from home and from the television. So I just kept making these obsessively."
Some of the face sculptures might resemble your neighbors (in fact, Murray had her son-in-law sit for one of these sculptures); you might think that others represent Amazon warriors.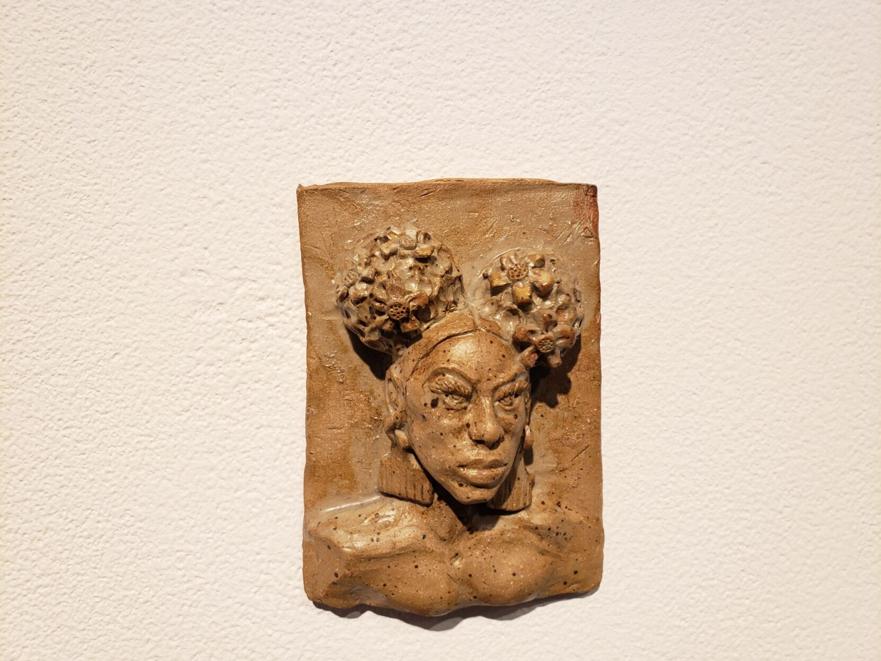 Murray asked patrons to make comments on the wall beside the sculptures using Post-it notes as part of her research project/art exhibition.
"I'm looking for feedback and the temperature of the general public about how they're feeling now," she said. "I'm asking them to make comments by Post-it notes and, and I've got little leader comments to help them understand what the work is about a little bit on their own. And I'd like some help from the public to go forward with this work and maybe represent more people, more types of people, more experiences, and learn how they're coping with the pandemic and the social unrest."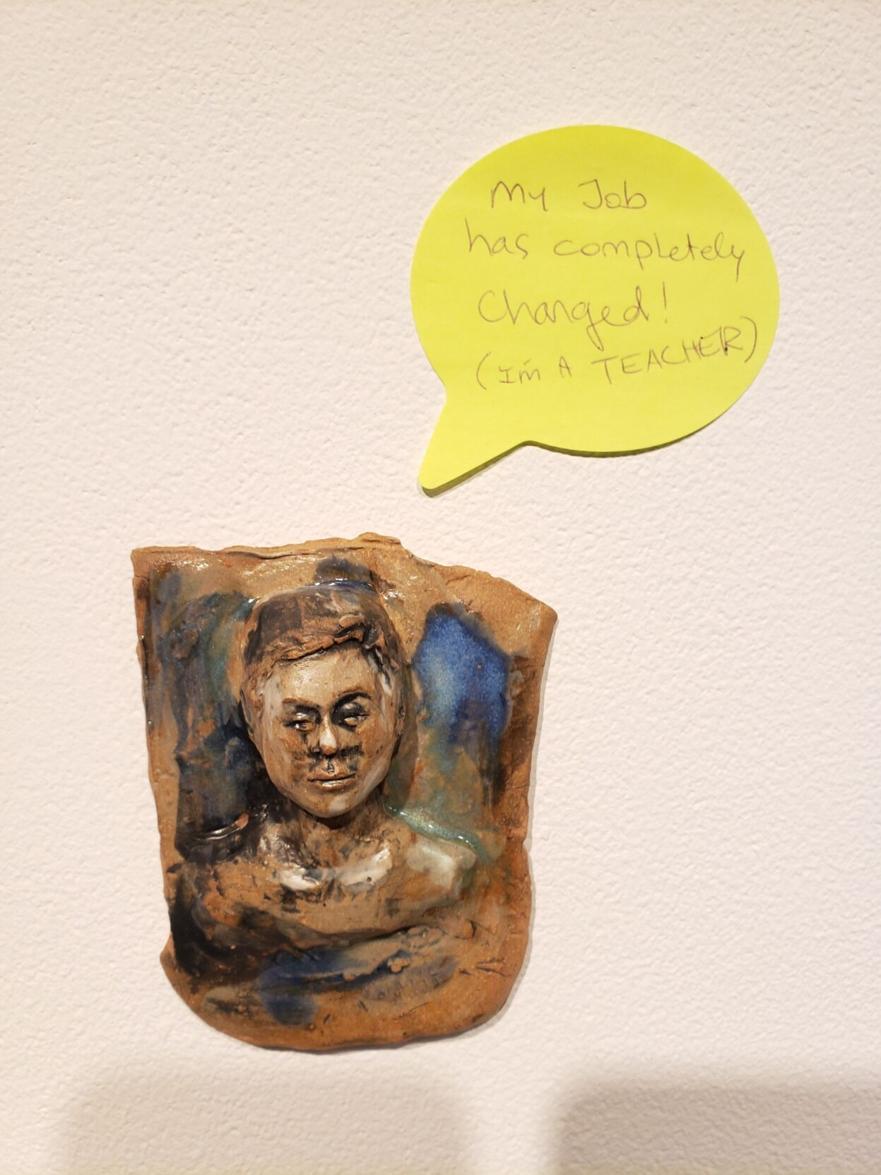 One of the mini face sculptures resembled Donald Trump in its rotundness. Murray added a note to the wall under the faux-Donald as a sort of speech balloon reading, "I'm NOT afraid of Coronavirus."
This was not a portrait of Trump, according to Murray. But it certainly could be seen as a commentary on the Trump administration's politicization of the virus. 
At 2131 East 10th St. Stardust Adita, the organizer of the "Propaganda by the People" show —  which took place outdoors —  noted that it was an election year as a way to explain the show's political bent.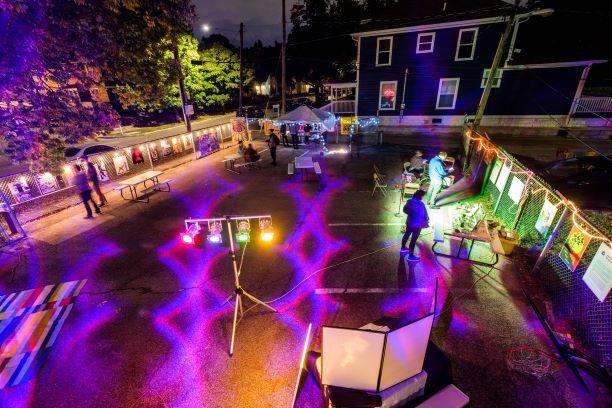 "I was just not inspired by some art that I was seeing," she said.  She started asking herself questions; "Who's doing art that is inspired or some messages? What, what are the artists producing? And let me see if I can put it together."
The show featured a traveling exhibition of poster art by the American Friends Service Committee titled Humanize, Not Militarize featuring political posters on injustices from the Gaza Strip to Ferguson.  Also featured was the political art of Vino.
In addition to checking out the art, patrons had a chance to register to vote, coordinate rideshares to polling places, and check out an information booth by GenderNexus which attempts to bring, according to its website "the transgender and nonbinary communities together" with its work. 
At Hoy Polloy, Justin Brown displayed collage and mixed media work. A subset of this work explores the etymology of the word "Census" and the history of the census from the Roman Empire onwards.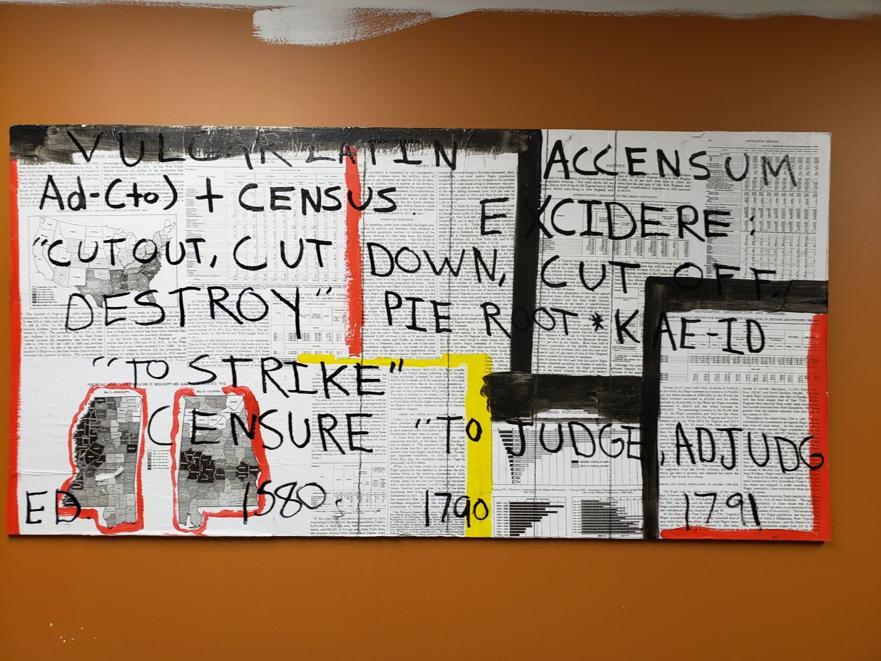 In hand-painted block letters, over collages of documents and maps —  some of which map out the Black population in the United States during the 19th and early 20th century — Brown notes that the word census derives from the Latin censere; to assess.  
October First Friday along the 10th St. corridor gave patrons ample opportunity to assess the intersection of art and politics in a census — and an election — year.