To reflect on the pandemic when we are still in it is perhaps an odd experience and uncanny metanarrative. While I look at this painting, Untitled (The Monument), which is of the Monument Circle downtown devoid of people, when it is otherwise one of the central hubs of Indianapolis, either for protests, tourists, etc., I am reminded of last year's lockdown, where the streets were empty, even depicted here in the middle of the day. I am also reminded of the inescapable pandemic at the same time while I am currently wearing a mask as if nothing has really changed from the lockdown to the present, but it certainly has, right? 
On the Harrison Center's website, Mary Lethco writes, "Covid has become a state of life and of mind that we are all uncomfortably familiar with. Some moments feel like panic and others like a typical day. The way we see and experience places ranges from close to normal, like having dinner at home, to near-apocalyptic, like empty aisles at the grocery store. 'Amidst Covid' by Courtland Blade contains this spectrum of scenes, with paintings created 'as we shifted into and out of isolation and distancing.'"
Courtland Blade's exhibition "Amidst Covid" in the City Gallery at the Harrison Center (1505 N. Delaware St.) explores these places we inhabit, specifically in Indianapolis, as if in a fog-like distance. Blade's insistence on painting public and private places devoid of people and the almost out-of-focus quality, like the painting, Red Barn, which depicts a barn off the highway as if we're moving as fast as possible through this rural landscape, adds to Blade's melancholic vision of brightly lit scenes without the brilliance of details, as if no painting could hold the reality of a moment, or Blade's own associations with these public places, like The Monument Circle or Foundry Provisions (a coffee spot on 16th St.), as in the painting, The Foundry, which shares in the general, dream-like obscurity. Blade creates that unsettling feeling, which was felt during the lockdown, that without people these places mean nothing.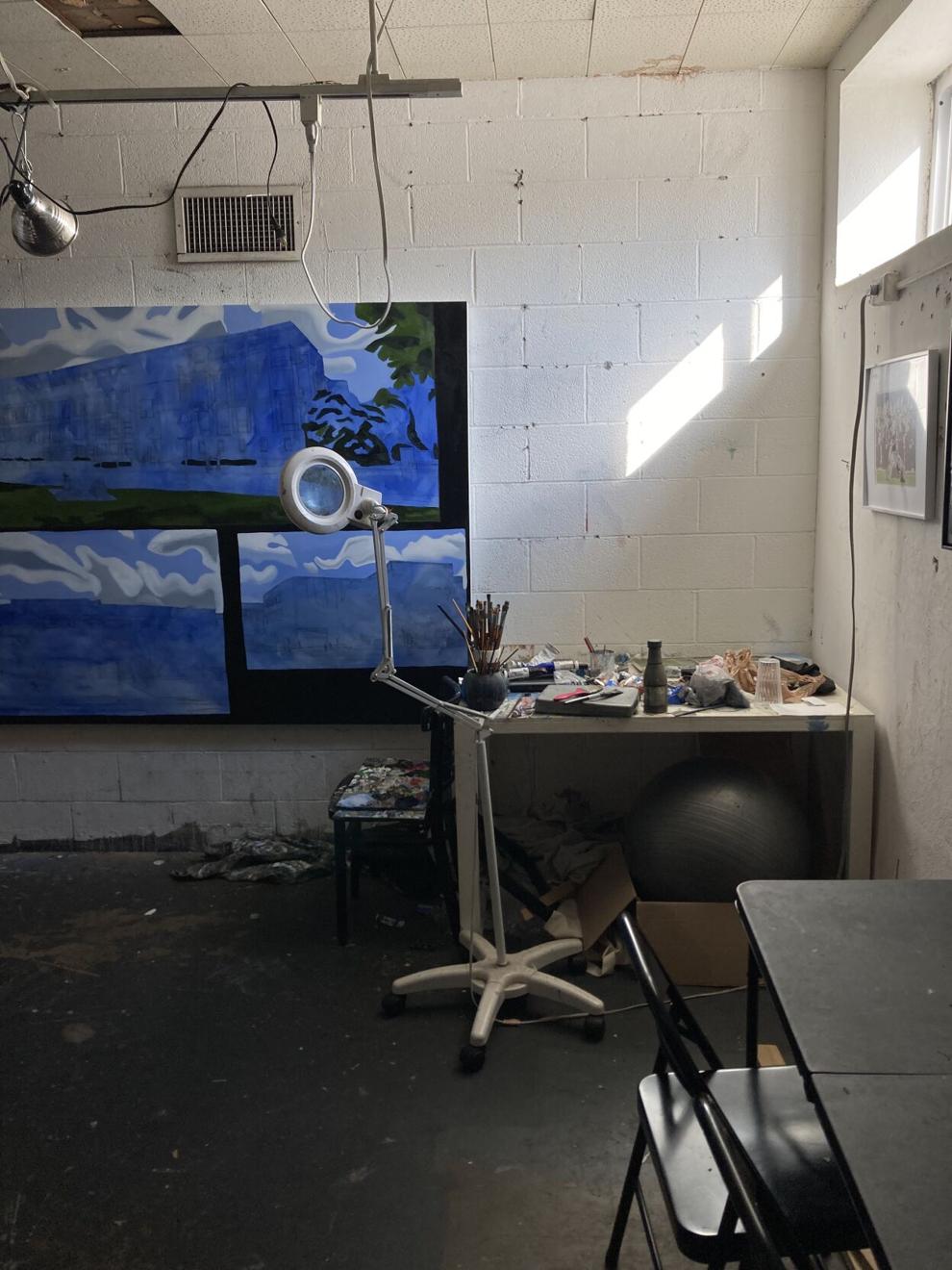 After I saw Blade's exhibit in the City Gallery, I had the rare opportunity to see his studio, which is also in the Harrison Center. Reflecting on time and the pandemic, I was reminded of my own time years ago wandering through these halls as a teenager, and how different it is from then to now, and the memories we attach to a city we know too well. When I approached Blade's studio upstairs, I was struck by one of his largest paintings entitled The Holy Convocation, which depicts hundreds of people attending Church of God in Christ's annual event. While Blade sticks to his washed-out, minimal detail, the painting has a remarkable sense of movement and energy informed by the incredible fact, and contrast with these desolate, covid scenes, of the heightened meaning and presence when thousands of people inhabit a space and form a special relationship, not only with the place but their neighbor next to them. 
Cover image courtesy of Courtland Blade