On Sept 4, I went to the Indoor/Outdoor First Friday at the Circle City Industrial Complex (CCIC). Per the marketing, some artists had booths set up outdoors, and some were indoors. This was the same arrangement as the CCIC's August First Friday, which was the first art tour since COVID shut everything down in March. It was a happy medium, of sorts, that the warm weather allowed.
Indoors, I came across a sculptural work by Andrea Jandernoa in the CCIC's second floor Schwitzer Gallery. It was, let's just say, unexpectedly sweet. This is because she uses sugar as a medium. 
"Foiled" is a ceiling-hanging wire construct coated in sugar syrup, like sap on tree branches. The syrup was dripping onto the floor. 
Jandernoa —  who has established a solid reputation in the city as a figurative painter —  was diagnosed with Type 1 diabetes while in college. Much of her recent sculptural work addresses this diagnosis.    
"It started with me thinking through [...] the way that I move through the world with a lot of unpredictability and the way that your body changes every day, even though you have medicine and a regimen," she said.
The unpredictability and instability of her medium —  sugar —  relates to the unpredictability of the body.  "What you are doing that day, how stressed you are, if you forgot to eat breakfast, all those sorts of things kind of impact the way that insulin works in the body [...]" she said.
As we talked, Jandernoa was trying to keep her young son Ollie from stepping or crawling into the sugar drippings on the paper lining the floor.
Adjacent to Jandnernoa's exhibit, I found the studio of Lydia Burris, a painter known for her portraiture that features myriad subjects from the realm of fantasy, horror, and myth.
But now she, like Janernoa, has branched out into another medium. That is, her studio contains numerous examples of her recent collage work that she exhibited last month in Bloomington's Dimensions Gallery.   
"I've called it Fantastic Journeys," she said. "It's both a homage to my yearning to travel but also it's all about dreamspace/dream physics/dreamscape, the way dreams feel where there's ambiguity things make sense they don't make sense."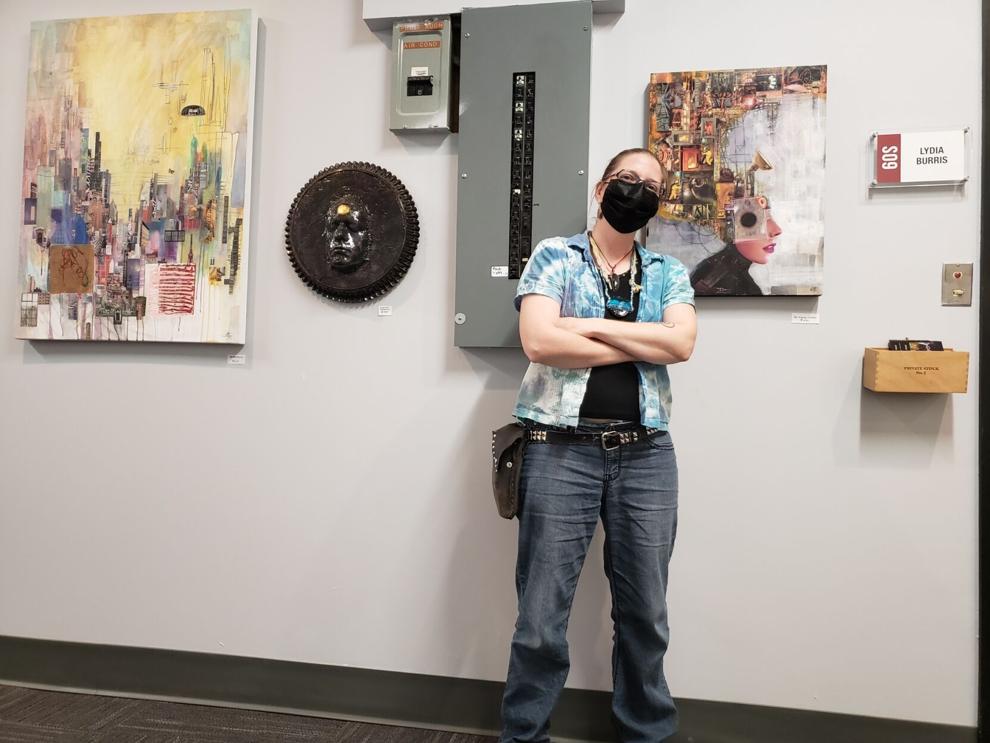 Like Jandernoa, Burris established her reputation as a painter before starting out in a new medium.
Many of Burris' recent collages are cityscapes. Such is the case with "The Complex" which is inspired, she said, by the Kowloon Walled City in Hong Kong.
"You had a bunch of people that were flocking to this area to build their own city organically and so it was like a high rise, that had no regulation," said Burris. "I put that idea into my dreamspace filter, and I thought, well, what would it be like to have this organically grown apartment complex that is just full of different architecture and every time you look at it, you're gonna find something different you didn't notice before. Then there's also people hanging out partying on the roof and there's fish in the sky."
As many of the images in this particular collage seem cut from American interior design magazines, the particular walled city depicted has a decidedly Midwest —  rather than Far East —  feel.
There's also a piece that recalls her mother, who died in 2011, titled "The Secret Garden". 
"I started doing these small collages a couple years ago, using ephemera that my mother had collected,"  Burris said. "She had a bunch of vintage ephemera, things cut out of old magazines and stuff like that. So this is not only my imaginary journey into a secret garden world, but it's also a conversation with the spirit of my mother."
On the main floor at the CCIC, I encountered painter Dave Voelpel who was displaying his work. Many of the pieces, he told me, were made during the pandemic.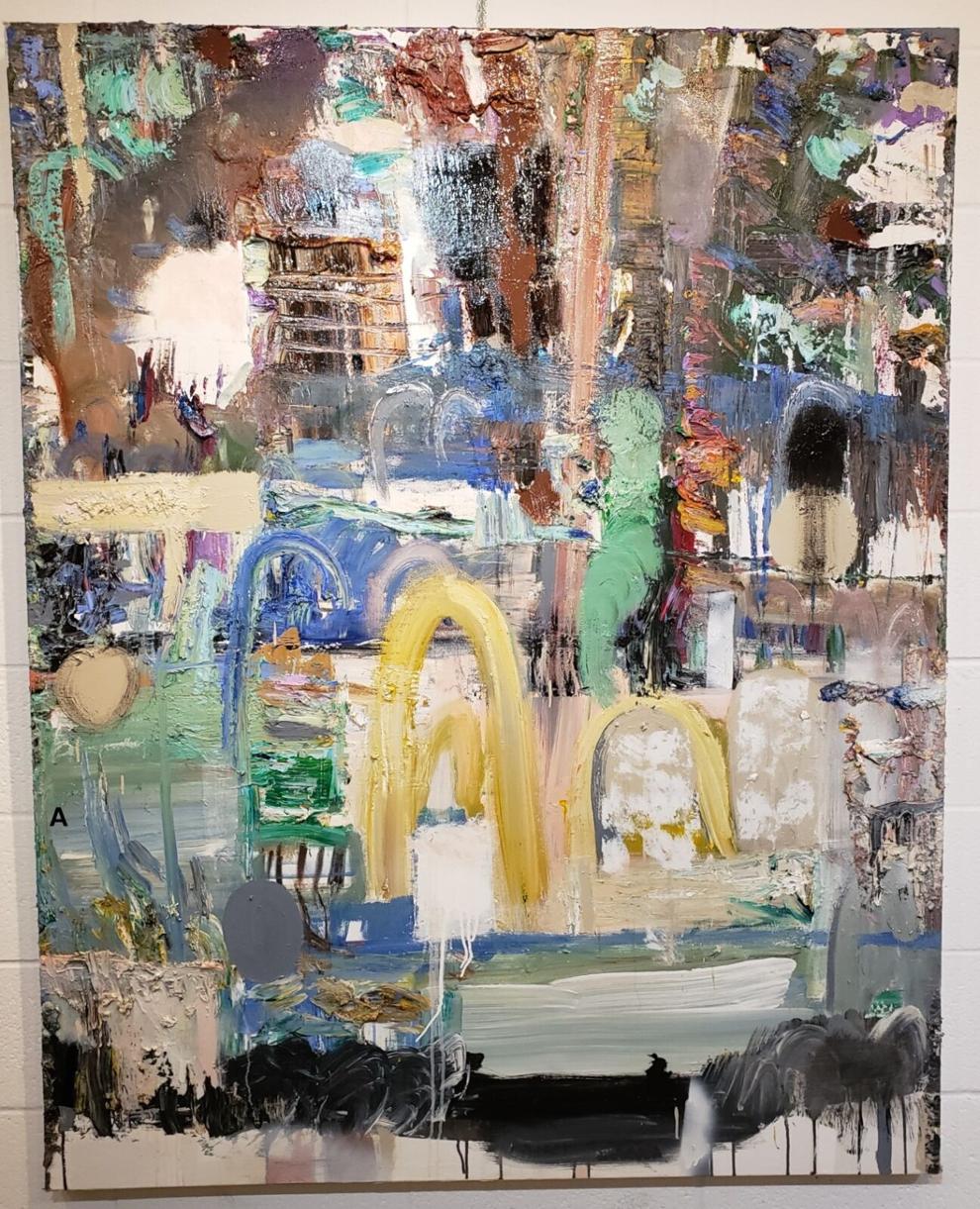 One of the pieces was particularly painterly —   and sculptorly —   as it featured differently colored cylindrical squirts of paint, writhing together, rising off the surface of the floor-tile-sized canvas.
The largest painting he had to create in his yard, as his studio wasn't big enough to contain it. It was an abstract composition that had some elements of a landscape, like arches in the foreground that made me think of McDonalds, and an apartment complex rising through the patchwork abstraction. It was an oddly engaging work that made me recall my own dreamscapes. 
I left Voelpel alone in the first floor hallway that serves as a gallery space  —   I hadn't seen many patrons inside the CCIC —   where he had been playing the Contemporary Christian music of Bebo Norman. Outside a DJ named Kid Forever was spinning 70s Disco tunes at a much louder volume.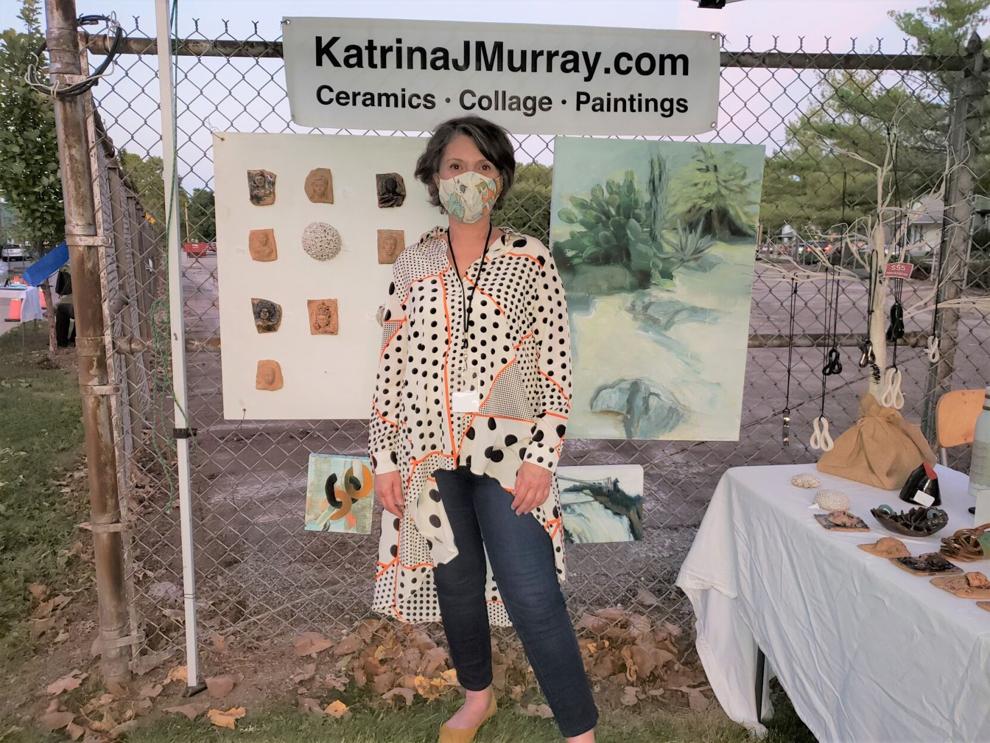 I walked across Brookside Avenue to talk to Katrina Murray, who had a booth featuring not only her landscapes but her recent work in ceramics. She told me that the next CCIC exhibition would be held indoors only, due to the expected change in the weather —   contingent on the COVID infection rate, of course.