It was one of those wonderful Indianapolis summer evenings when the rain subsides and the sun doesn't set till after nine. I could hear a football game a block away. The whistles and cheering. Cars sped past on 34th st.—their tires rumbling across the potholed street. As I approached the gallery, I noticed a woman smiling with braids swinging, mockingly and momentarily twerking on a woman sitting on the sidewalk, while another man laughed. A few others dispersed from the neighboring building, some walking across the street to their cars in the church parking lot, others stopping to chat and elongate the evening, before driving home or to the next destination.  
Taylor Bamgbose's "Verses (Part II)" reflects on the nature of art to pull the viewer into an intimate conversation and heighten their awareness. A couple of days ago, I had a conversation with a friend about the necessity and unique appreciation of looking, just looking, at a painting. (He admitted difficulty in relating and "feeling like I'm faking it" when at a gallery or museum.) Like Bamgbose mentions in her exhibit, the act of standing in a well-curated, artificial space slows reality and opens opportunities to connect with the external, tangible painting, while stirring inside you associations and responses in your body you'd otherwise miss in the whirlwind of everyday life. Like the group outside, these fleeting moments of dialogue and social interaction, once crystallized in expression, slow the unrelenting mechanisms of reality, so we may experience life more connected to the people around us.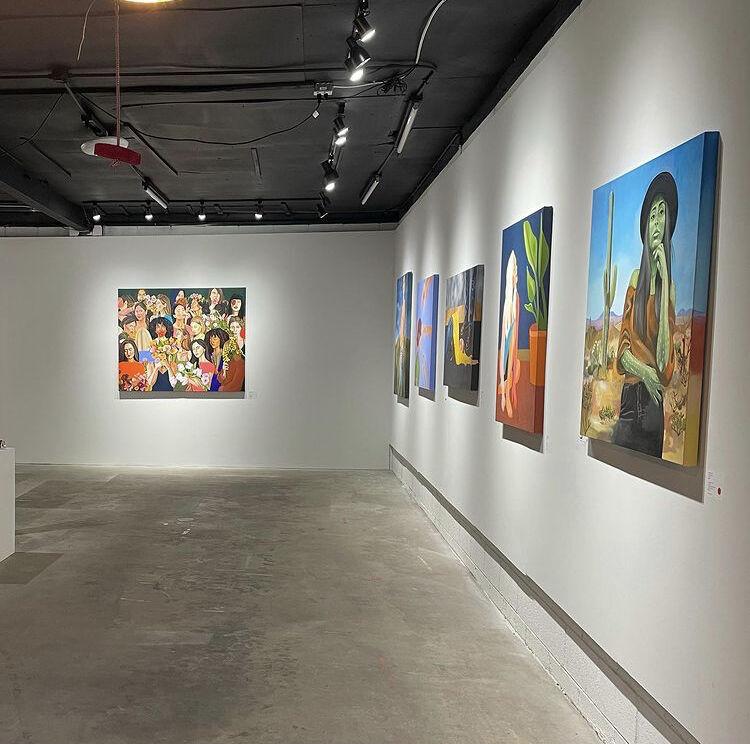 Bamgbose's paintings accomplish this multitude of feelings by using poems from writers like L. E. Bowman, Rupi Kaur, Nayyirah Waheed, Cleo Wade, and Rudy Francisco to explore how "women notice what's going on in their bodies and minds so they can respond thoughtfully and intentionally." This is realized in several examples, as the literal names of the paintings highlight, Everybody Wants Something, which depicts hands grasping towards a woman, or I Can't Lie to Me, where a woman is staring at her own reflection in a mirror, while you can see she has a slightly different, comatose-like expression on her face as in the reflection. The real centerpiece to the show, "When The Time is Right," incorporates many of the individual emotions, postures, and themes of the exhibit by creating an ensemble of women in various positions juxtaposed against several bouquets of flowers. 
As well as being an artist, Taylor Bamgbose is a life coach. Through navigating her own struggles in life, she has created a practice founded on awareness and intentionality. Bamgbose used a set of questions to challenge and confront her own issues in life, like, "Do I recognize the impulse from which my actions spring?" or, "Do I know what needs or desire I may be trying to satisfy?" Her mission as a life coach certainly informs this exhibit and creates a space where we may reflect upon our own relation to ourselves inside our own bodies and out in the chaotic, unpredictable world.
Taylor Bamgbose will also have another exhibit of new work opening on August 6th called "State of Mind" at Lost Dog Gallery (1040 E. New York St.).